Czech Country Girls - Spotlight
First published in Country Music International May 1995
Conclusive evidence of country music's increasing popularity throughout Europe, the Czech Country Girls will be back in Britain this month
The Czech Country Girls, a young country group from the Czech Republic, have been entertaining audiences across Europe with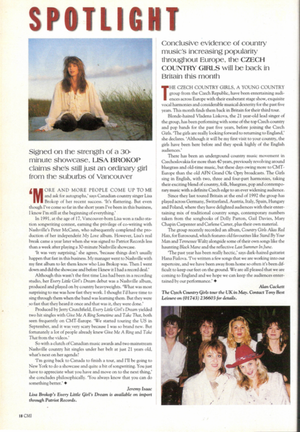 their exuberant stage show, exquisite vocal harmonies and considerable musical dexterity for the past five years. This month finds them back in Britain for their third tour.
Blonde-haired Vladena Liskova, the 21 year-old lead singer of the group, has been performing with some of the top Czech country and pop bands for the past five years, before joining the Czech Girls. "The girls are really looking forward to returning to England," she declares. "Although it will be my first visit to your country, the girls have been here before and they speak highly of the English audiences."
There has been an underground country music movement in Czechoslovakia for more than 40 years, previously revolving around bluegrass and old-time music, but these days owing more to CMT-Europe than the old AFN Grand Ole Opry broadcasts. The Girls sing in English, with two, three and four-part harmonies, taking their exciting blend of country, folk, bluegrass, pop and contemporary music with a definite Czech edge to an ever-widening audience.
Since they last toured Britain at the end of 1992 the group has played across Germany, Switzerland, Austria, Italy, Spain, Hungary and Poland, where they have delighted audiences with their entertaining mix of traditional country songs, contemporary numbers taken from the songbooks of Dolly Parton, Gail Davies, Mary Chapin Carpenter and Carlene Carter, plus their own material.
The group recently recorded an album, COUNTRY GIRLS ALIAS RED HATS, for Eurosound, which features old favourites like Stand By Your Man and Tennessee Waltz alongside some of their own songs like haunting Black Mane and the reflective Last Summer In June.
"The past year has been really hectic," says dark-haired guitarist Hana Fialova. "I've written a few songs that we are working into our repertoire, and we have been away from home so often it's been difficult to keep our feet on the ground. We are all pleased that we are coming to England and we hope we can keep the audiences entertained by our performance."