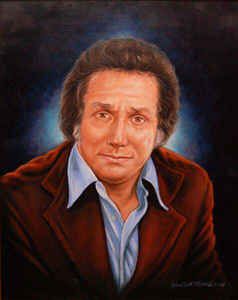 Nashville songwriting legend Curly Putman, the man responsible for such classic hit songs as
Green, Green Grass Of Home, My Elusive Dreams, It's a Cheating Situation, D-I-V-O-R-C-E
and
He Stopped Loving Her Today
, widely regarded as the greatest country song ever written, passed away on October 30, 2016 at his home in Lebanon, Tennessee, following a lengthy illness.  
His long list of hit songs is surely without precedent and more than almost any other country tunesmith, he lived up to the phrase of 'three chords and the truth,' with many of his songs inspired by his own life experiences. Despite having been married for sixty years, most of his songs were about break-up and heartache. In a recent interview he told Variety magazine: "Found and lost love, just about everything I wrote was that. That's what I felt more than anything."
He was born Claude Putman Jr. on November 20, 1930, on Putman Mountain, near Princeton, Alabama, northeast of Huntsville. The area was named after the numerous Putmans who lived there. His father ran a sawmill and young Curly worked there after school. He played basketball at Paint Rock Valley High School and learned to play steel guitar as a teenager. After briefly attending Southern Union State Community College in Wadley, Alabama, he enlisted in the Navy and served two tours in Korea aboard the aircraft carrier Valley Forge during the Korean War.
After his discharge he coached basketball and taught physical education at his former high school while playing steel guitar on the side with Slim Lay, a local country singer who owned a record store in Huntsville and who gave him a job there.
In 1956 he married Bernice Soon and worked several jobs in different places, inspiring his later hit
My Elusive Dreams
. After completing a commercial course, he became a shoe salesman in Huntsville whilst continuing to play steel guitar in various local bands and dabbling with songwriting. In 1960, he recorded
The Prison Song
for the small Cherokee label, which reached 23 on the country charts. A little later Marion Worth reached the top 10 with his song
I Think I Know
. He was transferred to a Nashville store, but then moved to Memphis and back to Huntsville, playing in a band at night. During this time he had more of his songs recorded including
Sleep Baby Sleep
by Connie Hall (number 20, 1961) and
Little Black Book
by Jimmy Dean (number10, 1962).
During a 1963 visit to Nashville, coinciding with the annual DJ convention, he ran into singer and songwriter Roger Miller who introduced him to Buddy Killen, the president of Tree Publishing. He invited Curly to move to Nashville to work at Tree as a song plugger and to review tapes of new songs. In January 1964 he moved to Nashville and was paid $100 a week and so began his career as a member of the professional songwriting community.
After landing a handful of album cuts, he made his major breakthrough in 1965 with
Green, Green Grass Of Home
, the poignant tune about a man fondly recalling his childhood home, only to awaken to the reality of his prison cell. First recorded by Johnny Darrell in 1965, the song failed to chart. But when Porter Wagoner cut it that same year, he scored a top five hit on the country chart. Over the next couple of years the song was recorded by several country performers including Jerry Lee Lewis who included it on his COUNTRY SONGS FOR CITY FOLKS album.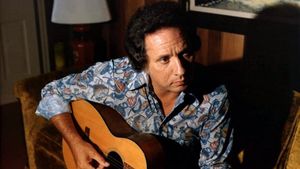 Welsh pop star Tom Jones, a huge Jerry Lee fan, heard the song on that LP and recorded it in 1967. Insisting it be released as a single, he topped the UK charts for seven weeks in 1967, reached number 11 on the American pop charts and turned the song into a world-wide pop-country standard. In the ensuing years
Green, Green Grass Of Home
has been recorded more than 400 times including versions by Dean Martin, the Grateful Dead, Johnny Cash, Merle Haggard and even a Swedish version Björn Ulvaeus, who would later go on to form ABBA.
Curly Putman continued to turn out hits and album tracks for a wide variety of artists including Johnny Darrell with
As Long As The Winds Blow
(1966), the Statler Brothers,
You Can't Have Your Kate And Edith Too
(an early co-write with Bobby Braddock – 1967) and
Dumb Blond
which was Dolly Parton's first chart hit in early 1967. That same year he enjoyed massive success with
My Elusive Dreams,
a co-write with Billy Sherrill. Signed to ABC Records, Curly released it as a single and reached number 41 on the charts. A few weeks later a cover version by Tammy Wynette and David Houston was released and the duet sailed to the top of charts and led to the song being recorded more than 100 times.
Whilst signed to ABC, Curly charted a second single,
Set Me Free
, which was later covered more successfully by both Charlie Rich and Ray Price. He also released two albums—LONESOME COUNTRY OF CURLY PUTMAN (1967) and CURLY PUTMAN'S WORLD OF COUNTRY MUSIC (1969)—both of which were excellent, but Curly's forte was definitely songwriting, though he did record briefly for RCA in the early 1970s.
In the meantime his success as a writer was second-to-none. Though he had started out writing by himself, his work at Tree in the early days of reviewing tapes of new songs led to him becoming known as 'the song doctor.' He had a reputation for transforming a promising song into a sure thing, and although he often wrote solo, many of his greatest hits were collaborative efforts.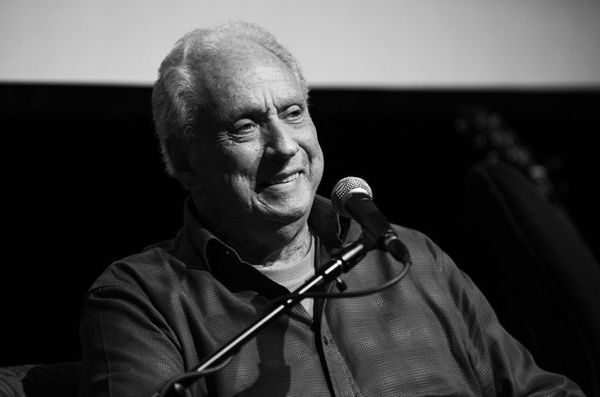 One of Curly's most frequent collaborators was fellow Tree (now Sony) songwriter Bobby Braddock, with whom he wrote Tammy Wynette's
D-I-V-O-R-C-E
, a country number one that also topped the U.K. charts (in a re-written comic version) for Scottish comedian-actor Billy Connolly. The pair also co-wrote
He Stopped Loving Her Today
, that re-ignited the career of troubled star George Jones. Often cited as the greatest country song of all time, the song was Jones' first number one in six years and won CMA Song of the Year in 1980 and 1981, also earning a Grammy.
Other memorable hits penned by Curly Putman include Tanya Tucker's 1973 number one
Blood Red And Goin' Down
,
When You're Hot You're Hot
(Porter Wagoner, 1969),
Thank God She's
Mine
(Freddie Hart, 1977) and
It Don't Feel Like Sinnin' To Me
(The Kendalls, 1978).
He was very much a part of the blossoming Nashville scene of the late 1960s and early 1970s. He nurtured and encouraged many of the newer younger writers that came to town including Sonny Throckmorton, Rafe VanHoy, Don Cook, Michael Kosser and Bucky Jones with whom he would often co-write. When Paul McCartney and his wife Linda visited Nashville in 1974 for recordings, they stayed for a short time at Curly''s farm in rural Wilson County, Tennessee, which inspired the Wings'
Junior's Farm
hit song.
Rather surprisingly, considering the traditional country stance in his songwriting, Curly became very prolific with pop-country crossover hit songs in the late 1970s and early 1980s. Most notable were a string of hits for T.G. Sheppard including
Do You Wanna Go to Heaven, Smooth Sailing,
Baby I'll Be Coming Back For More, War Is Hell On The Homefront Too
and
When Can We Do This Again
.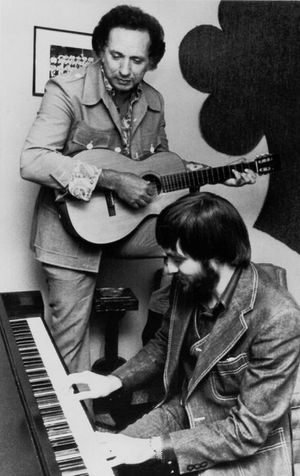 In the 1990s Curly Putman's successes continued with new country acts gaining chart hits with his songs. They include Sawyer Brown (
Cafe On The Corner
), Josh Logan and Aaron Tippin (
I Was Born With A Broken Heart
), Ricky Van Shelton (
I Meant Every Word He Said
), Doug Stone (
Made
For Lovin' You
), Pirates Of The Mississippi (
A Street Man Named Desire
) and Lee Greenwood & Suzy Bogguss (
Hopelessly Yours
).
Curly Putman was elected into the Nashville Songwriters Association, International Hall Of Fame in 1976 and the Alabama Music Hall of Fame in 1993. Alabama State Route 65 through the Paint Rock Valley in North Alabama is named in his honour, as well as the community park in Princeton. In 2010, at the age of 80, he self-released a third album, WRITE 'EM SAD—SING 'EM LONESOME. Very much a labour of love, proceeds were donated to the Sean Putman Memorial Fund at the Cumberland University, Lebanon, Tennessee—Sean was Curly's grandson who died aged just eight from a rare form of cancer.
Many of the eleven songs Curly selected for the album seemed like old friends to me.
Older the Violin
I remembered from Hank Thompson,
Couldn't Love Have Picked A Better Place To Die
was turned into a classic by Gene Watson,
Radio Lover
a lesser-known gem by George Jones and
Only Oklahoma Away
given an emotional and soulful treatment by John Conlee. Curly Putman was never the world's greatest singer and at eighty his voice had been ravaged by the years but his voice was sweet and emotional and you could actually feel his emotive lyrics rising up within yourself.
So many of Curly Putman's songs have guided me through the ups-and-downs of life. Some of the more memorable making a huge impact on me include
I Wish That I
Could Hurt That Way Again, Let's Keep It That Way, Couldn't Love Have Picked A Better Place To Die, It's a Cheating Situation, High And Dry, What I Had With You
and
Made For Loving You
. Songwriters like Curly Putman are like nuggets of gold, very much a one-of-a-kind and need to be treasured.