Crystal Gayle - Out of the Shadows
First published in Country Music People, January 1977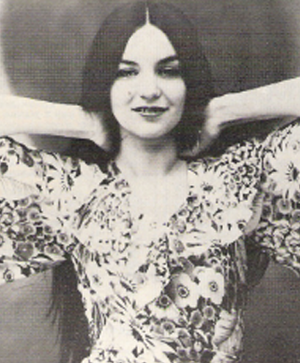 To many readers, the sudden success of Crystal Gayle during the past two years seems like a fairytale, but this beautiful young lady has been around the country music scene for longer than you might think.
Easter 1971 found sixteen-year-old Brenda Gayle Webb, better known as Crystal Gayle, in Britain for the Third International Festival of Country Music. The shy, softly spoken younger sister of Loretta Lynn, came as part of her older sister's package show. The previous November, her first record,
I Cried (The Blue Right Out Of My Eyes),
a song written by Loretta, was released by Decca. It climbed high on the country charts, but it was to be another four years before Crystal Gayle hit the charts again.
At the outset of her career, she was not too sure in which direction her music should take. At Wembley she spoke of a pop career, as she certainly didn't want to follow too closely in Loretta's footsteps. But her initial recordings for Decca were all solid country. It was almost a year after her debut record that a second release followed, and the time lapse was a major cause for the failure of
Everybody Ought To Cry
. The record buying public had forgotten the young newcomer, and the song was not really strong enough to catch their attention.
A few more singles for Decca followed, but when
I Hope You're Havin' Better Luck Than Me
failed in the summer of 1972, the company lost interest in her career. By this time Brenda Gayle Webb had become Mrs. Vassilos Gatzimos, having married a young Greek-American whom she prefers to call Bill. From the outset, Crystal's husband believed in his wife's talent as a singer and urged her to continue with her career. A new start was made with husband and wife combining on songwriting, and eventually the young lady from Bloomington, Indiana signed with United Artists. This time around, Crystal was determined to make her own way in the music business. She purposely refused to record songs written by or associated with Loretta Lynn. Crystal wanted her own style and very quickly found it, and at the same time, commercial success.
With astute guidance from producer Allen Reynolds, Crystal Gayle has come back with some fine performances: a mixture of folk, soft country and even slightly progressive, with the lyrics and melodies being the standouts. It was Reynolds' composition
Wrong Road Again
, which brought Miss Gayle back to the American country charts and also received enthusiastic airplays in Britain.
On her first album, simply titled CRYSTAL GAYLE, she ran through a series of gentle cuts highlighted by mild electric or acoustic instrumentation, double-tracked vocals and easy harmonies. It was brilliantly produced, nothing over-arranged and proficient musicians like Lloyd Green, Jim Colvard, Reggie Young, Joe Allen and Buddy Spicher were welded perfectly in place. Everything about the album radiates class. The result was hit singles with
Wrong Road Again, This Is My Year For Mexico
and
Beyond You
, the latter co-written by Crystal and her husband Bill. The overall feel of the album was somewhat similar to that of Don Williams' albums—the musicians were the same, creating that easy-flowing, laid-back style and songs like
Loving You So Long Now, When I Dream
and
Counterfeit Love
were the type that Williams would record.
Throughout 1975 Crystal Gayle maintained her run of hits, reaching even greater heights with
Somebody Loves You
, another Allen Reynolds song which further established her in Britain and led to the release of an album under the same title. Among the dozen songs were Ray Griff's
What I've Been Needin'
, her own commercial
Coming Closer
and the beautiful
I'll Get Over You
with superb fiddle work from Buddy Spicher.
It's the kind of album that takes over benevolently and leaves you gently only after it's completed its satisfying work. The arrangements are perfectly tailored to clothe Crystal's crystalline vocals in a style as modern as it is commercial. Her aim is not to grab your ears and shake you about, but rather to roll sweetly between them.
United Artists in Britain obviously feel there is a future for Crystal Gayle over here, having released her third Stateside LP, CRYSTAL simultaneously with its American issue. Miss Gayle has a wide vocal range that somehow, at a time when there is a myriad of female singers gaining popularity, sounds original.
There is a conscious move on the part of both singer and producer to aim her recordings at a crossover audience. From the country point of view, this third album is a commercial offering of contemporary country and pop. The back-up musicians provide a smooth blanket of sound on which the singer lies easily. This is more a case of Crystal in the pop world, doing the job majestically well.
One More Time (Karneval),
a minor hit last autumn, has an Eastern European feel with a strong commercial production and Crystal sounding a bit like the late Edith Piaf. For those who prefer the easy, laid-back style that brought this talented lady into the limelight, there is Bob McDill's catchy
I'll Do It All Over Again
, the haunting
Ready For The Times To Get Better
with a catchy chorus that could spell hit, and Wayland Holyfield's
You Never Miss A Real Good Thing (Til He Says Goodbye).
The future is undoubtedly bright for this young singer. She has good looks, a talent for writing touching songs and that special ability to interpret other people's material, bringing the most out of the lyrics. But perhaps most important of all, Crystal Gayle can appeal to a wider pop audience without having to stray from a good modern country sound.