Crystal Gayle - Blue Eyes Is Back
First Published in Country Music International, July 1997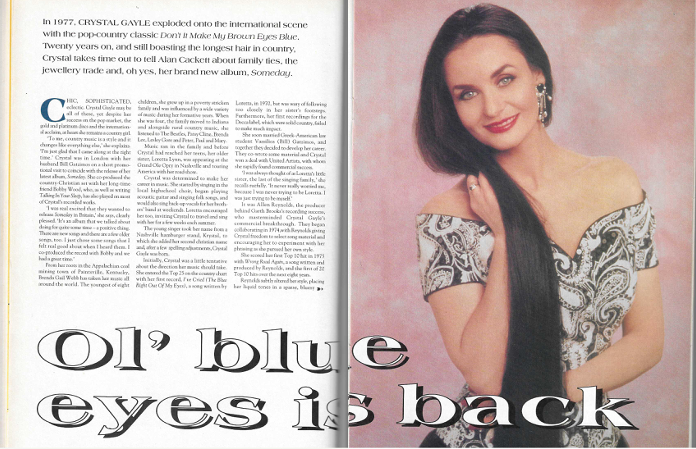 In 1977, Crystal Gayle exploded onto the international scene with the pop-country classic Don't It Make My Brown Eyes Blue. Twenty years on, and still boasting the longest hair in country, Crystal takes time out to tell Alan Cackett about family ties, the jewellery trade and, oh yes, her brand new album SOMEDAY.
Chic, sophisticated, eclectic. Crystal Gayle may be all of these, yet despite her success on the pop market, the gold and platinum discs and the international acclaim, at heart she remains a country girl.
"To me, country music is a style and it changes like everything else," she explains. "I'm just glad that I came along at the right time." Crystal was in London with her husband Bill Gatzimos on a short promotional visit to coincide with the release of her latest album, SOMEDAY. She co-produced the country-Christian set with her long-time friend Bobby Wood, who, as well as writing Talking In Your Sleep, has also played on most of Crystal's recorded works.
"I was real excited that they wanted to release SOMEDAY in Britain," she says, clearly pleased. "It's an album that we talked about doing for quite some time—a positive thing. There are new songs and are a few old songs, too. I just chose songs that I felt real good about when I heard them. I co-produced the record with Bobby and we had a great time."
From her roots in the Appalachian coal mining town of Paintsville, Kentucky, Brenda Gail Webb has taken her music all around the world. The youngest of eight children, she grew up in a poverty-stricken family and was influenced by a wide variety of music during her formative years. When she was four, the family moved to Indiana and alongside rural country music, she listened to the Beatles, Patsy Cline, Brenda Lee, Lesley Gore and Peter, Paul and Mary. Music ran in the family and before Crystal had reached her teens, her older sister, Loretta Lynn, was appearing at the Grand Ole Opry in Nashville and touring America with her road show.
Crystal was determined to make her career in music. She started by singing in the local high school choir, began playing acoustic guitar and singing folk songs, and would also sing back-up vocals for her brothers' band at weekends. Loretta encouraged her too, inviting Crystal to travel and sing with her for a few weeks each summer.
The young singer took her name from a Nashville hamburger stand, Krystal, to which she added her second Christian name and, after a few spelling adjustments, Crystal Gayle was born. Initially, Crystal was a little tentative about the direction her music should take. She entered the Top 25 on the country chart with her first record I've Cried (The Blue Right Out Of My Eyes), a song written by Loretta, in 1970, but was wary of following too closely in her sister's footsteps. Furthermore, her first recordings for the Decca label, which were solid country, failed to make much impact.
She soon married Greek-American law student Vassilios (Bill) Gatzimos, and together they decided to develop her career. They co-wrote some material and Crystal won a deal with United Artists, with whom she rapidly found commercial success. "I was always thought of as Loretta's little sister, the last of the singing family," she recalls ruefully. "It never really worried me, because I was never trying to be Loretta. I was just trying to be myself."
It was Allen Reynolds, the producer behind Garth Brooks' recording success, who masterminded Crystal Gayle's commercial breakthrough. They began collaborating in 1974, with Reynolds giving Crystal freedom to select song material and encouraging her to experiment with her phrasing as she pursued her own style. She scored her first Top 10 hit in 1975 with Wrong Road Again, a song written and produced by Reynolds, and the first of 20 top 10 hits over the next eight years. Reynolds subtly altered her style, placing her liquid tones in a sparse, bluesy setting that emphasised the torch-song qualities in Crystal's voice. "Allen is wonderful, he's just incredible and he's so easy to work with," says Crystal. "From the beginning, we were both on the same wavelength and Allen brought out the best in me musically." As Allen and Crystal stretched the boundaries of country music they were accused by some of selling-out. But in truth, Crystal's voice could never have been constrained by the confines of country music.
"We never looked to widen the field of our music," Crystal reflects. "We were just looking for material that I enjoyed singing and Allen liked to produce. We were never looking for any particular sound."
Of the 20 Top 10 hits the duo scored, nine went to number Oone—the first, I'll Get Over You, written by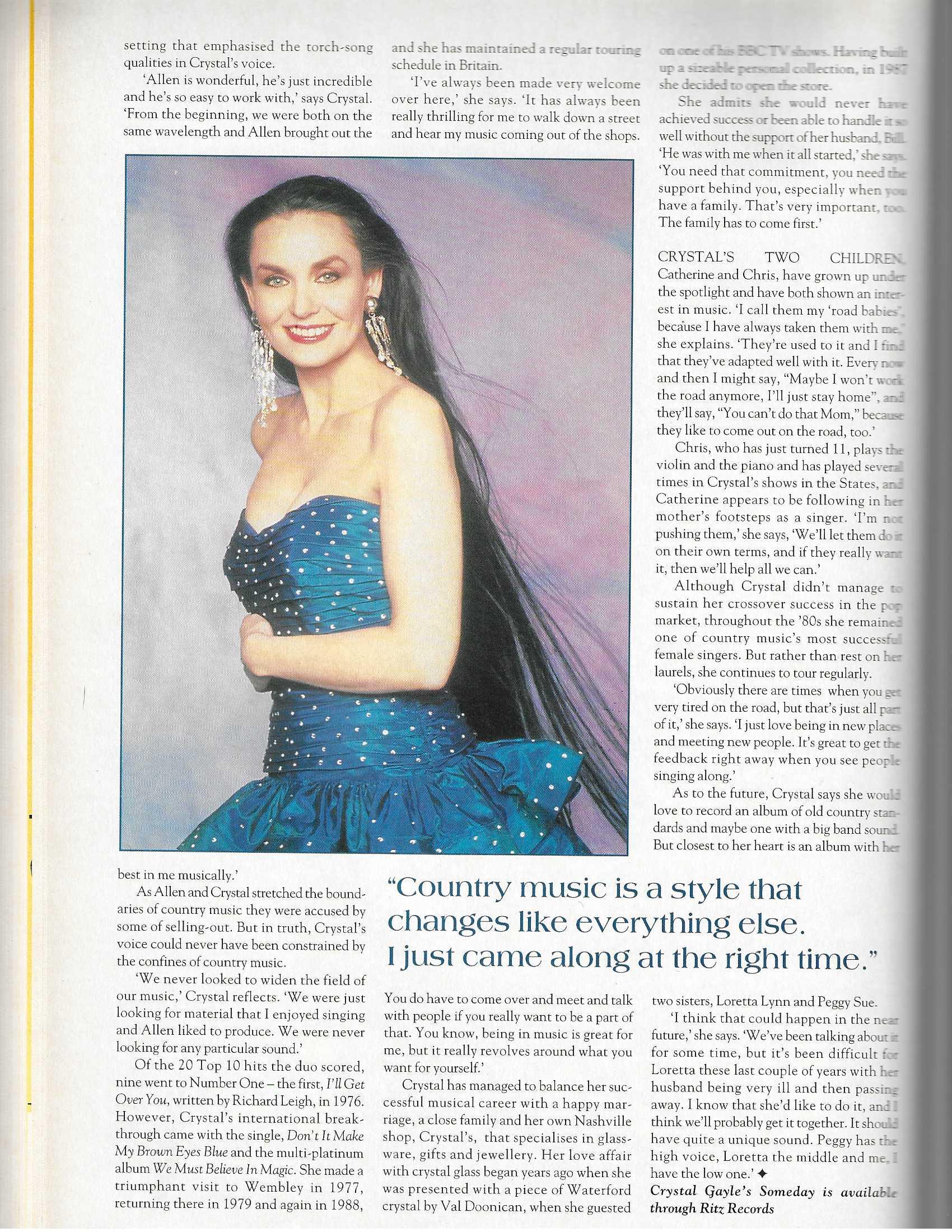 Richard Leigh, in 1976. However, Crystal's international breakthrough came with the single, Don't It Make My Brown Eyes Blue and the multi-platinum album WE MUST BELIEVE IN MAGIC. She made a triumphant visit to Wembley in 1977, returning there in 1979 and again in 1988, and she has maintained a regular touring schedule in Britain.
"I've always been made very welcome over here," she says. "It has always been really thrilling for me to walk down a street and hear my music coming out of the shops. You do have to come over and meet and talk with people if you really want to be part of that. You know, being in music is great for me, but it really revolves around what you want for yourself."
Crystal has managed to balance her successful musical career with a happy marriage, close family and her own Nashville shop, Crystal's, that specialises in glassware, gifts and jewellery. Her love affair with crystal glass began years ago when she was presented with a piece of Waterford crystal by Val Doonican, when she guested on one of his BBC TV shows. Having built up a sizeable personal collection, in 1987 she decided to open the store.
She admits she could never have achieved success or been able to handle it so well without the support of her husband, Bill. "He was with me when it all started," she says. "You need that commitment, you need the support behind you, especially when you have a family. That's very important, too. The family has to come first."
Crystal's two children, Catherine and Chris, have grown up under the spotlight and have both shown an interest in music. "I call them my 'road babies', because I have always taken them with me," she explains. "They're used to it and I find that they've adapted well with it. Every now and then I might say, 'Maybe I won't work the road anymore, I'll just stay at home,' and they'll say, 'You can't do that Mom' because they like to come out on the road, too."
Chris, who has just turned 11, plays the violin and the piano and has played several times in Crystal's shows in the States, and Catherine appears to be following in her mother's footsteps as a singer. "I'm not pushing them," she says, "We'll let them do it on their own terms, and if they really want it, then we'll help all we can."
Although Crystal didn't manage to sustain her crossover success in the pop market, throughout the 1980s she remained one of country music's most successful female singers. But rather than rest of her laurels, she continues to tour regularly.
"Obviously there are times when you get very tired on the road, but that's just all part of it," she says. "I just love being in new places and meeting new people. It's great to get the feedback right away when you see people singing along."
As for the future, Crystal says she would love to record an album of old country standards and maybe one with a big band sound. But closest to her heart is an album with her two sisters, Lorette Lynn and Peggy Sue. "I think that could happen in the near future," she says. "We've been talking about it for some time, but it's been difficult for Loretta these last couple of years with her husband being very ill and then passing away. I know that she'd like to do it, and I think we'll probably get it together. It should have quite a unique sound. Peggy has the high voice, Loretta the middle and me, I have the low one."