Crandall Creek - Headed South
Bell Buckle Records
****1/2
It's somewhat rare for a relatively new bluegrass band to release an album filled completely with original material. Most up-and-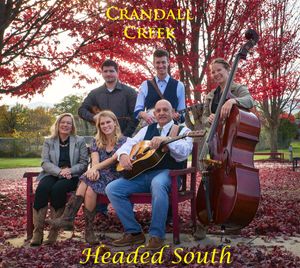 coming groups tend to rely on established songwriters and updated versions of old standards, with perhaps a few originals sprinkled throughout. West Virginia's Crandall Creek comprising Jerry Andrews (guitar, vocals), Kathy Wigman Lesnock (vocals), Dustin Terpenning (banjo, mandolin, guitar), Trish Imbrogno (bass), Abby Latocha (vocals, mandolin, guitar) and Wyatt Kidd (fiddle) have produced a second album full of well-written songs that reflect the group's gift for compelling storytelling. Singing songs in praise of heaven, earth and home alongside romantic entanglements they eschew the modern sensibilities often employed by contemporary bands to extract populist appeal. That's not meant as a criticism, as this band deserves to reach the widest possible audience and this eclectic collection is of the highest quality from beginning to end.
Life's struggles are acknowledged in the opening Oh Glory Be, a fast-paced fiddle driven song about the hardships suffered by farmers through a dry spell and the relief when the rain finally comes. Despite the troubling times described within the lyrics it is a bright and optimistic sing-along-style song with praise offered up to the Almighty. Faith also flourishes in the closing Edge of the River with a gentle melody featuring mandolin, guitar and fiddle and gorgeous vocal harmonies full of reverence and devotion. In between you'll find a song about illicit moonshine in Liquid Gold, featuring Jerry Andrews taking the lead and with the predominance of banjo, fiddle and mandolin and the freewheeling rhythm suggesting a sound that leans towards music of the vintage variety. Pine Over You shows the band embracing a more up-tempo and bluegrass-y approach, as they offer a mountain-styled break-up song with a toe-tapping beat to disguise the desolate lyrics. It's a similar upbeat approach to Drivin' Me Insane, in which the former boyfriend is leaving on a train. This time the vocal is quite spunky with the band providing a kinetic pace of a train departing that drives the proceedings forward.
Mention should be made of 20-year-old Abby Latocha the band's new lead vocalist who's only been with Crandall Creek a few months. She demonstrates a vocal performance that belies her youth and relative inexperience with This Heart Of Mine, a heartbreaking ballad. Amidst an eerie, shuffling soundscape, we are treated to her wistful and heart-rending vocal that seems to drift over a slow-crawling wash of gentle acoustic guitar, wrenching fiddle and gorgeous harmonies to create a near-perfect break-up song. Pennies For A Wish is a jaunty slice of nostalgia with sweet childhood remembrances of growing up in the stunning landscape of West Virginia and the simpler life there that has sadly disappeared in the name of progress. Tender female vocals pair with artful guitar and expert fiddling beckoning the listener toward a beautiful vision. That vision for a better life is also a part of The Bean Song, as Kathy and Abby blend their voices to perfection as they harmonise about the wish to escape a cramped apartment city life for the freedom of a back yard to grow some beans, laze on a porch swing with a room to see the stars.
Emotional and heart-warming, many of these songs are filled with personal anecdotes. That said, HEADED SOUTH is more than simply a selection of songs that's wholly reflective in nature. It's a testament to the band's talent that they're able to shift the mood so easily and adroitly from song to song. None seem too out of the ordinary from a band that values its storytelling needs over the invisible genre boundaries that limit many bluegrass acts. Nothing ever startles or jars, but that doesn't mean the project is an overly erudite listen. In fact, it's a very memorable album full of superb songwriting, expert musicianship and heartfelt vocal work. Ultimately that's the main reason why Crandall Creek shines so brightly.
January 2021