Country Music Hall of Fame 2016 Inductees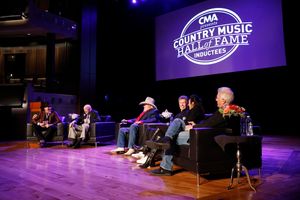 The Country Music Association have announced that Charlie Daniels, Fred Foster, and Randy Travis will become the newest members of the Country Music Hall of Fame in 2016. Charlie Daniels will be inducted in the 'Veterans Era Artist' category, while Randy Travis will be inducted in the 'Modern Era Artist' category. Fred Foster will be inducted in the 'Non-Performer' category, which is awarded every third year in a rotation with the 'Recording and/or Touring Musician Active Prior to 1980' and 'Songwriter' categories. These three will increase membership in the coveted Country Music Hall of Fame from 127 to 130 members. It is the first time that all of the inductees hail from the same state (North Carolina) since 1985.
As always when new members to the Hall of Fame are announced, there are always complaints and criticism about those performers, musicians and executives that have been overlooked. Some years ago the CMA did a 'catch-up' with multiple inductees in one year, but despite that, there are still literally dozens of valid names that should have been added to the Hall of Fame. I'm not going to lis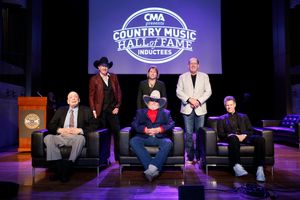 t them here, as there's just too many of them, but I will mention just a couple that have close connections to the UK—namely Slim Whitman and George Hamilton IV. Perhaps it's because, in the eyes of Nashville's industry people, who help choose the inductees, these two didn't have such a high Stateside profile as some of other people in the Hall of Fame. Yet, for years, these same industry folk, guided by the CMA officers, make country music more popular in the international market. This year, with the way that country music has made massive inroads in the UK, would have been the ideal time to recognise two pioneering international acts, both sadly no longer with us.
Before I receive irate criticism, let me add immediately that I have absolutely no problem with the three choices named this year. Each in their own way has made significant contributions to the growth of country music over the years and all deserve this long overdue recognition.
Fred Foster is regarded as one of Nashville music's visionaries, as a man who saw beyond labels like 'pop' or 'country' and as a key figure in the careers of many of the industry's greats. He is the man who first signed Kris Kristofferson and Dolly Parton to recording contracts and also turned a struggling Roy Orbison into an international pop icon. Unlike most record label executives, Foster was first and foremost a music fan. He was also something of a maverick, a man who didn't always follow the rules or the accepted way of doing things, preferring to go with his gut feeling and often ending up out on a limb.
Fred Foster was born on July 2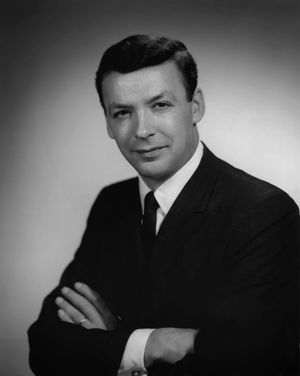 6, 1931, in rural North Carolina. He took over the family farm at age 15 when his father died. Two years later he left the farm for Washington DC, where his sister Polly lived, resolving to be anything but a farmer. A passionate lover of music, he began to write songs with local musicians while working as a hotel carhop.
His first job in the music business was as a record store clerk and his early work involved promotion and distribution. He began recording local acts on the side, even helping future fellow Hall of Fame member Jimmy Dean cut early tracks. He joined Mercury Records in 1953 and eventually became Head of National Country Promotion. But after making his first trip to Nashville to determine why Country sales were flat, he clashed with executives over the direction of the label's sound, which he felt was antiquated in the age of rockabilly.
During his short tenure at ABC/Paramount in 1956, he acquired the master to the label's first million-seller, A Rose And A Baby Ruth by George Hamilton, IV. He also signed Rock and Roll Hall of Fame member Lloyd Price to the label. Price's hits included: Stagger Lee, Personality, and I'm Gonna Get Married. Soon after he left ABC/Paramount, in 1958 Foster set up Monument Records—a nod to the nearby Washington Monument—and publishing company Combine Music.
From the outset Foster nurtured links with Nashville, often commuting from Washington DC to Music City. He used the earnings from the company's first hit song, Billy Grammer's Gotta Travel On, to move to Nashville in 1960 and immediately demonstrated a vision and a way of working which was quite different to how the established Music City recording industry was then producing records.
One of the first acts he signed in Nashville was Roy Orbison, who had recently left RCA, where he'd failed to make an impact. The Texan singer had started out as a rockabilly singer with Sun Records and had also made an impression as a talented songwriter. Fred Foster brought a dramatic change to both Roy Orbison's way of singing and his music fortunes.
"Roy wasn't a big-voiced singer when I first signed him," Foster recalled a few years ago. "He'd hit those high notes, but he'd hit them in falsetto. We got to the song Running Scared, and we had four horns, six voices, a full rhythm section and all these players, and when we got to the high notes, he'd just disappear. I told him: 'If you're going to keep this arrangement, you're going to have to hit that in full voice.'"
Orbison was afraid of sounding silly, and afraid of failing. Foster assured him that no one would ever hear the tape if he wasn't able to hit the note properly—"I told him I'd destroy the tape," he said—and Orbison agreed to give it a shot. "He roared into it and sounded like [opera singer] Caruso," Foster added. "Most of the musicians were so shocked that they almost quit playing, and [guitarist] Harold Bradley almost came out of his chair."
Roy had already scored soft-pop hits for Monument with Only The Lonely and Blue Angel, but Running Scared gave the singer a new vocal freedom and so began a long run of classic hits including Cryin', In Dreams, Blue Bayou, Dream Baby, Mean Woman Blues, It's Over and Oh, Pretty Woman.
Fred Foster had cemented his place in the annals of music history with the signing of Roy Orbison. Their recordings remain towering achievements and added an emotional complexity to the nascent genre and inspired a legion of future rock'n'roll stars, including The Beatles and a young Bruce Springsteen. Orbison's success with Monument gave Foster the confidence and capital he needed to forge his own path in Nashville, a habit developed in his teen years.
Within a decade, Foster's fearless musical tastes helped launch the iconic careers of fellow Country Music Hall of Fame members Kris Kristofferson, Dolly Parton and Willie Nelson while also writing an important chapter in rock'n'roll music history.
In 1966 he signed a young Dolly Parton, who had been turned down by all the major labels, helping her shape not only her sound but the infectious and bawdy persona that helped gain her an international following. Of Parton, Foster said: "Sometimes you just know…sometimes. And that makes up for all the times you had to guess." Foster recorded her first album, HELLO, I'M DOLLY, which yielded the hits Dumb Blonde and Something Fishy. The songs immediately identified Parton as a star and showed she was anything but a dumb blonde.
Foster worked with a number of noted artists during this time, including Grandpa Jones, Willie Nelson, Ray Price, Boots Randolph, Ray Stevens (Foster produced the top ten hit Guitarzan), Billy Walker, Tony Joe White, and Jeannie Seely, recording her 1967 Grammy Award-winning song Don't Touch Me.
The record label chief also met Kris Kristofferson during this period and recognised he was more than a poetic songwriter, urging him to record and perform his own songs. Kristofferson sat in Foster's office, trying to turn down a record deal; he was looking for a publishing deal not a recording contract.
"I asked him to sing me four songs," Foster remembered. "By the second one, I thought: 'My God, I must be hallucinating. There's no way anyone can write songs like this.' After the fourth song, I said: 'I'll agree to this on one condition: You have to make an album for Monument.'"
Kristofferson bashfully replied that he couldn't make an album, primarily because, as he put it: 'I sing like a frog.' Foster's response: 'Yeah, but a frog that can communicate.' Kristofferson wound up recording for Monument, of course, and the episode goes down as a prime example of why Fred Foster was, and is, well, Fred Foster.
Their first album together, 1970's KRISTOFFERSON, displayed the singer-songwriter's transcendent talent and contained many of his hallmark songs, including Sunday Mornin' Comin' Down, Help Me Make It Through The Night, For The Good Times, and Me And Bobby McGee. Foster shares a co-writer's credit on the latter for suggesting the song title 'Me and Bobby McKee,' named for a nearby female office worker. Kristofferson misheard him and eventually delivered Me And Bobby McGee.
"It's a gift, being able to sense something unique in somebody, and that's what I aimed for, always," he noted modestly. "Anybody that dropped a needle on a groove of a Monument record, I wanted them to immediately know, 'Oh, that's Dolly Parton,' or 'That' Roy Orbison.' It had to be unique."
Foster sold Monument and Combine in 1990, but has continued to produce music, winning a Grammy for his work with Willie Nelson and Ray Price on LAST OF A BREED in 2008. He was inducted into the Musician's Hall of Fame in 2009 and, along with his friends Kris Kristofferson and Willie Nelson, received the prestigious Dale Franklin Award from Leadership Music in 2010. Two years later, his home state inducted Foster into the North Carolina Music Hall of Fame. Foster received a Trustees Award for his contributions to music from the Recording Academy earlier this year. "I was a fan, of course. Being in on the birth of something. … I can't begin to describe the thrill."
"Being involved in Country Music is like being part of an extended family," said Foster. "We all share common goals and we do our best to honour the heritage and tradition of the music. Having been able to make a living doing what I love for 58 years has truly been a blessing. Without the support of so many talented singers, songwriters, musicians and engineers, this award would never have been possible. I share this honour with all of them. Thank you CMA; this will go to the top of my most cherished memories."
Randy Travis was a mainstay of neo-traditionalist country music that took hold of Nashville in the mid-1980s. A restrained but powerful singer anchored heavily in the Lefty Frizzell/Merle Haggard tradition, he almost single-handedly kept the honky-tonk spirit alive for those good ole boys huddled around a jukebox, drinking them beers and listening to genuine country music. When he hit Nashville with his STORMS OF LIFE, platinum album in 1986, country music was fumbling for a pop-flavoured identity as record sales had plummeted and the music had become stale and cliché-ridden.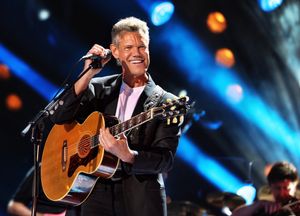 Travis sang straight-ahead country music with warmth and conviction, and though he wasn't the best, he was young, good-looking, and in the right place at the right time. Only eighteen months previously he was working in the kitchens at a watering hole known as the Nashville Palace. His album headed the country charts for eight weeks, and spawned four hit singles, one of which, On The Other Hand, was adjudged Song Of the Year, while another, Diggin' Up Bones, reached number one on the country listings.
Nobody would have guessed that the somewhat withdrawn, awkward stage performer, would go on to be named CMA Male Vocalist two years running in 1987 and 1988, pick up several Grammy awards and eventually become a successful movie actor. For a time, in the mid-1990s, he was eased off of country radio by the young pretenders, many of whom had grown up on his music. A change of record labels, from Warner Bros. to DreamWorks, led to a revival of Travis' fortunes. 1998's YOU AND YOU ALONE album became his most successful in several years, while Out Of My Bones, the first single, took Travis back to the top.
Born Randy Bruce Traywick on May 4, 1959 in Marshville, North Carolina, Travis started singing and playing guitar when he was nine. He and his brother Ricky formed a duo called the Traywick Brothers, and performed at local clubs. Tearaway youngsters, both were often in trouble with the law for drink and drug related problems. While on probation Randy appeared in a talent show at a Charlotte club owned by Lib Hatcher. Taking responsibility for the youngster as manager and guardian, she financed his first recordings.
Joe Stampley helped Randy land a contract with Paula Records in 1978. The following year, Travis released two singles under his given name; one of them, She's My Woman, scraped the bottom of the country charts. In 1982, Travis and Hatcher moved to Nashville, where she managed the Nashville Palace nightclub while he sang and cooked. Now working under the name Randy Ray, he recorded his first album, RANDY RAY LIVE and sold primarily in the Nashville Palace.
Warner Brothers signed Randy in 1985 and suggested that he change his performing name to Randy Travis. Initially he struggled to make an impact, but his second single, 1982, hit the top ten in early 1986. With his Brat-Pack appeal and Haggard-inclined voice, Randy won Music City's coveted 1986 Horizon Award from under the very brim of the Dwight Yoakam Stetson; Kathy Mattea and Dan Seals were in there too. The STORMS OF LIFE album sold a million copies within a few months of release and has now sold in excess of four million, opening the doors for today's multi-million selling country albums.
Between 1986 and 1992 he had fourteen number one country hits, including Forever And Ever Amen (CMA Single of Year 1987), Deeper Than The Holler, Hard Rock Bottom Of Your Heart and Look Heart, No Hands. 1990's Heroes And Friends was a duet set featuring George Jones, Dolly Parton and Merle Haggard. He teamed up with Alan Jackson to co-write Forever Together, number one in 1991 and also co-wrote Jackson's 1992 chart-topper She's Got The Rhythm (And I Got the Blues). He side stepped into acting appearing in TV mystery series Matlock, and made-for-TV movies At Risk, Dead Man's Revenge, and Frank And Jesse. His hold at the top of the charts began to slip after Clint Black and, in particular, Garth Brooks, though he returned to number one with Whisper My Name in 1994. WIND IN THE WIRE, a soundtrack to his television special, marked his first unsuccessful album. In August 1996 he released FULL CIRCLE, his last album for Warner Brothers. Signing with DreamWorks, his first album for the label, YOU AND YOU ALONE, released in the spring of 1998, took him back to the top. In late 2000 he released INSPIRATIONAL JOURNEY, an album of traditional and contemporary religious songs. His film credits have continued and include The Rainmaker, Black Dog, Fire Down Below and White River Rangers, which had him working alongside British actor Bob Hoskins.
The 56-year-old singer's public performance career was put on hold in 2013 when Travis suffered a stroke as a result of a viral infection in his heart. With doctors telling the family that hope was virtually lost and after spending six months in the hospital, he has fought back harder than ever and is now able to walk. His speech and singing continue to improve with hopes of being back in front of his loyal fans one day soon.
He is currently living on his ranch in Texas with his wife Mary Davis-Travis, where he continues physical rehabilitation and has been making special appearances including attending the Opry Trust Fund dinner honouring Warner Bros. Records executive Jim Ed Norman; attending the recent TJ Martell Honours Gala; and last year at Cowboys Stadium, where he received a standing ovation from the 70,000 people in attendance.
"The halls of fame are built for, and by, those that make a difference in their chosen career," said Travis. "I chose a career that I loved—and, it made a difference in me! My greatest joy was sharing my song and my God-given talent with family, friends, fans, and the industry. Thank you for giving me the chance, for believing in me along the way and for allowing me to 'hang my hat' alongside some of my greatest heroes. I am honoured to join those before me, and humbled to go ahead of those that will follow into Country Music's Hall of Fame: no greater award could I ask to receive. God bless CMA and God bless our country's music—Forever and Ever, Amen!"
Charlie Daniels, known as the Big Daddy of Southern Country Rock, has mastered rock'n'roll, bluegrass, gospel, country, blues and jazz, swirled them all together and created his own unique sound. A musical pioneer whose influence on country music remains strong decades after he first came onto the scene, he has won CMA and Grammy Awards throughout his long career, not to mention numerous gold and platinum records. Born the son of a lumberjack in Wilmington, North Carolina on October 28, 1936, the guitar and fiddle-playing Daniels formed his first band, playing hillbilly and bluegrass, in his late teens. A few years later he moved into rock'n'roll and r&b, working with several local groups. The longest stretch was with the Jaguars (1959-1967), with whom he recorded an instrumental single Jaguar in Fort Worth, Texas. It was in Texas that he met producer Bob Johnston, who guided him to Nashville, where he became a sessioneer with Flatt & Scruggs, Marty Robbins, Claude King and also played on Ringo Starr's country album and Bob Dylan's NASHVILLE SKYLINE.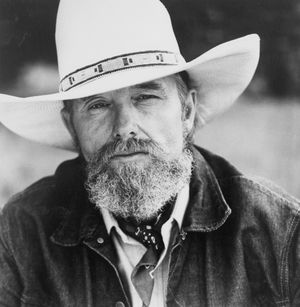 A classy songwriter, Daniels started pitching his songs in the late 1950s and his first taste of success came with It Hurts Me, a tender ballad that became an Elvis Presley B-side in 1964. He's since had songs recorded by Tammy Wynette, Gary Stewart and many others. In the late 1960s he turned his hand to producing when Johnston asks him to supervise recordings by rock band the Youngbloods. He recorded his first solo album, CHARLIE DANIELS, for Capitol Records in 1970 and formed the first Charlie Daniels Band. The CDB was signed to Kama Sutra Records and hit the pop and country charts in 1973 with Uneasy Rider, a talking bluegrass number. They struck gold with 1974's FIRE ON THE MOUNTAIN album and enjoyed more chart success with The South's Gonna Do It Again and Long Haired Country Boy.
Very much at the forefront of the burgeoning Southern Rock movement, in 1974 Daniels began his annual Volunteer Jam concerts, featuring some of the biggest names in country and rock. He then signed with Epic Records out of Nashville, and 1976's SADDLE TRAMP album had the CDB blazing new territory as their records crossed boundaries with music that strained at country's fences. Three years later the boundaries were forever redefined by the sheer fiddle-playing joy that screams through his 1979 pop and country chart-topper The Devil Went Down to Georgia. Winner of both Grammy and Country Music Association Awards, the song showed off Daniels' incredible musical talents and attracted a huge non-country audience. The album, MILLION MILE REFLECTIONS, became a multi-million selling success and resulted in a hectic road schedule. Knowing that the fun factor leads to greater success, Daniels has been making fun music for more than forty years, sticking to one rule and one rule only. If it sounds good, he plays it.
The CDB appeared in the 1980 film, Urban Cowboy and chalked up further chart hits with The Legend Of Wooley Swamp, Drinkin' My Baby Goodbye and Boogie Woogie Fiddle Country Blues. Further gold and platinum albums followed throughout the 1980s: FULL MOON, ME AND THE BOYS, POWDER KEG and SIMPLE MAN. In 1992 he moved over to Liberty Records and began recording country-gospel material. The Door received a 1994 Dove Award and a Grammy nomination while 1995's SAME OL' ME, was cut with Nashville session players, not the CDB. Two years later Daniels launched his own label, Blue Hat Records; the first release, BLUE HAT, was a blues record that was available only in Wal-Mart stores. The second release, FIDDLE FIRE, was nominated for a 1998 CMA Award, the same year that the ACM honoured him with the Pioneer Award.
Still busy creating music and performing, in 2014 Daniels released a tribute to the music of Dylan, OFF THE GRID: DOIN' IT DYLAN. He followed that up in 2015 with LIVE AT BILLY BOB'S TEXAS, a 14-track project that brought the talents of the Charlie Daniels Band together with the likes of legendary Country artists including Willie Nelson, Merle Haggard, Gary Stewart, David Allan Coe, Pat Green, Randy Rogers Band, Stoney LaRue, Charlie Robison, and many others as a member of the Live at Billy Bob's Texas family.
Daniels, now 79, has overcome two major health scares—prostate cancer in 2001 and a mild stroke in 2010—and continues to perform more than 100 dates a year. He was inducted into the Grand Ole Opry in 2008 and the Musicians Hall of Fame in 2009. His multi-skilled Charlie Daniels Band always used traditional country instrumentation but played with the panache of rock musicians and the kick of r&b rhythms. Ultimately they made a better job of this particular fusion than most of 'yer-coked-out Whiners of the Purple Passage,' mainly because they were country musicians before they were rock musicians and therefore had a healthy respect for the demands of both styles, refusing to do it the easy way and pillage one genre for the benefit of the other.
"I have harboured many lofty ambitions, but I was almost afraid to dream that I would ever be inducted into the Country Music Hall of Fame, what a surprise, what a blessing. Thank you God," said Daniels.
Photo credits -
Photo 2 - front row (l-r): Fred Foster, Charlie Daniels, Randy Travis, back row (l-r): Kix Brooks, CMA Board member; Sarah Trahern, CMA Chief Executive Officer; John Esposito, CMA Board Chairman.
Photo Credit: John Russell / CMA
Photo 1 - Kix Brooks interviews the 2016 Country Music Hall of Fame inductees Fred Foster, Charlie Daniels, and Randy Travis, along with Travis' wife Mary Davis-Travis and long-time producer Kyle Lehning Tuesday afternoon during the 13th Annual CMA Artist Luncheon in Nashville.
Photo Credit: John Russell / CMA