Cory Keefe - I'll Keep It Country
KDM Records
****1/2
Good, straightforward, no-frills country music is hard to find these days, but there are a growing number of new young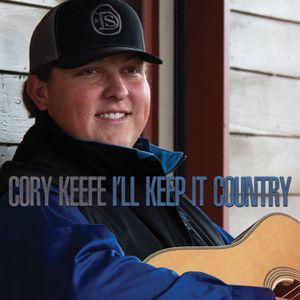 performers bringing the music back and along the way gaining a growing fan base.  Cory Keefe has been peddling his special brand of traditional country music around the Florida Gulf Coast for a number of years. This Nashville recorded debut album nicely showcases his flair for uncomplicated country narratives with a decisive, authoritative singing style. The title sums up his whole approach, that is to say, country but not sh*t-kicking country. This is country with real soul, in the manner of George Strait, Keith Whitley, Alan Jackson, Tracy Lawrence and Daryle Singletary. By incorporating vintage influences with so much skill, Cory channels yesterday's greats without ever lazily copying them. Instead, he transports you to way back when, then makes it sound of the moment. What's most impressive about his music is the honesty and intensity with which he performs it. Each song has a freshness and no-frills appeal and is delivered with the passion of someone anxious for listeners to not just hear the words, but also really interact with the message.
Cory is never better than when he's in self-deprecating mode, like on Deeper Well and Young Man Old. Granted, they are modest offerings, but that approach also adds to the charm. When I Breathe is another low-key offering, but the laid-back country-flavoured melody belies the heart-breaking subject matter. The revival of Max D. Barnes I Just Want You, a duet with Lorrie Morgan, draws on a country soul groove, that is borne along by the pair's emotional and passionate vocal interaction. Another oldie is Brotherly Love, originally made famous by Keith Whitley and Earl Thomas Conley. For this version Cory is joined by his twin brother Dustin for a heartfelt rendition. Where There's a Beer, There's a Way is a classic honky-tonk ballad. With sounds as well-worn as the barstool the poor guy refuses to abandon—think warm, Mark Chesnutt-esque country with swirling steel and twangy guitars. He also sings She Calls Me Cowboy, an old-fashioned love song with a decidedly contemporary flair.
The title song brings to the fore the long-lost country tradition of a story ballad, which Cory handles with a master's touch. It's not always easy to bring this off with the kind of measured emotion that engages the listener, but he brings it off like a veteran. Clever word play comes into play on Damn Strait, with the singer looking back home with a tinge of regret, a commitment to remember why he left and his confidence about where he'll be going next. Flickers of ol' George on occasion but that may be down to the fine arrangement with some of the most bewitching steel guitar playing around. The closing country struttin' Going Home is packed full of the stuff that lends itself to rolling down the windows and is the ideal way to end a near-perfect album.
April 2021