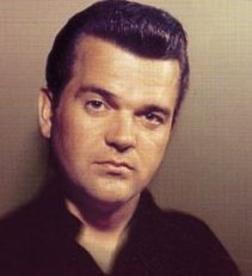 In the years before Conway Twitty became a near fixture on the American country music charts, there had been the King of Country Music, the Queen and the Father. Then he came along and was often referred to as the High Priest. It was a little over the top, but in many ways an apt description, as with his soulful, passionate voice, he had the ability to instil lyrics with a kind of religious fervour placing him high among the genuine greats. His main talent was to take the mundane fiascos and disappointments of life and invest them with a sense of eloquent tragedy that was neither inflated or patronising. Originally named after a famous silent film comedian, Twitty took his stage name from the town of Conway (in Arkansas) and Twitty (in Texas). Made an honorary chief of the Choctaw nation in the early 1970s, he was also awarded the Indian name 'Hatako-A-Yakni-Toloa', which translates into 'Great Man Of Country Music, apt for a singer who accumulated a record-breaking 42 country number ones and another 30 that soared into the top 10.

The son of a riverboat captain, he was born Harold Lloyd Jenkins in Friars Point, Mississippi on September 1, 1933, and raised in Helena, Arkansas, where he learned to love not only country, but also blues and gospel music. When he was 10 years old, he joined his first group, the Phillips Country Ramblers, who occasionally performed on local radio. Despite his interest in music, he originally planned to become a professional baseball player. Jenkins was talented enough to be offered a contract by the Philadelphia Phillies, but he was unable to join the team, since he was drafted into the army during the Korean War. While he was serving in the Far East, he sang with a country band called the Cimarrons. Returning to America in 1956, Jenkins still had an open offer to join the Phillies, yet he decided to pursue a musical career after he heard Elvis Presley. With dreams of recording for Sun Records, Harold Jenkins headed to Memphis, where Sam Phillips did indeed sign him to a recording contract, but none of the tracks he cut were ever released. Jenkins' biggest contribution to the label was writing Rockhouse, a minor hit for Roy Orbison. Leaving Sun in late 1956, he set out on a rockabilly package tour, during which he invented the stage name of Conway Twitty by combining the names of an Arkansas and Texas city, respectively. At the beginning of 1957, he signed to Mercury Records, where he released a handful of singles that didn't make much of an impact, though I Need Your Lovin' scraped the very bottom of the pop charts.

In 1958, he moved to MGM Records, where he finally achieved success with It's Only Make Believe, one of 1958's biggest selling world-wide hits. A song he had co-written with Jack Nance it featured vocal support by Presley's back-up group The Jordanaires. Heavily influenced by Elvis, Twitty was hardly out of the pop charts from 1958 -61. Danny Boy, Lonely Blue Boy and The Story Of My Love, are three songs that marked Twitty as one of the pop idols of the late 1950s. He also appeared in low-budget teen films Sex Kittens Go To College, Platinum High School and College Confidential.

Most of his early pop and rock'n'roll records were recorded in Nashville with such well-known players as Floyd Cramer, Grady Martin, Ray Edenton, Hank 'Sugarfoot' Garland, Harold Bradley and Buddy Harman. Always a prolific songwriter, many of the songs were self-penned, some in partnership with his drummer Jack Nance and include I'll Try, Will You Love Me Then, As You Love Me Now, When I'm Not With You, My One And Only You and I Need You So. There were distinctive renditions of hit songs of the period including a great rendition of Fats Domino's Blueberry Hill, Hank Williams' You Win Again and Unchained Melody. Showing his versatility, he also recorded You'll Never Walk Alone in 1959 with an arrangement and vocal style that was surely copied by one Gerry Marsden just four years later.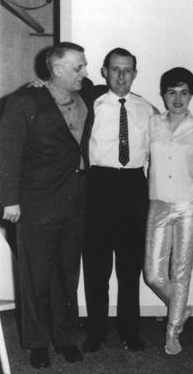 Twitty's rock'n'roll fame arrived suddenly and it went away just as quickly. By the beginning of 1961, his singles had stopped entering the Top 40. Nevertheless, he continued to tour, but soon MGM dropped him from their roster. Signing with ABC-Paramount, he began to add more country songs to his repertoire, yet he was still primarily recording pop material. Having been raised on country music, he hankered after a career in country, and when the rock'n'roll bubble burst, he started pitching his self-penned country tunes to Nashville. Ray Price recorded Walk Me To The Door in 1960, but Conway didn't actively pursue that avenue until 1965, when he walked out in the middle of a concert at a New Jersey nightclub, and decided he wanted to become a country singer.
By the end of 1965 Twitty had begun a collaboration with record producer Owen Bradley, one of the cornerstones of the 'Nashville Sound,' and had signed to Decca Records. In the spring of the following year, he released his first country single, Guess My Eyes Were Bigger Than My Heart, which peaked at number 18. Despite the fact that his initial singles failed to chart or get played on country radio, Decca released four Conway Twitty albums between 1966-68—much different to today's scene when if radio play is not forthcoming for the first two singles an act is dropped without an album being released. In those days they believed firmly in genuine artist development and it nearly always paid off—in Twitty's case handsomely for Decca and music fans around the world.

He finally made the country top 10 with The Image Of Me in 1968 and was at number one a few months later with Next In Line. In a very short time he became one of the most prolific country hit-makers of all time with Hello Darlin', Fifteen Years Ago, She Needs Someone To Hold Her (When She Cries), You've Never Been This Far Before and Linda On My Mind. By adding subtle r&b, pop, and rock'n'roll influences he defined and expanded the limitations of country-pop. In the early 1970s the increased suggestiveness in much of his material, such as on You've Never Been This Far Before, which spent three weeks at number one despite being banned by several radio stations, made Twitty perhaps country's first adult contemporary star.

He also recorded some successful duets with Loretta Lynn, the pair becoming the CMA's Vocal Duet of the Year for four straight years (1972-75). Twitty and Lynn toured regularly
together and also shared business interests. An astute businessman, Twitty owned a music promotion company, a large slice of real estate, a burger chain Twitty Burgers and the Twitty City complex, a theme park that also included the homes of Conway and his four children and his mother. One of Nashville's major attractions, it was opened in 1982, was sold to a Christian cable TV company in 1995 and demolished shortly after.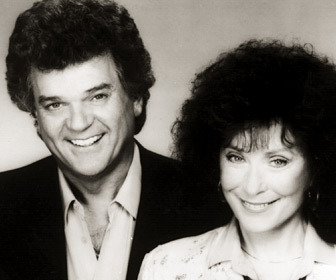 After exiting MCA (which had absorbed Decca) in 1981, he signed to Elektra and hit the top with his satin-sheet-smooth remake of the Pointer Sisters' Slow Hand and The Clown, both included on SOUTHERN COMFORT. Released in 1982 it marked a subtle change in the Twitty sound—some might say a rejuvenation after kinda coasting it for the previous few albums on MCA. Standouts apart from the hit singles include the Southern gothic tale She Only Meant To Use Him, Hugh Moffatt's sensitive Love And Only Love on which Twitty's sensual growl is heard to great effect, and the title tune, an early song from the underrated Jamie O'Hara.
DON'T CALL HIM A COWBOY, his fifth album for Elektra/Warner, was released in 1985. Alongside the chart-topping title single, it also featured Between Blue Eyes And Jeans, a top three single written by Ken McDuffie. This song has taken on significant importance because Tim McGraw took the line 'Some dance hall doctor might break the chains that locks her to that lonesome old feeling …' for the name of his band—the Dancehall Doctors. The highlights though are a couple of songs not released as singles—The Note and Somebody Lied. Both are powerful ballads, the former builds to a dramatic climax and became a hit for Daryle Singletary in 1998, the latter starts with Twitty on the phone and develops into confessional ballad that is heart-rending in its pained honesty.

The hit-machine just kept rolling on and when he rejoined MCA in 1987, it was as if nothing had changed. She's Got A Single Thing In Mind, Crazy In Love and I Couldn't See You Leavin' kept Conway Twitty in the top 10 during 1989-91. His final project was superstar sessions for COUNTRY RHYTHM AND BLUES when he teamed with Sam Moore (of Sam & Dave) on Rainy Night In Georgia. Conway Twitty's death on June 6, 1993 from an aortic aneurysm was a total shock, not only for the country music community, but for the music world at large.

I remember quite clearly when Conway and his Lonely Blue Boys appeared at the first Wembley Country Music Festival in 1969. Like Roy Orbison, he stood there, playing lead guitar and singing one song after another—saying nothing apart from the occasional thank you—leaving all the announcements to his giant of a bass player. Conway Twitty was an American icon. He was a rock star, a country music legend and a loving family man. He remained country to the core—occasionally, his song titles were simply too corny—which was why he retained his popularity until his death in 1993. One of the most consistent vocalists in any musical genre, his low, throaty vocals were both passionate and soulful, endearing him to both male and female fans. He was also a major influence on many of today's newer country stars. A young Vince Gill sang harmony on many of Conway's later hits, Tim McGraw named his band the Dancehall Doctors after a line in one of Conway's hits, while several of today's top songwriters like Gary Burr got their first songs cut by the man who was affectionately known as a song's best friend. In 1999 Conway Twitty was elected to the Country Music Hall of Fame.

Recommended Listening

Crazy In Love (MCA 1990)
Silver Anniversary Collection (MCA 1990)
Final Touches (MCA 1993)
The Final Recordings Of His Greatest Hits
(Curb/Country Skyline 1993)
The Conway Twitty Collection (MCA Box Set 1994)
The High Priest Of Country Music (Edsel 1997)
Next In Line/Darling You Know I Wouldn't Lie
(Poker Records 2010)
I Love You More Today/To See My Angel Cry/That's When She Started To Stop Loving You (Poker Records 2010)
The Ballads Of Conway Twitty (Bear Family Records 2010)
Southern Comfort (Collectors' Choice Music 2011)
Don't Call Him A Cowboy (Collectors' Choice Music 2011)