Connie Smith - The Cry Of The Heart
Fat Possum Records
*****
Every now and again an album comes along that absolutely blows me away and I can't wait to share it with you out there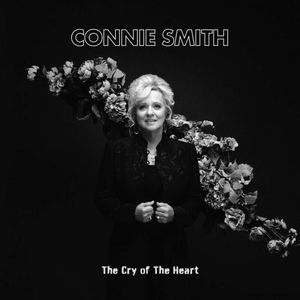 in Internetland … and this, the 54th from country legend Connie Smith, is one such album. In a career that stretches back over 57 years to her Once A Day, groundbreaking debut record, Connie has remained solidly country. Many country artists throw around the word 'real' to describe their music, but Connie doesn't have to preach it; rather, she manifests it with her always consistently honest and ultra-emotional material. Celebrating her 80th birthday, the singer's voice is still as strong as ever ... the songs superbly sublime as she takes listeners through the full spectrum of heart-centric matter, from in-love to lovelorn, and it's all connected through consistently excellent vocal work and a bold sonic landscape. If you are looking for music with a meaning that will stand strong for years ... add this one to your collection.
With each release, Connie raises the bar a little higher. From the opening a cappella despair of A Million and One to the closing strength of Merle Haggard's Jesus Take A Hold, Connie has created an album that outshines expectations for what country music can, and should, sound like. All the cuts are stellar, she really brings her vocal to a level impossible to imagine. Her tears plop upon weeping steel and tinkling piano in oceanic shapes in Spare Me No Truth. Her voice is a splendid, sky-tearing instrument that strikes at the heart of life and our own personal heartbreaks. Few vocalists can match the depth of emotion that Connie brings to a ballad. The album is also filled with perversely catchy songs about heartache and hopelessness like Carl Jackson's The Pieces. Set to a lively two-stepping honky-tonk rhythm and driven home by Connie's irresistible twang, her phrasing is impeccable, as she gets inside the song, turns it inside and out, and makes it her very own.
A dazzling, energetic set of just what the term country music has come to mean, mention should be made of the superb group of musicians that producer-husband Marty Stuart has brought together for these classic recordings. The music is here in all its glory, and that's what matters. It's all due to the players, who take hold of the material and play the dickens out of it. Connie is accompanied by Marty and his Superlative Band:  Kenny Vaughn (electric guitar), Harry Stinson (drums), and Chris Scruggs (electric bass; tak guitar) with additional support from Connie's longtime steel guitar player Gary Carter plus veteran Nashville session players Hargus 'Pig' Robbins (piano), Chad Cromwell (drums), Paul Martin (guitar; vocals) and Justin Weaver (guitar) with background vocals provided by Sonya Isaacs, Christian Davis, Harry Stinson, Terry Wilson and Marty Stuart. You can hear the band in full flight on Three Sides, one of three songs that Connie co-wrote. It's a very clever number that tells the familiar break-up story from a different perspective. Though not out front, Gary Carter all but steals the show with his moving steel guitar that counterpoints Kenny Vaughan's distinctive electric parts, as the band absolutely powers through the song. Sounding like an updated long-lost pop-country classic from the mid-1960s, Here Comes My Baby Back Again, co-written by Connie and Marty, deftly rides a line between despair and joyful relief, doing enough to keep you on the edge of your seat, even if that seat feels pretty comfortable. Connie whips up a tart little concoction about a missed romantic opportunity as she sings her heart and soul, and in doing so, lets light flood into your own. A genuine 1960s classic is the Mel Tillis-penned All The Time, a massive 1967 hit for Jack Greene. A powerful song of undying love and devotion, the smouldering ballad allows Connie to carve out a magical haven, one indebted to her past but freeing her up to finally soar amongst cotton candy clouds.
Over the years Connie has enjoyed much success with the songs of Dallas Frazier and she has found a gem of a new one with I Just Don't Believe Me Anymore¸ the 72nd song penned by the Hall of Fame songwriter that she's recorded. A superb slice of traditional honky-tonk, led by the delightful tang and twang of Connie's singing voice surrounded by a steel-guitar dominated arrangement just right for a spin around the dancefloor. In similar heartbreaking country style is I'm Not Over You, a co-write by Carl Jackson and Melba Montgomery. Connie and her musicians inject plenty of twang into the shuffling song of desolation. Another oldie is the Ned Miller-penned Heart (We Did All That We Could), a 1967 hit for Jean Shepard. A forlorn lover is castigating her heart for falling again with the realisation that it's time to move on, made even more powerful by Connie's matchless country voice and Carter's steel guitar. She closes the album with a stunning revival of Merle Haggard's Jesus Take A Hold, a compelling song about the awful state the world is in, that is even more relevant today than in 1970, when the Hag took the song into the charts. Connie Smith sings with a powerful, natural voice throughout, and while it's been ten years since her last full-length album, her craft has only burned stronger and brighter and braver.
August 2021