Colebrook Road - Hindsight is 2020
Mountain Fever Records
****
There's no doubt that today's bluegrass scene offers a crowded field of competition. Credit five-piece Colebrook Road for making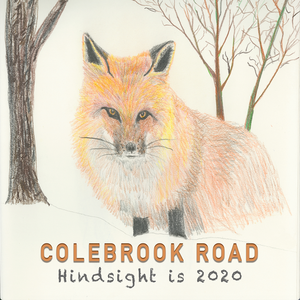 their own emphatic impression. It's always encouraging to hear a new generation of musicians taking up the bluegrass and grassicana mantle, and though they may opt to add new elements to the mix, the devotion and dedication is generally evident immediately.
That's clearly the case with this hot band that keeps pushing the outer edge of the bluegrass envelope. Confidence generally equates with achievement, and as this new album so ably demonstrates, Colebrook Road have earned the right to share more than a shade of satisfaction. It's one thing to be so technically proficient, you simply dazzle your audiences with ability and execution. In bluegrass realms, that's an especially important additive. Yet it's equally essential—perhaps even more so—to make an emotional impact as well, simply by sharing sentiments that listeners can relate to and narratives that offer a common connection. This band affirms their ability to succeed on both counts.
The group, which currently consists of Jesse Eisenbise (guitar, lead vocals), Jeff Campbell (upright bass, tenor vocals), Joseph McAnulty (fiddle, baritone vocals), Wade Yankey (mandolin), Mark Rast (banjo, Dobro and bass vocals), is not only a remarkable, fully self-contained ensemble (notably, Eisenbise and McAnulty wrote all the material sans any outside contributions), but also an outfit that knows the value of selecting songs that are emotionally engaging. There's beauty to be found in the music here, no matter your leanings, thanks in part to the creativity of all involved. Beauty is where you find it. I found it in songs like The Carolina Side. Built on a simple melody, it could be mistaken for a classic old-time tune, the nostalgic lyrics paint a portrait of a mother bidding farewell to her teenage son as he prepares to explore the big wide world, then takes the listener forward to today as the son prepares to bid farewell to his ailing mother. Another sad beauty is Dance In Three, a delicate country waltz full of sublime Appalachian heartbreak, with poetic lyrics that rolls along at a laidback pace. One of the catchiest tunes on the album is Mountainside, a banjo/fiddle-powered follow-your-dreams philosophy with picturesque lyrics and smoothly executed vocal harmonies.
Travelling is also to the fore on Back To Where We've Been, with an inventive soundtrack, fuelled by fiddle and banjo parts that draw you in and loosen your feet, the drive and determination inherent are invigorating in every sense. Indeed, some of the standout selections—Coyote, All You Need To Know and Hindsight 2020 are also the most effusive, each a rousing example of contemporary bluegrass at its best. They also take the listener down a blues trail with the funky Dry Ground Blues, tackling the age-old farming problem of drought, that is as challenging as it is creative. Then there's the a cappella All Of Our Days, a joyful hymn for peace and prosperity that also serves as a vocal harmony showpiece.
With a decidedly liberal bent and contemporary approach to bluegrass that strays a little from the founders, this band and this album won't be everybody's jar of moonshine. Producing the kind of variety, knowing and nuance most bands only acquire with age and expertise is a credit to all five members of Colebrook Road. The fact that they have acquired those traits so early on in their trajectory indicates that they have a long and fruitful career ahead of them. Theirs is one of those success stories that gives hope to aspiring writers and performers everywhere.
October 2021