Clinton Gregory - On the Fiddle
First Published in Country Music International, November 1995
His latest record features 200-year-old fiddle tunes but Clinton Gregory isn't living in the past. Alan Cackett finds the Nashville Cat looking to the future and aiming to play music for the next '30 or 40 years'
Country fiddle player and pure-toned hillbilly singer Clinton Gregory has spent: the best part of his adult life knocking around the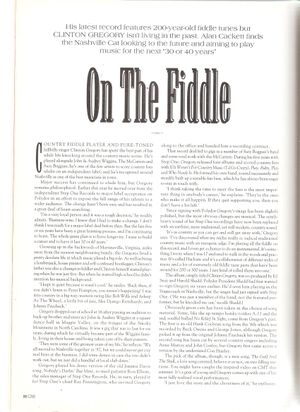 country music scene. He's
played alongside John & Audrey Wiggins, The McCarters and Suzy Bogguss; he's one of the few artists to score country hits whilst on an independent label; and he's recognised around Nashville as one of the best musicians in town.
Major success has continued to elude him, but Gregory remains philosophical. Earlier this year he moved over from the independent Step One Records to major label acceptance on Polydor in an effort to expose the full range of his talents to a wider audience. The change hasn't been easy and has resulted in a great deal of heart-searching.
"I'm a very loyal person and it was a tough decision," he readily admits. "Business-wise, I knew that I had to make a change. I don't think I was ready for a major label deal before then. But the last five or six years have been a great learning process, and I'm continuing to learn. The whole game plan is to have longevity. I want to build a career and to have it last 30 or 40 years."
Growing up in the backwoods of Martinsville, Virginia, miles away from the nearest neighbouring family, the Gregorys lived a pretty desolate life in which music played a big role. As well as being a lumberjack, house painter and self-confessed bootlegger, Clinton's father was also a champion fiddler and Clinton himself started playing when he was just five. But when he started high school he didn't mention his musical background.
 "I kept it quiet because it wasn't cool," he smiles. "Back then, if you didn't listen to Peter Frampton, you weren't happening! I was into country in a big way; western swing like Bob Wills and Asleep At The Wheel, a little bit of jazz, like Django Reinhardt, and Johnny Paycheck."
Gregory dropped out of school at 16 after passing an audition to back-up brother and sister act John & Audrey Wiggins at a square dance hall in Maggie Valley, on the fringes of the Smoky Mountains in North Carolina. It was a gig that was to last for six years, during which he virtually became part of the Wiggins family, living in their house and being taken care of by their parents.
"They were some of the greatest years of my life," he reflects. "We all moved to Nashville together in 1987, but we could never get any real bites at the business. I did some demos in case the trio didn't work out, but we just did a handful of local club dates."
Gregory played his demo version of the old Jimmie Davis song, Nobody's Darlin' But Mine, to steel guitarist Ron Elliott, the sales manager of Step One Records. He, in turn, played it for Step One's chief Ray Pennington, who invited Gregory along to the office and handed him a recording contract.
That record deal led to gigs as a member of Suzy Bogguss' band and some road work with the McCarters. During his five years with Step One, Gregory released four albums and scored country hits with If It Weren't For Country Music (I'd Go Crazy), Play, Ruby, Play and Who Needs It. He formed his own band, toured incessantly and steadily built up a sizeable fan base, which he has always been eager to stay in touch with.
"I think taking the time to meet the fans is the most important thing in anybody's career," he explains. "They're the ones who make it all happen. If they quit supporting you, then you don't have a lot left."
Since signing with Polydor Gregory's image has been slightly polished, but the most obvious changes are musical. The synth-heavy sound of his Step One recordings has now been replaced with an earthier, more traditional, yet still modern, country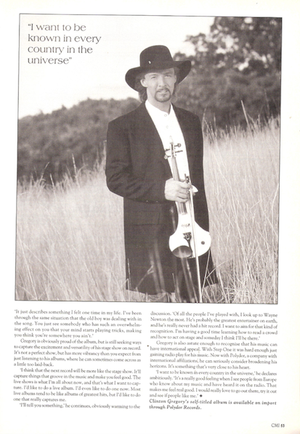 sound.
"It's as country as you can get and still get away with," Gregory says. "I've discovered what my niche really is: radical traditional country music with an energetic edge. I'm playing all the fiddle on this record, and I even get a chance to do an instrumental. It's something I wrote when I was17 and used to walk in the woods and practice. It's called Hacksaw and it's a collaboration of different styles of music and a lot of extremely old fiddle tune parts that have been around for 200 or 300 years. I just kind of rolled them into one."
The album, simply titled CLINTON GREGORY, was co-produced by Ed Seay and Harold Shedd. Polydor President Shedd had first wanted to sign Gregory six years earlier. He'd seen him playing in the Stagecoach in Nashville, but the singer had just signed with Step One. ('He was just a member of the band, not the featured performer, but he knocked me out,' recalls Shedd.)
Obviously great care has been taken in the choice of song material. Some, like the up-tempo honky-tonker A-11 and the sad, soulful ballad No Relief In Sight, come from Gregory's past.
The first is an old Hank Cochran song from the 1960s which was recorded by Buck Owens and George Jones, although Gregory picked it up from the original Johnny Paycheck hit version. The second song has been cut by several country singers including Anne Murray and John Conlee, but Gregory first came across a
version by the underrated Con Hunley.
The pick of the album, though , is a new song, The Gulf And The Shell, a love song centred, believe it or not, on two filling stations. You might have caught the inspired video on CMT this summer. It's a gem of a song and Gregory comes up with one of his most fully-realised vocal performances.
"I just love the story and the cleverness of it," he enthuses. "It just describes something I felt one time in my life. I've been through the same situation that the old boy was dealing with in the song. You just see somebody who has such an overwhelming effect on you that your mind starts playing tricks, making you think you're somewhere you ain't."
Gregory is obviously proud of the album, but is still seeking ways to capture the excitement and versatility of his stage show on record. It's not a perfect show, but has more vibrancy than you expect from just listening to his albums, where he can sometimes come across as a little too laid-back.
"I think that the next record will be more like the stage show. It'll capture things that groove in the music and make you feel good. The live show is what I'm all about now, and that's what I want to capture. I'd like to do a live album. I'd even like to do one now. Most live albums tend to be like albums of greatest hits, but I'd like to do one that really captures me."
"I'll tell you something," he continues, obviously warming to the discussion. "Of all the people I've played with, I look up to Wayne Newton the most. He's probably the greatest entertainer on earth, and he's really never had a hit record. I want to aim for that kind of recognition. I'm having a good time learning how to read a crowd and how to act on stage and someday I think I'll be there."
Gregory is also astute enough to recognise that his music can have international appeal. With Step One it was hard enough just gaining radio play for his music. Now with Polydor, a company with international affiliations; he can seriously consider broadening his horizons. It's something that's very close to his heart.
"I want to be known in every country in the universe," he declares ambitiously.  "It's a really good feeling when I see people from Europe who know about my music and have heard it on the radio. That makes me feel real good. I would really love to go out there, try it out and see if people like me."