Clay Walker - Dark Side Of The Moon
First Published in Country Music International, February 1997
Three albums into a successful career CLAY WALKER was faced with the toughest challenges of his life. "I don't want any sympathy," he informs Alan Cackett. "It could have been a whole lot worse."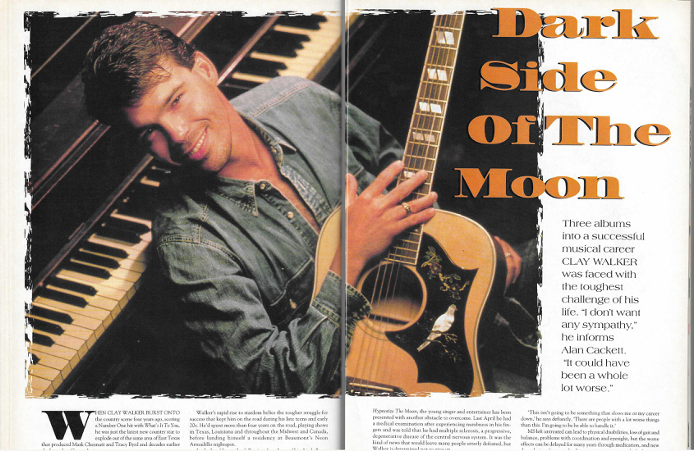 When Clay Walker burst onto the country scene four years ago, scoring a Number One hit with What's It To You, he was just the latest new country star to explode out of the same area of East Texas that produced Mark Chesnutt and Tracy Byrd and decades earlier the legendary George Jones.
Walker's rapid rise to stardom belies the tougher struggle for success that kept him on the road during his late teens and early 20s. He'd spent more than four years on the road, playing shows in Texas, Louisiana and throughout the Midwest and Canada, before landing himself a residency at Beaumont's Neon Armadillo nightspot.
In the last 12 months, following the release of his third album, HYPNOTIZE THE MOON, the young singer and entertainer has been presented with another obstacle to overcome. Last April he had a medical examination after experiencing numbness in his fingers and was told that he had multiple sclerosis, a progressive, degenerative disease of the central nervous system. It was the kind of news that would leave many people utterly defeated, but Walker is determined to not give up.
"This isn't going to be something that slows me or my career down," he says defiantly. "There are people with a lot worse things than this. I'm going to be able to handle it."
MS left untreated can lead to physical disabilities, loss of gait and balance, problems with coordination and eyesight, but the worse effects can be delayed for many years through medication, and new drugs designed to treat the disease may manage to put the brakes on the disease.
"It was a real shock," he continues. "The unexpected can cause great anxiety, but I've started researching it and realised that it could have been a whole lot worse. One of the first things I thought about was some of the benefits I've been involved with, like children with cancer. I could have it a whole lot worse."
In conversation, Walker is very down-to-earth, full of gratitude, humility, enthusiasm and refreshingly old-fashioned courtesy. Doctors have told him that there are no immediate limitations on what he can do. He hasn't cancelled any shows and several neurologists and neurosurgeons have informed him that the disease will probably never affect his speech or vocal chords.
"I'm not as afraid as when they first told me," he says. "I don't want any sympathy, because I'm not going to be any different from anybody else. I'm not going to be handicapped. If anything, I want to try and be an example for people."
Walker grew up on an 80-acre ranch in Beaumont, Texas, the oldest of five children of welder Clay Walker Sr. and his wife Danna. A musical career was always on the cards. "When I was in high school, I knew that I wanted to be a singer. I started out singing at George Jones' amusement park. I really got a taste of country music when I did those shows."
Ever since winning a high school talent-show competition, Walker has single-mindedly pursued his goal. Initially he played the bars in and around Beaumont, trying to attend college and play music, before he realised that it just wasn't working.
"I registered some summer classes at Lama University right after I graduated. I took English, math and racquetball," he reminisces. "But I quickly learned that you couldn't perform until two in the morning, be in bed by four and be at school by eight. It was a rough thing."
"I had to make a choice, and I decided that there was a good possibility that university was still going to be there in 50 years. But I only had one shot at making it in the music business, and I wanted to dedicate my life to it."
Realising that it would be some time before music could pay his bills, an 18-year-old Walker went to work at the Goodyear plant in Beaumont, to raise enough money for equipment. He did everything from scrubbing toilets to taking out the trash.
"I have a lot of respect for the blue-collar worker," he says seriously. "Everytime I loaded my equipment in the U-Haul trailer, I'd put my steel-toed work boots in the corner and hang my hard hat on the door, and if I ever got despondent about the music, I just took a look at that hard hat and them boots and got my butt up there on that stage."
Walker played in honky-tonks and dingy clubs, but soon discovered that some of the club owners and agents working the country scene could be disreputable, and some seven years ago it seemed his dream was in shreds.
"I had no furniture except for some sound equipment," he recalls. "I had a sleeping bag on the floor. I was trying to book gigs for myself and there I was reading about how Clint Black, a hometown boy, had sold out the Houston Astrodome. I never in my wildest dreams imaged that I'd ever get the chance to play in that arena."
Four years later that's exactly where he found himself, opening for Willie Nelson on the revolving stage in the centre of the world's largest rodeo arena. A year later he returned as headliner, driving some 58,000 screaming Texans into a cowboy-hatted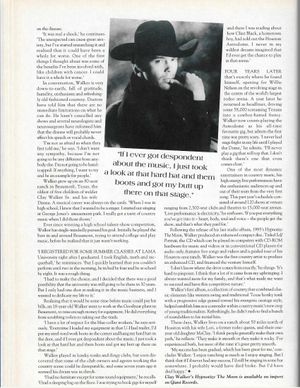 frenzy. Walker now counts playing the Astrodome as his all-time favourite gig, but admits the first time was pretty scary. "I never had stage fright in my life until I played the Dome," he admits. "I'll never play a gig that will top that. I don't think there's one that even comes close."
One of the most dynamic entertainers in country music, his high energy live performances have the enthusiastic audiences up and out of their seats from the very first song. This past year's schedule consisted of around 120 shows at venues ranging from 2,500-seat clubs and theatres to 15,000-seat arenas. "Live performances is electricity," he enthuses. "If you put everything you've got into it—heart, body, soul and voice—the people get the show, and that's what they paid for."
Following the release of his last album, 1995's HYPNOTIZE THE MOON, Walker produced an enhanced compact disc. Titled Self Portrait, the CD which can be played in computers with CD-ROM hardware for music and videos or in conventional CD players for audio only, features five songs and videos and a guided tour of his Houston-area ranch. Walker was the first country artist to produce an enhanced CD, and financed the venture himself.
"I don't know where the drive comes from exactly," he shrugs. "It's hard to pinpoint. I think that a lot of it came from my upbringing. I always wanted more for my family, and that's what made me want to succeed and have this competitive nature."
Walker's first album, a collection of country that combined classic elements like western swing and traditional Texas honky-tonk with a progressive edge geared towards his energetic onstage style, helped establish him as a contender within country music's new crop of young traditionalists. Refreshingly, he didn't rush to find a bunch of soundalikes to his initial hits.
These days, Walker lives on a ranch about 50 miles north of Houston with his wife Lori, a former rodeo queen, and their one-year-old daughter MaClay. "I think people generally make their own path," he reflects. "They make it smooth or they make it rocky. I've experienced both, but most of the time it's gone pretty smooth."
"My success has been gradual, which has been great for me," concludes Walker. "I enjoy ranching as much as I enjoy singing. But I think that if I'd never had any success, I'd still be singing in some bar somewhere. I probably would have died broke. But I'd have died happy."