First published in Country Music People, April 1975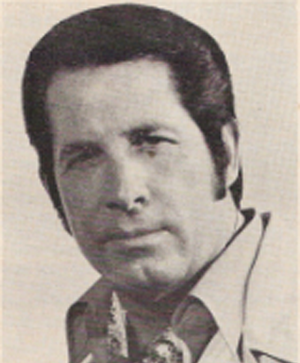 Claude Gray is a country singer who is more popular as a live entertainer than as a record selling artist. Though he has been making records for more than fifteen years, you can count on one hand all of his chart hits, and when you consider he has been on three major labels during that time, it's not exactly a brilliant track record.
He was a DJ at Radio Station WDAL in Meridian, Mississippi until 1961 when
Family Bible
on the small 'D' label introduced him to the country charts. A subsidiary of the Mercury major label, Claude found himself on the major label with his next release, the self-penned,
I'll Just Have Another Cup Of Coffee.
It was one of those discs, which for some unexplainable reason worked perfectly. Claude's deep baritone voice was ideal for the simple honky-tonk ballad. So great was its impression on the country charts, that Gray has virtually been trading on the success of that one song ever since. In Britain the song stirred up the same sort of response from country fans. Those whose memories go back that far hold Claude Gray in a special hallowed position. Though he has never produced anything remotely as good as that one classic, he does command a dedicated cult following in Britain.
Stateside is a different story. There with his group, The Graymen, he has a good entertaining live show. For many years he has been a headliner down at the nightclubs in Las Vegas, and can equally turn in a good show at some school hall in Tennessee and please both kinds of audiences.
While with Mercury, Claude Gray recorded two albums and notched up minor hits with
My Ears Should Burn
and
You Take The Table
, before moving to the Columbia label in 1965. Again recording success eluded him, and it was not until he joined Decca in 1967 that he made the charts again, with the rhythmic
How Fast Them Trucks Can Go
, which corresponded nicely with a truck driving craze that hit country music then.
Although he recorded several albums for Decca, without any real commercial success, Claude Gray was eventually dropped, and you will now find his records cropping up on those small labels that seem to abound in Nashville. His deep, rich voice lacks any kind of contrast, and this is probably the reason for his lack of recording success. Certainly, for those who are not Claude Gray fans, it is hard to understand why he commands such a dedicated following in Britain.
But then who can account for people's strange addiction to certain singers. Certainly Gray's biggest hit,
I'll Just Have Another Cup Of Coffee
was a classic of its time, but one classic doesn't make a country artist great—it is consistency that does that, and on the recording scene Claude Gray just does not have that consistency.