Chuck Berry - Sounds Familiar
First Published in Country Music International, August 1996
Tracing the history of those country songs that keep coming back time and time again
One of the classic rock'n'roll songs of the 1950s, Chuck Berry wrote Memphis, Tennessee in 1954, but didn't get around to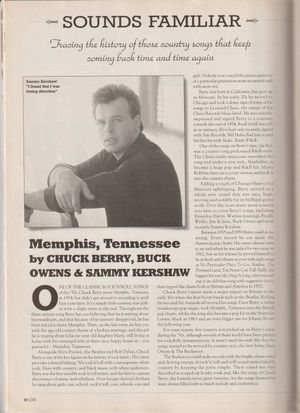 recording it until four years later. It's a simple little country tear-jerker with a slight twist in the tail. Throughout the three-minute song Berry has you believing that he is writing about his sweetheart, and that because of her parents' disapproval, he has been forced to leave Memphis. Then, on the last verse, he hits you with the age-old country theme of a broken marriage, and the girl he is singing about is his six-year-old daughter Marie, still living at home with his estranged wife in their once-happy home in—you guessed it—Memphis, Tennessee.
Alongside Elvis Presley, the Beatles and Bob Dylan, Chuck Berry is one of the key figures in the history of rock music. His career provides a thread linking 1950s rock'n'roll with contemporary white rock, blues with country, and black music with white audiences. Berry was the first notable rock'n'roll writer, and the first to capture the essence of music and rebellion. Over boogie-derived rhythms
he sang about girls, cars, school, rock'n'roll, cars, schools, cars and girls. Nobody ever voiced the preoccupations of a particular generation more accurately and
with more wit.
Berry was born in California, but grew up in Missouri. In his early 20s he moved to Chicago and took a demo tape of some of his songs to Leonard Chess, the owner of the Chess Records blues label. He was suitably impressed and signed Berry to a contract towards the end of 1954. Rock'n'roll was still in its infancy: Elvis had only recently signed with Sun Records; Bill Haley had just scored his first hit with Shake, Rattle & Roll.
One of the songs on Berry's tape, Ida Red, was a country song performed r&b-style. The Chess studio musicians reworked the song and under a new title, Maybelline. It became a huge pop and r&b hit. Man Robbins later cut a cover version and took it into the country charts.
Adding a touch of Chicago blues to his Missouri upbringing, Berry arrived at a whole new sound that was racy, high-revving and notable for its brilliant guitar work. Over the years many more country acts were to cover Berry's songs, including Emmylou Harris, Waylon Jennings, Freddy Weller, Jim & Jesse, Buck Owens and more recently Sammy Kershaw.
Between 1955 and 1959 Berry could do no wrong. Every record he cut made the American pop charts. His career almost came to an end when he was jailed for two years in 1962, but on his release he proved himself to be as fresh and vibrant as ever with such songs as No Particular Place To Go, Nadine, The Promised Land, You Never Can Tell. Sadly, his biggest hit was My Ding-A-Ling, a live recording of an old blues song with suggestive lyrics that topped the charts both in Britain and America in 1972.
Chuck Berry's music made a major impact in Britain in the early 1960s when the beat boom bands such as the Beatles, Rolling Stones and the Animals all revived his songs. Dave Berry, a rather nondescript pop singer, took Memphis, Tennessee into the British pop charts, whilst the song also became a pop hit in the States for Lonnie Mack in 1963 and an even bigger one for Johnny Rivers the following year.
For some reason, few country acts picked up on Berry's songs during the 1950s, although several of them would have been perfect for rockabilly interpretations. It wasn't until the mid-1960s that his songs started to be revived by country acts, the first being Buck Owens & The Buckaroos.
The Buckaroos could make records with the bright, clean, sound and driving energy of rock'n'roll and still sound unmistakably country by keeping the parts simple. Their sound was best described as souped-up honky-tonk and, like the songs of Chuck Berry, the formula never grew tiresome, for the songs themselves
were always filled with so much melody and exuberance.
In the years preceding his commercial breakthrough, Owens had supplemented his income as a local bandleader by playing sessions at the Capitol Studios in Hollywood, working with artists as diverse as Gene Vincent, Tommy Collins, Tennessee Ernie Ford, Frank Sinatra and Tommy Sands.
"I was influenced by a lot of early rock'n'rollers like Chuck Berry, Carl
Perkins, Fats Domino, Elvis, Eddie Cochran," Owens explained. "Cochran used to
come to a club called the Blackboard when he came through town, and I even played a couple of dates with Gene Vincent. I used to do a lot of rock at the Blackboard, so the rhythm came naturally to me. I felt it."
"I never played the schools and the churches and those types of affairs where people sit down," he insisted. "From Arizona to Bakersfield, I played VFW halls and barrooms and clubs, and those people wanted rhythm. They wanted to dance."
The use of electric guitars in country music had not been pioneered by Owens; they had appeared before in the western swing of Bob Wills and the recordings of Webb Pierce and other honky-tonk performers. But during Owens' heyday, the predominant sound in Nashville featured muted electric guitars. In contrast, the guitars on Owens' recordings were more assertive. Buck's souped-up rhythm and amplified sound made it fresher and more contemporary. Though this sound was distinct from the country music being produced in Nashville, it was still country music and it appealed to a widening base of country fans. "They can't prove I'm anything but country," he argued, "and they can't prove that those ringing guitars are anything but country."
When Owens' single I've Got A Tiger By The Tail took off in the pop charts in early 1965, there was widespread speculation that he would change his style. But Buck never did succumb to, sing or record middle-of-the-road or pop material. He even went as far as to make what became known as The Buck Owens Pledge to Country Music, a declaration of intent which was published in various country music publications in 1965. It was controversial, to say the least, and appeared to be aimed directly at the smooth-edged, pop-flavoured Nashville Sound.
Owens had included Memphis, Tennessee on his I'VE GOT A TIGER BY THE TAIL album, but never went as far as releasing the song as a single, though he often performed it in concert. Owens argued, quite rightly, that Berry was country: "To me he's country. Look at his lyrics. He sounds country to me."
"We did Johnny B. Goode and a few of the Coasters' song on stage, and we did Memphis, Tennessee, but we did them country," Buckaroos bass player Doyle Holly explained. "If we sang a rock'n'roll song, it would come out country. It wasn't intended to be rock'n'roll."
During the period of his greatest commercial success, from 1963-69, Owens' music appealed to young fans, many of whom could not be classified as typical country music followers. In 1969 he even had a hit with a live rendition of Chuck Berry's Johnny B. Goode. If you listen to Buck Owens during this period you'll hear the link between the honky-to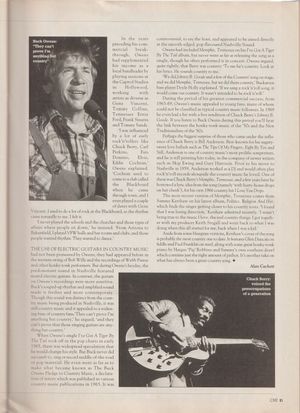 nk music of the 1950s and the New
Traditionalists of the 1980s.
Perhaps the biggest surprise of those who came under the influence of Chuck Berry is Bill Anderson. Best-known for his sugary-sweet love ballads such as The Tips Of My Fingers, Eight By Ten and Still, Anderson is one of country music's most prolific songwriters, and he is still penning hits today, in the company of newer writers such as Skip Ewing and Gary Harrison. Prior to his move to
Nashville in 1959, Anderson worked as a DJ and would often play rock'n'roll records alongside the country music he loved. One of these was Chuck Berry's Memphis, Tennessee, and a few years later he borrowed a lyric idea from the song (namely 'with hurry-home drops on her cheek'), for his own 1966 country hit I Love You Drops.
The most recent version of Memphis, Tennessee comes from Sammy Kershaw on his latest album, POLITICS, RELIGION AND HER, which finds the singer getting closer to his country roots. "I found that I was losing direction," Kershaw admitted recently. "I wasn't being true to the music I love, the real country things. I got together with my producer Keith Stegall and went back to what I was doing when this all started for me, back when I was a kid."
Aside from some bluegrass versions, Kershaw's cover of the song is probably the most country one to date. It features Glen Duncan on fiddle and Paul Franklin on steel, along with some great honky-tonk piano by Hargus 'Pig' Robbins and Sammy's own southern drawl which contains just the right amount of pathos. It's another take on what has always been a great country song.