First published in Country Music People, July 1974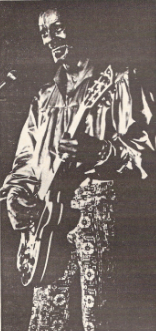 Although Chuck Berry is basically a rhythm and blues singer and guitarist, his influence on country music, especially in the last ten years, has almost been as great as his influence on white popular music. The country blues of the 1920s evolved into the loose category of Negro commercial music which has been known as 'race', 'sepia' and eventually rhythm and blues. Though this music was produced by Negroes for the black population, the walls dividing the musical styles had never really been strong enough to keep individual songs and singers from crossing the musical barriers. It was perhaps inevitable that country music would be affected by the popularity of this music because southern whites and blacks promoted a vigorous musical interchange ever since the two races had been thrown together.
It was natural that of all the black musicians who sprung to prominence during the rock'n'roll days of the 1950s that Chuck Berry had more to offer country music than any of the others. His background in many ways was typical of the black performers who shaped the musical direction of rock'n'roll. He was born in St. Louis, Missouri in the early 1930s and began singing in a church choir almost as soon as he was old enough to go to school. His own musical influences are wide ranging and can be clearly detected in his own work; they include guitar players T. Bone Walker, Bo Diddley and Les Paul and outside of the blues he enjoyed the work of Nat King Cole, Moon Mullican and Frank Sinatra. His style was forged out of jazz, country and western, sentimental ballads and of course the electric Chicago blues.
The late 1940s saw a large number of southern blacks move up to the northern industrial cities like Chicago, and here blues artistes like Howlin' Wolf, Muddy Waters, Little Walter and others transformed the rural blues styles of the south into the heavily amplified Chicago blues sound with its loud, monotonous beat. Chuck Berry moved up north in the early part of 1955 and started work with the legendary Muddy Waters Band. The blues star was really impressed with Berry's guitar style and fixed up an audition with Chess Records, the major blues label for Chicago at that time.
Chuck Berry's first session for Chess was held in Chicago in May 1955 when he cut two titles,
Maybellene
and
Wee Wee Hours
, with blues artists like Willy Dixon on bass, Johnny Johnson on piano and Jasper Thomas on drums. In spite of the blues background that started the Berry recording career,
Maybellene
was not a blues song. It was a carefully thought out country song, performed in the much coarser style of the rockabilly music that was beginning to surface in Memphis from the country-influenced white singers on the Sun label. 
Maybellene
quickly established Chuck Berry on the USA charts and was the first of his songs to be picked up by a country artist. Marty Robbins had recognised the potential of rock'n'roll during the latter part of 1954 while undertaking a very successful concert tour with Elvis Presley. Presley was just embarking on his own career and was creating audience scenes that were unheard of in country music. At the time Robbins had been recording his own material which was soft, sentimental songs sung in a semi-crooning style with fiddle and steel guitar accompaniment. Shortly after the Presley tour Robbins recorded the Arthur Cruddup blues number
That's All Right
, but kept it safely in his country style with fiddles sawing away and a nice honky-tonk piano carrying the beat. Presley's version was the one that sold, but Marty Robbins had stepped gingerly into rock'n'roll. Less than a year later he went further. He cut a cover version of the Berry smash
Maybellene
, opening with acoustic guitars, Robbins' voice was quite controlled in comparison with the original, but the same electric guitar sound was employed, but much more subdued than on Chuck Berry's. Robbins had successfully turned the song into a country up-beat number, and though it was quite wild and uninhibited for country music of 1955, when heard today it's quite tame.
Chuck Berry's songs didn't feature in country music for almost another ten years, but for the next couple of years Robbins showed that the Berry influence had really affected him.
Maybellene
had climbed into the country charts so naturally Robbins kept to that same style, only now he wrote the songs himself, trying to emulate Berry's knack for outrageous lyrics, and maintaining the same rock beat. Both
Tennessee Toddy
and
Mean Mama Blues
were more inhibited than
Maybellene
and Robbins' slightly humorous lyrics caught the style of Chuck Berry perfectly.
In the early 1960s country music attracted many young performers who had received their first training and indeed had first been inspired to undertake a musical career by listening to rock'n'roll performers. Young guitarists who had learnt the instrument by listening to the rock'n'roll style of Elvis Presley, Chuck Berry and Carl Perkins took to country music as they became older and rock'n'roll as they knew it began to decline in popularity. But they carried their instrumental techniques with them. Drums became a permanent part of most country groups and with the addition of electric bass guitar and strident lead guitar, the 'beat' became increasingly more important to country music.
The leaders of this new style of country music to begin with were the West Coast groups of Buck Owens, Wynn Stewart and others. Today the sound is perhaps tinny and thin, but back in the early 1960s it created a sound that was completely new to country music. It created more excitement than the Nashville sound that had evolved into a dull, bland and unimaginative form of music that was neither commercial pop music nor good country music.
Buck Owens was one of the first of these 'new' wave performers to realise the potential of Chuck Berry's lyrics and music in a country setting. Berry had always been very imaginative with his lyrics. He had never stuck to the simple June and Moon verses, his songs had always told a story. Often described as the first poet of rock'n'roll, Chuck Berry's songs had been clever, intricate and at all times interesting to listen to. Owens was quick to appreciate this and in 1965 he adapted
Memphis, Tennessee
to the West Coast sound with Owens; guitar work being more subdued than Berry's, but still producing a danceable beat.
This was the beginning and soon Chuck Berry's songs became an integral part of most country acts. If you wanted to get the audience really cheering for more, just close your act with a frantic Chuck Berry song, this seemed to be the message that country artists received from their fans. Though at most times these versions were pale imitations of the Chuck Berry originals, they were accepted as a part of the regular country music repertoire. Many of the people now listening to country music had grown up on rock'n'roll. They understood and to a certain extent related to Chuck Berry's songs of fast cars, school days rebellion and the danceable beat.
When country music began to find its feet in the late 1960s after the previous stagnation period, and returned to its roots and began to really create a sound that was both identifiable with country music and also acceptable to the framework of contemporary pop music, Chuck Berry's music was even more important. Jerry Reed's vibrant guitar work employed on
Guitar Man
and
Tupelo Mississippi Flash
was pure vintage Berry, but Reed had cleverly adapted it to his own unique style. And just listen to Reed's lyrics. The humour displayed by Berry is all there. The fast clipped phrases, the way he can laugh at the business he is in, Jerry Reed had learnt his craft well.  Eventually he got round to paying homage to the black man who had influenced him. He started taking Chuck Berry songs like
Maybellene, School Days
and
Johnny B Goode
and giving them a funky country reading. But just listen to the lyrics, though most were written back in the 1950s, the songs sounded so country it was unbelievable.
Other country singers who recalled their memories of the rock'n'roll days also cut Chuck Berry songs. Waylon Jennings, a protégé of Buddy Holly, remembered how Holly himself had been quite taken by Chuck Berry's music. Jennings' re-working of
Brown-Eyed Handsome Man
is most probably the best country-type version of a Chuck Berry song. When Berry himself recorded the song back in 1956 it missed the charts, why I'll never understand as it's one of the best songs he has written.
Nat Stuckey was another Nashville based singer who re-worked the Chuck Berry theme. Stuckey, a talented songwriter who has never really achieved the success he promised as a singer, wrote the Buck Owens hit
Waiting In Your Welfare Line
, which owes more lyrically to Chuck Berry than country music. It's Nat's revival of the Carl Smith hit
Cut Across Shorty
that really smacked of Berry influences. The Carl Smith version was made in 1959 and quite sedate compared with Stuckey's updated version, which moved along in a similar way to Chuck Berry's records, with clipped guitar phrases and a really rocking vocal style.
Chuck Berry's songs didn't just influence the modern Nashville singers. Many of the bluegrass musicians had also realised that Berry's songs were adaptable to their style of music. With the influx of young musicians into the idiom who had cut their teeth on rock'n'roll, bluegrass underwent quite a drastic change, and not many people were shocked when Jim and Jesse released their album BERRY PICKIN' featuring entirely Chuck Berry material. Flatt and Scruggs soon jumped on the bandwagon and cut the excellent
Memphis, Tennessee
, a song that could easily have been a country weeper if it hadn't been written by a coloured man of Chuck Berry's background.
To document all of the country artists who have been influenced by either Chuck Berry's guitar playing with its chugging rhythms based on switching rapidly back and forth between two or three chords, wailing and clanging lead guitar sounds with biting high speed solos, serving as explosive intros; staccato rhythms in the lyrics emphasising the need of speed and slick clearly sung lyrics, which were nearly always full of wry humour, would need a book of its own. There's no doubt though that Chuck Berry's influence on country music has been important and immense. For a black rhyhm and blues artist who sprung to fame on the rock'n'roll bandwagon, this is even more of a unique achievement and just helps to spotlight yet another of the many musical forms that have come together to shape the all embracing style of music that we loosely term country music.