Christian Parker - Sweethearts
Self-released
***1/2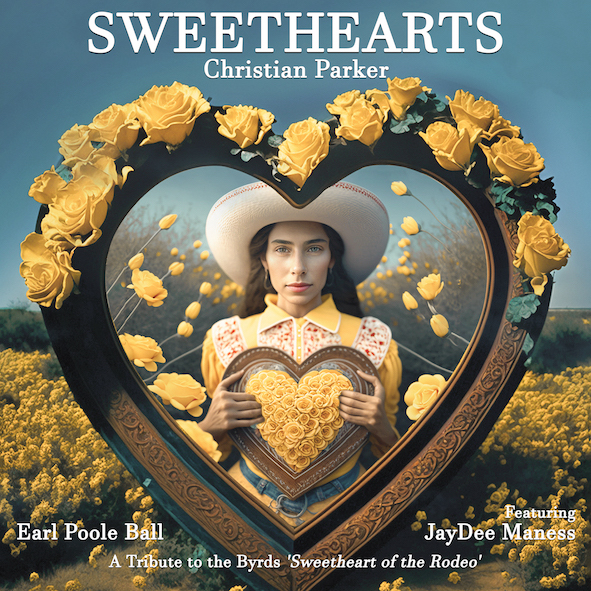 In recent years, there's been a surge in acts looking to evoke the sound and style of the Laurel Canyon folk-and-country-rock scene of the late 1960s and early 1970s. New York-based singer-songwriter Christian Parker is one of the latest to draw inspiration from that era and incorporate it into his own work with this new album which shines fresh light on the Byrds' 1968 ground breaking classic, SWEETHEART OF THE RODEO. A great call back to those who were there the first time around or who carry the fire even if they weren't, the mix of spacey country-rock and those Gram Parsons' influences, combined with Christian's plaintive voice, the West Coast-styled harmonies and pedal-steel drenched arrangements, put the LP in constant rotation on this reviewer's turntable all summer. You Ain't Goin' Nowhere, the opening track, conjures up a wistful air that matches the spirit of the season. Christian sings with delicate precision. He has power, authority, and he's articulate; surrounded by elegant musicianship with Tracer James capturing Lloyd Green's steel perfectly and Earl Poole Ball's piano replacing Gram Parsons organ on the original. This one track brings back long-forgotten memories of being in Pye's London studios with UK country band Country Fever in early 1969. It was one of the first songs they recorded for their debut album for the Lucky Records label. Sitting there witnessing a young Albert Lee was something rather special, but also for my then young self, it marked a whole new contemporary approach to country music that I'd never witnessed before. In retrospect, musically, for me, it was life changing.
Listening to this whole set of 14 songs, in many ways, SWEETHEARTS feels ageless, its defining characteristics being wafting steel guitar, tinkling piano, muted electric guitars and country-rock harmonies, all moving along with the same unhurried serenity as Christian Parker's voice. Some tracks yield a classic trad country sound, especially You're Still On My Mind and the cover of Merle Haggard's Life In Prison, yet incorporate enough original elements to fend off rip-off notions. With tight harmonies and a willingness to experiment with tone and beat, he transcends the limitations of pure imitation, offering a new twist to A Satisfied Mind. A simple, guitar solo gives the track some grit, establishing it as something other than classic country, also aided by chunky steel guitar riffs that lift the song, for a moment, in a contemporary kind of way. It is one of three songs not featured on the original Byrds' album. Like the other two, Johnny Cash's I Still Miss Someone and Drugstore Truck Driving Man, all have connections to the Byrds and the original album. The latter, co-written by Parsons and Roger McGuinn following an uncomfortable interview on Nashville's WSM radio to promote the Sweetheart album, was a Byrds' single in 1969 and has since become something of a cult favourite. The Byrds recorded a version of the much-covered A Satisfied Mind for their TURN! TURN! TURN! 1965 album … an early venture down a country music road. 
The Byrds' SWEETHEART OF THE RODEO album was not well-received when originally released. It was panned by the music critics and shunned by the record-buying public. Unfortunately, I think the same fate could befall Christian Parker's SWEETHEARTS. It's a heartfelt and passionate nod to what has, with the passing of time, become something of a classic album. It is instantly relatable, connecting with the listener both emotionally and musically. There's a distinct honesty in Christian's voice and overall, it makes for a pleasant and enjoyable listening experience.
August 2023