Chris Knight - Under The Spotlight
First Published in Country Music International, April 1998
What makes a good country song? That question inevitably gives rise to phrases such as 'honesty,' 'singing from the heart' and 'storytelling.' But what do these terms really mean? Chris Knight may have the answer.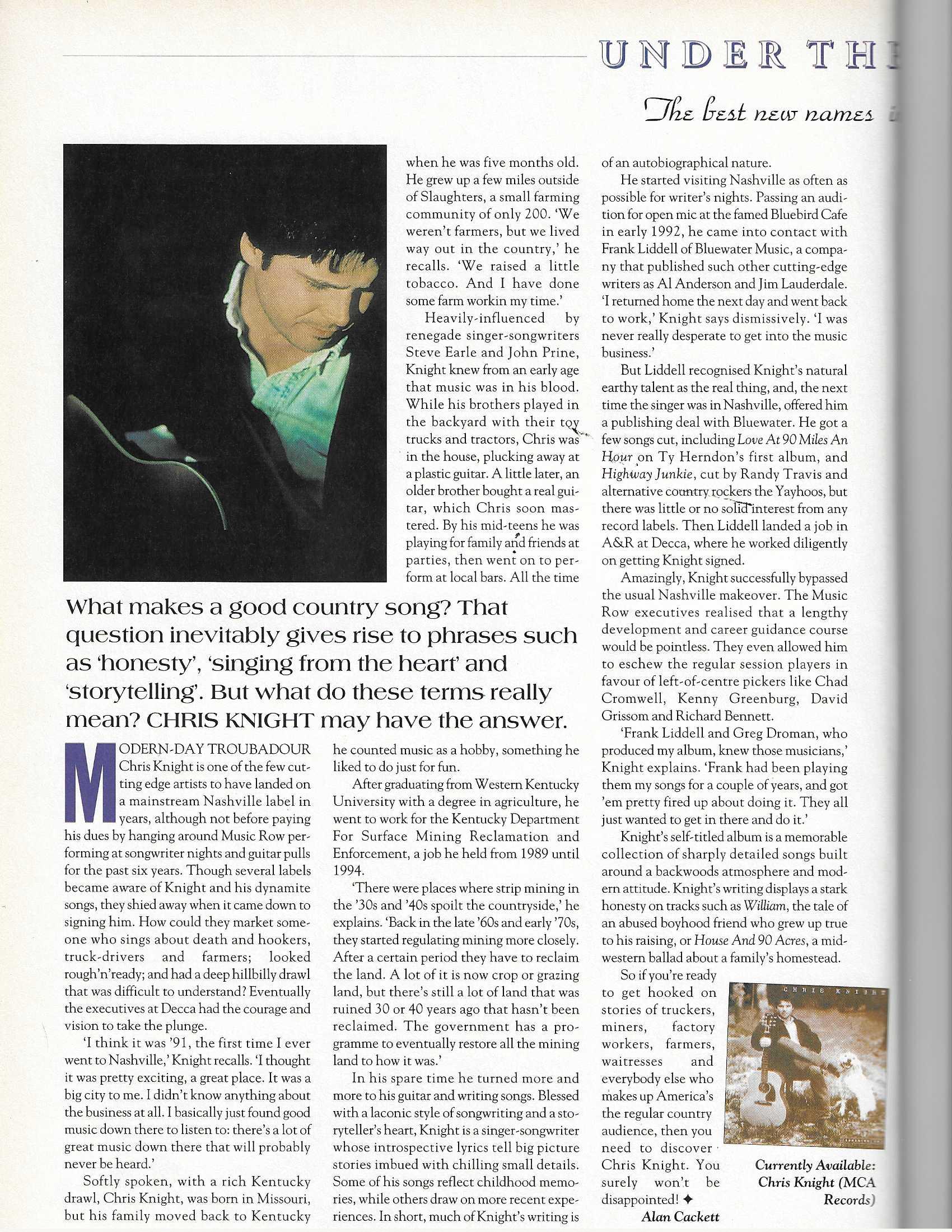 Modern-day troubadour Chris Knight is one of the few cutting-edge artists to have landed on a mainstream Nashville label in years, although not before paying his dues by hanging around Music Row performing at songwriter nights and guitar pulls for the past six years. Though several labels became aware of Knight and his dynamite songs, they shied away when it came down to signing him. How could they market someone who sings about death and hookers, truck-drivers and farmers; looked rough'n'ready; and had a deep hillbilly drawl that was difficult to understand? Eventually, the executives at Decca had the courage and vision to take the plunge.
"I think it was 1991, the first time I ever went to Nashville," Knight recalls. "I thought it was pretty exciting, a great place. It was a big city to me. I didn't know anything about the business at all. I basically just found good music down there to listen to: there's a lot of great music down there that will probably never be heard."
Softly-spoken, with a rich Kentucky drawl, Chris Knight, was born in Missouri, but his family moved back to Kentucky when he was five months old. He grew up a few miles outside of Slaughters, a small farming community of only 200. "We weren't farmers, but we lived way out in the country," he recalls. "We raised a little tobacco. And I have done some farm working my time."
Heavily-influenced by renegade singer-songwriters Steve Earle and John Prine, Knight knew from an early age that music was in his blood. While his brothers played in the backyard with their toy trucks and tractors, Chris was in the house, plucking away at a plastic guitar. A little later, an older brother bought a real guitar, which Chris soon mastered. By his mid-teens he was playing for family and friends at parties, then went on to perform at local bars. All the time he counted music as a hobby, something he liked to do just for fun. 
After graduating from Western Kentucky University with a degree in agriculture, he went to work for the Kentucky Department For Surface Mining Reclamation and Enforcement, a job he held from 1989 until 1994.
"There were places where strip mining in the 1930s and 1940s spoilt the countryside." he explains. "Back in the late 1960s and early 1970s, they started regulating mining more closely. After a certain period they have to reclaim the land. A lot of it is now crop or grazing land, but there's still a lot of land that was ruined 30 or 40 years ago that hasn't been reclaimed. The government has a programme to eventually restore all the mining land to how it was."
In his spare time he turned more and more to his guitar and writing songs. Blessed with a laconic style of songwriting and a storyteller's heart, Knight is a singer-songwriter whose introspective lyrics tell big picture stories imbued with chilling small details. Some of his songs reflect childhood memories, while others draw on more recent experiences. In short, much of Knight's writing is of an autobiographical nature.
He started visiting Nashville as often as possible for writer's nights. Passing an audition for open mic at the famed Bluebird Café in early 1992, he came into contact with Frank Liddell of Bluewater Music, a company that published such other cutting-edge writers as Al Anderson and Jim Lauderdale. "I returned home the next day and went back to work," Knight says dismissively. "I was never really desperate to get into the music business."
But Liddell recognised Knight's natural earthy talent as the real thing, and, the next time the singer was in Nashville, offered him a publishing deal with Bluewater. He got a few songs cut, including Love At 90 Miles An Hour on Ty Herndon's first album, and Highway Junkie, cut by Randy Travis and alternative country rockers the Yayhoos, but there was a little or no solid interest from any record labels. Then Liddell landed a job in a&r at Decca, where he worked diligently on getting Knight signed.
Amazingly. Knight successfully bypassed the usual Nashville makeover. The Music Row executives realised that a lengthy development and career guidance course would be pointless. They even allowed him to eschew the regular session players in flavour of left-of-centre pickers like Chad Cromwell, Kenny Greenberg, David Grissom and Richard Bennett.
"Frank Liddell and Greg Droman, who produced my albums, knew these musicians," Knight explains. "Frank had been playing them my songs for a couple of years, and got 'em pretty fired up about doing it. They all just wanted to get in there and do it."
Knight's self-titled album is a memorable collection of sharply detailed songs built around a backwoods atmosphere and modern attitude. Knight's writing displays a stark honesty on tracks such as William, the tale of an abused boyhood friend who grew up true to his raising, or House And 90 Acres, a mid-western ballad about a family's homestead. 
So if you're ready to get hooked on stories of truckers, miners, factory workers, farmers, waitresses and everybody else who makes up America's regular country audience, then you need to discover Chris Knight. You surely won't be disappointed!