Chris Haddox - Chris Haddox
Mountain Soul
*****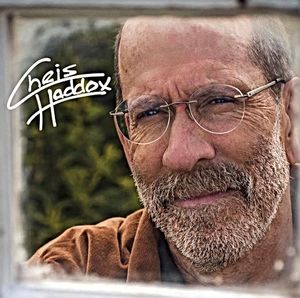 I'll say this up front, it's been quite a while since I've heard an out-of-the-blue album as captivating as this one. Sometimes trying to make new music for grownups is a fool's errand. Perhaps by the time you hit 60 or so, you should move away from the simple rhythms and familiar chord changes that informed the music you swayed to when you were a spotted teenager. Maybe there comes a time when we ought to put aside long-held music memories and realise that in the end all our music heroes probably did do it all just for the money. Or maybe there comes a time when you've got enough music, especially now that streaming services allow us to dive deep into our personal mythologies and build ourselves impregnable playlists thousands of tracks deep. We can insulate ourselves with Hank and Merle, with Beatles and Beach Boys, with Carole and Carly. It can be hard for new music to cut through that mix. But you need to hear Chris Haddox's debut album. Fire up your favourite search engine, put in his name, pop in your earbuds and listen. Really listen! 
That's what this album requires, the deep attention that some of us used to give records after we brought them home from the record store, slit open the shrink wrap and gently settled them onto the turntable. Remember the days when you could spend hours with an album, staring at the cover, reading the liner notes and lyrics, and noting who played what on what track? Approach this with the same reverence, just as an experiment. You'll instantly discover that Chris Haddox excels in timeless classic music that runs the gamut from pop and folk to country and jazz, with elements of everything in-between. His talent is unmistakable, his songs more than memorable as he offers a completely unique window on the world. He is a West Virginia university professor, amateur musicologist and skilled musician renowned for his old-time fiddle and banjo stylings and flat-picking acoustic guitar playing. He has spent years writing songs and singing and playing, often for his own enjoyment, but also locally in-and-around where he lives. For this 13-song collection of self-penned songs he has called upon local Morgantown friends and bandmates Jim Truman, Sara Cottingham and John Posey alongside West Virginia music luminaries such as mandolin player Johnny Staats, fiddle player Jenny Alliner, Dobro player Chris Stockwell and vocalist Julie Adams. Producer Ron Sowell has fashioned a wide range of influences that transcend Chris' musical roots into an amazingly delightful listening experience.
Chris has an innate ability to pen songs that share their observations from an Everyman perspective. On the rollicking album opener Says You, Says Who, Says Me, he joyfully examines the ups-and-downs of a long-term relationships with an easy-going country arrangement of twangy guitar, Dobro. mandolin and infectious singalong chorus with its positive message of hope for patient lovers. Most will remember our parents telling us that 'money doesn't grow on trees.' Well Chris reminds us with the tongue-in-cheek Money Tree. There's a loose, freewheeling Americana feel as he wishes for a tree that grows money, so that he doesn't need to go to work every day. A light-hearted bluesy arrangement with harmonica and gospely vocal harmonies adds to the song's overall charm. A fiddle sets the scene for the melodic blend of bluegrass that rolls through Streets Of Danville, as he pines for a loved one whilst working away from home. Ringing the changes, he opts for a trad jazz arrangement for He Reeled Me In, with the age-old yarn of spending a fortune to try and win a prize at the fairground, that could've been purchased for a fraction of the money foolishly thrown away.  
He turns to the environment for Life Without Me, in which he plays the role of coal, telling humanity that it is time to move on, but reminding of both the positive and negative things that this carbon has provided over the centuries. A solitary banjo opens the plaintive We Can Fall In Love Again, a stark reminder of how the first bloom of love can so easily fade over time. Ron Sowell's daughter Mira Costa adds a mournful duet vocal as the wife in this domestic tragedy with hopefulness lurking in the depths of the sadness. A Soul Can't Rest In Peace is further proof of Chris' inventive songwriting as he paints a vivid portrait of a new highway churning up the once peaceful environment near to a rural graveyard. This song is based on the resting place of his great-grandparents, that he visited as a child, years before the highway came along. At times humorous, dark, poignant, joyful and charming, this album is a perfect summation of Chris Haddox himself.
March 2022