First published in Country Music People, November 1973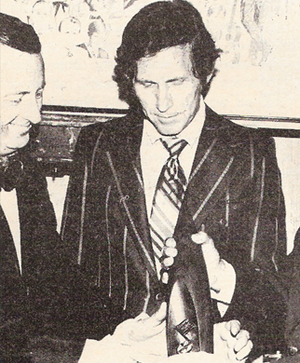 He was one of the first producers in country music to introduce choruses and heavy orchestral backing, and this move during the late 1950s and early 1960s was probably all that kept country music going. It wasn't until Jim Reeves came under the guidance of Chet Atkins in 1957 that he fulfilled his earlier promise as an aspiring number one country singer. When Reeves joined RCA Victor from Abbott he was a run 'o' the mill country singer who had scored high in the charts with two commercial novelty numbers in
Mexican Joe
and
Bimbo
. RCA attempted to keep Reeves to this style, and it was Atkins' astute guidance that steered Reeves away from these bouncy country tunes, to the more suitable lost love ballads that eventually established the Reeves name around the world.
Perhaps the genius of Atkins in the studio is best highlighted by the success he gained for artists who on previous labels had been, for a better word—failures. Among these were Don Gibson, Bobby Bare, Dottie West and Waylon Jennings. Gibson had recorded for both MGM and Columbia before joining RCA where he was put under the care of Atkins, who then created one of the great success stories of the 1950s. Gibson clocked up such hits as
Oh Lonesome Me, Blue Blue Day, Give Myself A Party, Lonesome Number One
and many others. Gibson obviously had the talent as both a writer and singer before he joined RCA, what he needed was the right sound at the right time to appeal to a mass audience—that was what Atkins supplied.
He gathered around him in Nashville some of the most talented musicians ever to grace a recording studio. Pianist Floyd Cramer whom he plucked from the Louisiana Hayride, drummer Buddy Harman, rhythm guitarist Jerry Shook and bass player Bob Moore, and these four musicians are still in Nashville today, adding their distinctive touch to recordings.
Dottie West had almost given up hope of a career in country music when she joined RCA in 1963. She had worked for both Starday and Atlantic without success, yet within a year of working with Chet Atkins she won a Grammy for her recording of
Here Comes My Baby Back Again
. The career of Skeeter Davis was in ruins after the death of her partner Betty Jack Davis, yet after a brief retirement, Chet Atkins steadily built her a new career which culminated in her big hit,
The End Of The World
, perhaps his greatest production success of all.
Although in the past Chet Atkins has been harshly criticised for the way he modernised the country music of the 1950s and early 1960s, in fact he was preparing the singers and the musicians for the onslaught they were to receive during this period from pop music. In the 1970s these same singers can stand side by side with most of the top pop artists, their names untarnished, still regarded as country artists, but able to entertain, not just the backwoods fans, but to go into the cities and still entertain, where the audiences are more sophisticated, and demand more than just a string of hits.
Just what was the magical touch that Chet Atkins possessed in the studio. The answer really is simplicity. Although his recordings sounded lush, they were never over-produced, his arrangements and productions were always simple. A tinkling piano, a few violins to provide the lushness, light drumming, but most important a continuity that provided what appeared to be the perfect sound.
The Nashville guitars were always there, but were never allowed to dominate the sound, and rather surprisingly, the steel guitar and country fiddles were out. Chet Atkins had his successful period as a producer in a different age to today—the sound had to be smooth, but still retain its country charm. The musicians in the studios were always full of ideas, but they knew that Chet Atkins was in charge. He had the knack of selecting the right musicians for the job, he knew them all, knew what they were capable of—it was a successful family affair, and Chet Atkins was the guv'nor of it all.
Now the Atkins name is synonymous with the best that modern country music can offer, and it was he, more than any other, who turned the sleepy township of Nashville into the world's major country music centre, and won it the title of 'Music City USA.' He accepts this with his typical Southern unconcern. He describes his work as only a hobby, and himself as a simple guitarist doing what he enjoys most.
And even with his success as a record producer, Chet Atkins likes nothing better than to be able to pick one of his many guitars. He now devotes more time to performing than before, and though he is one of the finest guitar players in the world, it should never be forgotten that he is one of the finest producers ever to have stepped into the recording studios.