Chely Wright - The Whole Of The Moon
A song on the debut album from country newcomer Chely Wright tells the story of a spurned wife who poisons her cheating husband. But the Kansas-born singer insists she's not writing from experience. Alan Cackett takes heed
Most of us have had childhood dreams. Not so many of us are able to make those dreams come true. It takes rare talent, not to mention commitment, true grit and determination. Twenty-four-year-old Chely Wright has all these attributes.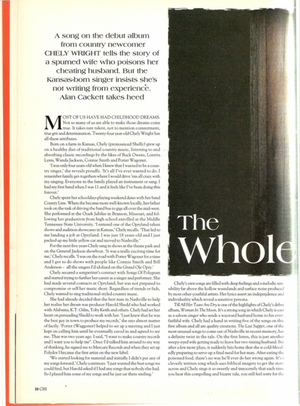 Born on a farm in Kansas, Chely (pronounced Shelly) grew up on a healthy diet of traditional country music, listening to and absorbing classic recordings by the likes of Buck Ownes, Loretta Lynn, Wanda Jackson, Connie Smith and Porter Wagoner.
"I was only four years-old when I knew that I wanted to be a country singer," she reveals proudly. "It's all I've ever wanted to do. I remember family get-togethers where I would drive 'em all crazy with my singing. Everyone in the family played an instrument or sang. I had my first band when I was 11 and it feels like I've been doing this forever."
Chely spent her schooldays playing weekend dates with her band County Line. When she became more well-known locally, her father took on the task of driving the band bus to gigs all over the mid-west. She performed at the Ozark Jubilee in Branson, Missouri, and following her graduation from high school enrolled at the Middle Tennessee State University. "I entered one of the Opryland talent shows and audition showcases in Kansas," Chely recalls. "That led to me landing a job at Opryland. I was just 18 years old and I just packed up my little yellow car and moved to Nashville."
For the next five years Chely sang in shows at the theme park and on the General Jackson showboat. "It was a really exciting time for me,"  Chely recalls."'I was on the road with Porter Wagoner for a time and I got to do shows with people like Connie Smith and Bill Anderson—all the singers I'd idolised on the Grand Ole Opry."
Chely secured a songwriter's contract with Songs Of Polygram and started trying to further her career as a singer and performer. She had made several contacts at Opryland but was not prepared to compromise or sell her music short. Regardless of trends or fads, Chely wanted to sing traditional-styled country music.
She had already decided that the best man in Nashville to help her realise her dream was producer Harold Shedd who had worked with Alabama, K.T. Oslin, Toby Keith and others. Chely had set her heart on persuading Shedd to work with her. "I just knew that he was the best guy in town to produce my records," she says almost matter-of-factly. "Porter (Wagoner) helped to set up a meeting and I just kept on calling him until he eventually caved in and agreed to see me. that was two years ago. I said, 'I want to make country records and I want you to help me.' Once I'd talked him around to my way of thinking, he signed me to Mercury Records and when they set up Polydor I became the first artists on the new label."
"We started looking for material and initially I didn't put any of my songs forward," Chely continues. "I just wanted the best songs we could find, but Harold asked if I had any songs that nobody else had. So I played him some of my songs and he just sat there smiling."
Chley's own songs are filled with deep feelings and a melodic sensibility far above the hollow wastelands and surface noise produced by most other youthful artists. Her lyrics assert an independence and individuality which reveals a sensitive persona.
Till All Her Tears Are Dry is one of the highlights of Chely's debut album, WOMAN IN THE MOON. It's a strong song in which Chely is cast as a saloon singer who sends a wayward husband home to his ever-faithful wife. Chely had a hand in writing five of the songs on this first album and all are quality creations. The Last Supper, one of the most unusual songs to come out of Nashville in recent memory, has a definite twist in the tale. On the first listen, this is just another weepy-eyed wife getting ready to leave her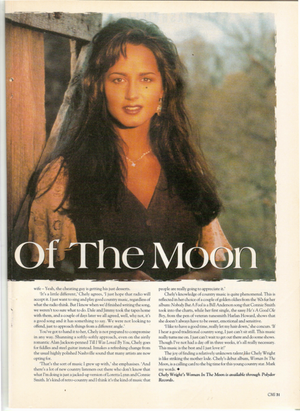 two-timing husband. But after a few more plays, it suddenly hits home that she is cold-bloodedly preparing to serve up a final meal for her man. After eating the poisoned food, there's no way he'll ever do wrong again. It's a cleverly written song which uses biblical imagery to get the story across and Chely sings it so sweetly and innocently that each time you hear this compelling and bizarre tale, you still feel sorry for the wife—Yeah, the cheating guy is getting his just desserts.
"It's a little different," Chely agrees," I just hope that radio will accept it. I just want to sing and play good country music, regardless of what the radio thinks. But I know when we'd finished writing the song, we weren't too sure what to do. Dale and Jimmy took the tapes home with them, and a couple of days later we all agreed, well, why not, it's a good song and it has something to say. We were not looking to offend, just to approach things from a different angle."
You've got to hand it to her, Chely is not prepared to compromise in any way. Shunning a softly-softly approach, even on the airily romantic Alan Jackson-penned Till I Was Loved By You, Chely goes for fiddles and steel guitar instead. It makes a refreshing change from the usual highly polished Nashville sound that many artists are now opting for.
"That's the sort of music I grew up with," she emphasises. "And there's a lot of new country listeners out there who don't know that what I'm doing is just a jacked-up version of Loretta Lynn and Connie Smith. It's kind of retro-country and I think it's the kind of music that people are really going to appreciate it."
Chely's knowledge of country music is quite phenomenal. This is reflected in her choice of a couple of golden oldies from the 1960s for her album: Nobody But A Fool is a Bill Anderson song that Connie Smith took into the charts, while her first single, the sassy He's A Good Ole Boy, from the pen of veteran tunesmith Harlan Howard, shows that she doesn't always have to be sweet, emotional and sensitive.
"I like to have a good time, really let my hair down," she concurs. "If I hear a good traditional song, I just can't sit still. This music really turns me on. I just can't wait to get out there and so some shows. Though I've not had a day off in three weeks, it's all really necessary. This music is the best and I just love it!"
They joy of finding a relatively unknown talent like Chely Wright is like striking the mother lode. Chely's debut album, WOMAN IN THE MOON, is a calling card to the big time for this young country star. Mark my words.
Chely Wright's Woman In The Moon is available through Polydor Records.
First Published in Country Music International January 1995