First published in Country Music People, December 1974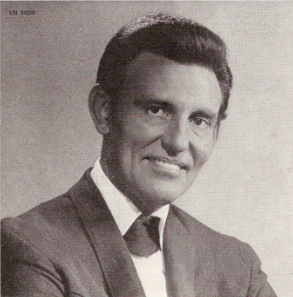 Everyone who meets Charlie Walker remarks on what a nice chap he is. And it's true, in a business that's full of rush, pushing for the number one spot, Charlie Walker is the pleasant, genial fellow who just gets on with doing what he really enjoys—singing and entertaining. He has appeared in Britain on several occasions, including two appearances at the Wembley Festival back in 1969 and 1970, when he proved to be one of the most popular acts. During the day he made a really big impression on the British country fans, meeting and talking to them as if they were all his friends—in a way I suppose they were.
Charlie was born on February 11, 1926 in Collin Country, Texas. He has been in the country music business since way back in 1943, when he began appearing on radio out of Dallas, Texas. His younger days were spent on his father's farm, in his teens he moved into Dallas and decided to have a go at performing for audiences. He was already an accomplished square dance caller, but felt the need to sing and really express himself. After a few months appearing as a solo he landed a job with Bill Boyd and his Country Ramblers who had a show on radio WRR, and Charlie was only seventeen at the time.
A year later he was called up for Army duty and though the USA was involved in the Second World War, Charlie didn't really get involved in active service, instead he continued his love for country music, and formed a hillbilly band. They became well-known enough to be selected to appear on a Tokyo radio station, and before long they had a weekly spot. They were the first country band to appear and broadcast over the radio in Japan. Looking now at the great popularity that Country Music enjoys in Japan one wonders how important Charlie Walker's pioneer work of almost thirty years ago has been.
Throughout the early 1950s Charlie was struggling to make a living as a country music entertainer. He appeared on many small radio stations throughout Texas and the South-West, often for little or no pay. Surprisingly enough he became known not only as a singer but also as a disc-jockey and sports announcer. With the full rich voice he uses so naturally he found announcing came as second nature for him.
His sports announcing became so famous that at one time it almost overshadowed his singing talents, even as a disc-jockey he was more famous than as a singer, for ten years he was consecutively listed in the Billboard Magazine Top Ten Country Music DJs. But throughout this period he kept up his singing and playing which really meant so much to him. In 1954 he recorded for the Imperial Label that at the time was experiencing phenomenal success with Slim Whitman. But Charlie Walker didn't follow in Whitman's footsteps, and he found that he was increasingly relying on his deejay work to make a living. He never quit. And the trying, the improving, the constant attempt to be better, stood him in good stead. His first real success on record came when he signed with Decca label and hit the charts with
Tell Her Lies And Feed Her Candy
. After a short stint with Decca he moved to the Columbia label, and enjoyed even more success with several of his own compositions.
From the very beginning of his career, Charlie Walker has been involved with songs about honky-tonks. It's not so much that he's a man and spends most of his time drinking booze, it's just that he can relate the message in the songs, and naturally after one or two hits dealing with the subject, songwriters tended to pitch him similar songs. His hits during the late 1950s include the early Harlan Howard song
Pick Me Up On Your Way Down, Who Will Buy The Wine
and
I Go
Anywhere
. These recordings for Columbia were marked by a very earthy country style with liberal use of fiddle and steel guitar. Charlie Walker has always been a country singer, he just won't accept the use of strings—it doesn't suit his natural rural voice.
In the early 1960s he moved from Columbia to their subsidiary, Epic, and he enjoyed even more success, keeping almost to the same style as before. His biggest was with
Don't Squeeze My
Sharmon
, but others included
Close All The Honky Tonks, The Man In The Little White Suit, Little Ole Wine Drinker Me
and about four years ago, the first countrified version of The Rolling Stones'
Honky Tonk Women
, a song that could have been specially written for Charlie.
During the 1970s the hits have got smaller, but that's more because country music has got bigger than any declining in Charlie Walker's popularity. That kind of popularity extends into everything that Charlie is associated with, even his favourite sports: Golf, hunting and shooting are done so well and in such a friendly spirit that he is in demand by friends all over for his personality and obvious enjoyment for everything he undertakes.
Charlie Walker is currently recording for the Capitol label, and his first release for this company was released very recently in the States. As a fan of the friendly Texan I can't wait for a new disc, and even if he sticks to the old formula of another song about a honky tonk, I won't mind because I can be sure that Charlie Walker will stick to the old rules of country music and bring out a damn fine record.