Charlie Rich - The Jazz Singer
First Published in Country Music International, October 1995
He began his career as a fledgling rock'n'roller on the Sun Records label, but his uncompromising mix of blues, jazz and country cost him in record sales until his breakthrough in the early 1970s. Success was fleeting and the lows outweighed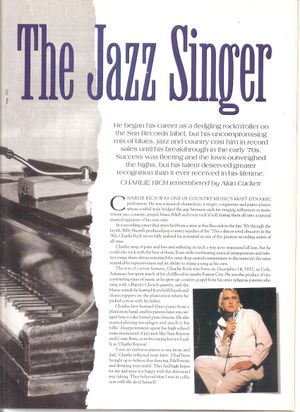 the highs, but his talent deserved greater recognition than it ever received in his lifetime. Charlie Rich remembered by Alan Cackett
Charlie Rich was one of country music's most dynamic performers. He was a musical chameleon; a singer, songwriter and piano-player, whose soulful style bridged the gap between such far-ranging influences as mainstream jazz, country, gospel, blues, r&b and even rock'n'roll, fusing them all into a natural musical signature of his very own.
In a recording career that stretched from a stint at Sun Records in the late 1950s through the lavish, Billy Sherrill-produced pop-country smashes of the 1970s to almost total obscurity in the 1980s, Charlie Rich never fully realised his potential as one of the greatest recording artists of all time.
Charlie sang of pain and loss and suffering in such a way as to transcend all loss, but he could also rock with the best of them. Even with overbearing musical arrangements and inferior songs, there always remained the same deep-seated commitment to the material, the same remarkable expressiveness and an ability to stamp a song as his own.
The son of cotton farmers, Charlie Rich was born on December 14, 1932, in Colt, Arkansas, but spent much of his childhood in nearby Forrest City. He was the product of two contrasting types of music as he grew up: country gospel from his strict religious parents who sang with a Baptist Church quartet, and the bluesy sounds he learned from field-hands and sharecroppers on the plantation where he
picked cotton with his father.
Charlie first learned blues piano from a plantation hand, and his parents later encouraged him to take formal piano lessons. He also started playing saxophone and much to his folks' disappointment spent his high school years enamoured of jazz men like Stan Kenton and Count Basie, even becoming known locally as 'Charlie Kenton'.
"I was an embarrassment to my mom and dad," Charlie reflected years later. "I had been brought up to believe that dancing, r&b music and drinking were sinful. They had high hopes for me and were not happy with the direction I was taking. They believed that I was in collusion with the devil himself."
In his teens Charlie formed a combo with classmates and played local dances. By this time he was dating Margaret Ann Greene, a fellow high school student and band member. They married in 1952 and against all odds remained married right up until Charlie's death in July this year.
"I don't think there was ever anybody else for either of us," Charlie once told me, as he sat with Margaret Ann by his side in a Savoy Hotel suite, some 15 years ago.  Charlie, a big man with a striking head of white hair and a broad face that might appear flabby if it were not for the vulnerable set of his mouth, knew that he would have achieved very little with his music if it had not been for his wife.
After high school, Charlie studied music for one semester at the University of Arkansas, then quit to join the air force when the Korean War broke out. While in the service he put together the Velvetones, a jazz and R&B group, with Charlie playing piano and doing a little singing.
"When I came out of the service in 1955 my uncle set me up farming in Arkansas," Charlie explained. "I'd done some songwriting,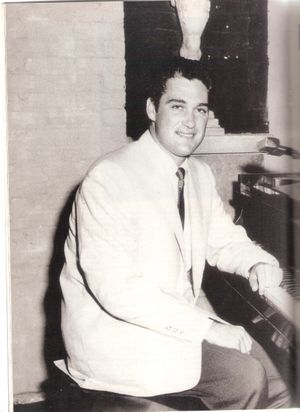 but had not been happy with it. Margaret Ann and I wrote some songs together. We didn't have much money, but we were happy sharing our music."
Before he joined Sun Records in 1958 as a session pianist and songwriter, Rich had played around Enid, Oklahoma and Memphis, Tennessee with a jazz group in a style that owed much to such ivory masters as Count Basie, Oscar Peterson and Duke Ellington.
"I played some sleazy places, but music was everything to me and I had to find out if I could make it. My uncle and I decided that there really wasn't a future for me in farming, so I got the family together and we headed for Memphis, where I was able to get jobs playing the clubs."
"I always felt he could do better," Margaret Ann said proudly. "So I pushed him along to Sun Records in Memphis, where he started out as a songwriter and session musician."
Charlie Rich was Sun's most unlikely rock'n'roller. But Charlie gradually adapted and rapidly built a reputation as a musician's musician, with a voice that loosely resembled Elvis' in its breadth and range (it's claimed that Sun's founder Sam Phillips said that Charlie Rich alone had the potential to rival Presley) and a piano style that could make a jump from the jazz style of Dave Brubeck to the rocking rhythms of Jerry Lee Lewis.
In 1959 Charlie scored a hit on Phillips Records, Sun's subsidiary label, with Lonely Weekends, a pounding slice of Elvis-derived rock'n'roll that added a new twist to Fats Domino's Blue Monday. This was to be Rich's only hit during his affiliation with Phillips. Nevertheless, during this time he penned hits for Johnny Cash and Jerry Lee Lewis, cut some beautiful ballads, and recorded some powerful blues sides that were left in the can until Charly Records began their exhaustive excavation of unreleased Sun masters during the mid-1970s.
Despite the success of Lonely Weekends, Rich was never comfortable in his pseudo-Elvis rockabilly role. He possessed potential that couldn't be confined to the limitations of rockabilly; but for him the transition from rockabilly to straight country would never be easy. Charlie sang in a voice that reflected the influence of
black gospel and blues more than the country twang of Hank Williams or Ernest Tubb. And there was no way he could be developed as a teenage idol. How could youngsters relate to a song like Sittin' And Thinkin', a bitter and melancholic dissertation on the horrors of alcoholism disguised as a sad barroom ballad? Meanwhile, Charlie's hair had turned permanently silver-grey by the time he was 23, earning him the nickname of 'The Silver Fox'—hardly the right image for a teenage heartthrob.
"I played one-night stands with pop stars at the time, but they only allowed me to sing Lonely Weekends and maybe two other songs," he recalled ruefully. "I certainly wasn't progressing anywhere, so in the end I went back to playing clubs and barrooms.
The 1960s found Charlie hopping from label to label and style to style. Both Leonard Chess of the Chicago blues label Chess and Jerry Wexler of Atlantic Records tried to sign him when his contract with Sun ran out, but Charlie decided to stick closely to people he knew and signed with the smaller Groove Records, a subsidiary of RCA. He worked in the studio with long-time friend Bill Justis from the Sun days and ace producer Chet Atkins, but none of the records made any kind of impact until they were re-issued almost a dozen years later to capitalise on his then current pop-country success.
Ironically, Charlie was now writing some of the best songs of his career. He was obviously striving for success, and songs like The Grass Is Always Greener and There Won' t Be Anymore were mature ballads that deserved more attention than they received at the time. Many of these recordings came across as vibrantly fresh and personal, tinged with a jazzy enthusiasm that belied Charlie's country roots.
Problems of searching for that elusive follow-up to Lonely Weekends and financial hardship brought about by irregular and poorly paid club dates started to take its toll on Charlie. A thoughtful, tormented man; talented, driven, but haunted by the apparent gulf between the life he had chosen and a strict religious upbringing that put the family before everything else, Charlie started turning to the bottle for support.
"I found the road rough to take," he admitted. "That's where my trouble with the bottle started. The environment of the places I played was rough, and I soon meshed with it. I discovered that you can sing the blues a heck of a lot better with the right amount of gin inside you than you can if you're sober."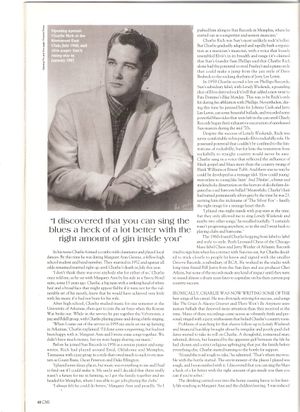 The drinking carried over into the home causing havoc to his family life resulting in Margaret Ann and the children leaving. "I was reduced to staying at a YMCA place," he recalled. "It was one hell of a mess. I finally convinced Margaret Ann that the drinking was over and, luckily for me she's stood by me ever since."
But Charlie's drinking wasn't over. The last time I met him, just three years ago in Nashville, minutes before he was due to play a local club date, he was very edgy, downing a glass of whiskey in one gulp and continuing to smoke one cigarette after another. The drinking continued on stage, his voice, roughened with the booze, cracked on the high notes, and this only caused him to drink even more.
Charlie's lack of success on Groove resulted in another label change, this time to the Mercury subsidiary, Smash Records. He scored a hit in 1965 with Dallas Frazier's Mohair Sam, a rocking hipster anthem, and during his two-year stint with the label Charlie produced some of his strongest ever recordings. THE MANY NEW SIDES OF CHARLIE RICH found him at his rockiest and is absolutely essential listening. On THE BEST YEARS, released in 1966, producer Jerry Kennedy found a way to put strings behind Charlie without denying him either his full voice or the unexpected piano doodles that he liked to elaborate the musical bridges with.
"Jerry Kennedy came up with the goods," reflected Charlie. "But again there was just the one solitary hit, and it's a struggle when you're working on the basis of one song. I did a version of Joe Babcock's I Washed My Hands In Muddy Water that I was real proud of, but it was put on the flip side of Mohair Sam, and got lost. A couple of years later Johnny Rivers came out with that song, copied my arrangement, and sold over a million copies."
Unable to capitalise in a big way on the success of Mohair Sam, Charlie again found himself without a record deal and returned to the clubs in Memphis. There he signed with the Hi label in 1966 and recorded some pivotal tracks in a country soul vein. Although he played little piano during these session, he did produce some of his finest music including an evocative reading of When Something Is Wrong With My Baby, which was recorded a month before Sam & Dave's version, and a brilliant reworking of the Phillips Records' weeper Who Will The Next Fool Be. He also cut an album CHARLIE RICH SINGS COUNTRY & WESTERN, a collection of songs either written by Hank Williams or made famous by him.  Recorded in Ray Charles' blues style with big band arrangements, it was a commercial disaster and Charlie's career hit rock bottom yet again.
Long-time friendship ensured that Charlie Rich and his music was not to be relegated to regional obscurity. Nashville producer Billy Sherrill, who was then recording hits for the likes of Tammy Wynette, signed Charlie to Epic in 1967.  Sherrill had worked with Rich in the Sun days and was a firm believer in his talent and potential. Sherrill's grooming of Charlie Rich was a slow building process with country chart success being hard won. Set Me Free, the first single in the
spring of 1968, set things in motion, but it was to be another four years before Charlie was able to crack the Top 10 with I Take It On Home.
By this time Charlie hardly worked outside the city limits of Memphis—he was that unknown. For once, the magical Billy Sherrill touch didn't seem to be working. It got so bad that in 1972 Epic were seriously considering replacing Sherrill with Chips Moman. Sherrill had just one more session lined-up. They had scored a sizeable hit with Kenny O'Dell's I Take It On Home and turned to him again for Behind Closed Doors, a lush, piano-inflected ballad that turned everything around for both Sherrill and Rich.
"I owe a lot to Billy," Charlie readily admitted. "He picked me up when it seemed my career was all washed-up and he put me on the right road. It didn't happen overnight and at times we thought it wouldn't happen at all, but we sure got there in the end."
Behind Closed Doors dominated the country charts in 1973 and made Charlie Rich a household name with pop and country audiences. His new-found role as a hit maker was cemented with The Most Beautiful Girl In The World, another worldwide smash, resulting in him being named the CMA's Male Vocalist of 1973 and Entertainer Of The Year in 1974.
After almost two decades as the most convincing white country blues singer, Charlie Rich was finally receiving the accolades and awards that should have been his years before. The outcome of this was that he suddenly found himself on three different labels. He was signed to Epic, but both Mercury and RCA were releasing his old material and scoring sizeable hits.
Charlie Rich was, for a brief span of years in the 1970s, the voice of
country music. With producer Billy Sherrill he perfected the countrypolitan merger of pop and country sensibilities. On the early Epic albums, Sherrill allowed Charlie's bluesy voice and piano doodling to shine through. But with each subsequent album, Sherrill came to dominate the recordings more completely, overpowering Rich's voice—no easy matter—with strings, choruses and a flaccid beat. This became most apparent on 1974's VERY SPECIAL LOVE SONGS, where the general tenor of the album was one of understatement and subtlety.
The raw power of the early Charlie Rich had been tamed, and the rough edges smoothed with elaborate string arrangements. VERY SPECIAL LOVE SONGS presented Rich as a low-key ballad stylist that seemed to be a complete disservice to his wider-ranging talents. At times, Rich sounded completely debilitated, and the arrangements had become reminiscent of airline muzak. Sherrill drowned a genuinely soulful voice in a sea of saccharine; Rich's blues and jazz leanings shrouded in the thick murk of Sherrill's signature production. 
Occasionally Sherrill would allow Charlie a little more freedom, as on SILVER LININGS, a collection of mostly traditional spirituals. The arrangements were sparse, especially by Sherrill's standards, and for the first time in years, Charlie was allowed to display the full breadth and depth of his talents. 
But Sherrill was still maintaining close control on Charlie in the studio. In 1972 the singer recorded a demo of the self-penned I Feel Like Going Home, which was a total contrast to the grandiose version released on THE SILVER FOX album two years later. This demo finally saw the light of day 10 years later on the Columbia ROCKABILLY STARS collection. Over a rumbling, plangent piano, Rich approached this most stark and despondent song like a man who is tired of trying to fight. The brooding overtones lift the song up with the inspired addition of a sweeping gospel choir. By the mid-1970s, Rich had lost his muse; he no longer played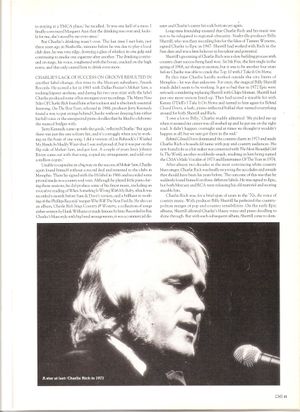 piano on his recordings and was given second-rate material that called for little passion or interest, and his long-standing bout of alcoholism had deadened his own writing skills. The crossover hits of the era had reduced Rich's multi-dimensional musical talents down to one narrow dimension, with which he never seemed terribly comfortable. 
Eventually Charlie parted with Epic and Billy Sherrill. There had been problems in the studio, but Charlie was always reluctant to criticise his producer. "I think you can say that we had gone as far as we could," he admitted. "Billy worked hard on my recordings, but we were not progressing anywhere."
Charlie signed with United Artists in 1978 but never regained his former hit-making days, and the remainder of his time there was marked by desultory albums that reflected his personal and professional discomfort.
By the time the 1980s rolled around he had moved onto Elektra, but still failed to re-ignite his career and seemed to have faded into musical oblivion. Instead he spent most of his time helping his son, Allan Rich, a talented composer and pianist, playing the odd concert date or small club, but spending most of his time with his family.
Then came PICTURES AND PAINTINGS on Sire Records in 1992. Charlie's first all-new album in more than 10 years easily out-distanced even his most polished past achievements. The recordings had evolved out of a series of informal weekly jam sessions that Charlie had held with various Memphis musicians. By following his instincts and working with a production team willing to let him do what he wanted without conceding to the marketplace, Rich had finally been allowed to produce his masterpiece.
"It had always been my desire to record a laid-back jazz album," he explained. "Just to show people what I could really do." The small-band jazz setting in which Rich had always felt most comfortable evoked the intimate feel of a small, smoky Memphis club in the mid-1950s. This was Charlie Rich returning to his musical beginnings, and was probably the most perfect 'last album' that he could have recorded.
Sadly, Charlie Rich died on July 25, 1995. Though he will always be remembered for the hits Behind Closed Doors and The Most Beautiful Girl In The World, it was always jazz and blues music that meant the most to Charlie Rich, an underrated and undervalued musical genius.
Rich Pickings - Alan Cackett offers a personal guide to the best of Charlie Rich
ORIGINAL HITS AND MIDNIGHT DEMOS
(Charly CDX-10)
A double album collection of recordings made for Sun between 1958 and 1962, several of which didn't see the light of day until the late 1970s. In those early days, Charlie fused elements of country, gospel, rock'n'roll, soul, jazz, r&r and blues into a sound that was all his own.
TOMORROW NIGHT
(RCA APL1-0258)
Recordings from this two-year stint on Groove, this is a smooth, easy-to-listen to album in the Rich tradition. The best cuts are those that feature Charlie's piano work such as Big Boss Man and the self-penned The Grass Is Always Greener.
FULLY REALISED
(Phillips 6641-199)
A double album that collected his two albums for Smash Records, THE MANY NEW SIDES OF CHARLIE RICH and THE BEST YEARS, a blend of rockabilly, jazz, country and r&r.
I'LL SHED NO TEARS
(HI 418)
A compilation of tracks recorded for the Memphis-based Hi label in 1966 when Charlie was between labels. A powerful r&b sound is apparent throughout, with echoes of Ray Charles as if Charlie was trying to emulate the blind pianist's amazing success with soul-drenched country tunes.
THE FABULOUS CHARILE RICH
(Epic BN-26516/Koch 3-4049-2)
The second album with Billy Sherrill suggested that Charlie had found his niche, mixing Southern gospel, moody ballads, tough blues and beer-stained laments that let him flex his honky-tonk muscles. Outstanding are Life's Little Ups and Downs and a bluesy reading of Ivory Joe Hunter's I Almost Lost My Mind.
BEHIND CLOSED DOORS
(Epic KE-32247)
The definitive pop country album of the 1970s, this record opened all kinds of doors for Rich. Alongside his two mammoth hits (Behind Closed Doors and The Most Beautiful Girl In The World) it featured Peace On You, a striking gospel-based composition with a beautiful chorus, and If You Wouldn't Be My Lady, a song he picked up from Ray Charles.
THE SILVER FOX
(Epic PE-33250)
Although something of a cash-in in on his mammoth pop country success, this still stands up as a worthwhile album of classic Rich. The first side was devoted to Charlie reflecting over his musical career and influences and taking in gospel, jazz and rock'n'roll.
SILVER LININGS
(Epic KE-33545)
A religious set in which Charlie took liberties with the gospel form in order to make them work for him. His piano sets a groove on Amazing Grace whilst The Milky Way comes across as a powerful straight blues. 
ROLLIN' WITH THE FLOW
(Epic PE-3489)
One of the better Billy Sherrill productions with a good selection of high-quality songs, the best being Tony Joe White's That's The Way A Cowboy Rocks And Rolls. The production work was painstaking, the voice, if anything, even more flawless.
PICTURES AND PAINTINGS
(Sire/Blue Horizon 9.26730-2)
From the biting blues of Don't Put No Headstone On My Grave to the inspired bossa nova of Everytime You Touch Me (I Get High), this album showcased the wayward singer in an informal, small band setting. The selection of material was decidedly eclectic, but the album flowed seamlessly.