First published in Country Music People, September 1976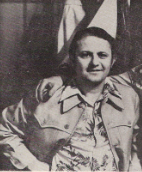 Nashville is full of outstanding musicians, but only the very best are part of the special session musician syndicate. A rare and distinctive style is more important, and here Charlie McCoy scored. He is not just another harmonica player, but the best you are likely to hear.
Modern day country music is often described as bland and trite. It follows a set formula, many singers and producers making excessive use of songs which they themselves publish. Under this set-up the same handful of musicians, however brilliantly creative they might be, tire of playing the same colourless music.
It shows in much of the Nashville product that is released. The music is competent, but not always inspiring. The musicians are saving their best for the time when either a singer or a piece of music suitably moves them to play with real feel and ability. Charlie McCoy has the capacity to bring these musicians together in the studio and produce a music that is dynamic, beautifully constructed and at all times provides listening pleasure.
I first came across Charlie McCoy, harmonica player, around thirteen or fourteen years ago. At the time I was bowled over by a pop album by Johnny Tillotson called IT KEEPS RIGHT ON A-HURTIN'. All of the songs were sad, lost love country ballads, which Tillotson handled with rare skill. The arrangements by Archie Bleyer were string-orientated, but he never allowed the Nashville musicians to be drowned out.
Perhaps most surprising though was the write-up mentioning McCoy in the sleeve notes. For a relatively unknown studio musician to receive special recognition of this sort was unheard of then. His playing on I Fall To Pieces, I'm So Lonesome I Could Cry and others was quite the most lonesome, haunting sound I've heard. To say that Charlie McCoy made the album one of my all-time favourites would be a little unfair to Tillotson, but there's no doubt his presence brought that little extra from the singer.
Through the years I noticed McCoy's name crop up numerous times on album credits, and I also noted he played more than just harmonica. Bass, vibes, keyboards and organ have all been played by this talented musician. In the early 1960s he released a few singles on the Cadence label, but none were successful, so Charlie was quite happy with the security of session work.
Musically, Charlie has never come unstuck. In his mid-thirties, he's probably done more than most of his contemporaries in terms of super sessions and working on the road with a wide spectrum of artistes. In the late 1960s a whole host of Nashville session musicians were beginning to receive their due recognition for the sterling work done in the studios. Much of this recognition was instigated by rock acts like Bob Dylan and The Byrds who used the Nashville studios and appreciated the talent of the musicians, maybe more than the country artists and producers who have been using them for years.
In 1970 he was urged to try his luck on record again and signed a contract with Monument Records. During the past five years he has emerged as one of the most successful instrumentalists in country music. To begin with I assumed an album of harmonica music would be fine for one, maybe two hearings, but for prolonged listening pleasure it would be heavy going. But McCoy has proved me wrong with every album (and there's now seven or eight to choose from).
There is a comfortable sameness that transcends all of the albums, which detractors may label monotonous, but is in fact subtly creative and unique. His ever-so-slightly updated versions of old country tunes are done cleanly and without a hint of condescension, the playing particularly from people like 'Uncle Josh' Graves, Weldon Myrick, Lloyd Green, Bobby Thompson and a host of others is quite exquisite.
But it is McCoy's playing that you'd buy the albums for and always it's a treat. He is the perfect session man, sensitive to the performance and using his instrument to complement rather than as a vehicle for his own self-expression. That is why he's been in constant demand by both pop and country artists.
It's not easy to describe McCoy's albums. Never dismiss them as bland, easy listening. They have a wide appeal taking in the country fan through to pop and rock music lovers who appreciate the excellent musical accomplishments demonstrated throughout his recordings. So many albums sit there rather limply on the turntable wailing softly to themselves and begging sympathy. Not McCoy's! They get up and sock you into listening with every trick in the book.
He mixes string-backed ballads featuring soft steel, crying fiddles and superb blue notes from his harmonica then throws in a get-up-and-go hoe-down number with plucking banjos, picked steel guitar and the most solid rhythm section you're ever likely to hear. His albums seem to cut across the entire spectrum of country music as he strives for perfection and versatility.
To date only one album, CHARLIE McCOY THE NASHVILLE HIT MAN has been released in Britain. Like his others it features a superb cover depicting a Bonnie and Clyde theme with McCoy's trusty harmonica as the machine gun. The result is another in an outstanding series of LPs by McCoy and the cream of the Nashville musicians. Again a lot of thought in this one, as it offers everything from a movie theme to old country tunes, a recent pop smash and even a McCoy original. McCoy is a professional who does many things well, and does virtually nothing wrong.