Charley Pride - Pride And Glory
He's shifted more records for his old label than anyone since Elvis, been kissed on stage by Willie Nelson, and succeeded against all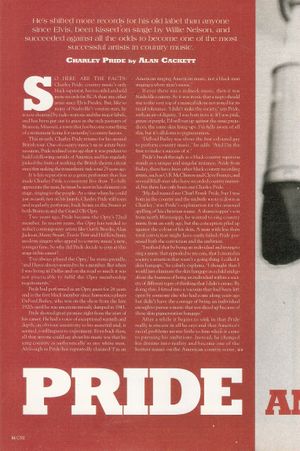 the odds to become one of the most successful artists in country music.
So here are the facts: Charley Pride, country music's only black superstar, has recorded and sold more records for RCA than any other artist since Elvis Presley. But, like so many of Nashville's veteran stars, he is now shunned by radio stations and the major labels and has been put out to grass in the rich pastures of Branson, Missouri, a town that has become something of a retirement home for yesterday's country heroes.
This month, Charley Pride returns for his annual British tour. One of country music's more astute businessman, Pride realised years ago that it was prudent to build a following outside of America and has regularly picked the fruits of working the British theatre circuit since first making the transatlantic trek some 25 years ago.
It is his reputation as a great performer that has made Charley Pride a consistent live draw. To fully appreciate the man, he must be seen in his element: on stage, singing to the people. At a time when he could just as easily rest on his laurels, Charley Pride still tours and regularly performs, back home in the States at both Branson and the Grand Ole Opry.
Two years ago, Pride became the Opry's 72nd member. In recent years, the Opry has tended to induct contemporary artists like Garth Brooks, Alan Jackson, Marty Stuart, Travis Tritt and Hal Ketchum; modern singers who appeal to country music's new, younger fans. So why did Pride decide to join at his stage in his career?
"I've always played the Opry," he states proudly, "and I have always wanted to be a member. But when I was living in Dallas and on the road so much it was not practicable to fulfil the Opry membership requirements."
            Pride has performed as an Opry guest for 26 years and is the first black member since harmonica player DeFord Bailey, who was on the show from the late 1920s until he was unceremoniously dumped in 1941.
Pride showed great promise right from the start of his career. He had a voice of exceptional warmth and depth, an obvious sensitivity to his material and, it seemed, a willingness to experiment. Even back then, all that anyone could say about his music was that he sang country as authentically as any white man. Although as Pride has repeatedly claimed: 'I'm an American singing American music, not a black man singing a white man's music.'
If ever there was a redneck music, then it was Nashville country. So it was ironic that a negro should rise to the very top of a musical idiom not noted for its racial tolerance. "I didn't make the society," says Pride, with an air of dignity. "I was born in to it. If I was pink, green or purple, I'd still run up against the same prejudices, the same skin hang-ups. I'm fully aware of all those, but it's all down to pigmentation."
"DeFord Bailey was about the first coloured guy to perform country music," he adds. "And I'm the first to make a success of it."
Pride's breakthrough as a black country superstar stands as a unique and singular instance. Aside from Bailey, there have been other black country recording artists, such as O.B. McClinton and Cleve Francis, and several r&b stars who have recorded country material, but there has only been one Charley Pride.
"My dad named me Charles Frank Pride, but I was born in the country and the midwife wrote it down as Charley," was Pride's explanation for the unusual spelling of his Christian name. A sharecropper's son from north Mississippi, he wanted to sing country music form an early age, but the conception piled up against the colour of his skin. A man with less than total conviction might have easily failed; Pride possessed both the conviction and the ambition.
"I realised that by being an individual and trying to sing a music that appealed to my ears, that I created in society a situation that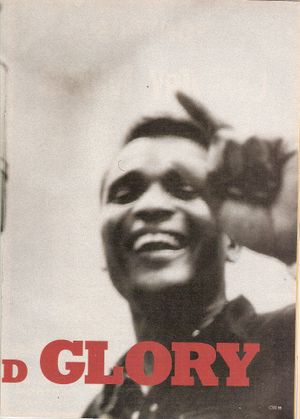 wasn't a going thing. I called it skin hang-ups," he calmly explains. "I thought that I would just eliminate the skin hang-ups as a child and go about the business of being an individual withing a society of different types of thinking that I didn't create. By doing this, I fitted into a vacuum that had been left open by someone else who had come along years ago but didn't have the courage of being an individual enough to pursue a music that was sliced up because of those skin pigmentation hang-ups."
After a while it begins to sink in that Pride really is sincere in all he says and that America's racial problems meant little to him when it came to pursuing his ambitions. Instead, he changed his dreams into reality and became one of the hottest names on the American country scene.
It was Chet Atkins who eventually signed Pride to RCA and released his debut single, Snakes Crawl At Night, in 1965. Pride played the Opry in 1967 and continued to surprise country audiences across the US with the quality of his voice, and predictably, the colour of his skin.
It was at a show in Shreveport with Willie Nelson and Hank Williams Jr that Nelson decided to shock the redneck crowd by running on stage just before Pride began singing and kissing him full on the mouth. 'By the time they got over the shock, he was already playing,' recalled Nelson, 'and he had them hooked.'
Recording with RCA from 1966 through to 1986, Pride scored 29 number one country hits, including the million-selling Kiss An Angel Good Morning, which also crossed over into the American pop charts during 1971. In the same year, Pride was voted Male Vocalist and Entertainer Of The Year by the Country Music Association. He has since amassed an incredible 31 gold and four platinum albums from around the world and earned a pair of Grammy awards for gospel recordings in 1971 and another Grammy for Best Country Vocal Performance in 1972.
Throughout his long career, unlike many of his fellow country performers, Pride has toured internationally, racking up sell-outs at nearly every show and setting numerous attendance records.
He's made his money from country music, but he is always looking to expand. "My country didn't start out with Bach, Beethoven and Mozart, it started out with fiddles and banjos." he says, when discussing his crossover appeal."But that hillbilly thing, with the overalls, has long gone. I dislike putting singers into pigeon-holes. I'm an entertainer."
"'Why do I sing country music? Answer: I like it. I heard a musical style that appealed to me when I was a kid and that sound just happened to be known as country, but I still don't like to be pigeonholed. I do place great importance on simplicity, though. It's a funny thing, but in the States, the country stations will play pop more quickly than pop stations will play country. For that reason alone, I've always tried to broaden my musical horizons."
One of the more puzzling aspects of Pride's immense success stems from the fact that he has never enjoyed great success in the pop or country singles charts in either Britain or America. His singles have never received any kind of heavy promotion, although his albums have always fared better.
At the last count, Pride has released in excess of 50 albums. During the 1970s he was like a one-man industry; pumping out the albums faster than anyone else in town. At times, it seemed as if the songs were being computer-written and by 1984 his record sales tapered off alarmingly. At the time, however, Pride blamed RCA for not giving the product the promotional push it deserved and believed that he was being shunted aside for younger artists. In desperation, he gave the label an ultimatum: commit themselves to him or let him go. He was surprised when they chose the latter.
In 1986, Pride signed to the new 16th Avenue Records, releasing three albums and seeing a slight improvement with the chart placing of his singles. However, 16th Avenue Records folded in November 1990, leaving the singer without a label once again.
Since then, Pride has recorded the odd album for single label deals, and even gone down the road of re-recording many of his older classic hit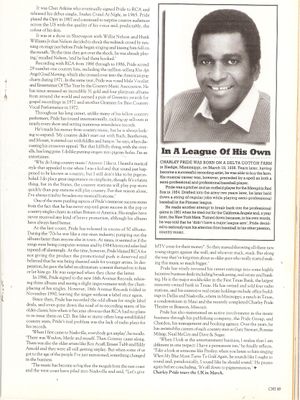 s when it became obvious that RCA had no plans to re-issue them on CD. But like so many other long-established country stars, Pride's real problem was the lack of radio plays for his records.
"When I first came to Nashville, everybody got airplay"' he recalls. "There was Waylon, Merle and myself, then Conway came along. There was also the older artists like Roy Acuff, Ernest Tubb and Eddy Arnold and they were all still getting airplay. But when some of us got to the age of the people I've mentioned, something changed in the business"
"The music has become so big that moguls from the east coast and the west coast have piled into Nashville and said: 'Let's give MTV a run for their money.' So they started throwing all these new young singers against the wall, and whoever stuck, stuck. But along the way they've forgotten about us older guys who really started making this music so much bigger."
Pride has wisely invested his career earnings into some highly lucrative business deals including broadcasting, real estate and banking. He is the major stockholder in the First Texas Bank, the largest minority-owned bank in Texas. He has owned and sold four radio stations, and his extensive real estate holdings include office buildings in Dallas and Nashville, a farm in Mississippi, a ranch in Texas, a condominium in Maui and the recently completed Charley Pride Theatre in Branson, Missouri.
Pride has also maintained an active involvement in the music business through his publishing company, the Pride Group and Chardon, his management and booking agency. Over the years, he has assisted the careers of such country stars as Gary Stewart, Ronnie Milsap, Neal McCoy and Dave & Sugar.
"When I look at the entertainment business, I realise that I am different in one respect: I have a permanent tan," he finally reflects. "Take a look at someone like Presley; when you listen to him singing When My Blue Moon Turns To Gold Again, he sounds like I ought to sound and, paradoxically, I sound like he should sound." He pauses again before concluding, "It's all down to pigmentation."