Cathie Stewart - Whatever Happened to.......
First published in Country Music International, June 1996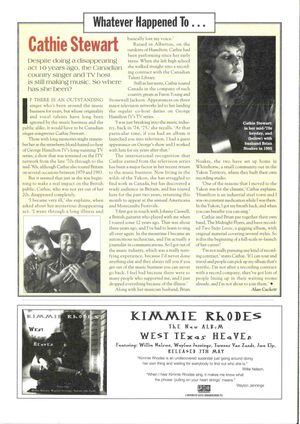 Despite doing a disappearing act 10 years ago, the Canadian country singer and TV host is still making music. So where has she been?
If there is an outstanding singer who's been around the music business for years, but whose originality and vocal talents have long been ignored by the music business and the public alike, it would have to be Canadian singer-songwriter Cathie Stewart.
Those with long memories might remember her as the strawberry blond-haired co-host of George Hamilton IV's long-running TV series, a show that was screened on the ITV network from the late 1970s through to the mid-1980s, although Cathie also toured Britain on several occasions between 1979 and 1983.
But it seemed that just as she was beginning to make a real impact on the British public, Cathie, who was not yet out of her 20s, disappeared completely.
"I became very ill," she explains, when asked about her mysterious disappearing act. "I went through a long illness and basically lost my voice."
Raised in Alberton, on the outskirts of Hamilton, Cathie had been performing since her early teens. When she left highschool she walked straight into a recording contract with the Canadian Talent Library.
Still in her teens, Cathie toured Canada in the company of such country greats as Faron Young and Stonewall Jackson. Appearances on three major television networks led to her landing the regular co-host duties on George Hamilton IV's TV series.
"I was just breaking into the music industry, back in 1974, 1975," she recalls. "At that particular time, if you had an album, it launched you into television. I had a guest appearance on George''s show and I worked with him for ix years after that."
The international recognition that Cathie earned from the television series has been a major factor in her recent return to the music business. Now living in the wilds of the Yukon, she has struggled to find work in Canada, but has discovered a ready audience in Britain, and has toured here for the past two years, returning this month to appear at the annual Americana and Morecambe Festivals.
"I first got in touch with Johnny Caswell, a British guitarist who played with me when I toured some 12 years ago. That was about three years ago, and I've had to learn to sing all over again. In the meantime, I became an autonomous technician, and I'm actually a journalist in communications. So I got out of the music industry, which was a really terrifying experience, because I'd never done anything else and they always tell you if you get out of the music business you can never go back. I feel bad because there were so many people who supported me, and 1 just dropped everything because of the illness."
Along with her musician husband, Brian Noakes, the two have set up home in Whitehorse, a small community out in the Yukon Territory, where they built their own recording studio.
"One of the reasons that I moved to the Yukon was for the climate," Cathie explains. "Hamilton is an industrial steel town and I was on constant medication while I was there. In the Yukon, I got my breath back, and when you can breathe you can sing."
Cathie and Brian put together their own band, The Midnight Flyers, and have recorded TWO STEPS LOOSE, a gigging album, with original material covering several styles. So is this the beginning of a full-scale re-launch of her career?
"I'm not really pursuing any kind of recording contract," states Cathie. "If 1 can tour and travel and people can pick up my album that's terrific. I'm not after a recording contract with a record company, they've got lots of people lining up in their waiting rooms already, and I'm not about to join them."