Carrie Newcomer - Under The Spotlight
First Published in Country Music International, November 1997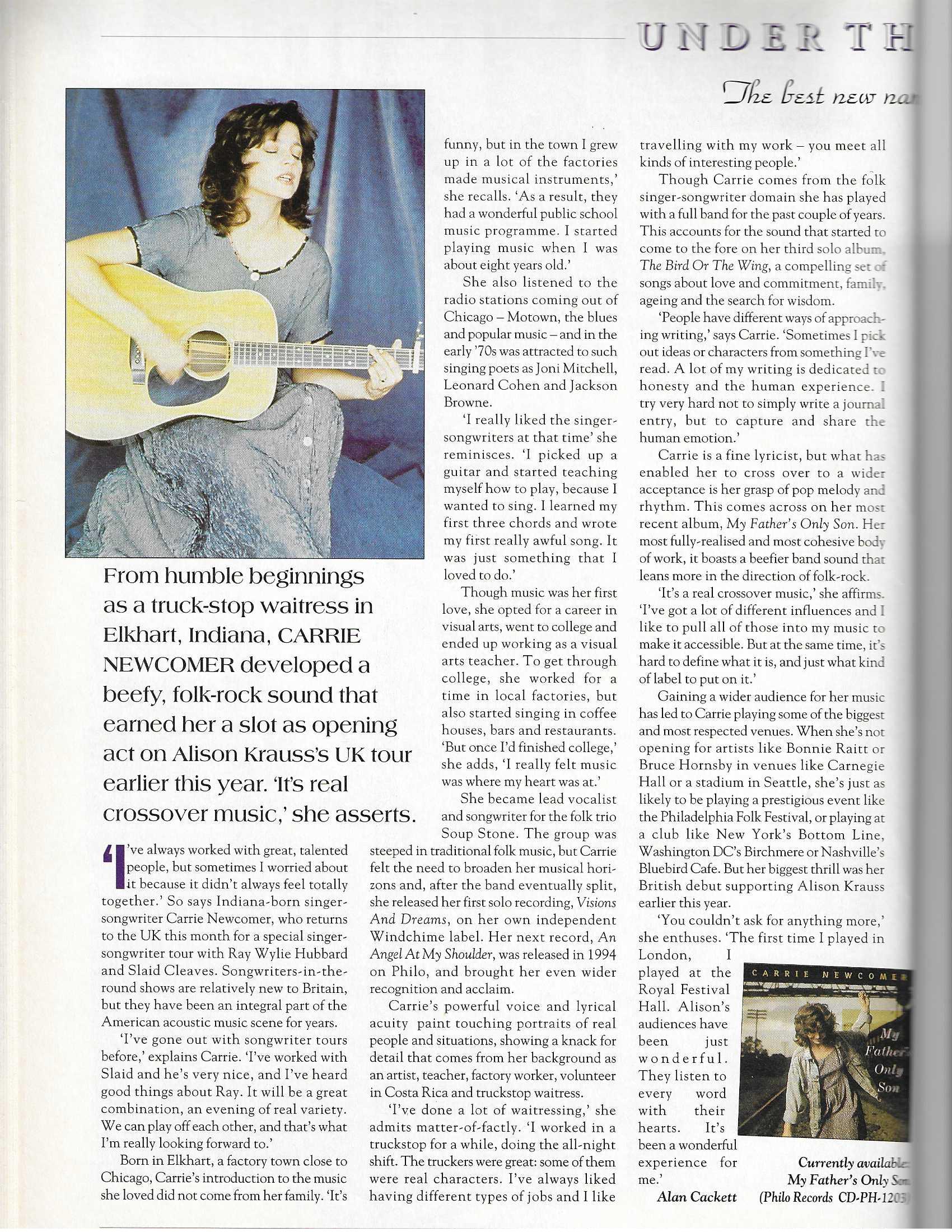 From humble beginnings as a truck-stop waitress in Elkhart, Indiana, Carrie Newcomer developed a beefy, folk-rock sound that earned her a slot as opening act on Alison Krauss' UK tour earlier this year. "It's real crossover music," she asserts.
"I've always worked with great, talented people, but sometimes I worried about it because it didn't always feel totally together." So says Indiana-born singer-songwriter Carrie Newcomer, who returns to the UK this month for a special singer-songwriter tour with Ray Wylie Hubbard and Slaid Cleaves. Songwriter-in-the-round shows are relatively new to Britain, but they have been an integral part of the American acoustic music scene for years.
"I've gone out with songwriter tours before," explains Carrie. "I've worked with Slaid and he's very nice, and I've heard good things about Ray. It will be a great combination, an evening of real variety. We can play off each other, and that's what I'm really looking forward to."
Born in Elkhart, a factory town close to Chicago, Carrie's introduction to the music she loved did not come from her family. "It's funny, but in the town I grew up in, a lot of the factories made musical instruments," she recalls. "As a result, they had a wonderful public school music programme. I started playing music when I was about eight years old."
She also listened to the radio stations coming out of Chicago—Motown, the blues and popular music—and in the early 1970s was attracted to such singing poets as Joni Mitchell, Leonard Cohen and Jackson Browne.
"I really liked the singer-songwriter at that time" she reminisces. "I picked up a guitar and started teaching myself how to play, because I wanted to sing. I learned my first three chords and wrote my first really awful song. It was just something that I loved to do."
Though music was her first love, she opted for a career in visual arts, went to college and ended up working as a visual arts teacher. To get through college, she worked for a time in local factories, but also started singing in coffeehouses, bars and restaurants. "But once I'd finished college," she adds, "I really felt music was where my heart was at."
She became lead vocalist and songwriter for the folk trio Soup Stone. The group was steeped in traditional folk music, but Carrie felt the need to broaden her musical horizons and, after the band eventually split, she released her first solo recording, VISIONS AND DREAMS, on her independent Windchime label. Her next record, AN ANGEL AT MY SHOULDER, was released in 1994 on Philo, and brought her even wider recognition and acclaim.
Carrie's powerful voice and lyrical acuity paint touching portraits of real people and situations, showing a knack for detail that comes from her background as an artist, teacher, factory worker, volunteer in Costa Rica and truckstop waitress.
"I've done a lot of waitressing," she admits matter-of-factly. "I worked in a truckstop for a while, doing the all-night shift. The truckers were great: some of them were real characters. I've always liked having different types of jobs and I like travelling with my work—you meet all kinds of interesting people."
Though Carrie comes from the folk singer-songwriter domain she has played with a full band for the past couple of years. This accounts for the sound that started to come to the fore on her third solo album, THE BIRD OR THE WING, a compelling set of songs about love and commitment, family, ageing and the search for wisdom.
"People have different ways of approaching writing," says Carrie. "Sometimes I pick out ideas or characters from something I've read. A lot of my writing is dedicated to honesty and the human experience. I try very hard not to simply write a journal entry, but to capture and share the human emotion."
Carrie is a fine lyricist, but what has enabled her to cross over to the wider acceptance is her grasp of pop melody and rhythm. This comes across on her most recent album, MY FATHER'S ONLY SON, her most fully-realised and most cohesive body of work, it boasts a beefier band sound that leans more in the direction of folk-rock.
"It's a real crossover music," she affirms. "I've got a lot of different influences and I like to pull all of those into my music to make it accessible. But at the same time, it's hard to define what it is, and just what kind of label to put on it."
Gaining a wider audience for her music has led to Carrie playing some of the biggest and most respected venues. When she's not opening for artists like Bonnie Raitt or Bruce Hornsby in venues like Carnegie Hall or a stadium in Seattle, she's just as likely to be playing a prestigious event like Philadelphia Folk Festival, or playing at a club like New York's Bottom Line, Washington DC's Birchmere or Nashville's Bluebird Café. But her biggest thrill was her British debut supporting Alison Krauss earlier this year.
"You couldn't ask for anything more," she enthuses. "The first time I played in London, I played at the Royal Festival Hall. Alison's audiences have been just wonderful. They listen to every word with their hearts. It's been a wonderful experience for me."