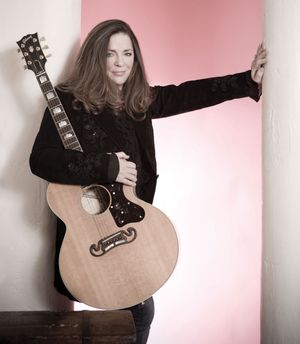 June 2016 finds Carlene Carter returning to the UK for her first tour in six years (see the dates below). Recently I chatted to Carlene about her latest album, CARTER GIRL, and her legendary musical family that can be traced back to the 1920s country music pioneers the Carter Family. Carlene, the daughter of the late June Carter and Country Music Hall of Famer Carl Smith, is not only the third generation of the famed Carter Family, but also the step-daughter of the iconic Johnny Cash. This makes her musical and family heritage second to none.
Although profoundly influenced by the sounds of her childhood and family background, Carlene knew early on that her musical landscape was much broader than her somewhat conservative country music upbringing and embarked on a pursuit that would encompass both reverence and rebellion. When she stepped into a recording studio back in 1978 to record her first eponymous solo album, it wasn't in Nashville, but in London and it wasn't a sedate country album, but an all-guns blazing rock album with Graham Parker & the Rumour.
She continued down the rock route in the early 1980s, cleverly combining her country music heritage with a much more contemporary approach. Then she took some time out from recordings, starred in the musical Pump Boys & Dinettes, before returning to the fray in the early 1990s with her most commercially successful period that saw her score a trio of top three country hits—
I Fell In Love, Come On Back
and
Every Little Thing
. It was to be a short-lived taste of success as Carlene went through personal upheavals in her life and virtually disappeared off the musical map.
In 2008, having shaken off the demons of drug and alcohol abuse, she made a tentative return to music with STRONGER, an acoustic-based album of highly personal songs all written by Carlene. By this time she was married to Joseph Breen, her fourth husband, and started touring again, mainly playing duo shows with Joe providing sensitive guitar accompaniment.
In her near 40-year career as a singer-songwriter, Carlene Carter has seen the music industry evolve; she's gone through marriage and relationship issues, become a mother and grandmother, and she's seen her fair share of ups and downs. Wiser for her experiences and no longer chasing the cliche of success, Carlene returned to the studios to record 2014's CARTER GIRL, purely, the singer, the songwriter, the musician and the artist that she's always been and will always be.
If what you do is timeless, it never gets old. Steeped in her rich musical heritage, CARTER GIRL is a masterful work conveyed by means of Carlene's expressive, soul-burnished voice, agile musical artistry and the impeccable, time-honoured Deep South songs. Her musical vision coalesced into a sound that, at once, harkened back to early Appalachian recordings, yet emerges completely fresh with a new spin on the old sound of Americana.
"You know it's funny," Carlene explains, "Time is a bit irrelevant to me in the making of this record, because we basically started the whole process about five years ago. Four years ago we finally got the basic tracks for it. Then it took another year of doing over some additional stuff. It had to do with Don Was. He is a very busy guy and he was kind of slotting me in between a couple of John Mayer records and Rolling Stones things."
"Whenever he had extra time we would get in there and get it done. So it did take a little bit of nailing it down. With Willie and Kris and Vince Gill and Elizabeth Cook, I pretty much did most of it on the fly by myself with the engineer. Then Don would come in and play on some of the songs. It's been a great exercise and much patience, but I think it's served the record well, because it came out exactly perfect in my estimation."
Carlene has always had a clear and consistent vision of her artistic and musical direction to which both critics and fans have responded enthusiastically. With CARTER GIRL she wanted to pay homage to her family's music, going right back to the work of her grandmother Maybelle Carter and AP and Sara Carter—the original Carter Family—her mother June Carter and her aunts Anita and Helen Carter (the Carter Sisters). Very much an acoustic-based record with lots of guitars (slide, acoustic, electric, steel), mandolin and keyboards, Carlene created a sound, rooted in the old time style of the Appalachian mountains, drawing on Irish traditional music and Americana.
"A lot of the time consuming factor was in media and research on what songs I wanted to do. By process of elimination I came up with, what I came up with. I did this thing where I took the box set of the Carter Family, IN THE SHADOW OF THE CLINCH MOUNTAIN and it kind of became my go-to box to find the songs and pick out the ones that were a little more obscure and some of the ones I grew up singing. I didn't want to do all the ones that everybody knew, I wanted to at least include a few that nobody had ever heard, or had got to know too well."
The work behind the album was obviously very much a labour of love in which commercial aspirations of monetary reward were very much secondary. Throughout the long hours of preparation and even the time spent in the studio creating the album, Carlene was delving back into her family's musical history and heritage. Along the way it was a journey of discovery back to where she came from both musically and in her own family's background. 
"Yeah definitely. I wanted it to include at least one of mom's songs, one of my aunt Helen's songs and also tip my hat to my aunt Nita, who had the most amazing voice. That song that I picked that she used to always sing, it would just give me butterflies in my stomach and I'd be all smiles. It was great, because it WAS a labour of love and I wanted to try and cover three generations of the music, because I'm the third generation now."
"It was hard to pin them all down, but I didn't want it to be a complete gospel album. So many of those songs are gospel songs, nothing against that, but I wanted to have a broadness to it. I was told as a kid and through my entire life and career, that it was my responsibility that when they were all gone, that I would keep the music alive, however I could. Keep people knowing about the music of the Carter Family."
"It is timeless songs. They could have been written last week, in some regard. Also to make them my own, so that it sounds like a Carlene Carter record. It's just so in my bones, the music of the Carter Family. I guess I know so many of these songs and some new ones too, but mostly I just knew one verse and the chorus, because that's all I would ever sing. There was me, Mum, Helen, and Nita, sometimes Rosey would be there and sometimes Rose would be there, so it was usually like we would each get a verse. One of the good things about Carter Family songs is most of them have ten verses! It's been a wonderful, healing thing for me in lots of ways, because I got to sing those songs. It was too early to do it right after they had passed, it was like a five-year period and they were all gone and it was just too early. I needed a way and a certain amount of time so that I didn't burst into tears every time I did the songs—which is kind of what I would do."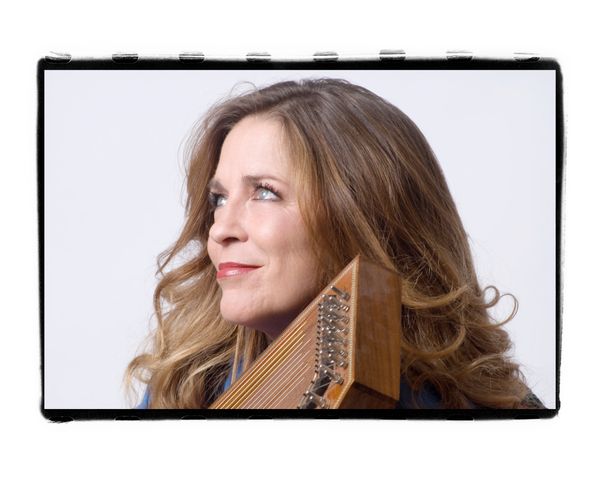 The music of CARTER GIRL tells a story that is sometimes humorous, sometimes bitterly sad, but always affecting and believable. There's a ton of heart and soul found in each and every track as she sings songs that have influenced her over the years and carries them to new heights with her masterful delivery. It seems hard to believe that songs like
Little Black Train
and
Give Me The Roses
are close to 90 years old as they sound quite contemporary in Carlene's hands. She revived Helen Carter's
Poor Heartsick Me
, giving it a vibrant fresh treatment and adds a touch of reverence to her mother's
Tall Lover Man
. Her own
Me And The Wildwood Rose
is a touching tribute to her younger sister Rosey and a fond remembrance of growing up in the bosom of the Carter family.   
Carlene is joined by a stellar supporting cast that manages to update the material while maintaining the music's timeless emotional appeal. Sam Bush adds the delicate mandolin touches, Greg Leisz provides steel, acoustic and electric guitar alongside Blake Mills (acoustic and electric guitars) Rami Jaffee (Hammond organ, keyboards, piano) all underpinned by Jim Keltner (drums, percussion) and producer Don Was on bass. Carlene plays acoustic guitar, piano and the distinctive 'Carter Scratch' guitar. Amongst the guest vocalists you'll hear Vince Gill, Elizabeth Cook, Kris Kristofferson, Lorrie Carter Bennett, Joe Breen and Willie Nelson, who also plays lead solo guitar on
Troublesome Waters
.
"Kris and Willie, particularly, were very much a part of our family when I was growing up. I met Willie when I was a kid (11 or 12) probably before, when he was with his daughter Suzy. Then with Kris, he showed up at our house in the helicopter and it's all history from there. But yeah, they're like uncles to me, or brothers. In fact, everybody on the record has a real place in this record and in the music that we're doing, because they have been there. They knew my grandmother, they knew my mum and my aunts and they've known me all my life."
"The thing with Vince and Elizabeth Cook—she's just got the perfect little harmony voice to go in there with me and I loved being able to dub her as a 'Carter Girl.' Then of course my cousin Lorrie, who is Anita Carter's daughter. She sings on a couple of songs and she was the same age as my little sister Rosey. It was the three of us that were riding around the back of a car, so she had to be there. We did a lot of things together. Then of course I've got my husband, Joe Breen, on a couple of tracks and he sings great. So it was very family orientated."
"In the beginning I had a long list of people that I was gonna invite to be a part of the record, because I always figured that if you invite enough people, somebody's going to say yes. Well at the top of my list the three guys were: Vince, Kris and Willie. They all three said yes, so I was done and the rest of the guys on the list got left out!"
When talking to Carlene it doesn't take too long to realise how important family is to her. The Carter Family's musical history has been maintained in Virginia with the Carter Fold, a concert venue located near Hiltons, Virginia. Founded by Janette Carter, daughter of AP and Sara Carter, in 1979, it is dedicated to the preservation and performance of old time country and bluegrass music. Members and descendants of the Carter Family are amongst the regular performers and over the years the late Johnny Cash and his wife June Carter and their family, including Carlene, would often perform at the Carter Fold.
"
I haven't played there in the last couple of years, but it was a period of time that I was going up there a lot. Previously, the last couple of years momma was alive, and then after they passed, it seemed as though I was going to a lot of funerals. We lost my cousin, Joe Carter, Sara's son and Janette. Janette had been the heartbeat of the Fold and kept it going. Now, Rita (Janette's daughter)  keeps the fold going. So I'm looking forward to going back there and playing, hopefully in the summer time when they open it up."
Though the Carter Family were very much the bedrock of country music, over the years the country mainstream have almost totally ignored the influence and the importance of the Carter Family's music. It has mainly been bluegrass musicians that have upheld the music and kept it alive and vibrant for future generations.
"I've got a nephew on my husband's side of the family who has a great little bluegrass thing called Windy Hill, and they do a lot of the Carter Family stuff. He said that almost every single group that he's worked with ends up doing at least a couple of Carter Family songs. It is definitely part of the birth of bluegrass and part of the birth of all music in some ways getting to the masses and being some of the first people to record."
"And I'll tell you something funny: While doing this record we filmed a kind of making of the record film, but it was much more than that in that I'm telling what I was told. I don't know that I'm correct, other than as far as historical stuff goes and being told by my grandmother, my aunt and my mom, I consider it to be from the horse's mouth. Anyway, when we were working on this film, we found that
Little Black Train
was going to be the single, so we started looking online at whoever cut it, where it came from, was it one of the ones that AP had found, or did he write it. And there was a guy on there (don't know who he was) but he had long dreadlocks and he was dancing to
Little Black Train
and he'd sing along. It's just so funny, because he's dancing his tail off and I'm hoping I can find out who this guy is, so I can put him in my video."
It seems to be a tradition within the Carter Family to not only interpret songs, but also to write them. Often it has been overlooked that Carlene is a talented songwriter carrying on the tradition begun almost 90 years ago by her great uncle AP Carter
"Oh well thank you for saying that. But yeah that's why I wanted to include a couple of my songs on there because it is the progression of the generations and being a writer. My brother John Carter writes and a lot of my cousins write and it was really instilled in all of us to become songwriters. It gave us the voice to be singers with, if you write your songs, no one can tell you you're doing it wrong."
One of Carlene's early songs,
Easy From Now On
, co-written with the late Susanna Clark, was  revived a few years ago by Miranda Lambert. In many respects Miranda reminds me of Carlene, when she was younger, with that strong woman attitude both on and off stage where she is not going to take any prisoners, she's the boss. I asked Carlene if she thought that Miranda turned in a good version of
Easy From Now On
.
"Oh yes, I was thrilled when she took that, and it's funny, that was one of the first songs I ever had recorded. I wrote it when I was 19 or 20 and it started my career, because Emmylou Harris' management took notice of me and became my managers. They were the ones that had the idea to take a blue-blood country girl from Nashville to England to record with Dave Edmunds. He was going to put it on his first album and it ended up not working out at the time, but we continued to work together for many years on projects and even into the 1990s … he's always been on my albums."
"Emmy was responsible in a lot of ways … and Rodney Crowell … for telling Warner Brothers and the management … both of them had … about me. Susanna Clark and I wrote the song. She called me one day, and I've got two kids, so I'm trying to write songs whilst they're sleeping. She says: 'Hey, I'm at the studio with Emmylou and her husband, they're recording, come down here and let's play her the song!' Susanna didn't know how to play it, because we'd just written it, and I had written the music part of it and so I go down there. Emmy was like one of my heroes, so I was all nervous. I went in and sang it to her and she was like: 'I'm gonna cut that.' Then a couple of months from that day, my whole world changed and I ended up having a record contract with Warner Brothers and starting my career. So it was pretty neat. I owe Emmy and Rodney a lot."
 Carlene Carter is both heir and curator to the tradition of Appalachian song and the mountain heritage, and a relentless innovator of the genre. When she set out on her own solo pathway many of those that were fans of the traditional Carter Family, probably thought that she was selling out her music heritage with her initial rock-styled records, but she's always remained a firm believer that music has to progress, yet still hold onto its roots.
"Yeah, definitely," she heartily agrees. "I love what my family has created and I want to carry the torch forward, but I want to put my own stamp on the music for future generations."
CARTER GIRL spotlights Carlene's vision and expression as an artist in the purest form—in emotion, sensibility and contemporary philosophy of mind. She creates beautiful music that is always slyly smart, which in turn makes it more beautiful. She upholds the Carter Family's rich musical heritage by continuing to keep it honest, as she deals with a great deal of change and upheaval in her own personal life to add to a body of work that is both crucial and timeless. 
Carlene Carter's 2016 Tour Dates
June 10: Oxford Barnabas Church
June 11: London Islington Academy
June 13: Hebden Bridge Trades Club
June 14: Dublin Whelans
June 15: County Cork Bally Maloe Grainstore
June 16: Ennis Glor Theatre
June 23: Lewes Con Club