First published in Country Music People, March 1978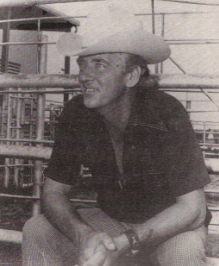 For those who have fond recollections of the country music sounds of the 1950s the news that Carl Smith is to appear at this year's Wembley Festival is indeed welcomed.
Alongside Hank Snow, Webb Pierce and Lefty Frizzell, Carl is one of those distinctive voices that typified the rich rural sounds of the 1950s. It was a period when fiddles and crying steel guitars ruled and heavenly choirs and symphonic strings were little specks on the horizon and of little interest to Nashville and country music.
Born in Maynardsville, Tennessee on March 15, 1927, Carl began his career in music working as a disc-jockey on radio WROL in nearby Knoxville. Molly O'Day one of the big names in country music during the 1940s, invited young Carl to join her show.
This led eventually to a recording contract with Columbia in 1952 and his twenty-year career with the label was littered with hit records like
Let's Live A Little, Loose Talk, Hey Joe, I Overlooked
An Orchid
and
If Teardrops Were Pennies
. All told, Carl Smith enjoyed more than 80 hits with Columbia and his total record sales are well in excess of 15 million.
During the late 1960s he found it more difficult to make the charts and his recording company foolishly tried to smooth his natural country twang bringing in symphonic arrangements and handing him late-night, easy listening ballads, which just did not suit the Carl Smith style.
Eventually he left Columbia and in the spring of 1974 signed with Hickory Records. The last four years has seen a revival in Carl Smith's recording career with several top-selling records like
Roly Poly, A Way With Words, This Lady Loving Me
and
Show Me A Brick Wall
.
He has unquestionably come back strong from the confusion that marred his later work for Columbia and seems to have his music well in hand. There is no sign of violins, brass or any other fancy embellishments; it is a case of straight country with plenty of fine steel playing from Weldon Myrick and Curly Chalker, the fiddle work of Johnny Gimble plus outstanding Nashville guitar pickers like Grady Martin, Billy Sanford, Jim Capps and Chip Young.
Carl sounds as good as he did some twenty-five years ago. His powerful voice gets hold of each song; moulds it and stays in command. He has a special throaty quality which makes story ballads like
This Kinda Love Ain't Meant For Sunday School
interesting and very convincing.
A native Tennessean, Carl Smith owns a 500-acre ranch a little way out of Nashville. Unlike so many country artists, he is not fully dependent on a successful recording career. He has enjoyed the fruits of big selling records back in the 1950s and is now quite happy to make a few more to whet the appetite of his many dedicated fans.
His lined face shows that at heart Carl is a farmer. Long days in the sun have given him a well-weathered look, but for those of us who remember and cherish his old records, his voice still sounds as strong and distinctive as ever.
You will find amongst his Hickory recordings many oldies like
Loose Talk, There Stands The Glass, Lost Highway 
and
Me And My Broken Heart
. But it's not all a nostalgia trip—
Till I Stop Needin' You
and
It's Teardrop Time
are a couple of excellent new items.
Undoubtedly the best thing Carl has done in recent years is his fine interpretation of Eddy Raven's
A Way With Words
. A story ballad dealing with a man trying to leave his woman, who turns on the charm at just the right time to hold on to her man. It was one of the best country singles of 1976, and deservedly brought Carl Smith back to the upper reaches of the country charts.
Now in his fifties, Carl can look back on a successful singing career. He is a contented country singer who can afford to sing for the enjoyment more than any kind of commercial success. His British debut is long overdue and should be one of the genuine highlights of this year's Wembley Country Music Festival.