First published in Country Music People, December 1975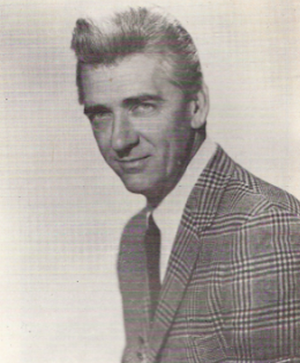 Carl Smith, a tall, rough-hewn boy, and even today, after twenty-five years of notching up country hits, he prefers being on his own ranch near Franklin, Tennessee, just a few miles out of Nashville, to mixing with all the big names and being involved with the hub of country music in Nashville.
Born in Maynardsville, Tennessee on March 15, 1927, Carl began his career in music working as a disc-jockey on radio WROL in nearby Knoxville. A couple of years in the Navy near the end of the Second World War, interrupted his career temporarily, but on his return to civilian life, he picked up his guitar and turned to singing.
Molly O'Day, one of the big names in country music during the 1940s, invited the young Smith lad to join her company. The experience was good for the youngster and led to him signing with Columbia Records and joining the Grand Ole Opry in 1952.
Success came quickly for the lanky farmer's son. His smoothed-out-Tennessee voice, with just a smattering of a country twang had that certain quality that quickly established listeners' attention. In the early 1950s he hit with songs like
Let's Live A Little, Let Old Mother Nature Have Her
Way,
I Overlooked An Orchid, Hey Joe
and
If Teardrops Were Pennies
.
It was at the time that some of the best straight modern country music was recorded. Smith had a distinctive sound with a pleasant steel guitar lead backing, augmented by fiddle and tinkling piano. Country music today is just a continual resetting of old styles, many of which were formed back in the 1950s by artistes like Carl Smith.
With the advent of rock'n'roll many of the country performers suffered a decline in popularity, and Carl Smith was no exception. He was able to achieve some successes, usually with up-tempo tunes like
Cut Across Shorty
, which hit the charts in 1959, but regular hits for Smith were over.
Throughout the 1960s he has enjoyed continued success, but never returned to the great days of the early 1950s when he was undoubtedly one of the major country stars. To an extent he has bent with the times to accommodate changing trends, and this is why he is still popular today.
His voice has become more controlled and comfortable with the passing years. His method of polishing a song, the inflections he brings to a phrase and the comfortable groove he puts a listener in with seemingly little effort, seems apparent throughout his recent albums. When he touches a song he adds the touch of distinction. His style is very mature, but never at the sacrifice of a song's true emotion.
A couple of years back he surprised many people in Nashville by stepping out of the country ballad style that he seemed to have in the palm of his hand. He recorded an album of bluegrass songs, not to be confused with an album of bluegrass music. The idea certainly paid off, Carl sung the well-known numbers with a carefree air about it all, and really it was the only way he could have approached them. With musicians of the calibre of fiddle played Tommy Jackson, Bob and Sonny Osborne on mandolin and banjo, plus the distinctive Dobro sound, the sound was much more countrified than Carl Smith has been accustomed to for several years.
This album was a one-off affair. Nowadays, Carl Smith is a ballad singer. His mellow and relaxed style is easy listening, but he is far more than easy listening when it comes to lyrical content. There are no holds barred on his feelings, which have been channelled through experience and wisdom for a controlled style that conveys added insight into much of the new material flowing out of Nashville.
Carl Smith realises that he cannot return to the old days, and never tries to. He has a new sound that is suitable to today's more sophisticated country fans. He has retained that same simple way with a country ballad, and you know when he sings about love, he means it. A few months ago he left Columbia, the label he was with for twenty years, and joined Hickory Records. This could mark the beginning of a new interest in the career of Carl Smith, certainly he has a lot to offer.