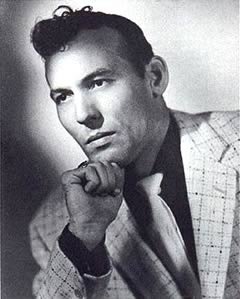 Although Carl Perkins is known as one of the seminal figures of Memphis rock'n'roll, he came from a solid country background and his albums were always dotted with pure country songs. Regarded as one of rockabilly's foremost and most influential artists, Perkins' distinctive guitar style laid the groundwork for all of rock guitar. Throughout his career he seemed to be dogged by bad luck and poor timing that kept him just short of the superstar acclaim that his talent so richly deserved. He was held in high esteem by such acts as The Beatles, The Rolling Stones, Eric Clapton, Elvis Presley and John Fogerty and long-time friend Johnny Cash. In the 1950s, Perkins was a young, slightly rebellious, musical innovator. He wrote and first recorded Blue Suede Shoes. Several more of his early songs such as Honey Don't, Matchbox and Everybody's Trying To Be My Baby, were later to be recorded by The Beatles. He matured into one of the true gentlemen of the rock'n'roll era. A talented country music songwriter, father figure to the new boys on the block and in-demand session player.

Born in Lake City, Tennessee on April 9, 1932, in a poor farming community, he started his musical career performing at local country dances and honky-tonks, along with brothers Jay and Clayton. Independently of Elvis Presley, he realised that country music was moving in new directions. In 1955, Perkins, a raw boned country boy who still sounded as rural as Ernest Tubb, approached Sam Phillips at Sun Studios in Memphis, requesting that he cut some of that up-tempo rockabilly stuff. Phillips insisted that he record only country material, as he already had Elvis. The result was the early country singles Turn Around and Let the Jukebox Keep On Playing. Acting on a challenge from label-mate Johnny Cash to write a song about the newly fashionable blue suede shoes, he persuaded Phillips to let him cut this new rock'n'roll song and scored his biggest hit with the original version of Blue Suede Shoes in 1956, which went on to be Sun's first million-seller.

Blue Suede Shoes was also recorded by Elvis Presley, whose contract Phillips had recently sold to RCA Records. The pair battled it out on the charts, with Perkins' version winning out on both the pop and country listings. En route to New York to appear on both the Perry Como and Ed Sullivan Shows TV shows, Perkins and his band were involved in an horrific car crash, which later resulted in his brother Jay's death. Hospitalised for several months, Carl's career came to a standstill that he was never able to re-ignite.

Disillusioned with Sun, he followed Cash to Columbia Records in 1958, but without any success. He toured for years with Cash and wrote Daddy Sang Bass which became a No.1 hit for Cash. In a meeting with Bob Dylan, the two struck up a lifelong friendship and indeed they co-wrote the song Champaign, Illinois. But minor calamities abounded. He accidentally shot himself in the ankle with a shotgun, and he lost the use of one finger in an accident with an electric fan. He had a serious problem with alcohol. He finally won that battle in 1968, dramatically throwing his last bottle into the Pacific Ocean. His career got a shot in the arm when he met The Beatles in 1964 while touring England with Chuck Berry and began a lifelong friendship with the group. They recorded several of his songs and he later played on Paul McCartney's TUG OF WAR album.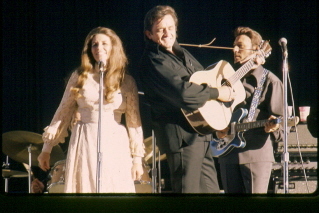 June Carter, Johnny Cash and Carl Perkins



Perkins triumphant moment came in 1986 with a TV special A Rockabilly Session: Carl Perkins And Friends on which he was joined by Eric Clapton, Dave Edmunds, George Harrison and Ringo Starr. He also received a Grammy for the album CLASS OF '55, recorded in 1986 with Jerry Lee Lewis, Johnny Cash and Roy Orbison. In 1987 he was inducted into the Rock'n'Roll Hall Of Fame. A prolific composer throughout his career, Perkins wrote several country hits including So Wrong (Patsy Cline), Silver and Gold (Dolly Parton), Let Me Tell You About Love (The Judds) and A Man On His Own (George Strait). He had successfully fought throat cancer, diagnosed in 1991 and had enjoyed good health until the summer of 1997 when he suffered a stroke. Following more strokes he was hospitalised and died on January 19, 1998. Unlike most showbiz personalities, he had been married to his wife Valda for 45 years. Remembered as an undeniable influence on countless country artists, songwriters, and musicians, not to mention rockers, Carl Perkins' revolutionary guitar playing helped nudge country's hard-edged honky-tonk sound of the late 1940s and early 1950s into the Nashville Sound which became dominant during the 1960s.

Recommended Listening

The Classic Carl Perkins (Bear Family 1990)
The Dollie Masters/Country Boy's Dream (Bear Family 1992)
King Of Rockabilly (Pickwick 1996)
Back On Top -1969-75 (Bear Family 2000)
Live At Gilley's (Connoisseur 2000)