First published in Country Music People magazine, September, 1972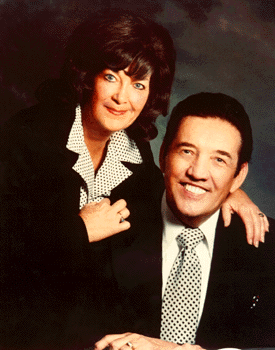 I remember back in 1963 how the country music world in Nashville was shattered by the success of a record that all the important executives had said didn't stand a chance because it was 'too country.' It was Carl Butler and his wife Pearl who made the Nashville recording bosses sit up and take note. Ever since 1957 the studios had gradually been pushing country music closer and closer to the pop music sounds—first with vocal group backing, then slowly came the introduction of the Nashville Symphonic. But Carl Butler always kept to a straight country format with his recordings, and his recording of Don't Let Me Cross Over was no different, the top country song of 1963 but conspicuous by its lack of modern popularising influences.
Many people at the time thought that Carl Butler was a new name to country music, and even today fans are surprised when his story is unfurled. Carl Robert Butler was born on June 2, 1927 in Knoxville, Tennessee, and like so many other country greats he grew up on a diet of good country cooking and country listening on the radio, with the Grand Ole Opry being the highlight of the week every Saturday evening. When Carl was just growing out of short trousers his great idol Roy Acuff was beginning to slay them down at the Opry. Carl Butler was already a fan of Acuff before he started on the Opry, as Roy had his own radio programme on WNOX out of Knoxville.
In 1944 when Carl joined the American Armed Forces came his first break from country music. During the next two years he would reminisce about life back home in East Tennessee, and think of the wonderful country music he was missing. To pass the evenings by Carl learned to play guitar and even if he couldn't remember the country songs, then quite often he would make up new ones—just for his own enjoyment. When he returned home, his army service finished, he tried several jobs around Knoxville, but by now the country bug had bitten, and Carl Butler just couldn't settle down to the monotony of an everyday job. The only time Carl was really happy was singing in the evenings at a local night club. After a while he managed to get work as a full time performer at a local dance hall, which in turn led him to his first radio spot on WNOX Knoxville, the same station that he first heard Roy Acuff on ten years earlier.
Just as things were beginning to go well for Carl he was involved in a serious car accident. The year was 1948 and on his way home after a performance he was badly injured when the car he was travelling in was involved in a collision. He spent almost a year in hospital, and at one time it was feared he wouldn't live. With the great help of his wife Pearl, whom he had married two years previously Carl finally overcame his injuries and returned to entertaining.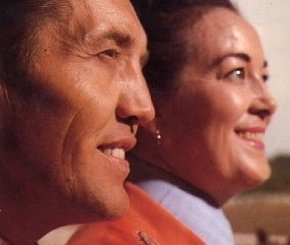 After this things got a little better—and in mid 1950 he signed a recording contract with Capitol Records and his first release with Heartbreak Express and The White Rose (Capitol 1331). Typical of the early 1950s style of country music these were two weepie-styled ballads with steel guitar and fiddle adding to the feeling that Carl Butler put into the songs. Carl Butler recorded for Capitol from 1950 till late 1953, and although he didn't have any big hits, he must have been popular as Capitol released twenty-four songs by him ranging from classic weepies like Linda Lou and Blue Million Tears to the rock'n'roll song Shake Rattle And Roll. In 1952 Carl Butler's name really came to the fore, but not as a singer, but as a songwriter. While touring around with country music shows he had struck up a friendship with Carl Smith, who at the time was a big name in country music. Smith recorded several songs that Carl Butler had written including Guilty Conscience in 1951, but it was in 1952 when Carl Smith recorded the classic If Teardrops Were Pennies, for as well as Smith's chart-topping version, Rosemary Clooney took the song into the pop charts. Ironically at the time Capitol had said that the song wasn't strong enough, otherwise it could well have been Carl Butler who had the big hit.
With this success Columbia Records, who had Carl Smith under contract, persuaded Carl to join them, and in early 1954 he signed. His first recordings for Columbia were released on the subsidiary label of Okeh, and his debut disc You Can't Insure A House Of Dreams was another Carl Butler song, similar in style to If Teardrops Were Pennies, but with Carl Butler singing it, the overall sound was much more earthy with some enthralling steel guitar and Dobro work. Most of his early Okeh singles were stamped with originality, with great country backing. In many respects Carl Butler was like so many other country singers of the period. He wore the gaudy cowboy costumes and employed a similar honky-tonk instrumentation, but in his vocal approach he revealed an obvious debt to country gospel music. His intense emotional style was similar to both his idol Roy Acuff and the famous gospel quartet of the 1930s and 1940s the Bailes Brothers.
His obvious love of gospel music showed through on his recordngs when in 1956 he recorded with the Webster Brothers and for about two years he recorded only sacred material. During this time Carl also worked with Donnie and Earl, two young Christian singers, on their syndicated radio shows. Both Carl and his wife Pearl are serious members of the Salvation Army, and they've devoted much of their lives to charity work. For many years Carl wanted to record a whole gospel album, but it wasn't until 1967 that Columbia finally allowed him and Pearl to record their best album ever AVENUE OF PRAYER, which was a straight tribute to the Bailes Brothers.
In 1958 Carl decided to move to Nashville which was fast becoming the Mecca of country music, and this move soon paid off as in June of that year he was invited to join the Grand Ole Opry. Although Carl still didn't achieve the really big hit, his record releases were regular, and although pressure was put on him to change his style, he wouldn't budge—he had a country voice, a love of the music, and he wouldn't doctor his style to suit anybody. Finally in 1962 Pearl began touring with Carl for the first time, after seventeen years of being married, and they soon found the highspot of their act was their duets. This was soon put right on records, and the first result was Carl's was biggest ever hit Don't Let Me Cross Over, in late 1962.
After this huge success Carl and Pearl Butler have always gone out on the road as a duet, and all their recordings are issued as being by Carl Butler and Pearl. During the mid 1960s Carl and Pearl had many more big hits like Loving Arms, We'd Destroy Each Other and Punish Me Tomorrow, and all were straight country recordings—with plenty of good steel guitar work, and not a whisper of any modern trimmings. When the 1960s began closing Columbia took less and less interest in the career of Carl and Pearl, their record releases were down to a trickle, until from 1969 to 1971 only one album of their GREATEST HITS and two singles were released. When their recording contract with Columbia expired last July they immediately signed with Chart Records—and let's hope that once again Carl and Pearl Butler will surprise Nashville and take good old fashioned straight country music to the top of the charts. 
- Alan Cackett