Carl Jackson - Nashville Cats
First Published in Country Music International – October 1996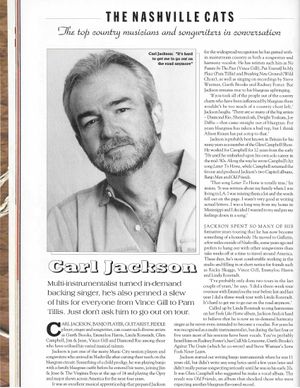 Multi-instrumentalist turned in-demand backing singer, he's also penned a slew of hits for everyone from Vince Gill to Pam Tillis. Just don't ask him to go out on tour.
Carl Jackson, banjo player, guitarist, fiddle player, singer and songwriter, can count such diverse artists as Garth Brooks, Emmylou Harris, Linda Ronstadt, Glen Campbell, Jim & Jesse, Vince Gill and Diamond Rio among those who have utilised his varied musical talents.
Jackson is just one of the many Music City session players and songwriters who arrived in Nashville after cutting their teeth on the bluegrass circuit. Something of a child prodigy, he was playing banjo with a family bluegrass outfit before he entered his teens, joining Jim & Jesse & The Virginia Boys at the age of 14 and playing the Opry and major shows across America for the next four years.
It was an excellent musical apprenticeship that prepared Jackson for the widespread recognition he has gained within mainstream country as both a songwriter and harmony vocalist. He has written such hits as No Future In The Past (Vince Gill), Put Yourself In My Place (Pam Tillis) and Breaking New Ground (Wild Choir), as well as singing on recordings by Steve Wariner, Garth Brooks and Radney Foster. But Jackson remains true to his bluegrass upbringing.
"If you took all of the people out of the country charts who have been influenced by bluegrass there wouldn't be too much of the country chart left," Jackson laughs. "There are so many of the big artists—Diamond Rio, Shenandoah, Dwight Yoakam, Joe Diffie—that came straight out of bluegrass. For years bluegrass has taken a bad rap, but I think Alison Krauss has put a stop to that."
Jackson is probably best known in Britain for his many years as a member of the Glen Campbell Show. He worked for Campbell for 12 years from the early 1970s until he embarked upon his own solo career in the mid-1980s. Along the way he wrote Campbell's hit song Letter To Home, while Campbell returned the favour and produced Jackson's two Capitol albums, BANJO MAN and OLD FRIENDS.
"That song Letter To Home is totally true," he insists. "It was written about my family when I was living in Los Angeles. I was missing them a lot and the words fell out on the page. I wasn't very good at writing actual letters. I was a long way from my home in Mississippi and I decided I wanted to try and put my feelings down in a song."
Jackson spent so many of his formative years touring that he has now become something of a homebody. He moved to Gallatin, a few miles outside of Nashville, some years ago and prefers to hang out with other songwriters than take weeks off at a time to travel around America. These days, he's most comfortable working in the studio and filling in at short notice for friends such as Ricky Skaggs, Vince Gill, Emmylou Harris and Linda Ronstadt.
"I've probably only done two tours in the last couple of years," he says. "I did a three-week tour overseas with Emmylou the year before last and last year I did a three-week tour with Linda Ronstadt. It's hard to get me to go out on the road anymore."
Called up by Linda Ronstadt to sing harmonies on her FEELS LIKE HOME album, Jackson finds it hard to believe that he is now an in-demand harmony singer as he never even intended to become a vocalist. For years he was recognised as a multi-instrumentalist, but during the last four or five years most of his sessions have been vocals. You've probably heard him on Randy Foster's Just Calk Me Lonesome, Garth Brooks's Against The Grain (which he co-wrote) and Steve Wariner's Fools Never Learn.
Jackson started out writing banjo instrumentals when he was 11 years old, but didn't write any song lyrics until a few years later and didn't really pursue songwriting seriously until he was in his early 20s. It was Glen Campbell who suggested he make a vocal album. The result was OLD FRIENDS, an album that shocked those who were expecting another bluegrass flavoured record.
"It really didn't have any recognition here at all," Jackson admits. "I think the label were expecting another instrumental album. When I turned that in I think they were a little shocked. The recordings were done out in Los Angeles and it was a California pop album rather than a country record."
The lack of success in America—although OLD FRIENDS was well received in Britain—resulted in Jackson being dropped by Capitol. Undeterred, he recorded some straight bluegrass albums for the independent Sugar Hill label, then resurfaced as a mainstream country artist on Columbia in the mid-1980s.
The demos that he recorded in order to secure that Columbia contract gained a British release in somewhat dubious circumstances a few years ago. NASHVILLE COUNTRY DUETS, an album released by Magnum Records, was mistakenly credited as being Emmylou Harris and Carl Jackson. Emmylou does appear on five of the songs, but none of the recordings were finished masters, and Jackson was unhappy about them being released.
"Those recordings should never have come out," he says angrily. "There was a two-track copy that was in the house of Stan Cornelius, who owned the studio where I cut the demos. When he went through a divorce from his wife, she took a lot of tapes from the house and sold them. That was one of the tapes."
Magnum Records bought the tapes in good faith and put the album out with a few sketchy details about who was performing on each song. They later agreed to repackage the album, deleting one track that didn't even feature Jackson, and giving credit to the other singers and musicians featured, which included Ricky Skaggs, Melba Montgomery, Jerry Douglas, Bruce Bouton and Ray Flacke. The new version of NASHVILLE COUNTRY DUETS has recently been released and still stands up as a fine example of Jackson's singing, songwriting and instrumental skills.
His deal with Columbia resulted in a handful of minor hits, but sadly no album, so Jack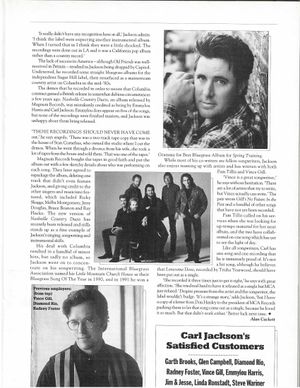 son went on to concentrate on his songwriting. The International Bluegrass Association named his Little Mountain Church House as their Bluegrass Song Of The Year in 1990, and in 1991 he won a Grammy for Best Bluegrass Album for SPRING TRAINING.
While most of his co-writers are fellow songwriters, Jackson also enjoys teaming up with artists and has written with both Pam Tillis and Vince Gill.
"Vince is a great songwriter," he says without hesitation. "There are lots of artists that try to write, but Vince actually can write." The pair wrote Gill's No Future In the Past and a handful of other songs that have not yet been recorded.
Pam Tillis called on his services when she was looking for up-tempo material for her next album, and the two have collaborated on one song which has yet to see the light of day.
Like all songwriters, Carl has one song and one recording that he is immensely proud of. It's not a hit song, although he believes that Lonesome Dove, recorded by Trisha Yearwood, should have been put out as a single.
"She recorded it three times just to get it right," he says with great affection. "She tried real hard to have it released as a single but MCA just refused." Despite pressure from the artist and the songwriter, the label wouldn't budge. "It's a strange story," adds Jackson, "but I have a copy of a letter from Don Henley to the president of MCA Records pushing them to let that song come out as a single, because he loved it so much. But that didn't work either." Better luck next time.