C. J. Garton - Tales Of The Ole West And Other Libations To Please The Palate
G-Bar Records
****1/2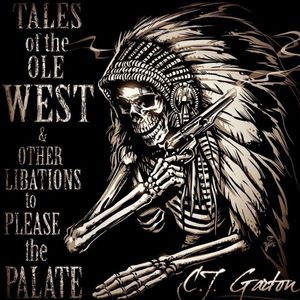 Oklahoma-born trad-country head honcho C. J. Garton's bruised tales of love, family and honky-tonks, delivered with a laconic soul and heartfelt passion, straddle the boundaries of down-home country, western themes, outlaw music, acoustic blues and Americana. This 20-track double-album vinyl release—due to be digitally released on January 14— listens like a time capsule full of decades-old music you've somehow never heard before, sonically and lyrically nostalgic. His love of country music is evident in the bluesy honky-tonk stylings that bring to mind the classics of the genre, but there is also a dark soul sound underlying the twang, while staying true to a traditional music spirit. With his acoustic guitar leading the charge, pedal steel and occasional electric guitar riffs, he is creating a unique sound with the idea that if we all work hard, talk about freedom, love, peace and God then we can make a better life for our families and ourselves. He rips his heart out and presents it to you. No apologies. Take it or leave it. The man is an angel with the voice of a demon, and he's come to scare us with the truth. While the album doesn't till new ground, it does underscore C. J. Garton's stature as an important Americana source.
The sly The Devil finds his supple voice revealing explicit encounters with a hard life, the worn record sound underneath his urgent acoustic strumming and Joe Spivey's sawing fiddle adding extra grit to the pathos. I Went Crazy, his voice is ragged and hushed as he sorts through a break-up aftermath with a broad emotional palate—even romantic hope—fiddle and steel harmonising with his sad broken heart. The rhythmic I Wouldn't Blame You If You Did is percussive and raw, shrouded in darkness, building unease steadily and releasing it occasionally... dour and beautiful, with a wrecking, wracking intensity with the admission that he is the wrong man for his loving partner. Regretful, hermetic and beautifully weathered, Drinkin' Man casts addiction as a possible pall over a family, siphoning away heat from anything tender, making cold comfort of a close embrace with a neat twist of fate at the close. Mandolin and more of that evocative fiddle work sneak up on the autobiographical If Daddy Could See, another one of the album's real gems. A minimalist and country-inflected pearl, he addresses the processes involved in thanking a tough parent for making him the man he is today.
Highway We Call Home lays down a pulsating rhythmic beat, brightened by an electric lead guitar, as it takes us across American highways, bus stops and street corners, creating a rootsy epic about the rigors of the road and the thrill of pushing forward. On Bitch At the Bottom, another standout, fiddle and steel guitar glide through like a ghostly background singer as C. J. sings about empty spaces that now hold nothing but memories and how tough it is for a singer stuck at the bottom of the ladder of fame. He channels the cowboy spirit of the Wild West with Skeleton Crew, a ghostly yarn with an atmospheric arrangement. He's blessed with a big voice and he uses it here adroitly to add just the right amount of drama to the tale. Opening with a deep roar of baritone guitar and driven forward by a steady beat, Fool Hearted Lover nods to the burly, bombastic hits of Waylon Jennings. playing the role of a jilted lover with a mix of classic Texas twang and piss-and-vinegar urgency.
Just when you think you've got a handle on this stuff, he rares back and kicks you in the teeth with Hurricane Chief, the story of a legendary Cherokee Indian. If you're of a squeamish persuasion, aurally speaking, you better have some anti-psychotic medicine handy. Then he brings in a Celtic flavour with Longtime Traveller, the hummable melody wafting above buoyant bass, steady percussion and a Scottish fiddle melody. The song is top-and-tailed by a female vocalist adding to the song's authenticity. He updates There Ain't No Good Chain Gang, a much-recorded song by Hal Bynum and Dave Kirby, turned into a massive hit by Johnny Cash in 1978. It fits C. J. Garton like a glove, as if it was penned specially for him. He closes with Halo in which he pays tribute to his heroes, Jones, Haggard and all the country greats no longer with us. It's honky-tonk heaven indeed and raised well above the bar by his powerful performance.
November 2021