Buddy Holly - Not Fade Away
First Published in Country Music International, December 1995
In a recording studio somewhere in Nashville, Waylon Jennings, The Mavericks and Nanci Griffith are among the country artists saluting one of America's most
enduring musical talents. Their efforts will soon be released on one tribute album that's long overdue
 
Buddy Holly remains a towering factor in pop and country music, both of which he changed irrevocably when he burst onto the charts in the late 1950s. The news that a Nashville-produced tribute to Holly is being planned comes as no surprise. The
innovative Texan singer-songwriter was deeply influenced by country music, and over the years many country performers, including Waylon Jennings, Ray Price,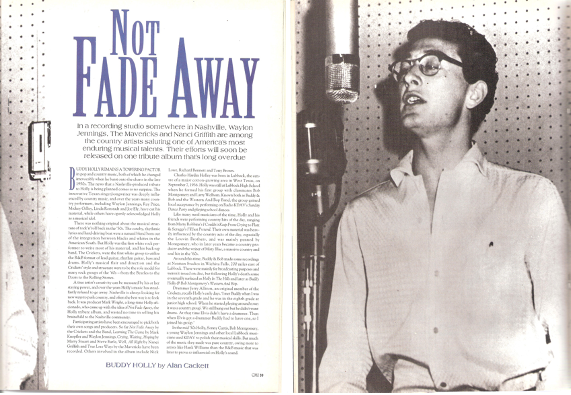 Mickey Gilley, Linda Ronstadt and Joe Ely, have cut his material, while others have openly acknowledged Holly as a musical idol.
There was nothing original about the musical structure of rock'n'roll back in the 1950s.The catchy, rhythmic lyrics and hard-driving beat were a natural blend born out of the integration between blacks and whites in the American South. But Holly was the first white rock performer to write most of his material, and his back-up band, The Crickets, were the first white group to utilise the r&b format of lead guitar, rhythm guitar, bass and drums. Holly's musical flair and direction and the Crickets' style and structure were to be the role model for many rock groups of the 1960s-from the Beatles to the Doors to the Rolling Stones.
A true artist's creativity can be measured by his or her staying power, and over the years Holly's music has steadfastly refused to go away. Nashville is always looking for new ways to push country, and often the best way is to look
back. It was producer Mark Wright, a long-time Holly aficionado, who came up with the idea of NOT FADE AWAY, the Holly tribute album, and wasted no time in selling his brainchild to the Nashville community.
Participating artists have been encouraged to pick both their own songs and producers. So far Not Fade Away by the Crickets and the Band, Learning The Game by Mark Knopfler and Waylon Jennings, Crying, Waiting, Hoping by Marty Stuart and Steve Earle, Well, All Right by Nanci Griffith and True Love Ways by the Mavericks have been recorded. Others involved in the album include Nick
Lowe, Richard Bennett and Tony Brown.
Charles Hardin Holley was born in Lubbock, the centre of a major cotton-growing area in West Texas, on September 7, 1936.  Holly was still at Lubbock High School when he formed his first group with classmates Bob Montgomery and Larry Welborn. Known both as Buddy & Bob and the Western and Bop Band, the group gained local acceptance by performing on Radio KDAV's Sunday Dance Party and playing school dances.
Like many rural musicians of the time, Holly and his friends were performing country hits of the day, ranging from Marty Robbins' I Couldn't Keep From Crying to Flatt & Scruggs's I'll Just Pretend. Their own material was heavily influenced by the country acts of the day, especially the Louvin Brothers, and was mainly penned by Montgomery, who in later years became a country producer and the writer of Misty Blue, a massive country and soul hit in the 1960s.
Around this time, Buddy & Bob made some recordings at Nesman Studios in Wichita Falls, 200 miles east of Lubbock. These were mainly for broadcasting purposes and weren't issued on disc, but following Holly's death some eventually surfaced as HOLLY IN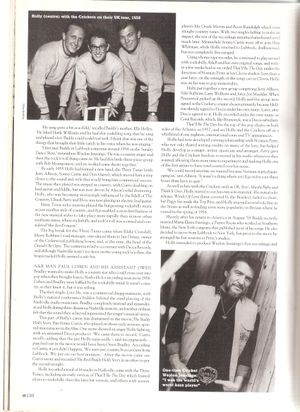 THE HILLS and later as BUDDY HOLLY & BOB MONTGOMERY'S WESTERN AND BOP.
Drummer Jerry Allison, an original member of the Crickets, recalls Holly's early days. "I met Buddy when I was in the seventh grade and he was in the eighth grade at junior high school. When he started playing around town it was a country group. We still hung-out but he didn't want drums. At that time Elvis didn't have a drummer. Then when Elvis got a drummer, Buddy had to have one, so I joined his group."
In the mid-1950s Holly, Sonny Curtis, Bob Montgomery, a young Waylon Jennings and other local Lubbock musicians used KDAV to polish their musical skills. But much of the music they made was pure country, owing more to artists like Hank Williams than the r&b music that was later to prove so influential on Holly's sound.
"He sang quite a bit as a child," recalled Buddy's mother, Ella Holley. "He liked Hank Williams and he had this yodelling song that he sang and played a lot. Buddy could yodel real well. I think that was one of the things that brought that little catch in his voice when he was singing."
"I first met Buddy in Lubbock sometime around 1954 on the Sunday Dance Show," remembers Waylon Jennings. "He was a country singer and then the rock'n'roll thing came in. He had this little three-piece group with Bob Montgomery, and we worked some shows together."
By early 1955 Holly had formed a new band, the Three Tunes (with Jerry Allison, Sonny Curtis and Don Guess), which moved him a step closer to the sound and style that would bring him commercial success. The music they played was steeped in country, with Curtis doubling on lead guitar and fiddle, but was now driven by Alison's solid drumming. Holly, who was becoming increasingly influenced by the r&b of The Coasters, Chuck Berry and Elvis, was now playing an electric lead guitar.
Many Texas radio stations played the burgeoning rockabilly music as just another style of country, and this enabled a cross-fertilisation of the new musical styles to take place more rapidly than in most other southern states, where rockabilly and rock'n'roll was scorned and considered 'the devil's music.'
The big break for the Three Tunes came when Eddie Crandall, Marty Robbins' road manager, introduced them to Jim Denny, owner of the Cedarwood publishing house, and, at the time, the head of the Grand Ole Opry. The connection led to a contract with Decca Records, and although Nashville wasn't too keen on the young rock'n'rollers, the bespectacled Holly seemed a safe bet.
A&R man Paul Cohen and his assistant Owen Bradley wanted to make Holly a country star who could cross over into pop when they brought him to Nashville for recording sessions in 1956. Cohen and Bradley were baffled by the rockabilly trend. It wasn't country, as they knew it, but it was selling.
The first single, Love Me, was a commercial disappointment, with Holly's natural exuberance hidden behind the staid playing of the Nashville studio musicians. Bradley completely misread and misunderstood Holly during three disastrous Nashville sessions, and neither of them felt that the sound they achieved represented the singer's musical vision.
This part of Holly's career was dramatised in the movie, The Buddy Holly Story.  But Sonny Curtis, who played on those early sessions, spotted inaccuracies in the film. One scene showed an angry Holly fighting with an unnamed Decca producer. 'We came there to record,' Curtis recalls, adding that the guy Holly supposedly— and incongruously—punched out in the movie would have been Owen Bradley. According to Curtis, it just didn't happen. "We were just country boys in there from Lubbock. We put on our best manners." After the movie came out
Curtis wrote and recorded The Real Buddy Holly Story in an effort to put the record straight.
Holly recorded a total of 16 tracks in Nashville, some with the Three Tunes, including an early version of That'll Be The Day, which leaned closer to rockabilly than the later hit version, and others with session players like Grady Martin and Boots Randolph, which were straight country tunes. With two singles failing to make an impact, the rest of the recordings remained unreleased until much later. Meanwhile Sonny Curtis went off to join Slim Whitman, while Holly returned to Lubbock, disillusioned, but not completely discouraged.
Using a home tape recorder, he continued to play around with rockabilly, r&b and his own original songs, and within a few weeks had re-recorded That'll Be The Day under the direction of Norman Petty at his Clovis studios. Less than a
year later, on the strength of the songs cut in Clovis, Holly was on his way to pop immortality.
Holly had put together a new group comprising Jerry Allison, Niki Sullivan, Larry Welborn and, later, Joe Mauldin. When Brunswick picked up the record, Holly and the group were signed as the Crickets, a name chosen primarily because Holly was already signed to Decca under his own name. Later, after Decca agreed to it, Holly recorded under his own name on Coral Records, which, like Brunswick, was a Decca subsidiary.
That'll Be The Day hit the top of the pop charts on both sides of the Atlantic in 1957, and set Holly and the Crickets off on a whirlwind of one-nighters, international tours and TV appearances.
Holly had now developed a strong relationship with Norman Petty, who not only shared writing credits on many of the hits, but helped Holly develop as a singer, writer, musician and arranger. Petty gave Holly and the Crickets freedom to record in his studio whenever they wanted, allowing them more time to experiment and making Holly one of the first artists to have total control over his music.
"We could record anytime we wanted because Norman started managing us," says Allison. "It wasn't a thing where you'd go in for a set three hours then have to quit."
As well as hits with the Crickets such as Oh, Boy!, Maybe Baby and Think It Over, Holly started to cut his own solo material. His initial solo release, Words Of Love (later covered by the Beatles), failed to chart, but Peggy Sue made the Top Five, and Holly enjoyed several solo hits in the States as well as finding even more popularity in Britain, where he toured in the spring of 1958.
Shortly after his return to America in August 1958 Buddy secretly married Maria Elena Santiago, a Puerto Rican who worked at Southern Music, the New York company that published most of his songs. He also decided to move from Lubbock to New York, but prior to the move, he arranged his last sessions at Petty's studios.
Holly intended to produce Waylon Jennings' first recordings and some new tracks of his own. Holly had been considering Jole Blon, Harry Choates' Cajun standard for himself, but decided to try it with Jennings, who seemed better suited to the French hillbilly waltz. Holly's new tracks included the song Reminiscing, but he was unhappy with the finished result.
Holly had previously cut some tracks featuring Jerry Allison. One of them, Real Wild Child, was a fast rock'n'roll song featuring Holly on lead guitar. When released on Coral Records in late1958 under the name Ivan (Allison's middle name), the record made an impact on the American pop charts. Jennings' version of Jole Blon was released on Brunswick in 1959, shortly after Holly's death, but failed to make any kind of impression and was soon forgotten.
During the last few months of his life Holly began to experiment with a variety of musical styles. Often described as rock'n'roll's 'original soft rocker,' he was expanding the definition of rock'n'roll and openly displaying its similarity to r&b and the Tex-Mex sounds of the south-west.
Following the final sessions at Clovis, Holly returned to New York for more sessions, where he'd started using strings behind a rock'n'roll backbeat. The New York sessions proved particularly fruitful. Holly had been given a new song called It Doesn' t Matter Anymore by Paul Anka and a Boudleaux Bryant song, Raining In My Heart, which the Everly Brothers had decided to pass on. Holly also cut another of his own songs, True Love Ways, at these sessions.
By Christmas that year, Holly's relationship with Petty and the Crickets had become strained. He was desperately short of money and was working hard in the studio to cut as many tracks as he could for future release. He had also agreed to appear on a lengthy package tour, the Winter Dance Party, set to kick off in mid-January1959.
Holly discounted using the original Crickets, so he approached guitarist Tommy Allsup and asked him to form a band to be known as the New Crickets. Allsup brought in Charlie Bunch, a Texan drummer who had worked with Roy Orbison, and Holly recruited Waylon Jennings to play bass on the tour. "I was probably the world's worst rock'n'roll bass player," Jennings later admitted. "I was playing country bass behind a rock'n'roll singer."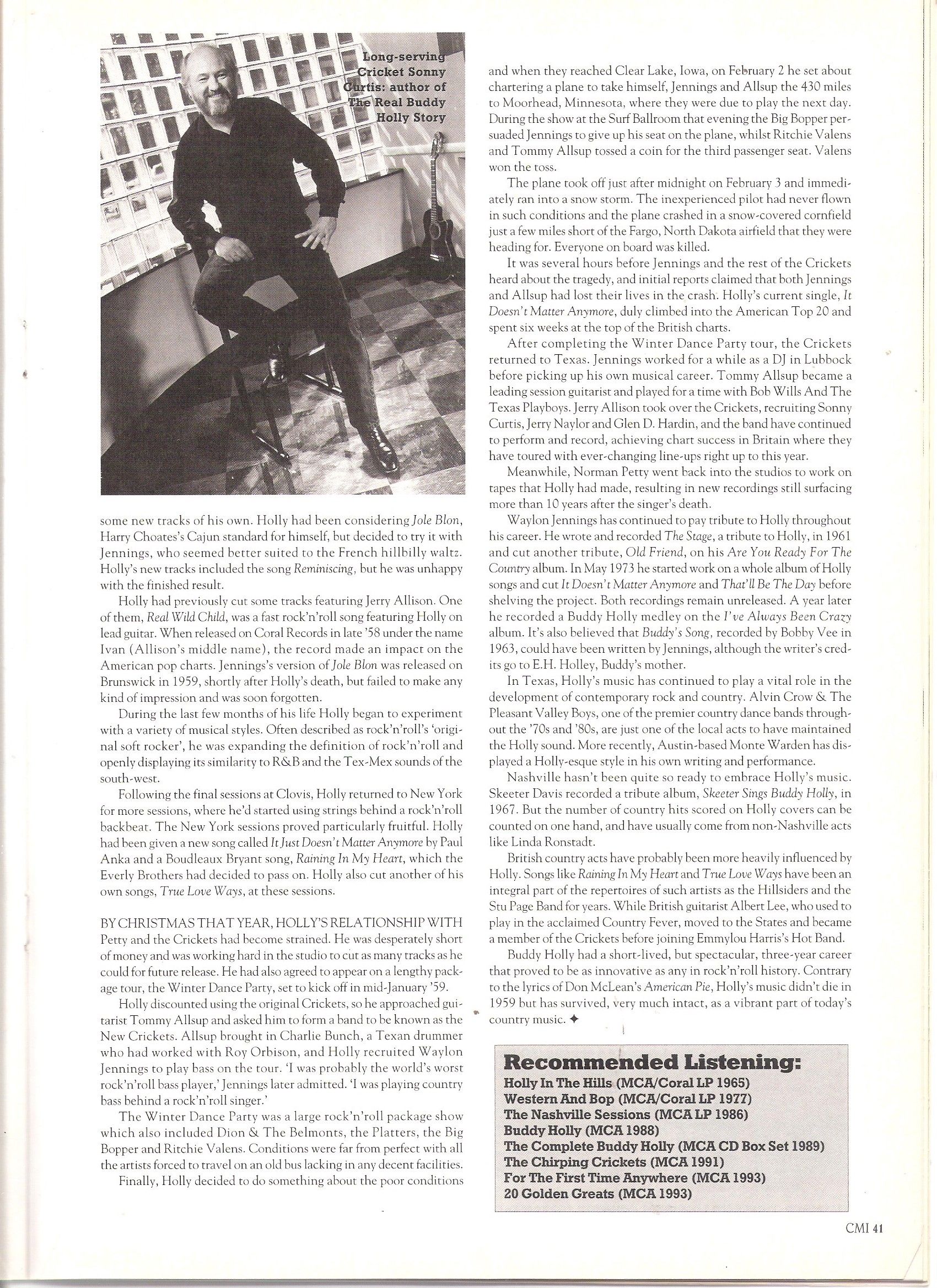 The Winter Dance Party was a large rock'n'roll package show which also included Dion & The Belmonts, the Platters, the Big Bopper and Ritchie Valens. Conditions were far from perfect with all the artists forced to travel on an old bus lacking in any decent facilities.
Finally, Holly decided to do something about the poor conditions and when they reached Clear Lake, Iowa, on February 2 he set about chartering a plane to take himself, Jennings and Allsup the 430 miles to Moorhead, Minnesota, where they were due to play the next day. During the show at the Surf Ballroom that evening the Big Bopper persuaded Jennings to give up his seat on the plane, whilst Ritchie Valens and Tommy Allsup tossed a coin for the third passenger seat. Valens won the toss.
The plane took off just after midnight on February 3 and immediately ran into a snow storm. The inexperienced pilot had never flown in such conditions and the plane crashed in a snow-covered cornfield just a few miles short of the Fargo, North Dakota airfield that they were heading for. Everyone on board was killed.
It was several hours before Jennings and the rest of the Crickets heard about the tragedy, and initial reports claimed that both Jennings and Allsup had lost their lives in the crash. Holly's current single, It Doesn't Matter Anymore, duly climbed into the American Top 20 and spent six weeks at the top of the British charts.
After completing the Winter Dance Party tour, the Crickets returned to Texas. Jennings worked for a while as a DJ in Lubbock before picking up his own musical career. Tommy Allsup became a leading session guitarist and played for a time with Bob Wills and the Texas Playboys. Jerry Allison took over the Crickets, recruiting Sonny Curtis, Jerry Naylor and Glen D. Hardin, and the band have continued to perform and record, achieving chart success in Britain, where they have toured with ever-changing line-ups right up to this year.
Meanwhile, Norman Petty went back into the studios to work on tapes that Holly had made, resulting in new recordings still surfacing more than 10 years after the singer's death.
Waylon Jennings has continued to pay tribute to Holly throughout his career. He wrote and recorded The Stage, a tribute to Holly, in 1961 and cut another tribute, Old Friend, on his ARE YOU READY FOR THE COUNTRY album. In May 1973 he started work on a whole album of Holly songs and cut It Doesn't Matter Anymore and That'll Be The Day before shelving the project. Both recordings remain unreleased. A year later he recorded a Buddy Holly medley on the I'VE ALWAYS BEEN CRAZy album. It's also believed that Buddy's Song, recorded by Bobby Vee in 1963, could have been written by Jennings, although the writer's credits go to E.H. Holley, Buddy's mother.
In Texas, Holly's music has continued to play a vital role in the development of contemporary rock and country. Alvin Crow & The Pleasant Valley Boys, one of the premier country dance bands throughout the1970s and 1980s, are just one of the local acts to have maintained the Holly sound. More recently, Austin-based Monte Warden has displayed a Holly-esque style in his own writing and performance.
Nashville hasn't been quite so ready to embrace Holly's music. Skeeter Davis recorded a tribute album, SKEETER SINGS BUDDY HOLLY, in 1967. But the number of country hits scored on Holly covers can be counted on one hand, and have usually come from non-Nashville acts like Linda Ronstadt.
British country acts have probably been more heavily influenced by Holly. Songs like Raining In My Heart and True Love Ways have been an integral part of the repertoires of such artists as the Hillsiders and the Stu Page Band for years. While British guitarist Albert Lee, who used to play in the acclaimed Country Fever, moved to the States and became a member of the Crickets before joining Emmylou Harris' Hot Band.
Buddy Holly had a short-lived, but spectacular, three-year career that proved to be as innovative as any in rock'n'roll history. Contrary to the lyrics of Don McLean's American Pie, Holly's music didn't die in 1959, but has survived, very much intact, as a vibrant part of today's country music.
Recommended Listening:
Holly In The Hills (MCA/Coral LP 1965)
Western And Bop (MCA/Coral LP 1977)
The Nashville Sessions (MCA LP 1986)
Buddy Holly (MCA1988)
The Complete Buddy Holly (MCA CD Box Set 1989)
The Chirping Crickets (MCA 1991)
For The First Time Anywhere (MCA 1993)
20 Golden Greats (MCA 1993)