Buck Owens - Sounds Familiar - Act Naturally
First published in Country Music International, March 1996
By Alan Cackett
How often have you put a new album on the player or been engrossed in a live concert when one of the songs jumps out and leaves you wondering where you've heard it before?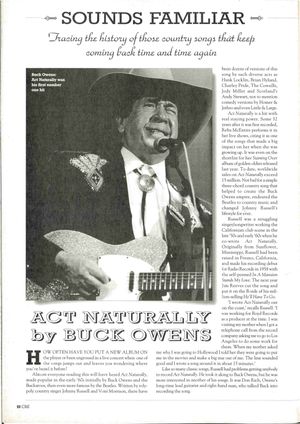 Almost everyone reading this will have heard Act Naturally, made popular in the early 1960s initially by Buck Owens and the Buckaroos, then even more famous by the Beatles. Written by rolypoly country singer Johnny Russell and Voni Morrison, there have been dozens of versions of this song by such diverse acts as Hank Locklin, Brian Hyland, Charley Pride, The Cowsills, Jody Miller and Scotlanďs Andy Stewart, not to mention comedy versions by Homer & Jethro and even Little & Large.
Act Naturally is a hit with real staying power. Some 32 years after it was first recorded, Reba McEntire performs it in her live shows, citing it as one of the songs that made a big impact on her when she was growing up. It was even on the shortlist for her STARTING OVER album of golden oldies released last year. To date, worldwide sales on Act Naturally exceed 15 million. Not bad for a simple three-chord country song that helped to create the Buck Owens' empire, endeared the Beatles to country music and changed Johnny Russelľ s lifestyle for ever.
Russell was a struggling singer-songwriter working the Californian club scene in the late 1950s and early 1960s when he co-wrote Act Naturally.  Originally from Sunflower, Mississippi, Russell had been raised in Fresno, California, and made his recording debut for Radio Records in 1958 with the self-penned In A Mansion Stands My Love. The next year Jim Reeves cut the song and put it on the B-side of his million-selling He'll Have To Go.
"I wrote Act Naturally out on the coast," recalls Russell. "I was working for Boyd Records as a producer at the time. I was visiting my mother when I got a telephone call from the record company asking me to go to Los Angeles to do some work for them. When my mother asked me why l was going to Hollywood I told her they were going to put me in the movies and make a big star out of me. The line sounded good and I wrote a song around it in about 15 minutes."
Like so many classic songs, Russell had problems getting anybody to record Act Naturally. He took it along to Buck Owens, but he was more interested in another of his songs. It was Don Rich, Owens' long-time lead guitarist and right-hand man, who talked Buck into recording the song.
Act Naturally was the first recording by Owens to feature Don Rich on lead guitar. Rich had originally been Owens's fiddle player, but over several months Owens taught him to play guitar in his own style. Act Naturally was the first Buck Owens' record to feature electric guitar over the more traditional pedal steel and fiddle, and was the first step towards the hit formula that Owens would refine over the next few years with such classics as Love's Gonna Live Here, I've Got A Tiger By The Tail and My Heart Skips A Beat.
Act Naturally was Owens' first number one hit, topping the charts for four weeks in 1963. The success of the single enabled Owens to form a permanent band for both road and studio work. The Buckaroos comprised Don Rich on lead guitar and fiddle,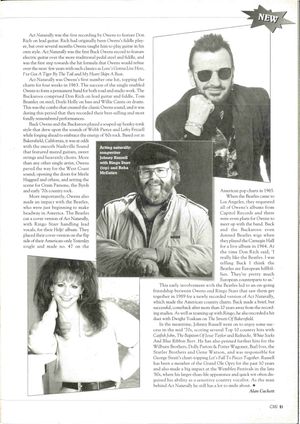 Tom Brumley on steel, Doyle Holly on bass and Willie Cantu on drums. This was the combo that created the classic Owens' sound, and it was during this period that they recorded their best-selling and most fondly remembered performances.
Buck Owens and the Buckaroos played a souped-up honky-tonk style that drew upon the sounds of Webb Pierce and Lefty Frizzell while forging ahead to embrace the energy of 1960s rock. Based out in Bakersfield, California, it was at odds with the smooth Nashville Sound that featured muted guitars, sweet strings and heavenly choirs. More than any other single artist, Owens paved the way for the West Coast sound; opening the doors for Merle Haggard and others, and setting the scene for Gram Parsons, the Byrds and early 1970s country-rock.
More importantly, Owens also made an impact with the Beatles, who were just beginning to make headway in America. The Beatles cut a cover version of Act Naturally, with Ringo Starr handling lead vocals, for their HELP! album. They placed their cover version on the flip side of their American-only Yesterday single and made no. 47 on the American pop charts in 1965.
When the Beatles came to Los Angeles, they requested all of Owens' albums from Capitol Records and there were even plans for Owens to meet up with the band. Buck and the Buckaroos even donned Beatles' wigs when they played the Carnegie Hall for a live album in 1964. At the time Don Rich said: "I really like the Beatles. I was telling Buck l think the Beatles are European hillbillies. They're pretty much European counterparts to us."
This early involvement with the Beatles led to an on-going friendship between Owens and Ringo Starr that saw them get together in 1989 for a newly recorded version of Act Naturally, which made the American country charts. Buck made a brief, but successful, comeback after more than 10 years away from the recording studios. As well as teaming up with Ringo, he also recorded a hit duet with Dwight Yoakam of The Streets Of Bakersfield.
In the meantime, Johnny Russell went on to enjoy some success in the mid-1970s, scoring several Top 10 country hits with Catfish John, The Baptism Of Jesse Taylor and Rednecks, White Socks And Blue Ribbon Beer. He has also penned further hits for the Wilburn Brothers, Dolly Parton & Porter Wagoner, Burl Ives, the Statler Brothers and Gene Watson, and was responsible for George Straiťs chart-topping Leťs Fall To Pieces Together. Russell has been a member of the Grand Ole Opry for the past 10 years and also made a big impact at the Wembley Festivals in the late 1980s, where his larger-than-life appearance and quick wit often disguised his ability as a sensitive country vocalist. As the man behind Act Naturally he still has a lot to smile about.