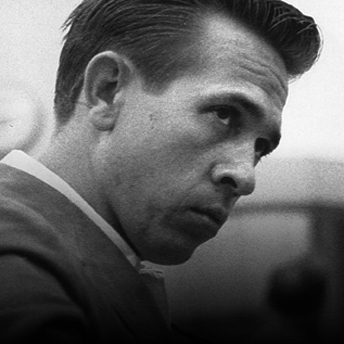 Buck Owens, the man credited with developing the Bakersfield Sound, was a multi-skilled singer, guitarist, songwriter, bandleader and music businessman. With his band, the Buckaroos, he played a souped-up honky-tonk style that drew upon the sounds of Webb Pierce and Lefty Frizzell, while forging ahead to embrace the energy of 1960s rock. Based out in Bakersfield, California, it was at odds with the smooth Nashville Sound that featured muted guitars, sweet strings and heavenly choirs. More than any other single person, Owens paved the way for the West Coast Sound, opening the doors for Merle Haggard and others, and setting the scene for Gram Parsons, the Byrds and the early 1970s country-rock. More importantly, he also made an impact with the Beatles, who were just beginning their invasion of America. The Liverpool mop-heads cut a cover version of one of Owens' hits, Act Naturally, with Ringo Starr handling lead vocals, for their HELP! album. They placed their cover version on the flip side of their American-only Yesterday single and made the American pop charts in 1965. When the Beatles were in Los Angeles, they requested all of Owens' albums from Capitol Records and there were even plans for Owens to meet up with the Beatles. Buck and the Buckaroos donned Beatles' wigs when they played the legendary Carnegie Hall for a 'live' album in 1964.

Owens was a different kind of country music star. He played Carnegie Hall, Madison Square Garden, the London Palladium and Royal Albert Hall not the Grand Ole Opry. He lived for Bakersfield, not Nashville. Nevertheless, several generations of musicians—from the Beatles and Gram Parsons in the 1960s to Dwight Yoakam in the 1980s and Brad Paisley in the 1990s—were influenced by his music, which wound up being one of the blueprints for modern country music.

Alongside such other West Coast performers as Merle Haggard, Tommy Collins, and Wynn Stewart, Buck defined what was then referred to as the 'Bakersfield Sound': a sharp, Telecaster-driven honky-tonk sound. As traditional Nashville-based singers like Jim Reeves, Ray Price and Eddy Arnold were heading in the countrypolitan direction, the no-frills, unadorned drive of the Bakersfield Sound, lacking any gimmickry, remained a reassuring beacon for hard-core country fans.

His career was one of the most phenomenal in country music, with a string of more than twenty number one country records, most released from the mid-1960s to the mid-1970s. An indefatigable performer, Buck played a red, white and blue guitar with fireball fervour. He and his band the Buckaroos wore flashy rhinestone suits in an era when flash was as important to country music as fiddles. Among his biggest hits were Act Naturally, Together Again, I've Got A Tiger By The Tail, Love's Gonna Live Here, My Heart Skips a Beat, Think Of Me, Waitin' In Your Welfare Line and Your Tender Loving Care. Rather surprisingly, Cryin' Time, one of his best-known songs, was never a hit, being the b-side of I've Got A Tiger By The Tail.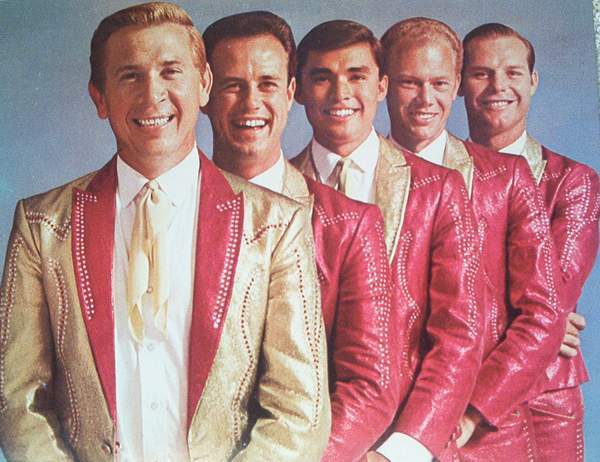 In addition to his music, Buck had a highly visible American TV career as co-host of Hee Haw from 1969 to 1986. With guitarist Roy Clark, he led viewers through a potpourri of country music and hayseed humour. He also ran his own publishing companies, owned radio stations, and set up an artist management and booking company.




Like fellow Country Music Hall of Famers Loretta Lynn, Johnny Cash, Merle Haggard and George Jones, Buck Owens achieved fame after a hardscrabble upbringing. He was born Alvis Edgar Owens Jr. on August 12, 1929, in rural Sherman, Texas. Sherman is the county seat of Grayson County and sits along the Red River, which separates Texas from Oklahoma. Former President Dwight D. Eisenhower was born in Denison, just south of the river. Sherman, lies south of Denison. Dallas is 50 miles further south.

Alvis Edgar Owens Sr., a native of Texas, and his wife, Arkansas native Maicie Azel Owens, tilled the land at their farm outside Sherman. The Owens' were sharecroppers, trying to make a living to support their four children. 'Buck' was a mule on the Owens farm. When Alvis Jr. was three or four years old, he walked into the house and announced that his name was also Buck. That was fine with the family, the boy was Buck from then on. Music was an integral part of the Owens family. Maicie Owens played the piano and exposed her children to gospel music through visits to a number of churches before joining a Southern Baptist Church. The eldest Owens children worked in the fields as soon as they were old enough.

In November of 1937, when Buck was eight, the Owens' decided that their future lay to the west. Alvis Owens built a trailer to hold the family's belongings. He, his wife, and children, Buck's Uncle Vernon and Aunt Lucille, their infant son Jimmy and Maicie Owens' mother, Mary Myrtle— a total of ten people—piled into a 1933 Ford sedan and headed west. They only stopped to cook and sleep along the way.

The trailer hitch broke in Phoenix, Arizona. Since they had relatives in Mesa, a Phoenix suburb, the family settled there, doing farm work as they had in Texas. They worked at Arizona dairy and fruit farms and occasionally travelled to the rich farming regions of California's San Joaquin valley, harvesting vegetables around Tracy and peaches near Modesto, carrots in Porterville, cotton and potatoes in Bakersfield. Alvis Owens occasionally drove trucks and dug ditches, too.

Buck dropped out of school at age 13 to haul produce and harvest crops. His father gave him a cheap-but-priceless guitar, his mother showed him a couple of chords and country music soon filled the waking moments that weren't taken up with jobs as a messenger boy, a car-washer or a loader of fruit. He despised the poverty that cloaked his family, and saw music as a potential means of escape and by 16 he was playing music in local taverns.

He teamed up with 19-year-old guitarist Theryl Ray Britten and performing as Buck and Britt, the teenagers landed a 15-minute show (for which they weren't paid) over KTYL Radio in Mesa. They also played at any local honky-tonk whose bartenders let them pass the hat. Eventually they took up residence at a Phoenix honky-tonk known as the Romo Buffet and added a trumpeter named Kelly, who was stationed at a nearby Air Force base.

When Buck got an electric steel guitar, Alvis Owens adapted an old radio into an amplifier so his son could teach himself to play it. His early guitar idols included Jimmy Wyble, the country jazz guitarist of Bob Wills' 1944-1945 Texas Playboys. Later, he became a fan of Merle Travis' playing. Around this time, Buck met Mac MacAtee, a Mesa gas station owner who organised a band, Mac's Skillet Lickers. Buck played steel guitar in the band and eventually met Bonnie Campbell, an aspiring singer who became part of the Skillet Lickers. At the time they were married, on January 13, 1948, she was four months pregnant with their first son. Alan Edgar Owens, better known as 'Buddy,' was born on May 22, 1948. Michael Lynn Owens, their second son, was born on March 8, 1950.

Buck was not yet supporting his family solely by playing music. He also drove trucks for a while. In the clubs, he became friendly with a fellow trucker and aspiring singer named Marty Robinson, who sang Eddy Arnold songs in area honky-tonks as Marty Robbins. When Buck played at Phoenix's Astor Hotel, Marty, also a steel guitarist, sat in while Buck sang Hank Williams songs.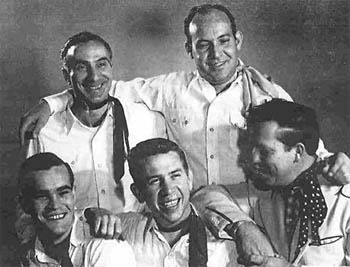 By May 1951, Buck and Bonnie decided they'd gone as far as they could in Phoenix, and moved to Bakersfield, California, a city 100 miles north of Los Angeles. Its oil industry and farmlands, much like Texas and Oklahoma made it a haven for Dust Bowl refugees in the 1930s and 1940s. Bakersfield also boasted a robust country music scene. Bob Wills worked there extensively during his years in California, and both the Maddox Brothers & Rose and singer Ferlin Husky (known also as Terry Preston) called it home.

After Buck arrived, he joined a band led by steel guitarist Dusty Rhodes. Within four months or so he joined Bill Woods & the Orange Blossom Playboys, the house band at the Blackboard, Bakersfield's top country music nightclub. From September 1951 to May 1958, the Blackboard was Buck's home base. Like most western bands, the Playboys, billed as 'Central California's Top Dance Band,' played country, rhythm and blues, polkas, pop music, and even rhumbas. Buck assumed he was hired as lead guitarist and was surprised to discover that Woods also wanted him to sing. With no monitor speakers to hear his voice over the amplifiers, Buck quickly learned to project his voice.

The new music led to a change of guitar. He replaced his electrified Gibson L-7 archtop with a solid body Fender Telecaster, a revolutionary new guitar that Fullerton, California steel guitar-maker Leo Fender had originally introduced as the Broadcaster in 1950. Its sound, achieved by anchoring the strings in the body like those of a steel guitar, was trebly and biting. Buck paid $35 for that used Tele, originally owned by prominent local country singer Lewis Talley. The Telecaster would play a major role in Buck's musical future.

Buck's prowess on the guitar soon led to him playing recording sessions, starting in September 1953, at Capitol's Los Angeles studios when he played on Tommy Collins' novelty hit You Better Not Do That. Buck's intro featured the raunchy twisted-note style that became his trademark. It was Collins' first hit, peaking at number two on the country charts.

Capitol's head of A&R, Ken Nelson, used Buck extensively and from 1954 to 1958, he played on recordings by Stan Freberg, Del Reeves, Gene Vincent, Tommy Sands, Wanda Jackson, Sonny James, Faron Young, and many lesser-known artists. Buck's admiration for Elvis Presley and Little Richard made him a formidable rockabilly guitarist. He also did session work at the LuTal Recording Studio in Bakersfield (owned by Lewis Talley). He played and sang harmony on singer-songwriter Terry Fell's 1954 recording of Truck Driving Man, a trucker standard that was the flipside of Fell's hit Don't Drop It, released on RCA's X label.

Buck made his first recordings in his own right for the small Pep label in 1956. His first release was Down On The Corner Of Love which was well-received locally, but due to poor distribution failed to sell in vast numbers, The song went on to become something of a country standard with versions by Red Sovine, James O'Gwynn, Bobby Bare and several others. He also recorded Sweethearts In Heaven, There Goes My Love (covered by George Morgan, Pam Tillis, Highway 101, and the Wild Bunch) and, owing to his love of rockabilly, Hot Dog and Rhythm And Booze. As much as Buck loved rock music, he feared a rockabilly single might harm his country music aspirations and he had it released under the pseudonym Corky Jones.

By 1956, Buck had remarried, and his third son, Johnny Dale Owens, was born May 9, 1956. Around the same time Buck met Michigan native, Harlan Howard, an aspiring songwriter who had moved to the West Coast, where he'd met his wife, singer Jan Howard, just beginning her country music career. Buck and Harlan started writing songs together, Buck putting Harlan's lyrics to music. They also founded Blue Book Music to publish their songs. No one realised that Blue Book would play a major role in Buck Owens' career.

In the summer of 1957 Ken Nelson signed Buck to Capitol Records, but the initial singles all sunk without trace. The singer was disillusioned by this and moved away to Tacoma, Washington for a few months. On his return to Bakersfield, in the autumn of 1958, he did some more recordings for Capitol, this time utilising fiddle and steel guitar and four of his own songs, including Second Fiddle, an insistent country shuffle that gave him his first country hit.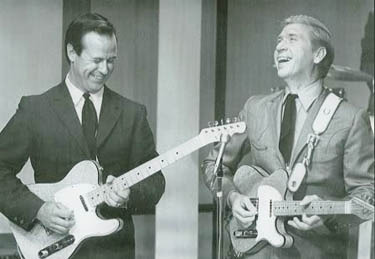 During his time in Washington, Buck had met a teenaged fiddler from Tumwater, Washington by the name of Donald Eugene Ulrich. Better known as Don Rich, he would become Buck's musical alter ego and a major component of his best recordings. The success of Second Fiddle led to another session, this one yielding Under Your Spell Again his first top 10 record, at the end of 1959. Bored with college, Don Rich decided in December 1960 that he wanted a musical career, and moved to Bakersfield. After living with Buck for a time, he went home, married his hometown girlfriend Marlene and brought her south. Buck was also left with Harlan Howard's share of Blue Book Music. Harlan, who moved to Nashville with Jan, preferred to concentrate on writing, and glad to let his friend have the company.

With Don Rich by his side, it seems that Buck could do no wrong. He was named Billboard Magazine's Most Promising Country and Western Singer of the Year in 1960, and he hired more musicians, including a drummer, a pedal steel player, and a bass player. The group had no name until one of Buck's early bass players, a talented Bakersfield musician named Merle Haggard, dubbed them 'the Buckaroos.'
By the spring of 1963, Buck was teetering on the verge of the success he'd pursued day and night for nearly a decade. His version of Johnny Russell's Act Naturally topped the country charts for four weeks and so began a run of twenty chart-toppers with Love's Gonna Live Here spending 16 weeks at the top and I've Got A Tiger By the Tail crossing over into the pop top twenty. These hits heralded Buck's new sound—a churning, upbeat 2/4 rhythm that made every Buck Owens record instantly identifiable. Don Rich compared it to a 'runaway locomotive'; Buck referred to it as the 'freight train' sound. From 1962 to 1968, he would use this sound, rooted in the dance beat of Bob Wills, on all his records.

He had found a sound that people liked, and really all he did was change the lyrics and the melody a little. Most artists, when they find a successful formula they milk it for all it's worth. Way back in the 1920s, Jimmie Rodgers used the same basic structure for all of his classic 'Blue Yodels'; Many of Ernest Tubb's and even Hank Williams' hits used similar musical structures. In the 1970s Charley Pride was heavily criticised for churning out similar-sounding hits like some kind of conveyor belt. The difference was that amid the cosmopolitan country of Eddy Arnold and Jim Reeves, Buck's records sounded fresh, streamlined, and modern. In the studio, Buck and the Buckaroos were rehearsed and ready, and he insisted on getting an acceptable version in just a few takes, the better to preserve a sense of spontaneity.

The Nashville community tried to ignore what was happening out on the West Coast, but there were a few who not only took notice, but utilised element of the West Coast sound in their own recordings. One of the first was George Hamilton IV, who recorded a complete album of West Coast-styled country and had a hit with Truck Drivin' Man. Also, Roger Miller's breakthrough hits were more in keeping with the Buck Owens' sound than the smoother Nashville Sound.

Buck Owens' recordings for Capitol in the 1960s remain a great document in country music's modern development. He helped create and popularise a spirited, rocking alternative to the dominant strains of 1950s and 1960s Nashville country. It became known as the Bakersfield sound, an energetic, electrified style that was predominantly honky-tonk, yet also incorporated elements of r&b, rock'n'roll, hillbilly and Tex-Mex.

After hitting the top of the country charts for the first time with Act Naturally in 1963 it seemed that Buck and his band the Buckaroos could do little wrong. His most notable successes came with such chart-toppers as Love's Gonna Live Here (number one for 16 weeks), My Heart Skips Beat, Together Again, I Don't Care (Just As Long as You Love Me), I've Got A Tiger By the Tail (which crossed over to the pop charts), Before You Go, Only You (Can Break My Heart), Buckaroo (an instrumental), Waitin' In Your Welfare Line, Open Up Your Heart, Sam's Place and Your Tender Loving Care.

In March 1966 Buck Owens and the Buckaroos were booked to play New York City's Carnegie Hall. At the time, very few country acts played New York, let alone such a large and prestigious venue. Though Capitol Records had decided to record the concert for a live album, Buck was naturally worried that the show would be a flop. As it happened, the show, which took place on March 25, 1966, was sold out a week before and the resultant album was a best-seller.

In an era when country music was still very much regionalised, Buck and his band the Buckaroos were widening their appeal way outside the usual country music confines. They had become firm favourites of the Beatles, especially Ringo Starr, who was something of a closet country music fan. Buck and his right-hand man Don Rich were fans of the Beatles' early music, even before the Liverpool group covered Act Naturally. The pair had every Beatles album, and onstage did a good-natured imitation of the Liverpool accent. The mutual admiration society of the two acts was so strong that Capitol Records always ensured that a new Buck Owens album was sent immediately to the Beatles. Unlike so many of today's big country stars, Buck Owens saw the importance of touring internationally and in the late 1960s made the first of many trips to the UK. He appeared on BBC Radio, sold out the London Palladium ( recording a live album there) and returned several times during the 1970s and 1980s for full tours.

Like any innovative country musician or performer, Buck did upset the country purists with his heavily beat-laden sound. Though he had hit upon a successful sound and style, he was never afraid to bring in outside influences and ring the changes. His 1965 album, I'VE GOT A TIGER BY THE TAIL, was a varied mix featuring the country ballad Cryin' Time, the western favourite Streets of Laredo, Bob Wills' A Maiden's Prayer and a dynamic upbeat version of Chuck Berry's Memphis. Around the time of the album's release, Buck placed a full-page advertisement in Music City News stating his pledge to country music:

'I Shall Sing No Song That Is Not A Country Song. I Shall Make No Record That Is Not A Country Record. I Refuse To Be Known As Anything But A Country Singer. I am Proud To Be Associated With Country Music. Country Music And Country Music Fans Made Me What I Am Today. And I Shall Not Forget It.'

Many country music fans felt he broke this pledge by recording Memphis, and, later, the Coasters' Charlie Brown and his hit version of Chuck Berry's Johnny B. Goode. However, in his own mind, Buck had made a subtle musical distinction most fans didn't notice, particularly regarding the Chuck Berry songs. "I see Memphis as bein' rockabilly," he said at the time. "I didn't say I wasn't gonna do rockabilly. I just said I ain't gonna sing no song that ain't a country song. I won't be known as anything but a country singer. I meant that, I still mean that. Listen to the lyrics. If they're not country lyrics...the melody...if that ain't a country melody...The only thing was, a black man was singin' it, a black man who I was a big fan of. So, my famous saying for my little pledge—I didn't date it. I really meant it at the time. I don't mean for it to be taken lightly."

Buck began experimenting musically in 1968 pulling away from the patented driving Bakersfield sound. How Long Will My Baby Be Gone was conventional enough; the ballad Sweet Rosie Jones was a bit more dramatic, but I've Got You On My Mind Again, was a much greater departure. Its R&B feel was unlike anything he'd previously recorded. His desire to experiment beyond the well-known Bakersfield sound grew with numbers like the waltz-tempo Who's Gonna Mow Your Grass, which boasted rock-style fuzztone guitar, and Tall Dark Stranger, both reached number one on the country charts in 1969.

Few country entertainers played San Francisco's legendary Fillmore Auditorium, the premier rock concert hall in America in the late 1960s. Buck played there October 11 and 12, 1968. Many country singers, hostile to heavy rock music and the long-haired youth of the time, would have refused such an engagement, but Buck embraced it whole-heartedly. His music, along with that of Johnny Cash and Merle Haggard was admired by young people and rock musicians. Yet the image he portrayed was still the 'aw shucks country boy made good.

In 1966 he hosted his own weekly half-hour television show, Buck Owens Ranch. Taped in Oklahoma City, it was syndicated to more than 100 markets across the America. Many top country acts guested on the show which, though heavily corn-balled, was immensely popular. Three years later he was to become co-host of Hee Haw, a television series that was to run for more than twenty years.

The show was conceived by Canadian TV producers Frank Peppiatt and John Aylesworth as a country music version of NBC's popular Laugh-In series. The idea was to mix quick-cut, cornball humour with country music. Buck taped the pilot in 1968 and CBS picked it up as a summer replacement for the Smothers Brothers Comedy Hour, which had been cancelled due to its controversial anti-war humour during the Vietnam years. Buck recommended the producers hired singer Roy Clark as co-host. The show premiered Sunday, June 15, 1969. Hee Haw was so successful during the summer that CBS slotted it into the fall schedule. The Buckaroos served as the house band, and Buck was suddenly getting national exposure on a weekly basis.

Buck's business acumen was remarkable. He had his own publishing company, Blue Book Music, which by the late 1960s was a major country song publisher due to the songs of Buck and Merle Haggard. He also formed Buck Owens Enterprises, managed by his younger sister Dorothy. In 1965 Buck and his manager Jack McFadden founded OMAC Artists Corporation, a booking agency. In March 1966, Buck put his radio experience to work when he bought KUZZ-AM in Bakersfield. He also started a new station there, KBBY-FM. KBBY later became KKXX-FM, which was the number one rock'n'roll station in Bakersfield for 10 years. KUZZ was—and remains—the number one country station. Buck soon extended his radio holdings. In 1967 he bought KTUF-AM and in 1968 KNIX-FM, both in Phoenix. Eventually most operations were consolidated under the umbrella of Buck Owens Productions.

Buck's fan club was massive. The Buck Owens 'All American' Fan Club published a regular magazine, and the merchandising even extended to a Buck Owens Guitar Method book, a guitar instruction record by Buck, and a Buck Owens guitar chord book. No longer performing on other promoters' package shows, Buck headlined his own from 1966 to 1970, and it was a formidable one at that. Featured were Susan Raye and 1950s country star Freddie Hart, along with Tommy Collins, Sheb Wooley, and Rose and Cal Maddox of the Maddox Brothers & Rose (Buck had recorded two hit duets with Rose in 1961).

While OMAC simply booked Collins and Maddox, Buck also plunged head-first into efforts to develop new young talents. Freddie Hart, Susan Raye, Tony Booth, Buddy Alan (his son), and many of the other artists Buck worked with were managed by Performance Management, founded by Buck and Jack McFadden. In March 1969, Buck opened Buck Owens Studios in an old movie theatre in downtown Bakersfield. It featured 16-track recording equipment and a then-new Moog synthesizer. The media began referring to Bakersfield as 'Buckersfield,' a term Buck himself never used.

Buck's stature with Capitol permitted him extraordinary clout. A deal between Capitol and Buck Owens Productions allowed Buck to record himself, Tony Booth, Freddie Hart, Buddy Alan, the Buckaroos, Susan Raye, and others in his Bakersfield studios. Capitol merely packaged and released the recordings. No country singer at that time had a similar deal. Among the other aspiring singers Buck discovered were longhaired twin brothers Jim and John Hager, who were also signed to Capitol.

In 1971, Buck signed his final four-year contract with Capitol. Following lengthy negotiations, the label gave him something few artists ever received: Ownership of all his Capitol recordings at the end of the contract. He would give the label five years to sell off his albums before he would take ownership in 1980. He continued to diversify musically. He followed his 1971 hit recording of Simon and Garfunkel's Bridge Over Troubled Water with an album featuring two more Simon and Garfunkel songs and numbers by folk-rockers Donovan and Bob Dylan. He shifted musical directions again, adding five string banjoist Ronnie Jackson to the Buckaroos and recording two hit bluegrass numbers: the Osborne Brothers' Ruby (Are You Mad) and Rollin' In My Sweet Baby's Arms.

By 1973 his recording career was in decline, his hits being novelties like Big Game Hunter and On The Cover Of The Music City News. In the summer of 1974 Buck suffered a sudden, tragic blow from which it took him years to recover. His right-hand man, Don Rich died in a motorcycle accident. For a long time he suffered bouts of depression and he later admitted that his heart was not really into making music. It was a case of just going through the motions.

In 1975 Andy Wickham of Warner Bros. Records, a long time Buck Owens fan, signed him to Warners. For the first time in his career he was recording in Nashville with session players and his music began to sound more like country-pop than the hard-edged Bakersfield sound he had become famous for, but that's because he relinquished creative control of his records to the producers. None of his Warners' singles cracked the country top ten, though he came close in 1979 when Play Together Again Again, a duet with Emmylou Harris peaked at number 11. The following year Buck decided to quit the music business. He and Warners mutually agreed to end his contract and for the first time in 23 years, Buck Owens was no longer recording.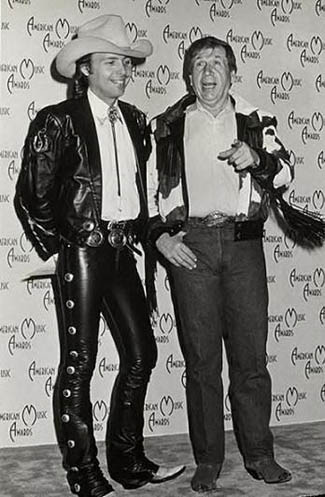 He was lured back in by Dwight Yoakam, a longtime fan, in 1988. The two recorded a duet, Streets Of Bakersfield, which became Buck's first chart-topper in 16 years. Buck toured with Dwight and for the first time in years, audiences saw Buck Owens not as the former star of Hee Haw, but in his true role as a master hard-country and honky-tonk singer. Buck received a letter from Capitol Records' Nashville head Jim Foglesong, asking him to consider Capitol if he decided to record again. Ken Nelson, his longtime producer, had retired long ago. Buck signed with them and late in 1988 released a new album, HOT DOG, featuring a remake of the rockabilly number he'd first done 32 years ago, as well as Under Your Spell Again (sung with Dwight) and A-11, which he'd first recorded in 1964.

Streets of Bakersfield was to be Buck's last big hit, but he remained a mainstay on the country scene as a mentor, performer, and statesman, battling health problems over the final years of his career. He'd undergone surgery for throat cancer in 1993, was hospitalised with pneumonia in 1997 and suffered a stroke in early 2004 and for several months was physically impaired. In 1996 he was finally inducted into the Country Music Hall of Fame.

The legendary singer, guitarist, songwriter and astute businessman died in his sleep from an apparent heart attack on March 25, The previous evening he had played an hour-long set at his famed Crystal Palace nightclub in Bakersfield. It was not only the 76-year-old entertainer's last performance, but also his first for several weeks as he had been suffering ill health for some time.

Buck Owens' impact on country music was enormous not only in the performing area, but also in terms of songwriting and business. It's been said that the mark of a great artist is the apparent ease with which they perform their craft. In country music, few have ever made it look easier than Buck Owens and his band, the Buckaroos. For more than half a century, he had infused country music with his aw-shucks humour, but behind the laughs, Buck Owens made a lasting impact on the country scene, with his no-frills, energetic, exuberant Bakersfield sound. He made some of the greatest, most exciting records in modern country music history. He was a genuine country legend, both as a performer and in his many other accomplishments. The biggest country star of the 1960s, Owens was a colossus, and should be remembered in the same breath as Johnny Cash, Hank Williams, Jimmie Rodgers, and Bob Wills.

Recommended Listening

The Buck Owens' Collection 1959-90 (3-CD set on Rhino 1993)
Live At Carnegie Hall (Country Music Foundation 1993)
The Buck Owens Story Vol. 1 1956-64, Vol.2 1964-69, Vol.3 1969-89
(Personality 1994)
21 # 1 Hits: The Ultimate Collection (Rhino 2006)
Greatest Hits (Delta 2007)
Open Up Your Heart: The Buck Owens & the Buckaroos Recordings 1965-68
(Bear Family box set 2010)