First published in Country Music People, July 1973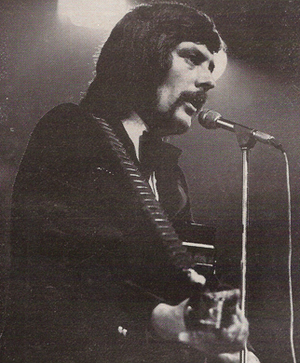 Although Bryan Chalker has been 'involved' in country music in Britain for close on fifteen years, it was not until about five years ago that I actually met the famous man. I had read his pieces in the pop music press in the days before regular country music magazines, and had also heard him on occasions at the Folk Voice Concerts held in Cecil Sharpe House. At the time I thought he must be very knowledgeable about country music, it wasn't till later that I discovered just how  much he knew!
As a person I suppose it's Bryan's quick wit that impresses people most. I know I was quite overawed by him at first. He is just over six feet tall, and even back in the dark ages of country music he was confident and knowing. At the time I was a novice in the world of country music, although I was producing the first monthy magazine devoted to the music. I enjoyed talking to Bryan at the time mainly about traditional country music. He had a dislike for modern country balladeers of the like of Jim Reeves and Eddy Arnold, he was more interested in Jimmie Driftwood and obscure singers from pre-war. At the time I was touching on old-time country music, having been introduced to the music through rock'n'roll and pop-country. It was interesting to see that Bryan delved deeper than just the music—if it was cowboy ballads then he read up on western lore, if it was songs about train wrecks, mine disasters, then he knew the story, not just the romanticised version put out on record.
In a way, Bryan has followed my path rather closely in his acceptance of, for a better word, contemporary country music. I wouldn't accept a recording as country unless it followed the rules laid down by pre-war recordings, luckily I grew out of this phase. I didn't turn my back on old-time country music, I broadened by horizons and realised that as most of the country singers had moved into cities their music must change. I enjoy such diverse people as Kristofferson, Rodgers and Tom T. Hall—in their own way they all have something to offer the listener of country music. Bryan Chalker recognises the modern talent around nowadays, it shows in his recordings, but really that's jumping the gun.
He began his 'working' life as a commercial artist in Sussex working for a large chain store drawing and designing ads for newspapers. After a year he tired of this work and joined the Portsmouth City's Police Force, where he remained for seven years. During this time he began to take an interest in what was then termed 'hillbilly' music. An interest stemmed from a partial liking of Jimmy Shand. Shand stimulated an interest in Scottish and Irish reels which in turn led him to the country music field.
His interest in country music naturally led him to other devotees, and when a music has an 'underground' following, as country music in Britain during the 1950s had, friendships and collaboration becomes important. Within a very short while Bryan's drawings of famous country music artists began to grace the pages of Britain's pioneer country music journal—Country and Western Express—Bryan also had the desire to write on the music he had discovered and he began writing infrequently for Record Mirror and also local newspapers.
In 1964 Bryan left the Police Force and went to Canada where he worked as a Pinkerton Detective and also a stagehand for the Canadian Broadcasting Corporation, this enabled him to come into contact with many North American and Canadian country aArtists.
After a couple of years in Canada, Bryan returned to England and continued his freelance journalism working mainly for Record Mirror, but eventually becoming a regular contributor for Melody Maker and numerous other publications. It was in 1967 that Bryan first thought about performing publicly, although he had played around on guitar and other stringed instruments in the confines of his home for several years. I remember his debut at the famous Folk Voice Country Music Festivals, I think it was in 1968 he made his first appearance as a performer and I was knocked out by his style right from the beginning. It wasn't just his voice that impressed, but his rapport with the audience. It was the usual thing in those days for a string of British performers, some very talented, to take the stage one after the other, but without any attempt to actually entertain. The music was usually of a high standard, but during tuning-up periods and changing of acts, there was always that unprofessional silence, with the audience shuffling their feet and the people on stage in a very embarrassed state. Bryan Chalker was the first person to take the stage and actually communicate with the audience. 
Bryan had great trouble with his famous five-string guitar that first show, and I don't believe he has ever really mastered that troublesome instrument. The next time I saw Bryan singing was at a recording session for his debut album, produced by Gordon Smith, (which somehow got lost in the rush to escape from the studio). Bryan played his famous guitar and also jaws harp and had the addition of Dave Plane on banjo and mandolin on several well-known country tunes. What impressed me about this session was that Bryan knew exactly what he wanted, and although there was a producer in attendance at the session, I had the opinion that more of Bryan's ideas were put down on tape than anybody else's.
He has always had his own ideas of how he should perform a song, and it's refreshing to know that he never copies any previous versions. He has this knack of taking a song and the basic melody and the lyrics originally written, any other connections with the original song are completely removed. It was a great pity this first album from Bryan Chalker was never released, as it would make interesting listening comparing it with his recordings from the past couple of years.
At the time he was recording this album Bryan had become the editor of 'Opry' Britain's first glossy country music publication. The magazine, before Bryan's appearance, was struggling to find a workable format. Because it was the first nationally distributed country music journal it was eagerly snapped up by the devotees, but most were disappointed by the contents. The features were very sketchy, and the contents were geared wholly to the very modern extremes of the music. Chalker breathed new life into the magazine, and I honestly believe that it was his influence that eventually won the country music fan over to the magazine.
After the stint as editor of Opry Bryan Chalker devoted even more time to performing and landed himself a regular spot in cabaret at the Regent Palace Hotel, Piccadilly with a partner who didn't like the music anyway. He became involved in the Mick Jagger film of Ned Kelly having re-written an old Australian ballad about the hero and putting it out on disc. At one time Bryan's vocal for this was considered for the soundtrack, but Waylon Jennings and Kristofferson took the honours instead. 
It was at this time that Bryan was labelled the poor man's Lee Marvin and even termed in some circles as Johnny Cash imitator. It was terms like this that spurred him on to achieve a sound that was so distinctive that no one could accuse him of cashing in on other's success.
During the latter months of 1970, Bryan formed his famous New Frontier group, which started as a trio with Mic Jones on upright bass and the very talented Graham Butterfield on lead guitar. The very first time I heard this group I thought: 'At last Britain has made a country music sound all of its own.; It wasn't just Bryan's smooth voice that was responsible for the new sound, but a combination of selecting good material and giving it a fresh instrumental approach. The band was almost totally acoustic, yet they maintained a full and rich sound. Also they had a knack of selecting American songs before they became standards and in fact were one of the first groups in Britain to feature Kristofferson's classics
Me and Bobby McGee
and
Help Me Make It Through The
Night
, the latter has almost become Bryan's theme song!
In the spring of 1971 Bryan's first album with the New Frontier was recorded. THE HANGING OF SAMUEL HALL was an odd hotch-potch of songs which strung together on a twelve-inch disc made a pleasant programme which somehow seemed to flow. Most of the songs were story-type ballads that suited Bryan's deep voice and the vocals were projected so that the backing was always there, but in the background. The group were busy and inventive, but they never took the edge off the vocals. The whole album was conceived and recorded by the group and then leased out to the forward-looking Avenue Records. The cost of the album has been put at well under £100—and the sales are in excess of 30,000 copies, a unique achievement in Britain.
Since that initial recording the group, following a notable appearance on Hughie Green's Opportunity Knocks, have moved over to the Chapter One label. Their first album for Les Reed's label, BRYAN CHALKER'S NEW FRONTIER (Chapter One CMS 1010) was a more modern approach, with a 'produced' sound but still retaining that unique sound the group achieve on live appearances. For a time the trio became a quartet with the addition of Stan Blacker on banjo and as the group's second comic (the first of course being Mr. Chalker). The group became a great success at country music clubs all over the country, substituting dance music with a sound that made the audience listen and a stage act that entertained. Their success was so profound that Chapter One Records released
Help Me Make It Through The Night
from the album as a single that almost crept into Britain's pop charts. This release was prompted from the heavy requests received and the plugging the song had from BBC radio.
Last May Bryan Chalker returned to the life of an editor of a country music journal, and he built up Country Music Review, Britain's third national country music magazine into a very successful venture. Throughout last year, Bryan was kept busy with heavy personal appearances with the New Frontier and writing and editing a successful magazine.
Unfortunately the original members of the New Frontier decided to go their separate ways at the latter end of the year and Bryan was left with the problem of recruiting new members. He now uses a select handful of talented musicians whom he can call on when necessary to either accompany him on live shows or help out in the studios on recording sessions.
The climax of his career as a singer was reached this April when he was named as Britain's top country music singer. This is a unique achievement for Bryan Chalker, as he is the first to admit he doesn't really possess a great voice. What he does possess though is a voice that is able to communicate. He now has a new single on the market, a cover version of the big American country hit
A Daisy A Day
, and also a third album which is released this month.
It can be very difficult trying to be both a journalist and a performer, but during the past five years, Bryan Chalker has proved that it can be achieved. He has worked doggedly for his success, and quite honestly it couldn't happen to a nicer guy—Bryan Chalker a singer, a journalist and a natural comic.