Bruce T Carroll - First Bird To Sing
Self-released
****
Bruce T Carroll is a master of intellectual lyrics, songs from the heart, political observation and wit. Utilising music not only to hold a harsh mirror up to society, but also as a soothing salve that reminds us of all the beauty still to behold in the world, FIRST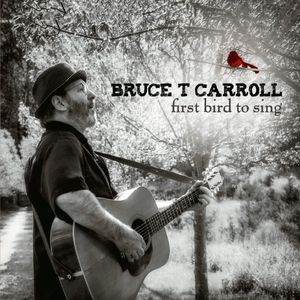 BIRD TO SING is a soft, comforting place to land. He has been writing, singing and playing music for than 40 years. That's a long time to be doing anything, obviously, and at this point you'd hope to be good at it. It certainly shows on this, his third album in five years. Bruce didn't enter a recording studio until late in his life, despite in the 1970s and 1980s regularly playing the New York City music scene. Then, for 14 years he stepped behind the scenes, operating the Watercolor Café, a legendary Larchmont, New York music venue, booking well-established names and newcomers alike. Throughout this time he was channelling his creative energy into stockpiling songs and enjoying occasional live performances. Seven years ago, Bruce was able to devote all his time to songwriting and performing, releasing his debut album, RUCKUS AND ROMANCE in 2016 to widespread critical acclaim. Two years later came the release of the six-song EP FINDING YOU.
Despite the pandemic, this latest album was recorded live in the studio at The Building, Marlboro, New York, in real time, with very little remote tracking. The result is exciting, absorbing new music from Bruce and the brilliant band of local studio musicians—Connor Kennedy, Lee Falco, Brandon Morrison, Will Bryant, Andy Stack, Marc Shulman, Sara Milonovich and Jay Collins. Both Bruce's raspy, strong vocals and his whip smart songwriting make this album worth seeking out. He doesn't shy away from serious themes and from being very emotionally forthright about the dark places the heart can go as he deals with political upheaval, mortality, suicide, lies and inner contentment. The second I began listening to Nobody Knows, I was instantly drawn into the meaningful song. Throughout the song, you experience the raw emotion with connecting lyrics and a unique style that isn't seen in everyday music. Though melancholic and dark in places, it is ultimately hopeful.
There's a catchy country feel to What's The Rush with its toe-tapping twangy arrangement of mandolin, guitars and fiddle. Finding a balance of subtlety and decisive awakening that's fed through wanting to disappear for a while, with humorous lyrics that will inspire you to just put the top down and embark on that dream-paved highway of freedom with abandon. A beautiful melody underscores the haunting lyrics of 'Til It's Time To Go, that perfectly—and literally—paint the picture of life's struggles and the inner battles every human experiences. With a voice that sounds like a creamy cup of hot chocolate, mixed with a sprinkle of acoustic piano and doodling electric guitar that resonates through the soul like that first throat-burning sip ... full of compassion, resilience, and brilliance. He allows his rich, rumbling voice to shine on I Let Go, a swanky number that serves as another celebration of his free mind and independent spirit. The superb, eclectic band aren't afraid to push the boat out with some inspired playing to be heard as they really cook with great taste.
He takes a sideswipe at Trump and his supporters in Don't Take Love Lightly (MAGA Girl), a put-down of pathological liars dressed up in a kiss-off to a deceitful lover. It sounds epic and determined, keeping a driving rhythm as Bruce braces for steadfastness at the end of it all. Grandfather Walks is a stunning remembrance of a much-loved relative. A compelling yarn, with his velvety growl that is one moment tender, the next commanding, he keeps you hanging on to every word. The title song is inspired by the suicide of his teenage brother some forty years ago, which still plays heavily on his mind. Hard edged, thumping guitar music with occasional horns accompany his gruff leathery vocal, with everything smoothed over and oiled, as he's looking for the silver lining and understanding in a period of unfathomable loss.
October 2021