British Country - For Queen and Country
First Published in Country Music International, July 1995
Jimmy Nail recently charted with a country song but most of Britain's country artists haven't fared so well. And yet, year after year, numerous homegrown acts still battle away in the face of adversity. By Alan Cackett
The phenomenal success of actor, singer and songwriter Jimmy Nail, whose country single, Cowboy Dreams, put him in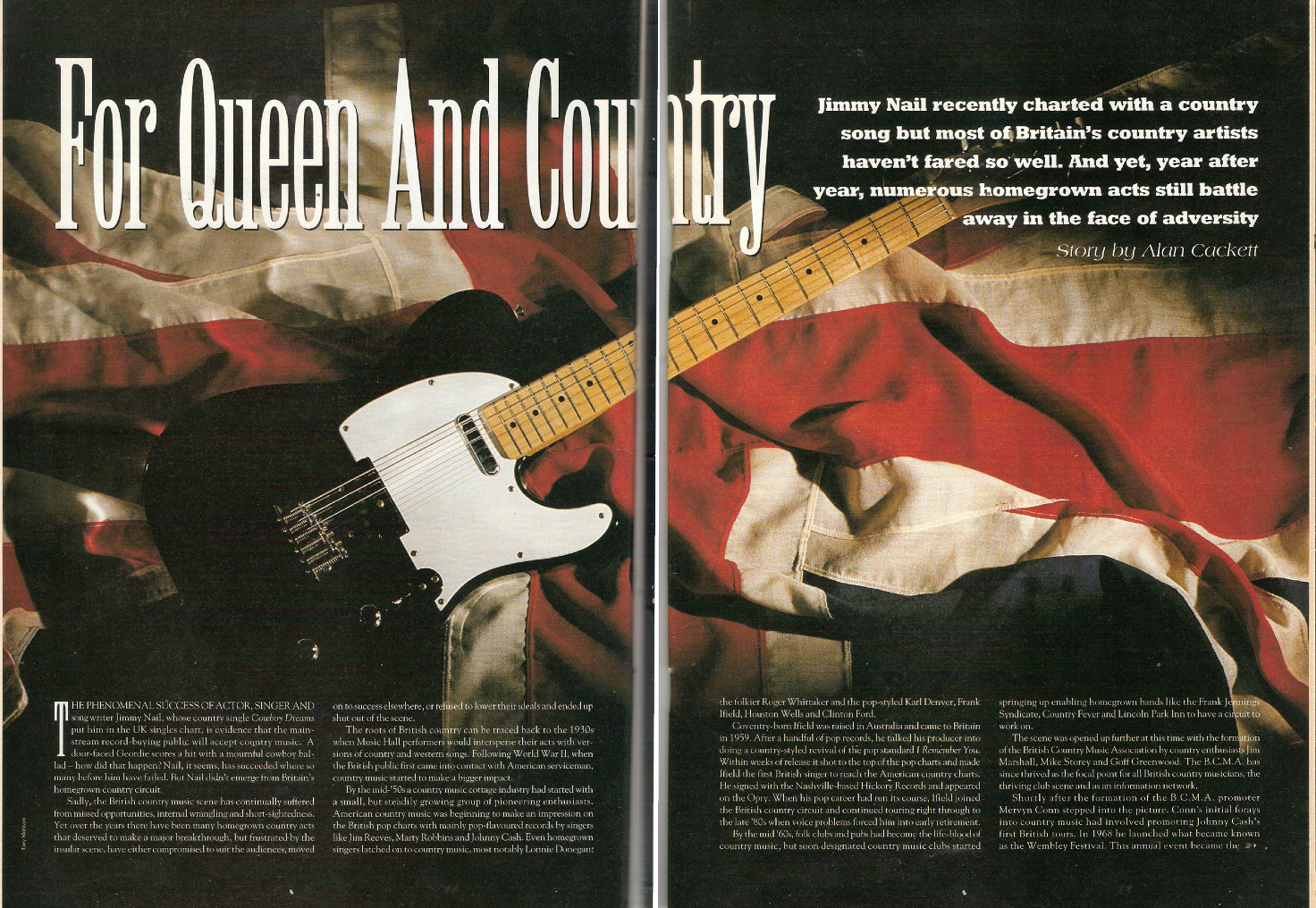 the UK singles chart, is evidence that the mainstream record-buying public will accept country music. A dour-faced Geordie scores a hit with a mournful cowboy ballad—how did that happen? Nail, it seems, has succeeded where so many before him have failed. But Nail didn't emerge from Britain's homegrown country circuit.
Sadly, the British country music scene has continually suffered from missed opportunities, internal wrangling and short-sightedness. Yet over the years there have been many homegrown country acts that deserved to make a major breakthrough, but frustrated by the insular scene, have either compromised to suit the audiences, moved on to success elsewhere, or refused to lower their ideals and ended up shut out of the scene.
The roots of British country can be traced back to the 1930s when Music Hall performers would intersperse their acts with versions of country and western songs. Following World War II, when the British public first came into contact with American serviceman, country music started to make a bigger impact.
By the mid-1950s a country music cottage industry had started with a small, but steadily growing group of pioneering enthusiasts. American country music was beginning to make an impression on the British pop charts, with mainly pop-flavoured records by singers like Jim Reeves, Marty Robbins and Johnny Cash. Even homegrown singers latched on to country music, most notably Lonnie Donegan, the folkier Roger Whittaker and the pop-styled Karl Denver, Frank Ifield, Houston Wells and Clinton Ford.
Coventry-born Ifield was raised in Australia and came to Britain in 1959. After a handful of pop records, he talked his producer into doing a country-styled revival of the pop standard I Remember You. Within weeks of release it shot to the top of the pop charts and made Ifield the first British singer to reach the American country charts. He signed with the Nashville-based Hickory Records and appeared on the Opry. When his pop career had run its course, Ifield joined the British country circuit and continued touring right through to the late 1980s when voice problems forced him into early retirement.
By the mid-1960s, folk clubs and pubs had become the life-blood of country music, but soon designated country music clubs started springing up enabling homegrown bands like the Frank Jennings Syndicate, Country Fever and Lincoln Park Inn to have a circuit to work on.
The scene was opened up further at this time with the formation of the British Country Music Association by country enthusiasts Jim Marshall, Mike Storey and Goff Greenwood. The B.C.M.A has since thrived as the focal point for all British country musicians, the thriving club scene and as an information network.
Shortly after the formation of the B.C.M.A promoter Mervyn Conn stepped into the picture. Conn's initial forays into country music had involved promoting Johnny Cash's first British tours. In 1969 he launched what became known as the Wembley Festival. This annual event became the focal point of the British country music calendar, and not only afforded the opportunity of seeing many of the top American stars, but enabled many British acts to perform in front of several thousand people, as opposed to the couple of hundred they might attract at one of the local clubs.
The whole scene was, however, still being run and organised by well-meaning fans, and there was little involvement from the music business. The Liverpool-based Hillsiders landed deals with RCA and Polydor and recorded in Nashville with Bobby Bare. But 30 years on from their formation the band are back playing the same circuit they started on.
There has never been a shortage of inspired people prepared to take a risk with British country. Gordon Smith and Larry Adam launched Opry magazine in 1969 and also set up Lucky Records, a company that gave many British acts the opportunity to put out their own recordings. Though many of these were just covers of Nashville hits, some of the acts, most notably Ray Dexter, Ron Ryan, Country Fever (with a young Albert Lee) and Brian Golbey, were highly original and deserved wider exposure than the scene at that time allowed.
During the 1970s talent shows ruled the TV screens and British country music acts fared reasonably well on these. Frank Jennings, who had led his band Country Syndicate since 1969, won TV's Opportunity Knocks in 1975, which led to a recording contract with EMI and sessions in Nashville. Poacher won TV's New Faces in 1977, and their original version of Darlin' made the American country charts, before they slipped back to the tried and tested club circuit.
Inevitably, the British country scene has been flooded with easy-listening, MOR country acts: Miki & Griff, a husband-and-wife duo, Jeannie Denver, George Moody, who still travels around the circuit with much the same act he developed more than 20 years ago. It's been a successful formula, giving an audience just what they want and rarely deviating from the norm.
There are, however, times when it has seemed as if anyone who was a little different was immediately ostracised by the country music fraternity. The first time Raymond Froggatt played the Wembley Festival, a little over 20 years ago, the audience showed little interest in his music. Ten years later, when he took to the clubs, he suddenly found a whole new audience—basically the same one that had turned their backs on him earlier. Froggie deserved to become a big star, but his unreliability has often let him down. Nevertheless, he's provided the British scene with some great songs which owe nothing to Nashville and have formed the basis of a real British country music sound.
Another southern band that made a big impact in the mid-1970s were Ned Porridge. Their lead singer Ed Pearson remains one of British country's best ever frontman. Contemporary and musically astute, the band blended Eagles tunes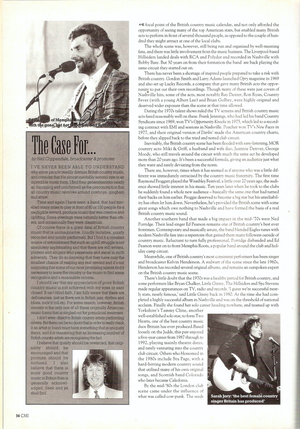 with modern Nashville fare into a repertoire that gained them many followers outside of country music. Reluctant to turn fully professional, Porridge disbanded and Ed Pearson went on to front Memphis Roots, a popular band around the club and holiday camp circuit.
Meanwhile, one of British country's most consistent performers has been singer and broadcaster Kelvin Henderson. A stalwart of the scene since the late 1960s, Henderson has recorded several original albums, and remains an outspoken expert on the British country music scene.         
There's little doubt that the 1970s was a healthy period for British country, and some performers like Bryan Chalker, Little Ginny, The Hillsiders and Stu Stevens made regular appearances on TV, radio and records. "I guess we're successful nearly stars, nearly famous," said Little Ginny back in 1980. At the time she had completed a highly successful album in Nashville and was on the threshold of national acclaim. Finally she found her solo career heading nowhere, and teamed up with Yorkshire's Tammy Cline, another well-established solo star, to form Two Hearts, one of the best country music duos Britain has ever produced. Based loosely on the Judds, this pair enjoyed a five-year career from 1987 through to 1992, playing mainly theatre dates, and rarely venturing into the country club circuit. Others who blossomed in the 1980s include Stu Page, with a hard-hitting modern country sound that utilised many of his own original songs, and Scottish band Colorado who later became Caledonia.
By the mid-1980s the London club scene came under the influence of what was called cow-punk. The seeds had been sown during the mid-1970s with outfits such as Meal Ticket and Heads, Hands & Feet. The singing gynaecologist Hank Wangford took up the challenge with a country-rock act that regularly died in the country clubs yet built up a cult following among London's younger rock crowd.
Meanwhile, the British holiday camps were beginning to recognise the potential of country music and themed weekends saw many of the better acts playing to holidaymakers. Soon the dedicated country music fans caught on, and the weekends turned into week-long bashes with the majority of the patrons dressed up to the nines in cowboy outfits and crinoline dresses.
The 1980s also saw the development of more country music festivals. Flamboyant entertainer Jed Ford put his years of treading the boards to good use with the Peterborough Festival, the first serious competition to Mervyn Conn's Wembley bash. By this time Wembley was losing much of its credibility. A failure to bring the newer Nashville stars to Britain meant that the festival was rapidly disintegrating into a golden oldies' showcase. Elsewhere, promoter, broadcaster and journalist Neil Coppendale put together the All British Country Music Festival, which has become a regular showcase for Britain's rich vein of country music talent.
But for the British country scene to expand it is vital that the performers have the opportunity of playing in front of non-country fans. This course of action has been proved by the success of Irish balladeer Daniel O'Donnell, who has steadfastly steered clear of the British club circuit. An MOR singer, he struggled on the Irish scene for a couple of years before linking up with Ritz Records in 1985 and setting off on a record-breaking tour that encompassed big-selling albums, pop chart success and sold-out concerts.
O'Donnell has opened the door for the other Irish acts, the most notable being Mary Duff, Dominic Kirwan and Mick Flavin, who produce a distinctive 'Country'n'Irish' sound that is more easy-listening than straight country, and which sells extremely well.
England, meanwhile, has produced its own star in Sarah Jory. Starting out as a nine-year-old child prodigy steel guitarist, she has become the best female country singer Britain has ever produced, but she needs to reach an audience outside of the country club scene if she is to fulfil her personal ambition to become a major music star. Much the same can be said of Yorkshire sisters Jo-Ann and Becky Haley and London-based singer Tracy Elsdon.
Some have fared better. Charlie Landsborough, a singer/songwriter raised in Liverpool, first made an impact as a writer. Foster & Allen, George Hamilton IV, Little Ginny and Daniel O'Donnell have all recorded his songs. But it was to be more than 12 years before he made a major breakthrough in his own right with his WHAT COLOUR IS THE WIND album on Ritz, which soared to the top of the Irish charts and has enjoyed healthy sales in Britain earlier this year.
There are glimmers of hope in the 1990s. CMT has attracted many younger fans to the music and some of the newer bands on the scene are trying to forge more original sounds and styles. Much of the originality has, however, come from the fringes of the music. For many years Britain has had a thriving bluegrass scene and now boasts its own Bluegrass Association. Cajun and roots music has enjoyed a resurgence of popularity in recent years with bands like Ida Red, R.J.Cajun & The Zydeco Brothers, Cat Stretch Fever and A-La-Tex all gaining well-deserved exposure.
It is still the mainstream scene that is lagging behind. Many acts lack good management, publicity or a PR set-up. Many still have no firm direction for their music or any kind of career development. While in some of the clubs anything different or original is treated with disdain.
It seems that what the British country scene urgently needs, in order to really thrive, is a transfusion of younger blood in all areas, from performers through the media and management right down to the fans themselves.
Alan Cackett
The Case For…
I've never been able to understand why some people readily dismiss British country music, and consider that it is almost inevitably second-rate or an incredible music form. I find their generalisations nearly as damaging and uninformed as the preconception that all country music revolves around cowboys, gingham and straw.
Time and again I have seen a band, that had travelled many miles to play in front of 80 to 100 people for a negligible reward, to produce music that was creative and uplifting. Some evenings were naturally better than others, and occasionally they were disastrous.
Of course, there is a great deal of British country music that is unimaginative, blindly imitative, poorly recorded and poorly performed.  But I find it a constant source of astonishment that such an uphill struggle is not absolutely asphyxiating and that there are still writers, players and singers who persevere and excel in such adversity. They do so knowing that they have only the smallest chance of reaping any real reward and it's not surprising that some of our most promising talents find it necessary to leave the country or the music to find some recognition and a reasonable income.
I should say that my appreciation of good British country music is not achieved with my eyes or ears closed. It isn't blind faith. I am fully aware that there are deficiencies, just as there are in British jazz, rhythm and blues, rock'n'roll etc. For some reason, however, British country is only one of all these originally American music forms that is singled out for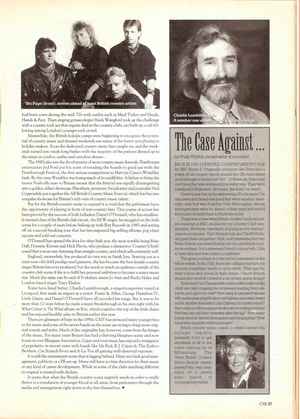 prejudicial treatment.
I don't even object to British country artists performing covers. But there can be no doubt that in order to really crack it an artist or band must have something that is uniquely theirs, and it is reassuring that an increasing number of British country artists are recognising the fact.
I believe that quality should be rewarded, that originality should be encouraged and that promise should be nurtured. I also believe that there is more good country music in Britain than is generally acknowledged.  Seek and ye shall find.
Neil Coppendale, broadcaster and promoter
The Case Against…
Back in 1967 I started Country Meets Folk for BBC Radio 2. Originally, producer Ian Grant had a roster of six country bands around the UK considered good enough to broadcast 'live'. Of those six, there was one band that was outstanding in every way. They were Liverpool's Hillsiders. All round, the best I've heard.
I have to say that the intervening 30 odd years I've only seen and heard one band that were superior musically, and that was Poacher from Warrington, whose arrangements were far ahead of their time and would find music industry fans in Nashville today.
There was a time when British country bands recorded sessions in the BBC studios for my Country Club programme. However, standards dropped so low that successive producers, Nick Barraclough and Geoff Mullin, dropped them altogether. Nick, now presenting his own Radio 2 show, has stated that he will not play British country recordings. Not a statement I would concur with. I like to listen first and then make a judgement.
The great problem is the vast under-investment in the whole scene. In the USA, there are colleges that turn out country musicians ready to go to work. They pay for their tuition and invest in their future. I know British musos who wouldn't invest in a set of new guitar strings!
How many Ford Transits with a half a million miles on the clock are criss-crossing the motorways heading from one poorly paid gig to the next? How many ill-prepared venues with inadequate amplification and lighting are being swept out for another wonderful Gala Evening of country music? How many poorly equipped studios are recording bands so they can sell their cassettes after the gig? How many bands invest in decent photographs and biographies? How may take on public relations people?
British country music needs to move beyond the cottage industry mentality if it's to get anywhere at all in the years running up to Millennium. The Great British Country Music Awards merely proved who was best liked of a pretty poor bunch of contemporary talent.
Wally Whyton, broadcaster and journalist