Brewflies - Rain Down Mercy
Self-released
***1/2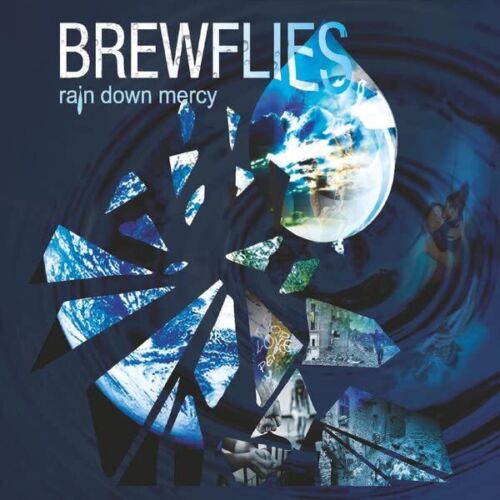 Brewflies adventurous spirit makes the quartet's latest album a pleasurable assembly of 15 songs, that mixes bluegrass, folk, acoustic roots, country and a little rock'n'roll. There's no one scene or genre you can peg it to, which adds to the pleasant listening experience. The group's eclectic taste is reflected in their song selections, ranging from tunes from Stephen Stills to Iris DeMent, Woody Guthrie to Mark Knopfler. Each song fits the band's throwback repertoire like a goalie's glove, placing the classic songs in the safe hands of musicians who really care. This is more than touchstones from other musical times, though. The songs may pull from different sonic eras, but their voices are so strong and varied, the arrangements so unique that the music never sounds derivative. Stark and haunting ballads fit in comfortably alongside jangly, country-esque melodic charmers. The sound is still rooted in easygoing folk-rock, but this album's polished production and expanded instrumentation, provided by several guest players and singers, takes the music in varied directions.
The songs, both the familiar revivals and the newer contributions from the likes of Michael Veitch and the band members, all fit the overall themes of the disruption to societal norms, personal changes and forging new ways of living in an ever-changing world. The material is relevant, reverent, and intended to soothe the souls of listeners going through life's harshest times, another reason why their natural, blended harmonies are so vital to this 15-song set. The kind of ennui best suited for long, solitary walks pondering our purposelessness. They set things in motion most appropriately with Buffalo Springfield's late 1960s anthem For What It's Worth. What sounds and feels like a sprawling, meandering rendition is, oddly enough, the same length as the more well-known original. Boasting sweet harmonies, electric, acoustic and nylon strung guitars sashaying over brushed drums, it's easy to hear this record and be reminded of those endless summer days of the hippie movement.
Years of making music overflow every musical note, vocal phrase and line in this set of songs. Larry Brittain (guitar, vocals), Billy Clockel (bass, vocals), Jeff Schmich (mandolin, banjo, vocals) and Kirsti Gholson (vocals) are supported by repeat collaborators Lisa Gutkin (fiddle), Professor Louie (keyboards), Gary Oleyar (mandolin, Dobro, banjo), Dan Hickey (drums, percussion) and Jimmy Heffernan (Dobro, pedal steel, electric guitar) with additional support from Miss Marie (back-up harmonies), E'lissa Jones (vocals, cello) and Tony Trischka (banjo). The album weaves acoustic melodies, exquisite harmonies and smooth country-folk arrangements seamlessly into their own unique sound … and now's definitely the time for this soul-soothing, musical magic that will help to heal all of our ills.
Mary Gauthier's Mercy Now, might well have been written some 20-odd years ago, but it could so easily refer to the current state of affairs. Anchored by some nice fiddle work, it's an outstanding country-blues lamentation enhanced by Kirsti's haunting background vocals and a weaving accordion. Even more relevant is I Ain't Got No Home, the Woody Guthrie classic given a chunky treatment that befits the homeless guy wandering from place to place, looking for somewhere permanent to lay his weary head. There're more funky sounds to be heard in John Fogerty's Fortunate Son channeling the swampy, Southern country style of Creedence Clearwater Revival via something more bluegrassy and alt-rocking roots in them with driving mandolin and Dobro. Then they slow it down with a wistful rendition of Mark Knopfler's Why Worry with delicate vocal harmonies.  Their choir of voices should appeal to both the dusty soul junkie and the choral aficionado who deeply appreciates group singing. RAIN DOWN MERCY is a soft but forceful record that's universal message is sometimes masked by the music's acoustic serenity.  
August 2023