Brady Seals - Traveller's Choice
First Published in Country Music International, November 1997
"When I'm fixing to leave for a trip the choice of music to take along is very important. After all, music influences your mood and feelings. Ask any of the boys in the band what kind of mood I'm in if there's heavy thrash metal playing. Having said that, it's not likely we'll have panpipes playing either. I have what you call an eclectic taste in music, heavily steeped in country. It's in my blood, although I'm open to all styles and forms. I feel that, as an artist you have to have that capacity in order to progress. But, at the end of the day, whatever you listen to, if it moves you it must be good.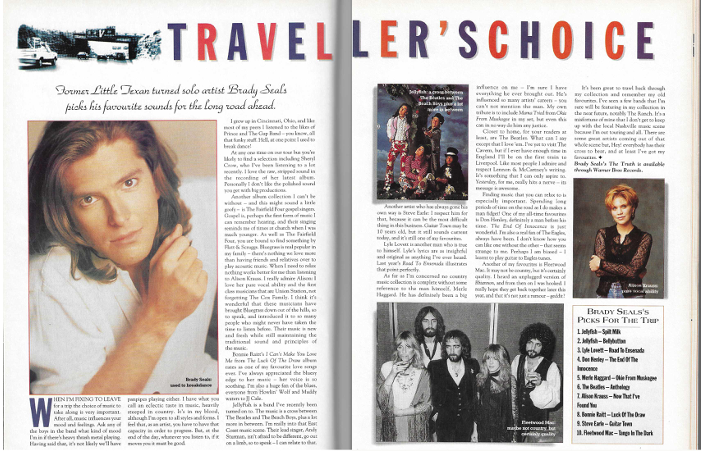 I grew up in Cincinnati, Ohio, and like most of my peers I listened to the likes of Prince and the Gap Band–you know, all that funky stuff. Hell, at one point I used to breakdance. At any one time on our tour bus you're likely to find a selection including Sheryl Crow, who I've been listening to a lot recently. I love the raw, stripped sound in the recording of her latest album. Personally, I don't like the polished sound you get with big productions.
Another album collection I can't be without—and this might sound a little goofy—is the Fairfield Four gospel singers. Gospel is, perhaps the first form of music I can remember hearing, and their singing reminds me of times at church when I was much younger. As well as the Fairfield Four, you are bound to find something by Flatt & Scruggs. Bluegrass is real popular in my family—there's nothing we love more than having friends and relatives over to play acoustic music. When I need to relax nothing works better for me than listening to Alison Krauss. I really admire Alison: I love her pure vocal ability and the first-class musicians that are Union Station, not forgetting the Cox Family. I think it's wonderful that these musicians have brought bluegrass down out of the hills, so to speak, and introduced it to so many people who might never have taken the time to listen before. Their music is new and fresh while still maintaining the traditional sound and principles of music.
Bonnie Raitt's I Can Make You Love Me from THE LUCK OF THE DRAW album rates as one of my favourite love songs ever. I've always appreciated the bluesy edge to her music—her voice is so soothing. I'm also a huge fan of the blues, everyone from Howlin' Wolf and Muddy Waters to JJ Cale.
JellyFish is a band I've recently been turned on to. The music is a cross between the Beatles and the Beach Boys, plus a lot more in between. I'm really into that East Coast music scene. Their lead singer, Andy Sturman, isn't afraid to be different, go out on a limb, so to speak—I can relate to that.
Another artist who has always gone his own way is Steve Earle: I respect him for that, because it can be the most difficult thing in this business. GUITAR TOWN may be 10 years old, but it still sounds current today, and it's still one of my favourites. Lyle Lovett is another man who is true to himself. Lyle's lyrics are as insightful and original as anything I've ever heard. Last year's ROAD TO ENSENADA illustrates that point perfectly.
As far as I'm concerned, no country music collection is complete without some reference to the man himself, Merle Haggard. He has definitely been a big influence on me—I'm sure I have everything he ever brought out. He's influenced so many artists' careers—you can't not mention the man. My own tribute is to include Mama Tried and Okie From Muskogee in my set, but even this can in no way do him any justice.
Closer to home, for your readers at least, are the Beatles. What can I say except that I love 'em. I've yet to visit The Cavern, but if I ever have enough time in England, I'll be on the first train to Liverpool. Like most people, I admire and respect Lennon & McCartney's writing. It's something that I can only aspire to. Yesterday, for me, really hits a nerve—its message is awesome.
Finding music that you can relax to is especially important. Spending long periods of time on the road as I do makes a man fidget! One of my all-time favourites is Don Henley, definitely a man before his time. THE END OF INNOCENCE is just wonderful. I'm also a real fan of the Eagles, always have been. I don't know how you can like one without the other—that seems strange to me. Perhaps I'm biased – I learnt to play guitar to Eagles' tunes.
Another of my favourites is Fleetwood Mac. It may not be country, but it's certainly quality. I heard an unplugged version of Rhiannon, and from then on I was hooked. I really hope they get back together later this year, and that it's not just a rumour—geddit?
It's been great to travel back through my collection and remember my old favourites. I've seen a few bands that I'm sure will be featuring in my collection in the near future, notably the Ranch. It's a misfortune of mine that I don't get to keep up with the local Nashville music scene because I'm touring and all. There are some great artists coming out of that whole scene but, Hey! everybody has their cross to bear, and at least I've got my favourites.