First published in Country Music Review, October 1973
The Fight for Recognition
One of the most popular singers during the 1950s was Bobby Helms, who, although steeped in country roots, somehow managed to get caught up in the world of pop music. His big hits at the time like Tennessee Rock'n'Roll, My Special Angel, Fraulein and Jingle Bell Rock were aimed straight for the young teenagers, and although several of them scored in the country charts, Helms was not really considered a country artist.
Born August 15, 1933 in Bloomington, Indiana, Bobby Lee Helms was keen on music from a very early age and made his debut when in his young teens on WWTV in Bloomington, where he appeared regularly from 1946-54. At the time he was singing the current country tunes, and in fact he made his debut on the famous Grand Ole Opry when he was only seventeen-years-old and has appeared on the famous programme many times since, although he never became a regular member.
He made his recording debut for Decca, and they instantly saw that with his good looks, and with popular music undergoing a big revolution from the onslaught of rock'n'roll, that young Bobby would be better pushed in that direction than country music. His first hit for Decca was with Tennessee Rock'n'Roll in 1956, which went high in the pop charts. Bobby tried his hand at a few more up-beat rock songs, but was not really happy with this style, and when he reverted to a ballad style he was again among the hits beginning with Fraulein in 1957, and following with My Special Angel, which gave him a Gold Disc in 1958. He was soon appearing in the Dick Clark Bandstand and the famed Ed Sullivan Show and his only connections with country music was that amongst his many recordings for Decca were country tunes like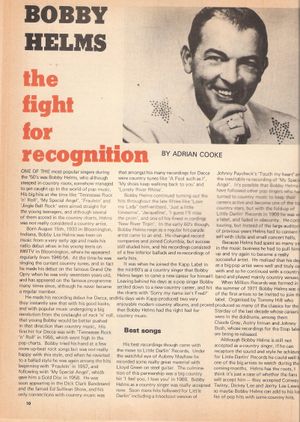 A Fool Such As I, My Shoes Keep Walking Back To You and Lonely River Rhine.
Bobby Helms continued turning out the hits throughout the late 1950s like Love My Lady (self-written), Just A Little Lonesome, Jacqueline, I Guess I'll Miss The Prom, and one of his finest recordings New River Train. In the early 1960s though, Bobby Helms' reign as a regular hit-parade artist came to an end. He changed record companies and joined Columbia, but success still eluded him, and his recordings consisted of a few inferior ballads and re-recordings of early hits.
It was when he joined the Kapp Label in the mid-1960s as a country singer that Bobby Helms began to carve a new career for himself. Leaving behind his days as a pop singer, Bobby settled down to a new country career and hit the charts with Sorry My Name Isn't Fred? His days with Kapp produced two very enjoyable modern country albums and proved that Bobby Helms had the right feel for country music.
His best recordings though, came with the move to Little Darlin' Records. Under the watchful eye of Aubrey Mayhew he recorded some really great material with Lloyd Green on steel guitar. The culmination of this partnership was a big country hit I Feel You, I Love You in 1968. Bobby Helms as a country singer was really accepted now. Soon more hits followed for Little Darlin' including a knockout version of Johnny Paycheck's Touch My Heart and the inevitable re-recording of My Special Angel. It's possible that Bobby Helms could have followed other pop singers who had turned to country music to keep their careers active and become one of the top country stars, but with the closure of Little Darlin' Records in 1969, he was without a label, and faded into obscurity. He continued touring, but instead of the large auditoriums of previous years, Helms had to content himself with clubs and small concert halls.
Because Helms had spent so many years in the music business, he had to pull himself up and try again to become a really successful artist. He realised that his days as a big pop artist were well and truly over with and so he continued with a country band and played mainly country venues. When Million Records was formed in the summer of 1971 Bobby Helms was one of the first artists to be invited to join the label. Organised by Tommy Hill, who produced so many of the classics for the Starday Label of the last decade, he signed artists whose careers were in the doldrums, among them Claude Gray, Autry Inman and Johnny Bush, whose recordings for the Stop label are being re-released.
Although Bobby Helms is still not accepted as a country singer, if he can recapture the sound and style he achieved for Little Darlin' Records he could well be one of the big artists to watch during the coming months. Helms has the roots, I think it's just a case of whether the fans will accept him—they accepted Conway Twitty, Dickey Lee and Jerry Lee Lewis, so maybe Bobby Helms can add to his long list of pop hits with some country hits. Adrian Cooke