First published in Country Music People, March 1974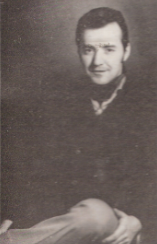 During recent years country music has been invaded by many young performers, who, though steeped in country traditions through their childhood background, began their musical careers in rock'n'roll and pop music. Finding that this was an overcrowded market to be in, and with their natural love for the simplicity of country music, they switched to this style taking their pop influences with them.
One of the bright new young talents who is creating a highly successful career in country music is Bobby G. Rice, a good looking fellow from Wisconsin. During the spring of 1973 he hit the top of the country charts with his smooth rendition of
You Lay So Easy On My Mind
. Rice was born in Boscobel, Winconsin on July 11, 1944. He grew up on a farm with his four sisters and one brother to keep him company. Like so many farming families, music played an important part in the Rice family, and all of them could play at least one instrument apiece.
For some reason the Rice family seemed more talented and professional than the other country folk and really took their music seriously. From the small beginnings of playing and singing at wedding celebrations and local parties, the Rice family organised and ran a successful dance hall called the Circle D Ballroom. This soon became the popular place to go if you lived around Boscobel. They began to appear on local radio, at first doing small guest appearances, but by the mid-1950s the family had their own weekly show on Radio WRCO Richland Centre. This programme ran for almost seven years, and Bobby gained plenty of experience by his regular appearances firstly as an instrumentalist, then later as featured singer.
When Bobby's brother and two of his sisters married the family group broke up. By now though Bobby had really got the musical bug. The Rice family had always played country music, much of their material being drawn from the traditional music that the family knew and loved. Bobby had mastered upright bass, banjo, acoustic and steel guitar for the family's act, so he had no trouble in being able to sit in with other groups. For the next couple of years he drifted from one group of musicians to another in an attempt to settle down to a musical style that really appealed to him.
Bobby graduated from Madison High School in 1962 and with school life now behind him he decided to really strive for a professional career in music. He immediately began forming a group, but rather shocked his family and friends. The group was called The Rock-A-Teens and as the name implied played rock'n'roll with Bobby on the electric bass guitar. This group with Bobby's musical and entertaining experience soon became really polished and sought after. As well as a weekly TV show on WISC-TV, which lasted almost two years, they also became popular at local dances and record hops.
Although Bobby enjoyed playing with the Rock-A-Teens he found that he couldn't incorporate his country music influences into the group. In 1964 he left the group and teamed up with his sister Lorraine Rice to sing in a modern country style. The two of them managed to secure a regular programme on WISC-TV and soon formed a backing-group for shows and concert appearances in the local area. Although the duo didn't achieve great success, they were popular with a certain section of the community. When Lorraine decided to quit the entertainment world to settle down to domestic life, Bobby decided to continue and formed the Bobby Rice Band.
He now worked on and formulated a sound and style that he intended to stick with. Basically it was modern country, but rather than just drawing from the regular country songwriters, he was incorporating several of the old pop songs that he had performed when with the Rock-A-Teens. This time, though, he put something extra into the songs. He didn't just perform them as straight pop tunes, but added a country backbeat, with steel guitar and fiddle really creating a strong country sound. His band was really professional. He wouldn't allow them to just carbon-copy the Nashville hits. Bobby Rice appreciated that if he really wanted to make a successful career in country music he had to offer something new and different, he had to really put himself into the music.
This was the time that he first turned to songwriting. He felt the need to really express himself and with his new wife Jean to push and help him, he made his way to Nashville, and hopefully a successful country music career. Before departing for Music City he made contact with Dick Heard, head of Royal American Records, who was suitably impressed with the demo-tape that Bobby had made. Heard even arranged a recording session for Bobby, and this was before he'd even met him. 
At this first session Bobby tried a couple of his own songs plus some old pop tunes, including Jimmy Gilmour's
Sugar Shack
, his first release on Royal American Records. In the spring of 1970 the name of Bobby G. Rice first appeared on the country charts with
Sugar Shack
, and though it didn't climb into the top ten, it sold well for a debut record. The follow-up was another well-known pop hit; this time Bruce Chanel's
Hey Baby
was turned country, and Bobby made it to the top ten. This was followed by more hits on the Royal American Label including
A Hundred Pounds Of Clay, Lover Please
and
Mountain Of Love
.
This success prompted Bobby and Jean with their two little girls to move closer to Nashville. They are now settled in Madison, Tennessee, a few miles from Music City. When the Royal American Label was purchased by the giant Metromedia Combine at the end of 1972 Bobby G. Rice became the first artist on the new Metromedia Country label, and his career grew even bigger. In the early part of 1973 he hit the top of the charts with his smooth version of
You Lay So Easy On My Mind
and now Bobby G. Rice is really established in the country music world. His follow-up album to the big hit was one of the finest debut albums I've heard. Bobby's smooth styling sounds really appealing on several well-known songs like
Hello Darlin'
and
The Teddy Bear Song
, it was country all the way—good country, and that's what has made Bobby G. Rice one of the finest new talents on the country music scene today.