First published in Country Music People, August 1981
Bobby Bare is one of the real legends of the modern-day country music business. With recordings that stretch over three decades, he's always remained at the forefront of the business … and remained a star. Alan Cackett begins and in-depth study … 
Part One; the Early Years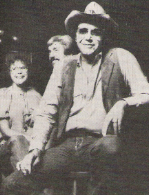 Bobby Bare has been a man of many styles ever since he cut the rock'n'roll spoof
All American Boy
back in the late 1950s. Sometimes he's been in the stylistic doldrums, and sometimes he's been back on top. At the moment he's back on top, and having achieved dozens of hit records; won a Grammy for
Detroit City
, recorded critically acclaimed albums, there is a new drive and dedication to his music and career, which is set to take him along the same pathway as Waylon Jennings and Willie Nelson, two long-time friends, who have achieved the kind of major success previously unheard of in country music.
That Bare has succeeded in sustaining a career that spans more than 20 years is quite amazing. By his own admission he is lazy, a man who is more laid-back than Don Williams, and quite happy to rest between shows and recording sessions, rather than working on building his career. It's been a career that he has gambled with, changing directions, setting new trends and going against what should be commercially viable, yet more often than not proving that innovation can go hand-in-hand with success.
Robert Joseph Bare was born on a farm near Ironton, Ohio, on April 7, 1935. He grew up surrounded by country music, and when he was very young he would pretend to be a singing cowboy like his idols, Gene Autry and Roy Rogers. But his family was poor. His mother died when he was only five, and his father's difficulty in feeding the family led to Bobby's sister being sent for adoption. From a very young age he helped around the farm, and by the time he was 16 he had worked for two years on the hill farm for 12 hours a day.
Any spare time was spent in making himself a guitar, for the teenager realised that the only way to get out of doing manual work for a living was to turn to his love of music. He began his apprenticeship in music by being an unpaid vocalist with a band working in the Springfield/Portsmouth area of Northern Ohio. The band worked steadily in the local honky-tonks at weekends, whilst Bobby got himself a full-time job in a clothing factory, but as you had to be 18 to do factory work, the 16-year-old youth had to lie about his age.
His interest in music was developing quite rapidly, and he was now beginning to write a few songs. He left the semi-professional band and organised a new band, at the same time securing an early morning radio programme. Throwing caution to the wind, he packed in the factory job and became a 'professional' musician. He took a job on a television show in Charleston, West Virginia, where he gained valuable experience, but was not progressing in his quest for stardom.
He needed to break into records, and with this in mind, he decided to move to Cincinnati, Ohio. There he made the rounds of various record companies and small studios, and each and everyone turned him down.
"I remember being turned away from the King Studios by Sydney Nathan's assistant, Eddie Smith. It was the very same studios where I recorded
All American Boy
a few years later," recalled Bobby. "And it was Smith who engineered the session, though he still didn't think I'd make it in music."
Being rejected in Cincinnati didn't deter Bobby in his search for instant stardom. With just a few dollars to his name, he decided to head out West to California to seek fame and fortune. It was a hard road for the youngster, who hitch-hiked all the way. He hit the West Coast with no ideas at all about what he was going to do, but believed that the songs he had written would make him a star.
He hung around the bars, occasionally getting the opportunity to get up and sing. He became friendly with Speedy West, the steel guitarist with the Cliffie Stone Band. Stone was an important man on the West Coast country scene, he fixed up the country sessions for Capitol Records, and was the man who had all the right contacts. Speedy West had his own publishing company and offered to publish the songs that Bobby had written.
Some demo sessions were set up and the tapes were taken along to Ken Nelson, the a&r man at Capitol. He was not only impressed with the songs, but felt that the singer also had potential. He signed Bobby to the Hollywood based label in the summer of 1955, 18 months after he had first arrived in California.
He recorded three sessions with Capitol, using musicians like Buck Owens on lead guitar and steelie Ralph Mooney, but nothing ever came of the records. At the time he was hanging around with up-and-coming names like Wynn Stewart, who had also signed with Capitol, and songwriter Harlan Howard, who had recently married Jan Howard.
He made a few appearances on the Hometown Jamboree and Town Hall Party in Los Angeles, and to subsidise the little money that his musical enterprises were bringing in he opened a night club in Riverside, California. He was booking top name country acts like Johnny Cash, Lefty Frizzell, Webb Pierce and Bob Wills, as well as performing himself. Then, after receiving his draft notice in 1958, he impulsively wrote a song about it and titled it
All American Boy
.
One of the rock'n'roll era's all-time greats, it nevertheless caused Bobby a fair amount of chagrin. He was summoned to Los Angeles to take his physical, passed it, and had to go back to Springfield, Ohio, to go into the Army. He met up with an old friend, Bill Parsons, a buddy from his early days in Ohio, who had just completed his Army service. Bill was a singer himself, and he wanted to record some songs with the intention of persuading a small independent record label to release them.
Bobby suggested that Bill should record some of his songs, and together they persuaded Orville Lunsford, who owned Cherokee Records in Springfield, to finance some of Bobby's songs, but as he hadn't learnt
All American Boy
, it was decided that Bobby should record the song so that Bill could learn it later.
Because of problems at the King Studios, tape copies from the acetates had to be made at the studios of Fraternity Records in downtown Cincinnati. Bobby Bare was still under a contract to Capitol Records and had a songwriting agreement with Speedy West, so the tapes were all marked as being the work of Bill Parsons.
Harry Carlson, the owner of Fraternity Records, heard the tapes and asked Orville Lunsford if he could put the songs out on his label. He paid Lunsford 500 dollar for the rights of the tapes. Orville went off to find the two singers, who by this time had found a bar, and he explained that the recordings were probably going to be released by Fraternity, and gave the two singers 50 dollars each.
The next day Bobby went into the Army and thought little more of that episode. But the
All American Boy
soon caught up with him, as he later explained: "One night I was lying on my bunk listening to my radio, and the
All American Boy
came on. It sounded familiar. Suddenly I remembered it. I jumped up and said: 'Hey, that's me!' The other guys said: 'Go back to bed, Bobby, we have to get up at 4.30 tomorrow morning.' Well needless to say I didn't get any sleep that night."
A little later Parsons himself phoned Bobby and told him that in their haste and confusion, the engineers had slapped Parsons' name on the whole tape, and that was the name which appeared on the record as both singer and writer. The whole time that his song was taking the country by storm. Bare remained just another soldier.
Meanwhile, because Bill Parsons was still around, he went on the road, miming to the record at record shops and on TV shows all over the country. Whether he made much money out of the record is not known, but Bare is empathetic he didn't get a penny in royalties from the song, even though it reached number two on the American pop charts.
"If you don't get it, you don't miss it," he says with typical nonchalance. "It probably worked out for the best, anyway. I would have been tagged as a rock'n'roll novelty singer and never gotten to do any serious singing."
All American Boy
was undoubtedly one of the rock'n'roll era's all-time classics. It is a slightly concealed tribute to Elvis Presley, who proved that a poor country boy could strap on a guitar and become a big star overnight. Nowhere in the song is Elvis mentioned by name, but the references are obvious, although the final verse with the hero being summoned by Uncle Sam, also related to Bare himself.
Though Bobby dismisses the song as just a novelty, the whole structure of the song and the way he sings it is very similar in approach to the songs of Shel Silverstein that have been the backbone of Bare's output in the past ten years. The market for rock'n'roll novelty singers died stillborn, and Parsons never recorded anything else of note. To the best of Bobby's knowledge, he is now working in a Cincinnati factory.
After completing his basic Army training in Ohio, Bobby was sent to California in a combat engineering group that was stationed at Ford Ord. He continued his interests in music and entered an Army talent contest in three or four categories, because he was determined to become a part of the Army Show. As it happened, it was a bass player for the Latin Five, a group playing Latin American music, that won the day, so for the duration of his Army stint that was what he stayed with.
The All-Army Talent Competition of 1959 was held at Ford Belvoir, Virginia, just outside Washington D.C., and being the winning act, the Latin Five were invited to appear on the Ed Sullivan TV show in New York City. Bobby continued with his songwriting throughout his two years in the Army, and his songs were still being published by Speedy West, with singers like Ferlin Husky, Rose Maddox and Wynn Stewart recording them.
After his discharge from the Army, Bobby went back to Hollywood to try his luck again. He met up with Harry DeVorzon, a noted songwriter who had written
Dreamin'
for Johnny Burnette and
Just Married
for Marty Robbins. He had his own record label, Valiant, and produced a session on Bobby, the result being
Book Of Love
coupled with
Lorena
, which was a fair-sized local hit on the West Coast. Bobby then signed up with Fraternity Records under his real name, and released
I'm Hanging Up My Rifle
, a sequel to
All American Boy
, but it failed to follow in the footsteps of its predecessor.
Although he didn't benefit directly from the success of
All American Boy
, the hit opened many doors for Bobby Bare. He toured with Dick Clark's American Bandstand Show with people like Roy Orbison, Chubby Checker, The Shirelles and Dion. This led to three of his songs being used in the Chubby Checker- Jimmy Clanton film Teenage Millionaire, but he was still not making any positive headway in his career, and against the advice of his friends, he decided to leave California and make his way back to Ohio.
For several weeks he hung around Springfield, occasionally doing shows around Ohio, Iowa and Michigan, but he was just going around aimlessly with no idea of which direction he should be taking his music. Unbeknown to Bobby, songwriter Harlan Howard had taken a demo tape to Chet Atkins in Nashville and urged him to sign Bobby before another major label stepped in. Chet felt that he could do something with the singer and sent letters all over Ohio in an attempt to trace him.
Eventually Bobby got the message and travelled up to Nashville, met Chet Atkins and signed with RCA Records in the summer of 1962. That first session for RCA in Nashville produced
Shame On Me
and
Above and Beyond
.
Shame On Me
went on to sell almost a million copies, reaching the top twenty in the country charts and doing even better in the pop market.
 "I was still floundering around when I came to RCA," Bobby recalls. "Chet's responsible for giving me direction and identity. He's really good at taking an artist, understanding him, and then directing him."
Chet Atkins and Bobby Bare as a team proved very successful, but at the time Bobby was not sure that signing with RCA was going to change his fortunes drastically. After completing that first Nashville session, he flew back to California to take up a position as song-plugger with Cliffie Stone's Central Songs publishing company. He stayed in Hollywood whilst
Shame On Me
moved up the charts, then came the record that really established him as a country artist—
Detroit City
.
Bobby explains how he came to record the Mel Tillis/Danny Dill song. "I was driving home from the office in Hollywood and was listening to the radio. This record came on by Billy Grammer called
I Want To Go Home
and it hit me, here I was, three thousand miles away from home, and that song just summed up my feelings. When I next travelled to Nashville to record, that was the song I had to do."
It was Bobby's second release for RCA in the summer of 1963, and it hit the top ten country charts and also made the pop charts. To add icing to the cake, it won the Grammy Award as Best Country Record of 1963. Bobby was still living and working in Hollywood at this time, and came to the notice of film makers, initially landing the lead in No Time For Sergeants, a TV series in which he did the first two or three episodes. Then came a co-starring role with Troy Donahue in the film A Distant Trumpet.
The singer was now unsure, yet again, of which route to follow with his career. He was in the enviable position of being a success in both music and films, and though he could have tried to balance the two, Bobby decided to stick with his first love, music, and turned his back on Hollywood.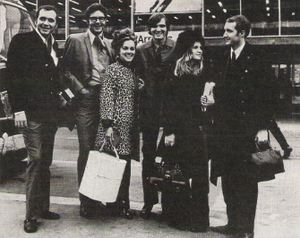 He married blonde-haired Jeannie Sterling, herself a singer, packed his things and moved to Nashville and joined the Grand Ole Opry. His third single for RCA was
500 Miles Away From Home
, a folk song originally written by Hedy West, but adapted lyrically by Bobby to suit a country music setting. This was the autumn of 1963, and it could be pin-pointed as the very beginning of folk-country, the Nashville country movement of the mid-1960s which also encompassed the music of George Hamilton IV, Waylon Jenning, Stu Phillips and Ed Bruce.
By this time his first album, DETROIT CITY, had been released. It was not a classic album, but fell neatly into the pop-country Nashville sound of the early 1960s. Included was a new recording of All American Boy, plus Hank Cochran and Harlan Howard songs like
I'd Fight The World, She Called Me Baby
and
I Don't Believe I'll Fall In Love Today
.
Bobby Bare and his music not only proved popular in America, but also in Europe, and it was at this time that he made his first overseas trip, along with the late Jim Reeves, to entertain the American Armed Forces and also a few selected civilian shows in Germany and Scandinavia.
His fourth single, an updating of Jack Clement's
Miller's Cave
, which had given Hank Snow a top ten country hit in 1960, proved to be Bobby's third top ten country hit, and like his previous three releases, it also scored on the pop charts. A second album, 500 MILES AWAY FROM HOME, soon followed and brought forth the following comment from singer Eddy Arnold:-
"Many of us have been in cold and lonely cities, maybe even flat broke. A lot of us have told in song about these experiences, but when Bobby sings about them, he has a way of making you feel the ache and the loneliness. He sings the lyrics well—in a manner that can be understood, and still manages to retain the earthiness that endeared him to so many. Bobby can make you laugh or make you sad, and even cry. Bobby has a sound style that almost everyone can identify with."
Once again the material was well varied, ranging from Carter Family favourites
Homestead On The Farm
and
Worried Man Blues
, through Johnny Bond's
I Wonder Where You Are Tonight
, to John D. Loudermilk's
Abilene
and Hank Cochran's
What Kind Of Bird Is That
. Also there were some Bobby Bare originals including
Let Me Tell You About Mary
and a song about his wife,
Jeannie's Last Kiss.
From the very outset of his career, Bobby has proved to be a 'songwriter's singer.' He doesn't just look for good songs—he lives for them. A very reticent, laconic person, he is nevertheless a near fanatic in his quest for hit songs.
"All artists have an ego, and I've got mine," he explains, "but I know it's not me. It's the songs. You can take someone who's an intuition, spend three weeks with him in the studio, dub in a hundred violins, and if the song isn't there, he's not going to hit. If you don't have a song, you don't have a record." 
September 1981

Bobby Bare

Alan Cackett continues his in-depth study of Bobby Bare's career …Part Two: On to Mercury
First published in Country Music People, September 1981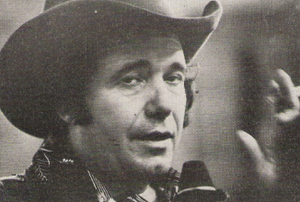 He has never worried whether he records a new song or has to dig back in the past, but there's little doubt that over the years Bobby Bare has been instrumental in introducing dozens of new, talented writers to country audiences. One of these was the Canadian folk singer-writer Ian Tyson, who provided the singer with another top country hit in
Four Strong Winds
at the end of 1964. This followed the unsuccessful updating of
Have I Stayed Away Too Long
, which only just scraped into the top fifty.
His third album, THE TRAVELLING BARE, was the first not to include a hit single, and was a combination of straight country in the shape of
The Long Black Limousine
to the smoother pop styling of 
Candy Coated Kisses
and the Charlie Rich-penned
Sittin' And Thinkin'
. By now Bobby was proving to be a versatile vocalist. An emotional singer—not the kind of emotion evoked by stirring orchestrations and crashing crescendos, but the more intimate communication of one human being making contact with another.
Communication is what Bobby Bare is all about. He has a way of making you lyric conscious. You listen to one of Bobby's songs and you may not think 'that guy sure has a great voice,' but you'll definitely say 'that guy sure has a great song.' That ability to communicate really came through on his next album, the superb CONSTANT SORROW.
This really had Bobby moving into folk-country, with Bob Dylan's
Blowin' In The Wind
and
Don't Think Twice It's Alright,
plus
Lemon Tree, Delia's Gone
and
Just To Satisfy You
. The album produced two more hit singles, that latter song plus the self-penned
Times Are Getting' Hard
. In between those two top thirty hits, Bobby was back in the to ten with
It's Alright
, a Mac Gayden song, in the summer of 1965.
"It was an exciting time in Nashville back in the days when Waylon first hit town," Bobby reminisces. "You could feel that changes were taking place, but at the time we just didn't realise how important the things that we were doing really were. To us it was just a case of producing the music we felt was right at the time."
In a way, Bobby, along with Waylon, and even George Hamilton IV, were the pioneers of a new feeling in country music that finally exploded in a big way in the early 1970s.They were bringing new outside influences into Nashville, but not forgetting the roots of country music. So you'll find traditional or standard material rubbing shoulders with the works of new, blossoming contemporary writers.
Bobby was already working on concept albums, using the title as a theme that would run right through an album. TALK ME SOME SENSE, which followed the release of THE BEST OF BOBBY BARE, was a strong collection of meaningful songs that aimed to make the listener stop and think, and due to Bobby's communicative powers it worked masterfully. The title tune, which was a minor country hit towards the end of 1965, was simple, almost a sing-along number with subdued horns in the background.
Chip Taylor's
A Little Bit Later On Down The Line
typified the Nashville sound of the mid-1960s and became a belated top twenty country hit for Bobby three years later in the summer of 1968. With simple rhythm, highlighted by electric and acoustic guitar runs and a haunting harmonica, this was a compelling collection of songs.
Like so many Nashville stars, Bobby got himself roped into the game of duets. Initially he teamed up with Skeeter Davis in 1965 to record the album TUNES FOR TWO. It was a pleasant collection of mainly well-known songs like
Together Again, True Love, Let It Be Me, Invisible Tears
and the top twenty hit
A Dear John Letter
. RCA were obviously pleased with the way this turned out, and teamed Bobby up with Norma Jean and Liz Anderson (Lynn's mother), to record the top five single
The Game Of Triangles
.
Bobby was still clocking up hits himself, and he was back in the top ten with
Streets Of Baltimore
, a Tompall Glaser/Harland Howard song, during the summer of 1966. This sad song of a country boy who was brought to the city by his loved one, produced an album of songs using that same theme. Included were Gordon Lightfoot's
Early Morning Rain
, Chuck Berry's
Memphis Tennessee
, Bill Anderson's
Saginaw, Michigan
and the excellent self-penned song
Cold And Lonely City
.
These were the kind of songs that showed Bobby's talent off to full advantage. He could perfectly paint pictures of life in songs; about crossroads and decisions of life, and he sings of truths in a most compelling way. It's as if Bobby Bare was holding up a mirror to our lives with the power to see things as they really are.
His next album, THIS I BELIEVE, took him into religious music. A strange direction, you may think, for a man who was supposedly going against Nashville's set of formulas, but that was typical of Bobby Bare. He refused to be tied down to any set of rules in his music, yet he still believed in the traditions of country music. I won't pretend that this is an excellent example of country-gospel music. Bobby treats the songs with feeling, but these songs need more than just sincerity. They need power, a touch of light and shade. Some, like
Family Bible
and
I'll Fly Away
, sound quite good, but
I Saw The Light
and
Just A Closer Walk With Thee
lack punch and a certain strength in the vocal work.
Following the failure of
Homesick
, the follow-up to
Streets Of Baltimore
, to hit the top twenty, Bobby's next half a dozen singles all hit the top twenty. Beginning with
Charleston Railroad Tavern
and going through
Come Kiss Me Love
, Buffy Ste. Marie's
Piney Wood Hills, Find Out
What's Happening
and Chip Taylor's
A Little Bit Later On Down The Line
, a song that Bobby had recorded three years earlier, and showing that his career was perhaps going through the doldrums again.
Whilst these singles were just keeping the name of Bobby Bare on the charts, he recorded a masterly concept album, A BIRD NAMED YESTERDAY. Using Jack Clement's title song as the main theme, Bobby sang about nostalgia: going back to old memories, remembering places now pulled down and friends no longer around. Jack Clement was undoubtedly the guiding light behind this album. He composed such poignant songs as
I've Got A Thing About Trains, They've Covered Up The Old Swimmin' Hole
and
Somebody Bought My Old Hometown
. In between you'll find Billy Ed Wheeler's
Ode To The Little Brown Shack, The Church In The Wildwood
and my own favourite
The Old Gang's Gone
.
Though artistically this album was highly acclaimed, commercially it was a failure. Bobby Bare was floundering, yet it wasn't entirely his own fault, but then again an artist like Bare is responsible for the directions that his music takes. The real problem was that Nashville and country music audiences were not ready for thought-provoking concept recordings. Bobby Bare was ahead of his time, yet in his own quiet, unassuming way he was paving the way for the likes Tom T. Hall, Kris Kristofferson, Billy Joe Shaver, Mickey Newbury and Shel Silverstein, songwriters who were to drastically change the face of country music.
They were the people who were to provide Bobby Bare with his most profound songs, but before he got to grips with this movement he departed on yet another trip to Europe, met up with the Hillsiders and started a love affair with British country fans.
It was 1967 and Bobby was touring Germany, mainly military establishments, and it was Liverpool's favourite country band, The Hillsiders, who were accompanying him. Bobby was so delighted with the group, both as musicians and singers and as warm, friendly people, that he said he would like to record an album with them in Nashville. The Hillsiders believed that it was just an empty promise, but a few months later they were summoned to Nashville, appeared on the Opry, the Porter Wagoner TV Show and the Ernest Tubb Midnight Jamboree, broadcast live from the famous singer's record shop.
And of course The Hillsiders recorded that album with Bobby. THE ENGLISH COUNTRYSIDE contained such songs as
Six Days On The Road, Sweet Dreams, Ya'all Come
and
I Washed My Face In The Morning Dew
. At the time there was some doubt as to whether The Hillsiders actually played on the sessions. There were some problems with the musicians union, but they were certainly there vocalising with Bobby, and it gave British country music a much-needed shot in the arm.
Bare, always a shrewd judge of musical talent, was certainly full of praise for the band. "I have worked with many pick-up bands back home in the States, and there's one thing I'm sure about, The Hillsiders are the very best band I've worked with anywhere."
On other European tours in 1968 and 1969 he insisted upon working with The Hillsiders, even though in America he would do most of his shows entirely solo. In those days Bobby had a way with an audience that was singularly unusual. He practically got down on a one-to-one basis with them, and they not only listened to him, but totally absorbed him. Though he came under criticism at the time for not carrying a band and staging a show, he won a lot of people over for the way he worked.
"I don't really understand my talent," he says, "but I think it's more communicating than singing. I think if someone's got something to say people will listen if they believe in what he's saying. That seems to be what happens on my shows, and I'm happy that it does work for me."
Following the release of THE BEST OF BOBBY BARE VOLUME TWO, came the album that pointed the direction his music was to take in the early 1970s.
Lincoln Park Inn
, a Tom T. Hall song made the country top ten in the spring of 1969, the first time Bobby had reached such a high position since 1966. The album carrying the same title was a strong collection of 'controversial' country songs, like Kristofferson's
The Law Is For The Protection Of The People
, Dallas Frazier's
Son Of Hickory Holler's Tramp
, Mel Tillis'
Ruby Don't Take Your Love To Town
and Tompall Glaser's
Big Ben Colson
.
Though the songs were at times over-arranged with strings and subtle horns, the actual song material and vocal performance by Bare were so compelling they overcame any sign of sweetness. An album that was both a critical and commercial success, it led to a South London country band calling themselves Lincoln Park Inn, but it also marked another turning point in Bobby's career, as he decided to change record labels.
RCA released two more singles,
Which One Will It Be
and the patriotic
God Bless America Again
. Both made the country top twenty and were followed by a second duet album with Skeeter Davis, YOUR HUSBAND, MY WIFE, with the title song also making the charts when released on single. It was not a great album by any means. Perhaps Bobby had thoughts about moving to a new label and didn't give the album the time and thought that was needed. Included were versions of recent country hits like
Jackson, My Elusive Dreams
and
I'm So Afraid Of Losing You Again
.
At the end of 1969, following a European RCA package tour with Connie Smith, George Hamilton IV and Chet Atkins, Bobby signed with Mercury Records and embarked on a series of classic recordings. Talking about his change of labels, Bobby said: "I like to work with producers who help an artist find songs. My contract with RCA was up, and next to Chet I think Jerry Kennedy's the best, so I signed with Mercury."
"Jerry and I just get the strongest songs we can find, cut an album, then get together and pick a single. Usually three or four stick their heads above the others, and it's hard to pick just one. I respect Jerry's ability tremendously. He doesn't over-produce and put in a bunch of things that just get in the way and messes up a good song."
Bobby's debut album for Mercury, THIS IS BARE COUNTRY, was released in the summer of 1970. As well as producing top ten country hits in
How I Got To Memphis
and
Come Sundown
, also included were such stunning songs as
I Took A Memory To Lunch
and
Mrs. Jones, Your Daughter Cried All Night
(both from Tom T. Hall) and Harlan Howard's
Mary Ann Regrets
.
The accompaniment supplied by each Nashville stalwarts as Charlie McCoy, Hargus 'Pig' Robbins, Chip Young, Jerry Shook, Buddy Harman and producer Jerry Kennedy were clean and uncluttered, yet highly effective and perfect for the songs and the lonesome, soulful quality of Bare's vocal tones. He has always been a 'songwriter's singer, and alongside the relatively new but established writers like Kristofferson, Tom T. Hall and Joe South, he also introduced us to Billy Joe Shaver, a writer Bobby helped to establish in Nashville.
It's Freezing In El Paso
is one of those gutsy, lonesome ballads that Shaver is so good at creating, and it suits Bare perfectly.
His second Mercury album WHERE HAVE ALL THE SEASONS GONE, was released early in 1971 and was yet another stunning set of songs. The title tune, courtesy of Tom T. Hall, had the singer reflecting on his life, which has seemingly just passed by. It's the only song to feature strings, tastefully arranged by Cam Mullins, and kept well in the background. The rest of the album features the kind of uncluttered arrangements that producer Jerry Kennedy is noted for.
Once again it's Kristofferson with three songs (including
Please Don't Tell Me How The Story Ends,
Bare's third top ten single for Mercury), and Tom T. Hall with four songs that take the writer's honours, but once again Billy Joe Shaver made his mark, with
Rosalee
and
How About You
, the latter co-written with Bare.
RCA still had some recordings left that were unissued, and the previous October they released THE REAL THING, an album co-produced by Chet Atkins and Jack Clement. It was a fine album, but compared to the then current Mercury albums sounded over-produced and contrived. Tom T. was represented by
The Chicago Story
and
Homecoming
, and Bobby also included one of the first recordings of Kristofferson's
Sunday Morning Coming Down
. But for my money, the best track was Billy Edd Wheeler's
Maggie (I Wish We'd Never Met).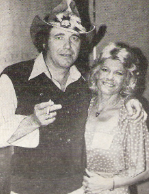 The production was a little more adventurous this time, with vocal background provided by four young ladies, organ played either by Charlie McCoy or Hargus 'Pig' Robbins, replacing the steel guitar of Pete Drake, and even the trumpet playing of George Tidwell finding its way into a couple of tracks. Yet the overall sound was still very clean, allowing the lyrics and Bare's vocal ability to carry the honours.
Bobby was soon back in the country top twenty with
What Am I Gonna Do
in the spring of 1972. This was the title tune of his fourth and last Mercury album. Once again the selection of songs could not be faulted, highlighted for me by the sensitive reading given to Kristofferson's
Darby's Castle
. His last single for Mercury was with
Sylvia's Mother
, a cover of the Shel Selverstein song that was a big pop smash for Dr. Hook. Bobby's version lacked the drive and guts that surrounded by the pop version, but still made the top twenty.
On reflection, Bobby enjoyed a very productive, highly successful, but comparatively short spell with Mercury. All of the masters are now owned by Rice Records in Nashville and have been re-released in various forms by United Artists in America and an excellent 14-track compilation, FOR THE GOOD TIMES by Ember Records in Britain in 1974.
Alongside the recordings included on the superb four albums released by Mercury, there were also several songs that were never released. Mainly they were intended for a fifth album, and the sessions took place on June 15 and 16, 1972. Eight songs were completed and included such gems as Tom T. Hall's
She Gave Her Heart To Jethro, Music City USA
and
Laying Here Lying In Bed
, written in partnership with Billy Joe Shaver,
High And Dry
from the pens of Jerry Foster and Bill Rice, and an early Jerry McBee song,
Footprints In The Sands Of Time
.
These songs have since been released on the German Intercord label, along with other songs like Doug Ashdown's
City Boy, Country Born
, the standard and
Alabama Rose
, a classic Bare performance, which come from various sessions in 1970 and 1971, but were never previously released. When you consider the quality of these recordings, it becomes even clearer the rapport that Bobby Bare enjoyed with producer Jerry Kennedy. The three-year period with Mercury produced some timeless classics, but in the third part of the Bobby Bare story we find him moving back to RCA as an artist in charge of his own recordings. 
October 1981
 
Bobby Bare

Alan Cackett concludes his in-depth study of Bobby Bare's career …
 
Part Three: 'Down & dirty' days
Bobby Bare's three-year stint with Mercury records obviously did the singer a lot of good. Under the guidance of producer Jerry Kennedy, he had produced some of his finest recordings of his career. More importantly, though a long-term benefit from this period was that Bobby had learnt a tremendous amount in the studio. He was now ready to produce his own recordings, and it came as quite a surprise in late 1972 when he negotiated a new contract with RCA in Nashville that gave him complete control over his recordings.
Three years earlier he had left the famous record label due almost entirely to the fact that Chet Atkins no longer had the time to produce his own recordings. Now he was coming back a wiser, more mature artist who knew just what he wanted for his career.
Ironically Bobby might never have left RCA in the first place. Chet Atkins had tried unsuccessfully in 1966 to hire Jerry Kennedy as an RCA staff producer. If Kennedy had accepted the position, then the Bobby Bare story might have been quite different. But there's one thing that is certain, Bobby Bare will always go his own way with music, and once he was in control of his recordings, he was a happier, more at ease person.
His first self-produced single for RCA was with
I Hate Goodbyes
, a soft, reflective ballad from that prolific partnership of Jerry Foster and Bill Rice, who were to feature a lot on the Bare recording front during th next few years. It was not a great success on the charts, but made the mid-twenties during the early months of 1973. Next came
Ride Me Down Easy
, a gritty Billy Joe Shaver song that made the top ten and featured the harmonica of young Danny Flowers, who went on to make his name with Don Williams.
This led to the album, I HATE GOODBYES/RIDE ME DOWN EASY, a set that showed that Bobby was still able to pick out some superb new songs—the sad-tinged
You Know Who
from the pen of Shel Silverstein, that was to be his third single since re-signing with RCA, or Billy Joe Shaver's rythmic
A Restless Wind
and
Send Tomorrow To The Moon
from new writer Roger Murrah, who has since gone on to write some classic country hits.
By this time Bobby had struck up a friendship with the renowned Shel Silverstein, the most eccentric figure in country music—a real zany character on the Nashville scene. A bald hipster from Chicago, Silverstein used to have a cartoon strip in Playboy, writes poetry and children's books, has made a number of bizarre solo albums, and is a highly professional country songwriter.
Initially Bobby picked up on Silverstein's songs, but once he met the creator of these gems, a friendship grew which transcended mere professional work. It was the double album concept, LULLABYS, LEGENDS AND LIES, released in the early months of 1974 that fully sealed the unique Silverstein/Bare partnership. Subtitled The Song of Shel Silverstein, this was a collection of songs, some funny, some sad, some beautiful and others quite unbelievable. The common bond between all of the songs was that they all told a story. Some of them were far-fetched, like
The Mermaid,
the tale of a sailor who falls in love with the top half, but is not too keen on what's below the surface. In contrast is
The Hills Of Shiloh
, a stunning Civil War Song, seen from the side of the women waiting for the men to come home.
It was the charming,
Daddy What If
, on which Bobby was joined by his four year old son Bobby Jr. that really made the concept such a commercial success, rising to the number two position on the country charts. This was followed by the chart-topping
Marie Laveau,
a Cajun tale with a rousing chorus that is still one of Bobby's most in-demand concert numbers.
The album certainly showed a new side to Bobby Bare. In the past he had been known as a sad, deep-voiced balladeer who lamented how his farm-girl wife left him to walk 'The Streets Of Baltimore,' now he was flipping back and forth between seriousness and craziness, perfectly at ease in both situations, and finding a whole new untapped audience for his music.
"I guess everybody is a little crazy at times," he says. "Our moods aren't always the same. Sometimes I'm serious, and sometimes I feel real crazy. I never want to fit into either serious or tomfoolery, but just take it as it comes. So that's the way my songs are."
"Shel Silverstein opened my eyes and taught me such a lot, both through his songs and his friendship. He writes some crazy songs, but he also comes up with some of the saddest songs I've ever come across. He's weird, funny and totally human, and I just love what he does."
The success of
Daddy What If
, almost certainly gave Bobby the idea for his next album project, SINGIN' IN THE KITCHEN, a children's album which featured the whole Bare family. Once again he turned to Silverstein, who had already written and illustrated several top selling chidren's books, and the eccentric songwriter came up with some gems like
The Unicorn
, the charming
Giving Tree
and cute
You Are
, which might have been embarrassing if not treated in such a light-hearted and unaffected way.
Bobby joined by his wife Jeannie and the kids Cari, Shannon and Bobby Jr., and the result was an album that would appeal to people of all ages. The first single, the Foster & Rice penned,
Where'd I Come From
, released in the autumn of 1974 was shown as Bobby Bare Jr. & Mama, and made the top forty on the country charts. This was followed by the delightful title song from the LP, billed as Bobby Bare & The Family, this fared better on the charts, but in no way was SINGIN' IN THE KITCHEN, a commercial offering, just a family getting together and having fun in the studio, with the singing uncontrived and under-rehearsed.
There's little doubt that at this time Bobby Bare was taking enormous risks with his career. He was in total charge of his recordings, and instead of following the safe and easy route of recording a couple of good commercial songs and building an album around their success, he was experimenting with concepts, something that rarely worked in country music.
"I've never believed in standing still with my music," he explains. "With the right song, anyone can have a hit, the song is the secret of success, not the singer, not even the musicians, Sometimes I like the songs to say a little more, and that's the way it happens sometimes."
It happened just that way with HARD TIME HUNGRYS, an album concept by Shel Silverstein. A highly sophisticated lyricist, it is hard to believe that Silverstein could approach country music with cynicism, derision or calculation. But he does. His best songs use a conventional form to tell pointed stories. He keeps faith with the populism and realism that underlie country sentiments. Songs like
Alimony
and
Daddy's Been Around The House Too Long
, make their humorous point through self-commentary. His songs are funny without being pastiche, sharp without being superior.
Non-country fans laugh at the music for its melodrama, it's sloppy rhetoric, its melodic cliche. Silverstein's argument is that country's melody, rhetoric and cliche, reflect the genuine difficulties of a popular musical form trying to express complexly felt emotions. The album examined the various forms of poverty, from the poor dirt farmer to the drunkards and vagrants of the city streets, the unemployed to the loser in marriage. Bare used the novel idea of talking to ordinary people themselves before coming in with the song associated with the subject they were discussing.
It turned out to be the best concept that Bare and Silverstein had yet come up with. Included were some outstanding songs, like Foster & Rice's
Able Bodied Man
, the wry humour of
Alimony
and the futility of
The Unemployment Line
. The production, credited to Bare and Bill Rice, was simple, utilising guitar, Dobro and steel guitars, and perfectly enhance the effective songs.
Back In Huntsville Again
and
Alimony
, both Silverstein songs, kept the Bare name on the country charts during 1975.
Never so much a songwriter as an interpreter with impeccable taste, Bare had borne the burden of Shel Silverstein written albums for a couple of years, even though too much of the man's songs at one time can be a little overbearing. For his next album, COWBOYS AND DADDYS, he got the Silverstein balance just right—two songs per album is the acceptable dose—and this concept dedicated to 'the Ropers and Dopers, the Red Neck Mothers, the Cosmics, the Drinkers and Thinkers…' was perfect from any angle you viewed it.
Very much a literary album, its values are almost completely non-musical, with loping bass lines, strummed acoustic guitars and noodling instrumental passages. But the successful presentation of songs as powerful as Dave Hickey's
Speckled Pony
or as droll as
He's A Cowboy
, allows for no distraction, you don't miss the music. Bare's drawling, intimate singing is perfect for the material, and the production by the singer and Bill Rice is just spare enough.
The songs cover the full spectrum: In
The Cowboy And The Poet
, writer Tom T. Hall is shocked to hear from an old man that the meaning of life is 'Faster Horses/Younger Women/Older Whisky/More Money." Shel Silverstein allows his fertile imaginative mind to work well in
The Stranger
, which wryly views a cowboy's sexual problems, whereas
Chester
is almost an oil painting of a retired cowboy who is idolised by the kids, who are totally blind to his many faults.
The hit single from this album was with the title tune, the one song that didn't fit into the general concept of the set. Written by Marty Cooper, it brilliantly portrayed the life of a father divorced from his wife, separated from his boy, but allowed to see him each Sunday. Bobby Bare Jr. joins in on this moving song, one that only Bobby Bare could pull off with credit. I feel that Bobby's performance of this song is even more moving because shortly before the session, his eldest daughter, Cari, died of heart illness at only sixteen years old.
He refused to allow this personal tragedy to affect his career and went back to LULLABYS, LEGENDS AND LIES album and picked
The Winner
as his next single. During the early months of 1976 this very funny Shel Silverstein song rose high on the country charts and led to the release of a new album, THE WINNER AND OTHER LOSERS. It was another fine collection of songs, with Silverstein providing humour in
Baby Wants To Boogie
and
Bald Headed Woman
, but showing that he can be serious with the fatal
Brian Hennessey
and the clever
Yes Mr Rodgers
, which up-dated the
Yes Mr Peters
hit of a dozen years earlier.
Bob McDill's uncharacteristic
Put A Little Lovin' On Me
, was the next single from the album, but the song that really caused a stir was Paul Craft's
Dropkick Me Jesus (Through The Goal Posts Of Life)
. Those who didn't really listen to the words, said it was anti-religious and in bad taste. RCA were quick to pick up on the controversy and made it Bare's third single from the album. It was another huge hit and helped to establish Paul Craft as an important country songwriter.
Jeannie Bare who had been a promising country singer before she married Bobby and settled down to raise the children, was featured on
Climbin' The Ladder and Climbin' The Walls
, a clever Silverstein song that placed Bobby in the role of a stay-at-home husband who with the kids was watching his wife starring as a country singer on television. At the same session another song was recorded,
Vegas
, which was never included on the album, but did well in the country charts at the beginning of 1977. This catchy Silverstein song featured Bobby and Jeannie duetting about the delights of a vacation in Las Vegas, and what happens to the luckless pair.
Obviously planned for inclusion in THE WINNER album, Bob Powel sensibly put the song on the superb Bobby Bare FAMOUS COUNTRY MUSIC MAKERS double album set.
For his next album and single, Bobby turned to songwriter Bob McDill. The single coupled
Look Who I'm Cheating On Tonight
and
If You Think I'm Crazy Now (You Should Have Seen Me When I Was A Kid)
, two superb songs that ably demonstrate McDill's ability as a songwriter. Unfortunately the album ME AND MCDILL, didn't exactly feature the best of Bob's songs, though it is an album that I've grown to like a lot over the years.
Recorded at the famed Music Mill studio in Music Shoals, Alabama, the appealing factor in the album is that Bare and McDill have avoided all the old country music cliches to produce a fine modern country album. Instrumentation is simple, placing emphasis on Bare's vocals. A real classic is
Don't Think You're Too Good For Country Music (Just Because You Can Rock and Roll),
which warns aspiring rockers that country music isn't quite as simple as most people believe.
This was to be the last album that Bobby was to record for RCA, for at the end of 1977 he signed with American Columbia and a new phase of the Bare career was set in motion. RCA had several recordings still unreleased, the last single before the contract expired was with Shel Silverstein's
Red Neck Hippie Romance
, which was Bobby's least successful single for fifteen years.
In the summer of 1979 RCA released a compilation album, HONKY TONKIN' featuring Willie Nelson, Waylon, Guy Clark, Gary Stewart and two previously unreleased tracks from Bobby
Hurricane Shirley
and the first version of Billy Joe Shaver's
I'm Gonna Be A Diamond Someday
, recently a big hit for John Anderson. RCA released the self-penned
Hurricane Shirley
as a belated single in August 1979, but by then Bobby was well-established on Columbia, and the record failed to make the charts.
His initial single for Columbia,
Too Many Nights Alone
, was again from the pen of Silverstein, who was assisted by Even Stevens. Released in April 1978 it just made the top thirty and led to the album, BARE. It was a laidback album, to use a hackneyed term, and deliberately under-produced to the extent where the music oozes rather than bounces from the speakers.
Included were several more songs from Silverstein, with Waylon, Willie, Ray Sawyer and Silverstein himself joining in on
Greasy Grit Gravy
, plus the narrated
Yard Full of Rusty Cars
. But though the eight Silverstein penned songs were good the one song that stood out above all others was Don Schlitz's
The Gambler
, recorded many months before Kenny Rogers, and far superior.
By now Bobby was getting a little envious of his friends Waylon and Willie, who were achieving gold and platinum albums alongside the big names of rock and pop.
When he was over here for the 1979 Wembley Festival he summed up his feelings—"Willie and I both hit Nashville about the same time, and I had met Waylon out in Phoenix before he's ever been in Nashville. But from that time on what really happened was they worked harder than I did. What it all boils down to is hard work. I'm workin' hard now, but I hadn't been."
"I realised a while ago that I was getting bored with it all. You know going around to the same places, pickin' with the same people, doing the same songs. Then I thought I've never had a gold album. That's what I want. So that's my goal, that's what I'm workin' for."
"A little while ago I felt like I'd accomplished everything I wanted to in music. I wanted to get on record, and I did that, then I wanted a hit record, then I wanted another one. I wanted to start a publishing company, and did, and I wanted to be in a movie, and did."
To achieve his goal he recorded the aptly titled album, SLEEPER WHEREVER I FALL, which took three months to complete and cost close to one hundred thousand dollars. Such time and money for an album project was virtually unheard of in Nashville. "I spent more time on that project than anything I've ever done before. I felt I needed to do it to compete. People are demanding more than just open chord guitars, Dobro and bass."
He really joined the progressive/outlaw movement with the album, which was released in the autumn of 1978. He roughed up his voice in true outlaw fashion to complement the lyrical content, and the studio musicians were more into heavy rock than steel guitars and twin fiddles. There's fuzz guitars, syn-drums and synthesiser to appeal to the crossover market, and in the final analysis only one track,
Sleep Tight, Goodnight Man
is modern Nashville schmaltz. It was a top-selling country single during the latter part of 1978. The rest were either funky country workouts or bluesy rollers, like Bob McDill's
Healin'
the first single of 1979.
Waylon had once cut the Rolling Stones'
It's All Over Now
, and now Bobby took a swing back at the master by producing a version of
The Last Time
, which was probably the most 'country' track on the album. This was the only time he came unstuck; not because the track lacks anything—it was a nice slice of country rock—but because most people have lived with the original for so long that other versions just don't stand up to it. Better had Bobby kept away from Stones' country.
It didn't turn out to be the top-selling album that Bobby had been seeking, even though he had taken on new management and worked hard to rid himself of the image of the star who would just turn off and be a 'sleeper wherever I fall.' He had a newly found energy both in his music and his lifestyle, and it showed in his new dynamic stage show with his young electric band known as The Pulleyhone.
Realising that the album had perhaps been a mistake, he turned once again to Silverstein who provided most of the songs for the DOWN AND DIRTY album, released almost eighteen months after the ill-fated SLEEPER WHEREVER I FALL. A self-produced effort, this had a 'live' feel to it, with most of the songs having a joyful, sing-along quality that was quite infectious. Prior to the release of the album he had released a single of Rodney Crowell's
Till I Gain Control Again
, which has so far not appeared on an album, and also duetted with Crowell's wife, Rosanne Cash on
No Memories Hangin' Around
which was a big country hit towards the end of 1979.
It was Shel Silverstein's
Numbers
which became his first hit of the 1980s. Taken from the DOWN AND DIRTY album it played on the success of the film Ten with great wit. That was followed by
Tequila Sheila
, another good-timey sing-along song that has become a firm 'live' favourite.
The 'Down and Dirty' formula proved to be a success, so Bobby quickly followed up the album, DRUNK AND CRAZY, which was even more wild, with great party mood songs like
Food Blues
and
Willie Jones
the two singles lifted from the album. Bobby was obviously having great fun in recording these two albums, but his longtime fans found little in the music that was totally appealing.
In his defence though he did some songs that were in the classic Bobby Bare style, like Dick Feller's
Some Days Are Diamond
, Guy Clark's
Desperados Waiting For The Train
and Bob Milsap's
I Can Almost See Houston From Here
. For those fans who felt that Bobby was deserting them, he repaid their patience with AS IS, possibly his best 'country' album.
Released this summer, it was produced by Rodney Crowell and included some classic performances like Bob McDill's
Learning To Live Again
, Boudleaux Bryant's
Take Me As I Am (Or Let Me Go)
and Ian Tyson's
Summer Wages
. This was the old Bobby Bare, singing straight songs in that sad-tinged voice that makes simple country lyrics magic.
Bobby is often listed with Waylon, Willie, and a few others as one of the 'New Breed' country singers. In the sense that he is able to communicate with all audiences, this is true. Yet the truth is, Bobby Bare is one of the finest country artists on the scene, who happens to have the skill to choose universally appealing material. And there's no reason why he should not continue to reach all kinds of music fans.