Bob Woodruff - Whatever Happened To.......
First Published in Country Music International, June 1997
After a brief but only mildly successful flirtation with Nashville fame five years ago, Bob Woodruff is back with a stone country album that also owes a debt to southern r&b.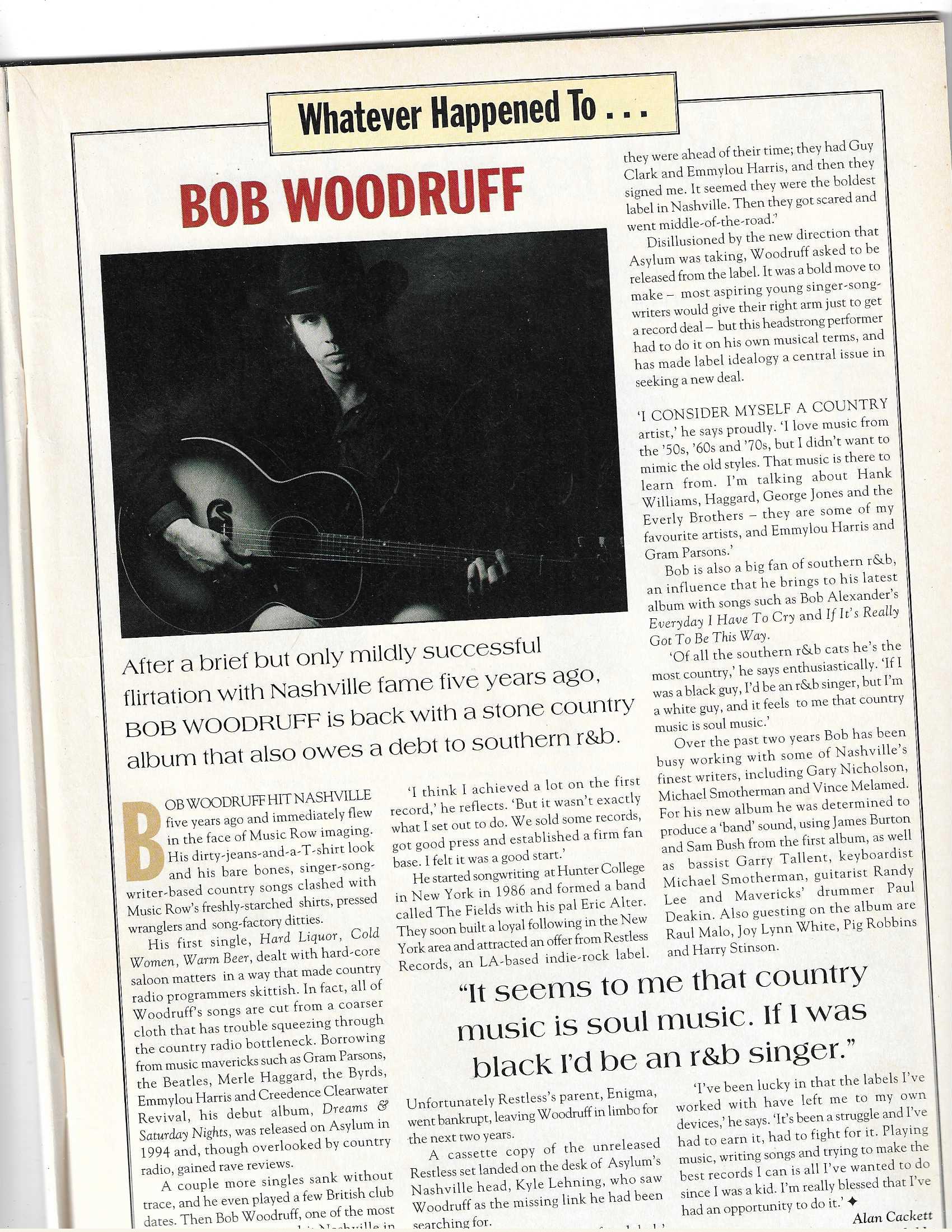 Bob Woodruff hit Nashville five years ago and immediately flew in the face of Music Row imaging. His dirty-jeans-and-a-T-shirt look and his bare bones, singer-songwriter-based country songs clashed with Music Row's freshly-starched shirts, pressed wranglers and song-factory ditties.
His first single, Hard Liquor, Cold Women, Warm Beer, dealt with hard-core saloon matters in a way that made country radio programmers skittish. In fact, all of Woodruff's songs are cut from a coarser cloth that has trouble squeezing through the country radio bottleneck. Borrowing from music mavericks such as Gram Parsons, the Beatles, Merle Haggard, the Byrds, Emmylou Harris and Creedence Clearwater Revival, his debut album, DREAMS & SATURDAY NIGHTS, was released on Asylum in 1994, and though overlooked by country radio, gained rave reviews.
A couple more singles sank without trace, and he even played a few British club dates. Then Bob Woodruff, one of the most promising newcomers to hit Nashville in years, disappeared. But now he's back, and his new set, DESIRE ROADS, is one of the best albums to emerge this year.
"I think I achieved a lot on the first record," he reflects. "But it wasn't exactly what I set out to do. We sold some records, got good press and established a firm fan base. I felt it was a good start."
He started songwriting at Hunter College in New York in 1986 and formed a band called The Fields with his pal Eric Alter. They soon built a loyal following in the New York area and attracted an offer from Restless Records, an LA-based indie-rock label. Unfortunately, Restless' parent, Enigma went bankrupt, leaving Woodruff in limbo for the next two years.
A cassette copy of the unreleased Restless set landed on the desk of Asylum's Nashville head, Kyle Lehning, who saw Woodruff as the missing link he had been searching for.
"At first it seemed the perfect label," recalls Bob. "Back in the 1970s it had a reputation for singer-songwriters. I think they were ahead of their time; they had Guy Clark and Emmylou Harris, and then they signed me. It seemed they were the boldest label in Nashville. Then they got scared and went middle-of-the-road."
Disillusioned by the new direction that Asylum was taking, Woodruff asked to be released from the label. It was a bold move to make—most aspiring young singer-songwriters would give their right arm just to get a record deal—but this headstrong performer had to do it on his own musical terms, and has made the label ideology a central issue in seeking a new deal.
"I consider myself a country artist," he says proudly. "I love music from the 1950s, 1960s and 1970s, but I didn't want to mimic old styles. That music is there to learn from. I'm talking about Hank Williams, Haggard, George Jones and the Everly Brothers—they are some of my favourite artists, and Emmylou Harris and Gram Parsons."
Bob is also a big fan of southern r&b, an influence that he brings to his latest album with songs such as Arthur Alexander's Everyday I Have To Cry and If It's Really Got To Be This Way.
"All of the southern r&b cats he's the most country," he says enthusiastically. "If I was a black guy, I'd be an r&b singer, but I'm a white guy, and it feels to me that country music is soul music."
Over the past two years Bob has been busy working with some of Nashville's finest writers, including Gary Nicholson, Michael Smotherman and Vince Melamed. For his new album he was determined to produce a 'band' sound, using James Burton and Sam Bush from the first album, as well as bassist Garry Tallent, keyboardist Michael Smotherman, guitarist Randy Lee and Maverick's drummer Paul Deakin. Also guesting on the album are Raul Malo, Joy Lynn White, Pig Robbins and Harry Stinson.
"I've been lucky in that the labels I've worked with have left me to my own devices," he says. "It's been a struggle and I've had to earn it, had to fight for it. Playing music, writing songs and trying to make the best records I can is all I've wanted to do since I was a kid. I'm really blessed that I've had an opportunity to do it."