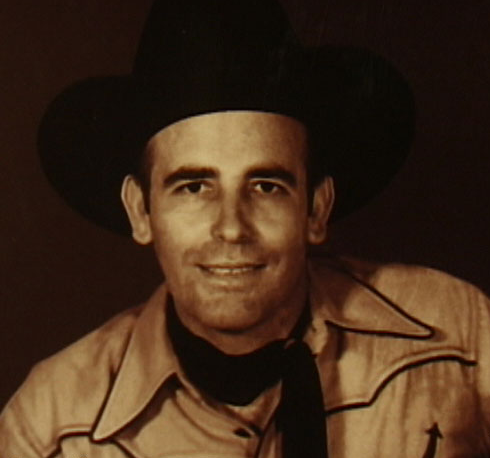 Ask anyone in Texas about musical legends, and they'll proudly proclaim: 'Bob Wills is still the king.' Though he died in 1975, the veteran western swing band leader's legacy remains. It was over seventy years ago that Bob Wills and the Texas Playboys first started barnstorming through Texas, Oklahoma and California with their souped-up blend of country, string-band, jazz and blues styles for a fresh-sounding popular country dance music. They were enthusiastic, exploratory days, lacking perhaps the sophistication one takes for granted today. But by god, they could jump and swing. Leader of the finest western swing band ever to grace country music, and in fact the originator of the style, Bob Wills is acknowledged as having been one of the most influential performers in country music. Asleep At The Wheel, Merle Haggard, Red Steagall and more recently, George Strait, Mark Chesnutt and Tracy Byrd have all utilised elements of the Bob Wills' western swing style in their music.

Born near Kosse, Limestone County, Texas on March 6, 1905, James Robert Wills was the first of ten children of a fiddle-playing father. In 1913, the Wills' family moved to Memphis, Texas, where Jim Rob began playing fiddle at square dances. His initial instrument having been the mandolin. He lived on the West Texas family farm until 1929, when he moved to Fort Worth and became 'Bob' Wills after working in a medicine show that possessed one too many Jims. Forming a duo, the Wills Fiddle Band, with guitarist Herman Arnspiger, he began playing dances in the Fort Worth area. A year later he added vocalist Milton Brown, the unit becoming the Light Crust Doughboys. They recorded for Victor in 1932, Brown leaving soon after, to be replaced by Tommy Duncan. Wills was fired from the Doughboys in 1933, due to his excessive drinking. He took Duncan and his banjo-playing brother, Johnnie Lee Wills with him to form his own outfit, Bob Wills & The Texas Playboys.

It was the era of radio and local sponsorship, and Wills and his Texas Playboys moved from station to station, picking up sponsorship and new listeners on the way, all the time playing local dances. A fairly average fiddle player, Wills' main strengths were being a superb bandleader and songwriter and his musical arrangement skills.
It was a bubbling gumbo of Texas fiddle tunes, rural blues, big-band jazz and just about anything else that could get the floor moving. Wills was one of the first country performers to absorb the full impact of radio, which in the 1920s and 1930s began exposing the rural country people to urban music. His recordings flouted the ideal of pure country that attached itself to the likes of the Carter Family, who made their first recordings at about the time Wills began working as a dancehall fiddler. He went fully electric years before anybody else, and helped make the steel guitar a standard instrument for country music.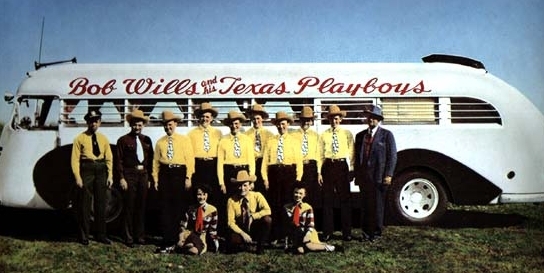 In the early days of the Playboys, most of the vocals were handled by Tommy Duncan, a singer possessing a fluid baritone voice that was equally at home with smooth ballads and blues tunes. The combination of reeds, brass and twin fiddles gave the Playboys a full and rich sound and by the early 1940s it had grown in size to an 18-piece band. A vocal version of San Antonio Rose, recorded in 1940, brought Wills and the band national acclaim, leading to film appearances in Take Me Back To Oklahoma and Go West Young Lady. By the late 1940s the Texas Playboys were outselling the top swing bands such as those of Tommy Dorsey and Benny Goodman.
During the post-war period, with the popularity of big bands generally fading, Wills was forced to use a smaller band and began featuring fiddles, electric steel guitar and string instruments more prominently. He continued to tour extensively until the mid-1960s, when he suffered a heart attack, and had to cut back on personal appearances, but continued recording until shortly before he suffered a severe stroke in December 1973. He never regained consciousness, although his actual death did not occur until May 13, 1975.

He was inducted into the Country Music Hall Of Fame in 1968 and was honoured by the State Of Texas on May 30, 1969. His music lives on through the Playboys reforming several times since his death and many younger singers recreating the Wills' sound both on record and in live shows. The legacy of Bob Wills would be less distinguished, less memorable, and certainly less fun if his band had not consisted of extraordinary individuals like Jesse Ashlock, Sleepy Johnson, Leon McAuliffe, Eldon Shamblin, Noel Boggs, Johnny Gimble, Jimmie Widener, Herb Remington, etc. Listening to Bob Wills' classic recordings you will fully understand why our great-grandparents eyes twinkled when they reminisced their dancing days to such classics as Faded Love, Stay All Night and St. Louis Blues. It is timeless music that just cannot be equalled. What was so great about Bob Wills was the diversity of his music. He did a great job of combining country, swing, jazz and blues into a musical blend with across-the-board appeal.

Recommended Listening

The Golden Era (Columbia Historic Edition 1987)
The King Of Western Swing (Charly 1983)
Anthology 1935-1973 (Rhino 1992)
The Longhorn Recordings (Bear Family 1994)
Faded Love 1947-1973 (Bear Family box set 2007)
San Antonio Rose 1932-1947 (Bear Family box set 2000)