Bob DiPiero - The Nashville Cats
First Published in Country Music International, February 1998
Bob DiPiero made his name penning hit songs for the likes of Reba McEntire, Kathy Mattea and Marty Stuart, but he says he first caught the music bug when he saw the Beatles on The Ed Sullivan Show: "It was the closest I ever came to a religious experience," he recalls fondly.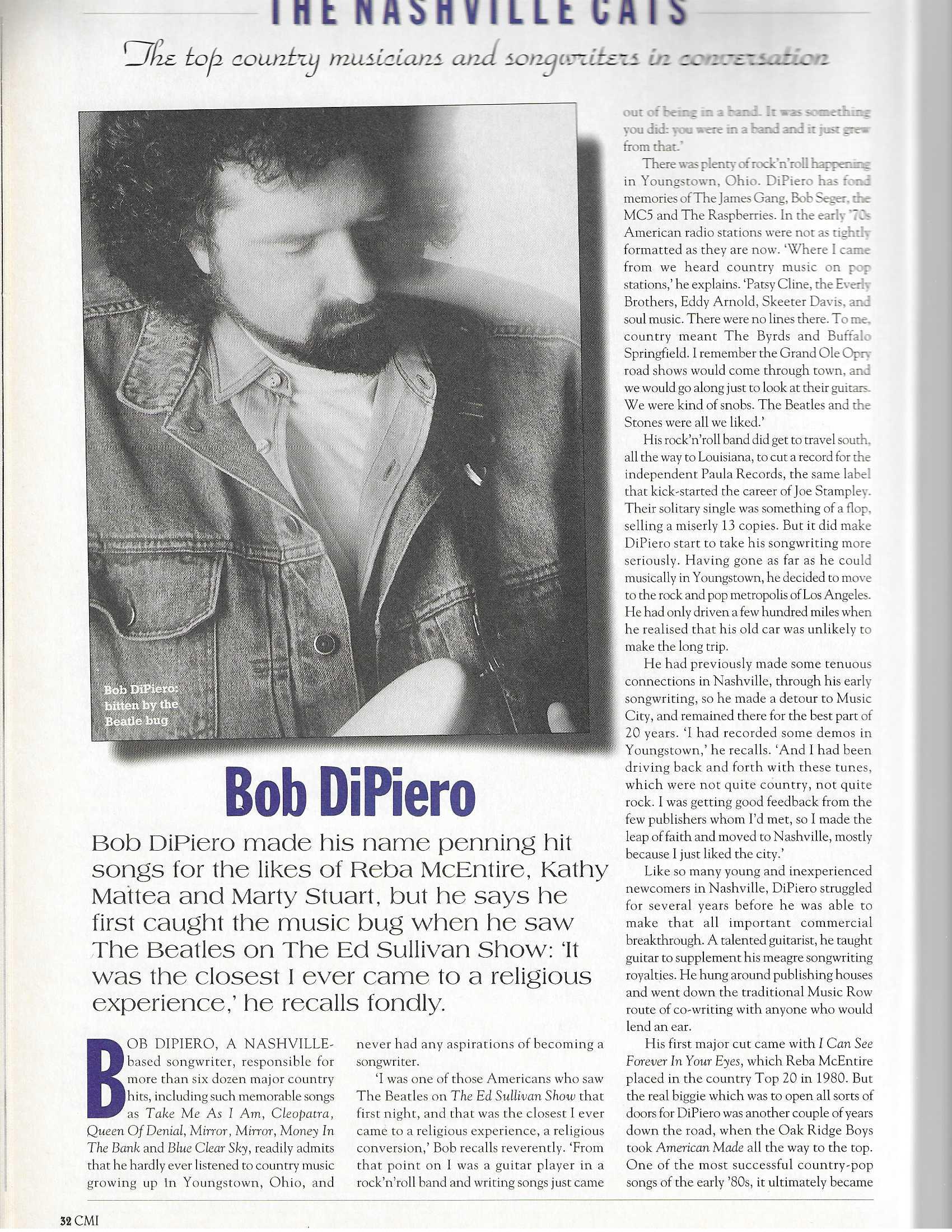 Bob DiPiero, a Nashville-based songwriter, responsible for more than six dozen major country hits, including such memorable songs as Take Me As I Am, Cleopatra, Queen Of Denial, Mirror, Mirror, Money In The Bank and Blue Clear Sky, readily admits that he hardly ever listened to country music growing up in Youngstown, Ohio and never had any aspirations of becoming a songwriter.
"I was one of those Americans who saw the Beatles on the Ed Sullivan Show that first night, and that was the closest I ever came to a religious experience, a religious conversion," Bob recalls reverently. "From that point in I was a guitar player in a rock'n'roll band and writing songs just came out of being in a band. It was something you did: you were in a band and it just grew from that."
There was plenty of rock'n'roll happening in Youngstown, Ohio. DiPiero has fond memories of the James Gang, Bob Seger, the MC5 and the Raspberries. In the early 1970s American radio stations were not as tightly formatted as they are now. "Where I came from we heard country music on pop stations," he explains. "Patsy Cline, the Everly Brothers, Eddy Arnold, Skeeters Davis, and soul music. There were no lines there. To me, country meant the Byrds and Buffalo Springfield. I remember the Grand Ole Opry road shows would come through town, and we would go along just to look at their guitars. We were kind of snobs. the Beatles and the Stoned were all we liked."
His rock'n'roll band did not get to travel south, all the way to Louisiana, to cut a record for the independent Paula Records, the same label that kick-started the career of Joe Stampley. Their solitary single was something of a flop, selling a miserly 13 copies. But it did make DiPiero start to take his songwriting more seriously. Having gone as far as he could musically in Youngstown, he decided to move to the rock and pop metropolis of Los Angeles. He had only driven a few hundred miles when he realised that his old car was unlikely to make the long trip.
He had previously made some tenuous connections in Nashville, through his early songwriting, so he made a detour to Music City, and remained there for the best part of 20 years. "I had recorded some demos in Youngstown," he recalls. "And I have been driving back and forth with these tunes, which were not quite country, not quite rock. I was getting good feedback from the few publishers whom I'd met, so I made the leap of faith and moved to Nashville, mostly because I just liked the city."
Like so many young and inexperienced newcomers in Nashville, DiPiero struggled for several years before he was able to make that all important commercial breakthrough. A talented guitarist, he taught guitar to supplement his meagre songwriting royalties. He hung around publishing houses and went down the traditional Music Row route of co-writing with anyone who would lend an ear.
His first major cut came with I Can See Forever In Your Eyes, which Reba McEntire placed in the country top 20 in 1980. But the real biggie which was to open all sorts of doors for DiPiero was another couple of years down the road, when the Oak Ridge Boys took American Made all the way to the top. One of the most successful country-pop songs of the early 1980s, it ultimately became the theme for a major Miller Beer advertising campaign.
Soon after this, DiPiero's songs were in heavy demand, as he gained cuts by Restless Heart, Shenandoah and Mark Collie. Like so many of Nashville's songwriters, he was a frustrated artist and in 1988 he teamed up with Dennis Robbins, John Scott Sherrill, Reno King and Martin Parker to form Billy Hill, a short-lived band named after a reclusive drifter.
"I think anybody who gets into this music business has a very active and healthy ego, and everybody loves to see their ego grow," he reflects. "I'm sure there are times when we would like to get records out, but sometimes that's just an ego apparition and I think the best job in the world is to be a songwriter. Your career is as long as you want it to be, as long as you need to write. An artist's career can sometimes be very, very short."
The character of Billy Hill has played a prominent role in several of DiPiero's songs, including Billy Hill's only hit, Too Much Month At The End Of The Money, Shenandoah's The Church On Cumberland Road and Neal McCoy's Wink. "That was definitely a personal best for me, four weeks at number one. A dumb song, though," he laughs, recalling the McCoy hit, then gets a little serious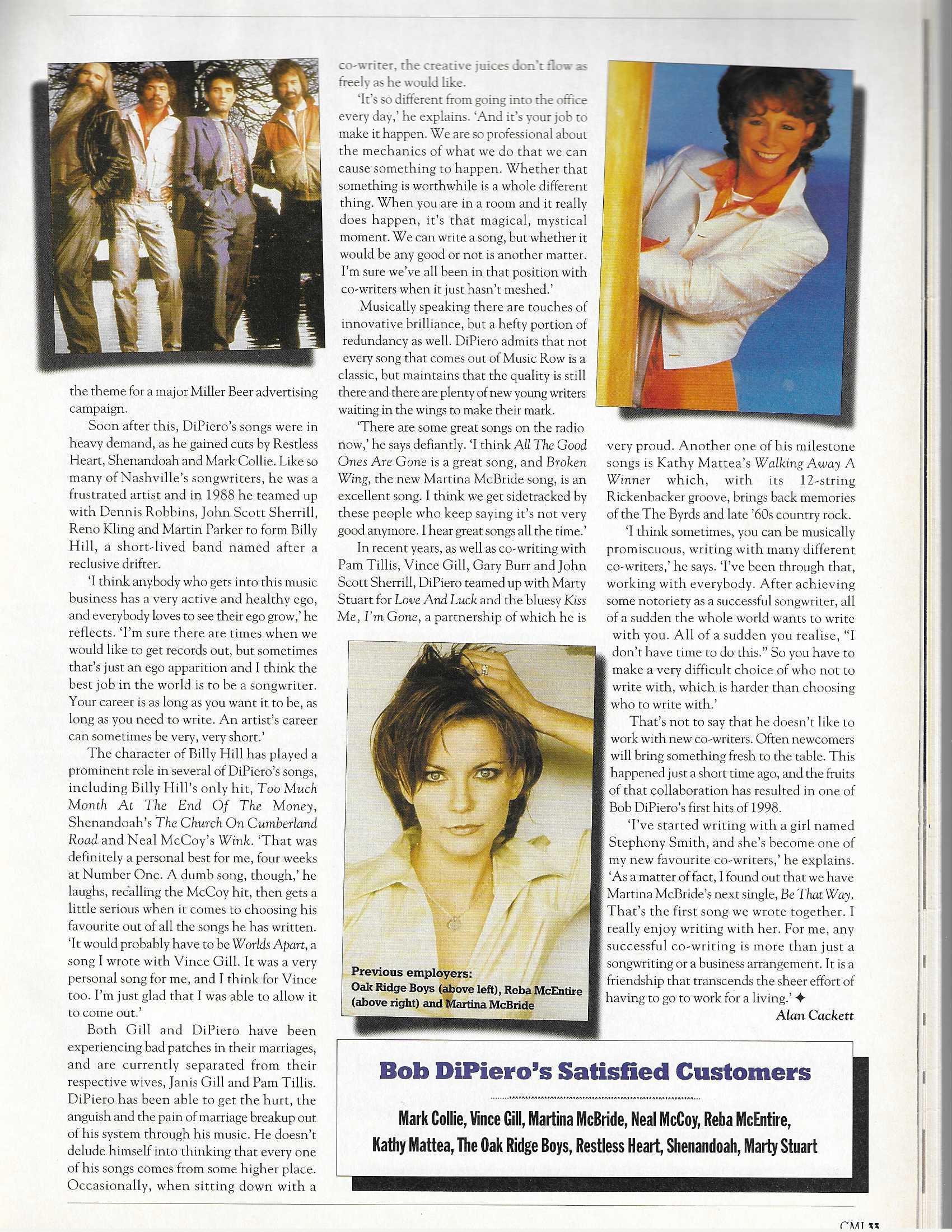 when it comes to choosing his favourite out of all the songs he has written. "It would probably have to be Worlds Apart, a song I wrote with Vince Gill. It was a very personal song for me, and I think for Vince too. I'm just glad that I was able to allow it to come out."
Both Gill and DiPiero have been experiencing bad patches in their marriages, and are currently separated from their respective wives, Janis Gill and Pam Tillis. DiPiero has been able to get the hurt, the anguish and the pain of marriage breakup out of his system through his music. He doesn't delude himself into thinking that every one of his songs comes from some higher place. Occasionally, when sitting down with a co-writer, the creative juices don't flow as freely as he would like.
"It's so different from going into the office every day," he explains. "And it's your job to make it happen. We are so professional about the mechanics of what we do that we can cause something to happen. Whether that something is worthwhile is a whole different thing. When you are in a room and it really does happen, it's that magical, mystical moment. We can write a song, but whether it would be any good or not is another matter. I'm sure we've all been in that position with co-writers when it just hasn't meshed."
Musically speaking there are touches of innovative brilliance, but a hefty portion of redundancy as well. DiPiero admits that not every song that comes out of Music Row is a classic, but maintains that the quality is still there and there are plenty of new young writers waiting in the wings to make their mark.
"There are some great songs on the radio now," he says defiantly. "I think All The Good Ones Are Gone is a great song, and Broken Wing, the new Martina McBride song, is an excellent song. I think we get sidetracked by these people who kept saying it's not very good anymore. I hear great songs all the time."
In recent years, as well as co-writing with Pam Tillis, Vince Gill, Gary Burr and John Scott Sherrill, DiPiero teamed up with Marty Stuart for Love And Luck and the bluesy Kiss Me, I'm Gone, a partnership of which he is very proud. Another one of his milestones songs is Kathy Mattea's Walking Away A Winner which, with its 12-string Rickenbacker groove, brings back memories of the the Byrds and late 1960s country rock.
"I think sometimes, you can be musically promiscuous, writing with many different co-writers," he says. "I've been through that, working with everybody. After achieving some notoriety as a successful songwriter, all of a sudden the whole world wants to write with you. All of a sudden you realise: 'I don't have time to do this.' So you have to make a very difficult choice of who not to write with, which is harder than choosing who to write with."
That's not to say that he doesn't like to work with new co-writers. Often newcomers will bring something fresh to the table. This happened just a short time ago, and the fruits of that collaboration has resulted in one of Bob DiPiero's first hits of 1998.
"I've started writing with a girl named Stephony Smith, and she's become one of my new favourite co-writers," he explains. "As a matter of fact, I found out that we have Martina McBride's next single, Be That Way. That's the first song we wrote together. I really enjoy writing with her. For me, any successful co-writing is more than just a songwriting or a business arrangement. It is a friendship that transcends the sheer effort of having to go to work for a living."