BFD/Audium Nashville
****1/2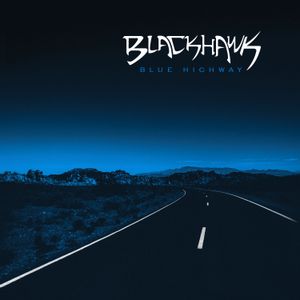 BlackHawk were one of the most successful vocal/instrumental country groups of the 1990s. The trio comprising Henry Paul (lead vocals, mandolin, acoustic guitar), Dave Robbins (harmony vocals, keyboards) and the late Van Stephenson (harmony vocals, electric guitar), came together in 1992, initially as songwriting collaborators then quickly developed into a fully-fledged band. They were all music veterans—Henry Paul had been a member of the southern rock band the Outlaws and leader of his own Henry Paul Band; Van Stephenson was a 1980s pop/rock hitmaker and Dave Robbins a successful songwriter. Having co-written hits for Restless Heart and album tracks for other country acts, the trio possessed a fine pedigree. They were signed to Arista Records in 1993 and scored several top 10 country hits, including a pair of chart-toppers. Prior to signing with Arista, the trio had recorded demos of their songs, in the hope of gaining a record deal. This album features fourteen of those demos, recently remixed with additional instrumentation.  If released when originally recorded, BLUE HIGHWAY would have been acclaimed as an accomplished debut album of radio friendly tracks. Now, 30 years on, it stands as a well-rounded showcase of what this group were all about, and a feat considering that at the time, they were only a few months into their run as a band. The album abounds with top-shelf songwriting, even with its vintage feel of lush Eagles' hooks and vibrant West Coast harmonies, the music still sounds fresh rather than derivative. Filled with inventive guitar hooks and rollicking rhythms, this is a wonderful set of muscular, yet breezy, country-rock and country lamentations delivered with a whole lot of soul.
Catchy to the core, Don't Put Yourself Down, is the perfect opening cut with its toe-tapping rhythm reeling you in. Henry Paul's vocal has sunshine to spare, but there is always the threat of silvery storm clouds looming in this sad-tinged beauty.
Spacious acoustic guitar and mandolin picking provides the bed for the airy Southern Wind, a song of lost love that glimmers like the stars over a vast heartland expanse. Where The Wild Roses Grow is one of the album's best tracks, a fine showcase of both their musical and vocal sides, with Henry Paul pouring plenty of conviction into his singing. A steady and unstoppable rush of a grand melody and rippling mandolin and guitar notes drive through Blue Highway with unison vocals that shimmer as the song heads straight for the brain's joy receptors, and damned if it doesn't hit its target.
They use quieter designs with I'm Gonna Find A Way and Not By Chance, a pair of reflective ballads that put their hushed harmony vocals firmly at the fore. Their contagious blend of country and infectious country-rock is beautifully delivered with One Good Reason. Light but heavy, warm in the sun, but shivery in the shade this is a break-up song full of heart and soul. You can hear the mournful Southwestern winds blow all through Wide Open Spaces. Tender and slyly powerful, this is a heartbreak story of a woman left alone with just the Texas desert view from her kitchen window and her memories of what might have been. They close the album with Shiloh, a Civil War song, that marks a change of tack with a simple acoustic guitar to accompany the trio's harmony vocals. What begins as a mournful remembrance eventually transforms into something devastatingly universal, how war can destroy families. 
A band steeped in a sound that needs to come back around the bend, BlackHawk's vision was always refracted through the lens of a different era. This is a clear and focused example of the peaks the band found in the mid-1990s, and as enjoyable a listen as the best of their work. It sounds just as good today and is well worth seeking out, whether you were there back in the day, or not.
June 2022