Birds of Play - Birdsongs of the American West
Self-released
****1/2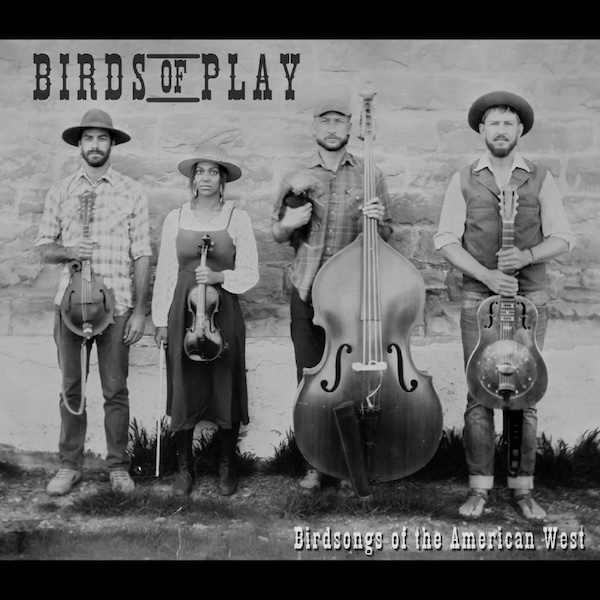 From their base in Southwestern Colorado, Birds of Play have concocted a fourth album that's as groovily distinctive and enticing as any music currently coming from either of America's supposedly hipper coasts. Lovely fiddle-mandolin-fuelled songs, exuberant vocals and arrangements on superbly written songs. Once your eyebrows come back down from your hairline, you'll enjoy the authenticity that abounds. The differences and similarities between the progressive bluegrass and contemporary folk world go hand-in-hand through the entirety of this release.   Crisp, modern, and listenable, the folky, rootsy facets of the album feel entirely intuitive, raw, and perfectly placed. It's intelligent and absorbing, reminiscent of the Punch Brothers or Andrew Bird, yet this quartet of skilled musicians have done a wonderful job of creating their own stamp to show who they are, where they're from, and what they want to give their listeners. They don't shy away from the grit and defiant nature of the lifestyle and landscape they love. I think this attitude can be appreciated by listeners from all over the globe, clearly resonating with music lovers from many backgrounds, cultures and landscapes. 
An album full of sonic and genre twists and turns bearing the collective contributions of main songwriter Alex Paul (vocals, guitar, mandolin) and bandmates Eric Shedd (bass, mandolin, guitar, vocals), Anneke Dean (violin, vocals) and Jake Tolan (guitar, mandolin, vocals), plus special guest David Brown (upright bass, bull fiddle). This common thread comes in part from an improvisational band's willingness to pre-plan its 11 new songs before entering the studio. As a result, the lyrics command equal attention with the arrangements themselves. When the words are brooding but the soundscapes are shimmery, you're intoxicated, almost given permission to dance away your existential dread. They kick things off with the contemplative Texture, a finely written exploration and understanding of the human condition set to a memorable melody that will have you hooked in from the first guitar notes. Jake takes the lead vocal on his own Numbers And Names, with plaintive lyrics that can't be denied. The toe-tapping Aftermath is a celebration in a sense following the Covid restrictions and against the forces that tried to disconnect and disunite. The unrelenting rhythm, and the emotive vocal of frontman/founding member Alex Paul carry much hope for better days.
Amidst an album layered with luscious sounds, Stargazer, featuring Anneke on vocals, stands out as a gorgeous romantic ballad. Combining hazy guitars with fine mandolin playing as ethereal harmonies walk arm-in-arm—like being sung to by an angel—this is an audio mug of hot chocolate. The frolicking Animas careens down a bluegrass trail, with a combination of western swing and animated call and response chorus. But at the same time, the playing never feels overly busy or in-your-face, instead, throughout, it's thoughtfully supporting the songs. That gritty, rhythmic foundation lays the groundwork for the diverse track list. There's lots to savour here on an album from which you could pluck any song and revel in it.
Stirring song craft, rich, heartfelt vocals, a very stirring and strong storytelling effort as Birds Of Play forge their own brand of 'Americana.' 
September 2023