Billy Ray Cyrus - This Year's Model
First Published in Country Music International, November 1996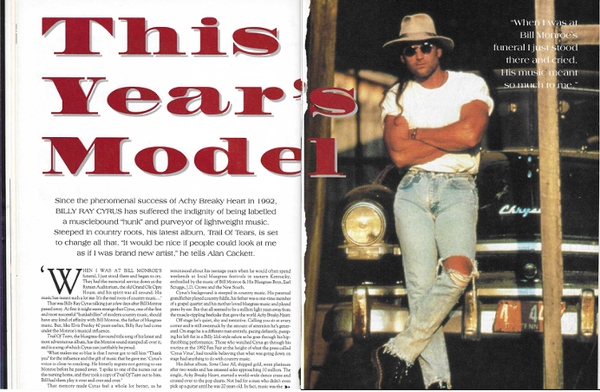 Since the phenomenal success of Achy Breaky Heart in 1992, Billy Ray Cyrus has suffered in the indignity of being labelled a musclebound 'hunk' and purveyor of lightweight music. Steeped in country roots, his latest album TRAILS OF TEARS, is set to change all that. "It would be nice if people could look at me as if I was a brand new artist," he tells Alan Cackett.
"When I was at Bill Monroe's funeral, I just stood there and began to cry. They had the memorial service down at the Ryman Auditorium, the old Grand Ole Opry House, and his spirit was all around. His music has meant a lot to me. It's the real roots of country music..."
That was Billy Ray Cyrus talking just a few days after Bill Monroe passed away. At first it might seem strange that Cyrus, one of the first and most successful 'hunkabillies' of modern country music, should have any kind of affinity to Bill Monroe, the father of bluegrass music. But, like Elvis Presley 40 years earlier, Billy Ray had come under Monroe's musical influence.
Trail Of Tears, the bluegrass-flavoured title song of his latest and most adventurous album, has the Monroe sound stamped all over it, and is a song of which Cyrus can justifiably be proud.
"What makes me so blue is that I never got to tell him: 'Thank you' for the influence and the gift of music that he gave me." Cyrus's voice is close to cracking. He bitterly regrets not getting to see Monroe before he passed away. "I spoke to one of the nurses out at the nursing home, and they took a copy of Trail Of Tears out to him. Bill had them play it over and over and over."
That memory made Cyrus feel a whole lot better, as he reminisced about his teenage years when he would often spend weekends at local bluegrass festivals in eastern Kentucky, enthralled by the music of Bill Monroe & His Bluegrass Boys, Earl Scruggs, J. D. Crowe and the New South.
Cyrus' background is steeped in country music. His paternal grandfather played country fiddle, his father was a one-time member of a gospel quartet and his mother loved bluegrass music and played piano by ear. But that all seemed to be a million light years away from the muscle-rippling beefcake that gave the world Achy Breaky Heart.
Off stage he's quiet, shy and tentative. Calling you sir at every corner and is still awestruck by the amount of attention he's generated. On stage he is a different man entirely, pacing defiantly, pumping his left fist in a Billy Idol-style salute as he goes through his hip-throbbing performance. Those who watched Cyrus go through his routine at the 1992 Fan Fair at the height of what the press called 'Cyrus Virus,' had trouble believing that what was going down on stage had anything to do with country music.
His debut album, SOME GAVE ALL, shipped gold, went platinum after two weeks and has amassed sales approaching ten million. The single, Achy Breaky Heart, started a world-wide dance craze and crossed over to the pop charts. Not bad for a man who didn't even pick up a guitar until he was 20 years old. In fact, music was the last thing that Cyrus set his sights on. He originally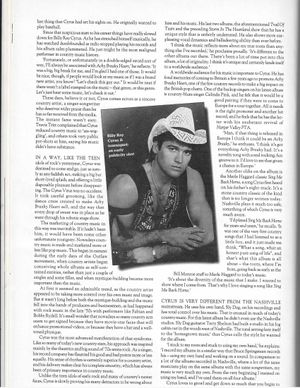 wanted to play baseball.
Since that auspicious start to his career things have really slowed down for Billy Ray Cyrus. As he stretched himself musically, he has watched dumbfounded as radio stopped playing his records and his album sales plummeted. He just might be the most maligned performer in country music history.
"Fortunately, or unfortunately in a double-edged sword sort of way, I'll always be associated with Achy Breaky Heart," he reflects. "It was a big, big break for me, and I'm glad I had one of those. It would be nice, though, if people would look at my music as if it was a brand new artist, you know? 'Let's check this guy out.' It would be neat if there wasn't a label stamped on the music—that genre, or this genre. Let's just hear some music, let's just check it out."
These days, believe it or not, Cyrus comes across as a sincere country artist, a singer-songwriter who deserves wider praise than he has so far received from the media. The instant fame wasn't easy. Travis Tritt complained that Cyrus reduced country music to 'ass-wiggling,' and others took very public pot-shots at him, saying his music didn't have any substance.
In a way, like the teen idols of rock's yesteryear, Cyrus was destined to come and go, just as surely as any faddish act, making a big but short-lived splash, and offering a little disposable pleasure before disappearing. The Cyrus Virus was no accident. It took careful grooming, like the dance craze created to make Achy Breaky Heart sell, and the way that every drop of sweat was in place as he went through his robotic stage show.
The marketing of country music in this way was inevitable. If it hadn't been him, it would have been some other unfortunate youngster. Nowadays country music is made and marketed more-or-less like pop music. This began in earnest during the early days of the Outlaw movement, when country artists began conceiving whole albums as self-contained entities, rather than just a couple of singles and some filler, and when mystique-building became more important than music.
At first it seemed an admirable trend, as the country artist appeared to be taking more control over his own music and image. But it wasn't long before both the mystique-building and the music fell into the hands of producers and businessmen, as had happened with rock music in the late 1950s with performers like Fabian and Bobby Rydell. It's small wonder that nowadays so many country acts seem to get signed because they have movie-star faces that will enhance promotional videos, or because they have a hat and a well-toned physique.
Cyrus was the most advanced manifestation of that syndrome. Like so many of today's new country stars, his approach was inspired mainly by the theatrics and big sound of 1970s arena rock. As a singer, his record company has flaunted his good and bad points more or less equally. His sense of rhythm is certainly superior for a country artist, and his delivery makes clear his complete sincerity, which has always been of primary importance in country music.
Unlike the teen idols of early rock and many of country's newer faces, Cyrus is slowly proving his many detractors to be wrong about him and his music. His last two albums, the aforementioned TRAIL OF TEARS and the preceding STORM IN THE HEARTLAND show that he has a unique style that is unfairly underrated. He also shows more ear-pleasing vocal dynamics and balladeering ability than ever before.
"I think the music reflects more about my true roots than anything else I've ever recorded," he proclaims proudly. "It's different to the other albums out there. There's been a lot of time put into this album, a lot of originality. I think it's unique and certainly lends itself to a worldwide audience."
A worldwide audience for his music is important to Cyrus. He has fond memories of coming to Britain a few years ago to promote Achy Breaky Heart, one of the few country records to make a big impact on the British pop charts. One of the backup singers on his latest album is a country-blues singer Celinda Pink, and he felt that it would be a good pairing if they were to come to Europe for a tour together. All it needs is the right promoter and another hit record, and he feels that he has the latter with his exuberant revival of Harper Valley PTA.
"Man, if that thing is released in Europe, I think it could be an Achy Breaky," he enthuses. "I think it's got everything Achy Breaky had. It's a novelty song with a real rocking, fun groove to it. I'd love to see that given a chance in Europe."
Another oldie on the album is the Merle Haggard classic Sing Me Back Home, a song Cyrus first heard on his father's eight-track. It's a stone country classic of the kind that is no longer written today. Nashville plays it much too safe, something of which Cyrus is very much aware.
"I'd played Sing Me Back Home for years and years," he recalls. "It was one of the very first country songs that I had listened to as a little boy, and it just made me think, 'What a song, what an honest pure song of life' and that's what this album is all about—the roots, where I'm from, going back as early as the Bill Monroe stuff to Merle Haggard to today's music. It's about the diversity of the music that I make. I wanted to show where I come from. That's why I love singing a song like Sing Me Back Home."
Cyrus is very different from the Nashville mainstream. He uses his own band, Sly Dog, on his recordings and has total control over his music. That is unusual in much of today's country music. For this latest album he didn't even use the Nashville studios. Sly Dog guitarist Terry Shelton had built a studio in his log cabin out in the woods west of Nashville. The rural setting lent itself to the 'homegrown music' that Cyrus calls the style he wanted for the album.
"I stuck to my roots and stuck to using my own band," he explains. "I record my albums in a similar way that Bruce Springsteen records his—using my own band and working on a sound. In comparison to a lot of the albums recorded in Nashville, where a lot of the same musicians play on the same albums with the same songwriters, my music is very much more my own. From the beginning I insisted on using my band, and I've used them on all four albums."
Cyrus loves to growl and get down so much that you begin to forget that he has more dynamics when he puts his mind to it. He puts both his heart and his mind into one of his best vocals yet called Should I Stay, an acoustic number that he wrote about 12 years ago.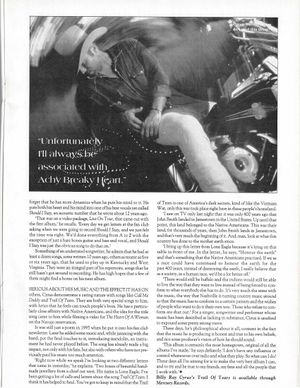 "That was on a video package, Live On Tour, that came out with the first album," he recalls. "Every day we get letters at the fan club asking when we are going to record Should I Stay, and we just felt the time was right. We'd done everything from A to Z with the exception of just a bare bones guitar and bass and vocal, and Should I Stay was just the obvious song to that on."
Something of an underrated songwriter, he admits that he had at least a dozen songs, some written ten years ago, others as recent as five or six years ago, that he used to play up in Kentucky and West Virginia. They were an integral part of his repertoire, songs that he still hasn't got around to recording. He has high hopes that a few of them might find a home on his next album
Serious about his music and effect it has on others, Cyrus demonstrates a caring nature with the songs like Call Me Daddy and Trail Of Tears. They are both very special songs to him, with lyrics that he feels can touch people's lives. He has a particularly close affinity with Native Americans, and the idea for the title song came to him while filming a video for The Heart Of A Woman on the Navajo reservations.
It was still just a poem in 1995 when he put it into his fan club newsletter. Later he added some music and, while jamming with the band, put the final touches to it, introducing mandolin, an instrument he had never played before. The song has already made a big impact, not only with his fans, but also with others who have not previously paid his music too much attention.
"Right now, while we speak, I'm looking at two different letters that came in yesterday," he explains. "Two boxes of beautiful hand-made jewellery from a chief out west. His name is Lone Eagle. I've been getting a lot of calls and letters about the song Trail Of Tears. I think it has helped to heal. You've got to keep that in mind that the Trail of Tears is one of America's dark secrets, kind of like the Vietnam War, only this war took place right here in these people's homeland."
"I saw on TV only last night that it was only 400 years ago that John Smith landed in Jamestown in the United States. Up until that point, this land belonged to the Native Americans. This was their land, for thousands of years, then John Smith lands in Jamestown, and that's very much the beginning of it. And, man, look at what this country has done to the mother earth since."
"I bring up this letter from Lone Eagle because it's lying on this table in front of me. In the letter, he says, 'Honour the earth' and that's something that the Native Americans practised. If we as a race could have continued to honour the earth for the past 400 years, instead of destroying the earth, I really believe that as a society, as a human race, we'd be a lot better off."
"There would still be buffalo and the Indians would still be able to live the way that they want to live instead of being forced to conform to what everybody else had to do. It's very much the same with the music, the way that Nashville is turning country music around so that the music has to conform to a certain pattern and the wishes of people who want to do it their own way. Those who refuse to conform are shut down." For a singer, songwriter and performer whose music has been described as lacking in substance, Cyrus is unafraid to expound some pretty strong views.
These days, he's philosophical about it all, content in the fact that the music he is producing is honest and true to his own beliefs, and not some producer's vision of how he should sound.
"This album is certainly the most homegrown, original of all the albums I've made," he says defiantly. "I don't have any influence or control whatsoever over radio and what they play. So what can I do? These days all I'm aiming for is to make the very best album I can, and to try and be true to my friends, fans and all the people that I work with."